One.. Two.. Three.. And jump! Sky Dive in Hawaii
I was super excited that my friend was joining me in Honolulu for one of my birthday trips. It was a surprise, she had told me that she had booked tickets to Hawaii just 3 days before we were flying. Unfortunately, I had not planned anything for that trip till then as when I am solo traveling, I usually go with the flow and figure things out after I land at a destination.
That day when my friend had confirmed she was joining me for the trip, I started looking for things to do in Hawaii. And I stumbled upon a skydiving experience from 20,000 feet. I was so tempted and wanted to do it. I had sky dived before in Victoria on Great Ocean Road. But that was from 14,000 feet. This experience of sky dive in Hawaii was from 20,000 feet which was very cool. I opened the website for the costs involved and I realised it was USD 1600 per person for a tandem sky dive.
This article may contain affiliate links, meaning if you decide to make a purchase via my links, I may earn a commission at no additional cost to you. For full information, please see our affiliate disclaimer here.
Sky Dive in Hawaii
Very disappointed (as I could not afford), I started looking for other options. I saw the next best thing which was 14,000 feet tandem dive and I thought this was something I could afford. I texted my friend asking what she thought of sky diving in Hawaii (one of the adventurous activities that you can do in Hawaii). This was at 12 PM (Australian Eastern time) which means it was still about 7:30 AM (Indian time). At 12:01 PM, I had booked the sky diving for both of us without waiting for my friend's answer (probably she was still sleeping as she had not replied).
Let me tell you a bit about my friend, she is one of the non-adventurous persons I know and she is scared of heights. Even though being scared, she was up for it and was glad that I had gone ahead and booking the sky dive in Hawaii. But she had not slept for the next 3 days.
We stayed in Honolulu for 4 days during our Hawaii trip. Read perfect fun filled 4 days itinerary of Honolulu.
On the day of the dive (actual jump)
The day was warm and beautiful. A perfect weather for the dive. We were excited and nervous at the same time. And yes, had agreed to push up herself and do this jump.
After briefing and harnessing all of us, we were taken in a plane to 14,000 feet. I was the first one in line to jump out of a plane.
The best thing about this dive was that there was a photographer who had jumped to specifically take my pictures. This was something that I had not got during my first sky dive in Victoria.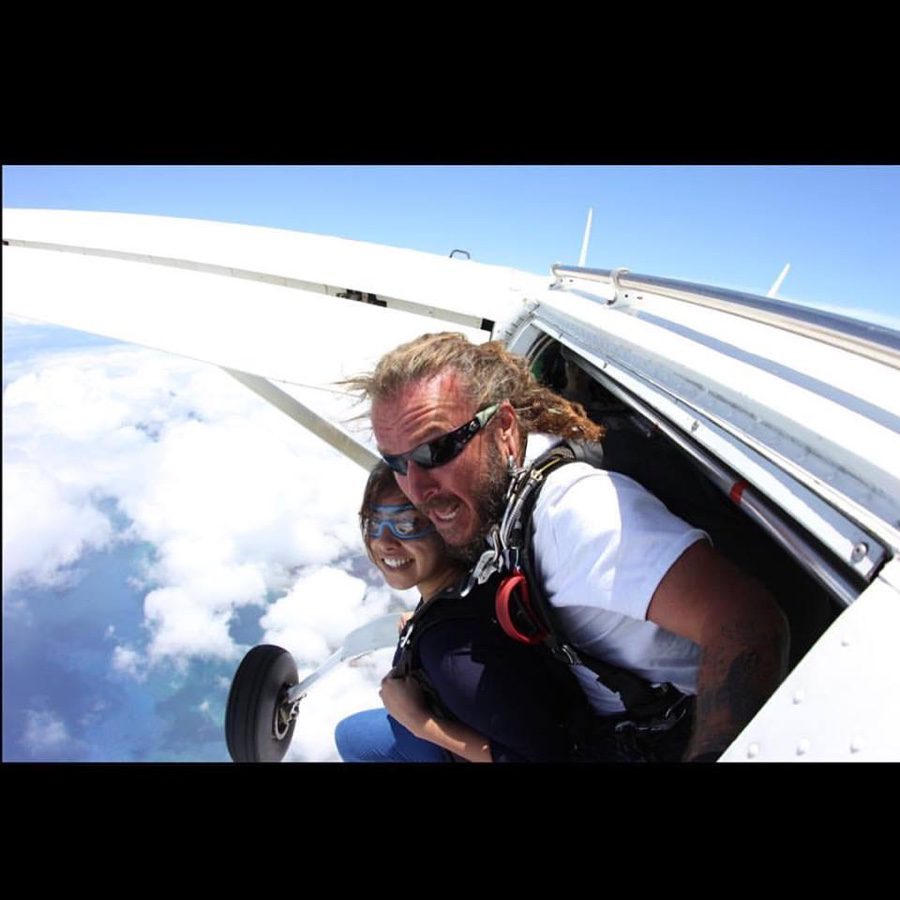 The views were simply outstanding and I am glad we had done this. Such spectacular views of the ocean and the reef!
And at the end of it, I was awarded another certificate of sky diving. The sky dive in Hawaii was definitely the best dive when compared to the first one which was in Victoria (Australia).
---
Sky Dive Hawaii Operator Details
Tip: If you dive on your birthday, you get a certain percentage of discount.
---
My experience and video
Watch my entire tandem skydive video here:
Closing Notes
Sky dive in Hawaii is one of the most adventurous things I have done so far. Along with the friendly and amazing people I dived with, I had stunning views of the ocean when I jumped off a plane. It was simply the best and I loved it. Nothing better could have happened during that year's birthday trip.
How can you support me?
You know how much I love coffee, so you can buy me coffee – Buy me Coffee!

Or you can purchase from one of the below travel resources without any extra charge to you:
Travel Resources
Book your flight on Skyscanner.com
Reserve your accommodation on Stay22
Buy a comprehensive travel insurance on SafetyWing and WorldNomads
Book your tours and travels or purchase tickets on Viator or GetYourGuide
If you liked this article and if it was helpful in your planning or traveling, do share, tweet, or pin this post.

Follow me on Instagram | Facebook | YouTube | Twitter | LinkedIn
Do you have a question? Or want any suggestions, and tips for travels, hikes and scuba dives? Use the Subscription box below to sign-up and get updates by email.
Also read: