Art City Walking Trail (Perth)
I think this was the most amazing walk that I did in Perth. The path of the art city walking trail was provided to me by the Perth Information Centre and I am really glad that I inquired about this walk.
I have visited Perth twice, once for 5 days (for itinerary, refer 5 days in Perth) and second for a weekend (for itinerary, refer a weekend in Perth).
About Art City Walking Trail
The Art City Walking Trail takes one through the public artworks that are displayed across the Perth Central Business District (CBD) and Northbridge. It is recorded that Perth City has more than 200 public artworks depicting city's identity, both present and the past.
Following are the artworks that the Art City Walking Trail consists of:
Note: Information is used from the booklet provided by the City of Perth in their Art City Walking trail.
Stop 1 – First Contact Sculpture
First Contact sculpture is at the Elizabeth Quay and this sculpture welcomes the city's visitors into Elizabeth Quay from the city and the river.
Artist: Laurel Nannup.
Year: 2015.
Stop 2 – Wolf Lane
Wolf Lane is a lane with many wall art and graffiti. As part of a public project by 'FORM building a state of creativity', there were 16 morals that coloured the Wolf Lane.
Artist: Various artists.
Year: 2014.
Stop 3 – Koorden Sculptures
Koorden Sculptures are a display of 6 male Indigenous figures at Kings Square. These figures represent the painted ceremonial markings found in historic photographs.
Artist: Rod Garlett, Fred Chaney and Richie Kuhaupt.
Year: 2015.
Stop 4 – Connectus
Connectus is a ribbon-like light artwork glows at night.
Artist: Warren Langley and Trent Baker.
Year: 2015.
Please note: This post may contain affiliate links which means I may earn a commission if you make a purchase by clicking a link on this post. This will be at no additional cost to you. Affiliate links help me keep this website up and running. Thank you for your support.
Stop 5 – 140 William Street
William street is another lane with a series of wall arts connecting to the pedestrian mall of Murray Street.
Artist: Various artists.
Year: 2014.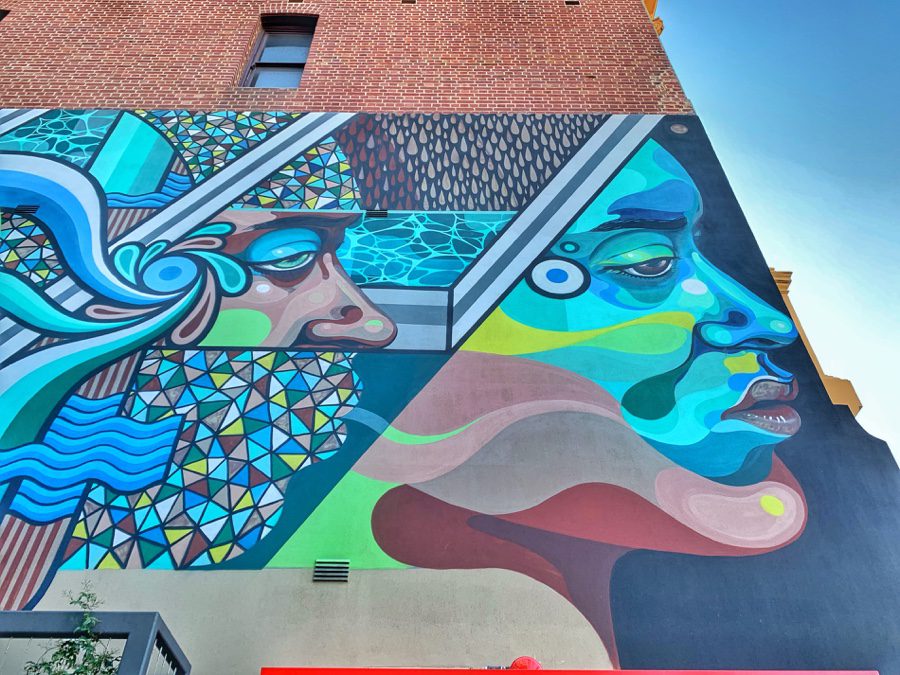 Stop 6 – Grow Your Own
Grow Your Own references the emergence of the organic farming movement that happened in the 20th century. It encourages the people to connect to the city.
Artist: James Angus.
Year: 2011.
Stop 7 – Delight and Hurt Not
Delight and Hurt Not is a ceiling in City of Perth Library (level 1). The artwork is based on the closing scene of Shakespeare's The Tempest. It illustrates Western Australia's native flora and fauna.
Artist: Andrew Nicholls.
Year: 2016.
Stop 8 – Ascalon
Ascalon sculpture represents the triumph of good over evil. And depicts St George's cloak billowing around his lance.
Artist: Marcus Canning and Christian de Vietri.
Year: 2011.
Stop 9 – The Mob – Kangaroos on the Terrace
The Mob artwork celebrates one of the World's unique animals – The Kangaroos.
Artist: Joan Walsh-Smith and Charles Smith.
Year: 1997.
Stop 10 – Striking feature wall
Striking feature wall is a beautiful wall in the Perth Concert Hall.
Artist: Tom Sanders.
Year: 1971.
Logistics of the walk
Total distance: approx. 5 kilometres.
Time taken: 2 hours.
Grade: Easy.
Cost: Free.
Map:
Is Perth safe for solo female travelers?
Absolutely yes! I have traveled to Perth two times and both the times I have traveled solo. I have not had any issues while traveling in this city. However, be cautious and know your surroundings, especially when traveling at nights.
Closing Notes
As I mentioned in the beginning, I absolutely loved this walk. Spotting and finding some of the amazing sculptures was something that I really enjoyed a lot. I definitely recommend doing this walk when you are in Perth.
Another beautiful walk that I did when I visit Perth is the walk around the Swan River.
Also read: