One of the items on my 2016 bucket list was to travel in Western Australia (WA). Western Australia was one state that I had not explored. The reason was it was too far from Sydney and I had always thought that a weekend was not sufficient. However, I decided to change that perception one weekend. I decided to travel to Perth, just for a weekend.
Even though I was unable to travel around and spend the time I wanted to in WA, I did go to Perth and The Pinnacles for a weekend.
PIN for later reference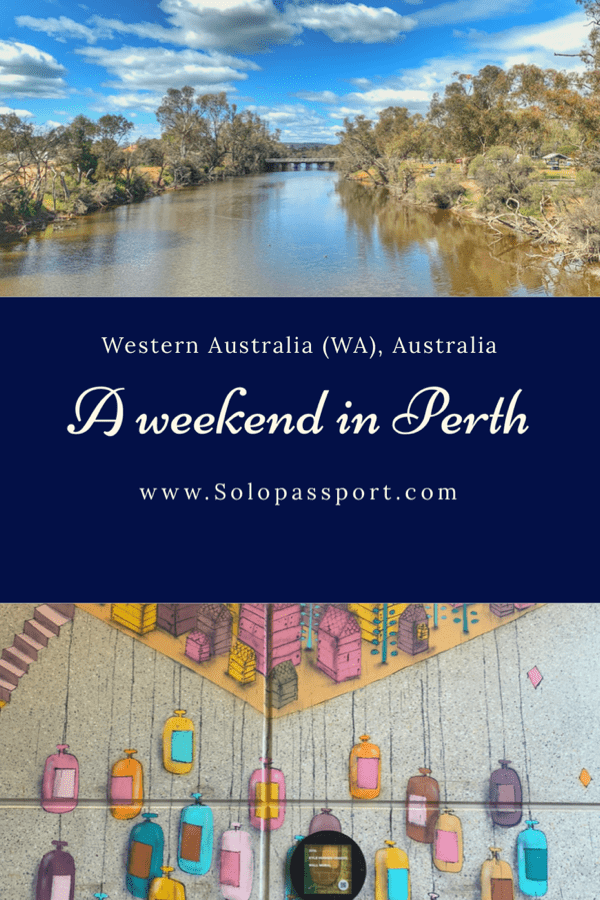 Please note: This post may contain affiliate links which means I may earn a commission if you make a purchase by clicking a link on this post. This will be at no additional cost to you. Affiliate links help me keep this website up and running. Thank you for your support.
About Perth…
Perth is the capital city of the Australian state of Western Australia. A bit of history includes the settlement of Whadjuk Noongar people for 38,000 years. They lived as hunter-gatherers.
For a detailed guide on what can be done in the Perth city for 5 days, refer 5 days in Perth.
The best time to visit Perth is during the spring season (September to November) as it is relatively cooler than the other summer months.
Itinerary (a weekend in Perth)
Friday night
After finishing work on a Friday, I took a direct Jetstar flight from Sydney to Perth. The flight time was approximately 5 and 1/2 hours. As part of my planning, I had also booked a tour with 'Explore tours Perth' to visit the Pinnacles.
The other trips from Perth city are a day tour to Rottnest Island or Wave Rock.
Saturday
On Saturday, I was picked up by the driver/tour guide 'Peter' from my accommodation, YHA Perth. Peter was friendly and very welcoming. The tour was a one day tour and consisted of four stops spread throughout the day.
Yanchep National Park
The first stop was at Yanchep National Park. The Yanchep national park is around 50 kilometres from Perth city. The park was absolutely beautiful and it had an abundance of wildlife. This is the place where one can definitely spot kangaroos and koalas. The landscapes were breathtaking and refreshing.
Yes, we spotted koalas and the grey kangaroos.
The entry fee for Yanchep National Park is around AUD 15 for a private vehicle. Up-to-date information on the cost can be found on the national park website.
Cervantes
The second stop was at a fishing coastal town called Cervantes. We visited the Lobster Shack, where we took a tour inside the lobsters' factory and saw how the lobsters are bred and caught. One can get fresh lobsters to eat and have a scrumptious meal.
Since I do not eat seafood, I stuck to my vegetarian burger. Note: The lunch was included in the price of the tour.
Nambung National Park
The third stop was at Nambung National Park to look at the Pinnacles. The Pinnacles are the limestone formations. They remained unknown until 1967. These rock formations were spectacular and astounding. We spent a good amount of time taking pictures.
There are star gazing tours that operate where one can go view the stars and milky way at the Pinnacles.
Lancelin
The last and the fourth stop was at the sand dunes in the adventurous town of Lancelin. This was the most enjoyable stop where we tried the sandboarding. I had sandboarded earlier, in spite of it I behaved like the first-timer and trust me, it was such amazing fun.
My review of the tour
The entire tour was organised very well. It was a good day spent traveling to the Pinnacles. Peter, my tour guide, was very cordial and approachable. He took extra care of all the guests on the tour and made the tour a memorable one for all.
Sunday
The next day (Sunday), which was the last day of my tour, I decided to explore a bit of Perth. I started my day walking around the city center searching for breakfast. On the way, I saw some beautiful wall arts, buildings, and sculptures. I walked through Kings Park and the City of Perth Library.
I decided to head to Elizabeth Quay after breakfast. Elizabeth Quay is a nice and beautiful area with buzzing cafes and restaurants.
Note: There is an Indian restaurant at Elizabeth Quay where customers can eat how much ever they wish and they can pay whatever amount they want. It is an amazing concept where everyone goes to enjoy a decent vegetarian Indian food.
As it was a lovely warm sunny day and I sat by the water for quite some time.
One can also take a walk around the Swan River or hunt down the various public art on the Art walk trail.
After spending some time at the Elizabeth Quay, I headed to the airport, where I had an afternoon flight from Perth to Sydney.
Is Perth safe for solo female travelers?
Yes, yes, and yes. Perth is absolutely safe for solo female travelers. I had no issues or concerns while traveling in Perth and felt very safe most times. However, like any other city, be cautious especially at nights, and trust your instincts. Also, beware while traveling on the trains after sunset.
Conclusion
I thought a weekend was a short period of time to explore Perth city. I would suggest visiting at least 3 full days in order to see and explore the city completely. And if one wants to explore the other places around Perth, then more days are required. Even though Perth is a quiet city and I would not live there, but I would definitely rate it as one of the best cities in Australia. There are so many things to do around and explore the untouched beauty of Western Australia. I had a great time and I wish I had more time to see other places. I have to definitely come back and stay there for more days.
Also, read
PIN for later reference