Make the Most of Your 5 Days in Perth: A Traveler's Guide (2023)
Do you have just 5 days in Perth? And want to make the most of it? Then you are at the right place. I have been to Perth a couple of times and this time around, I had just 5 days and in this post, you will find the perfect itinerary to spend 5 days in Perth.
PIN for later reference | Make the Most of Your 5 Days in Perth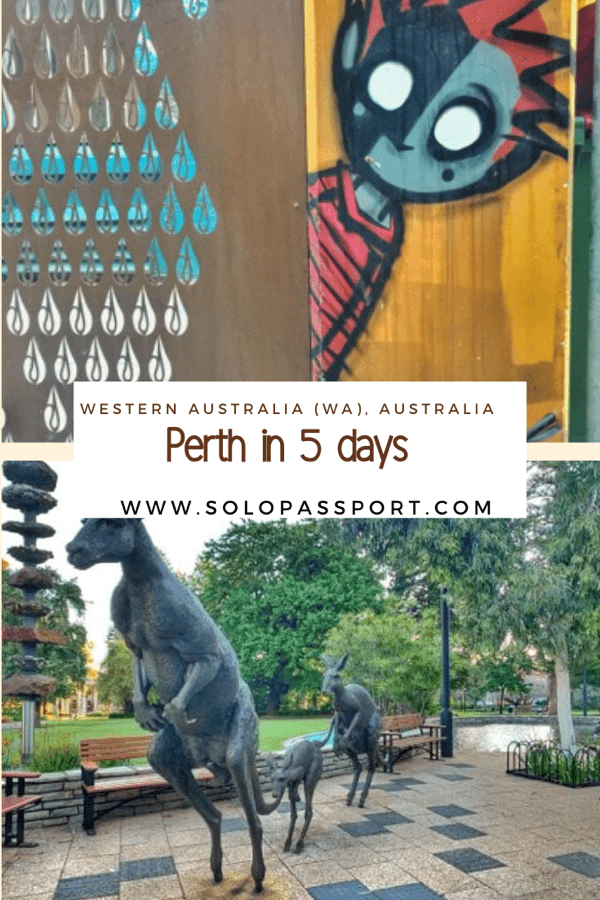 This article may contain affiliate links, meaning if you decide to make a purchase via my links, I may earn a commission at no additional cost to you. For full information, please see our affiliate disclaimer here.
I have started traveling solo again, yaay! And this time to Perth, to explore this capital city in Western Australia. This is my second time in Perth city. The first time I was in this beautiful city, I explored Perth for a weekend, and the second time I decided to spend 5 days. As much as I would love to explore Western Australia, I have been unable to do so because of its distance from Sydney.
Where is Perth?
Perth is the capital city of the state of Western Australia in Australia. The city sits on the Swan River. It is known for its beautiful West coast beaches and the botanical garden. The city of Perth has its origins from 1829 and was established by the British government.
Did you know that Perth is famous for being the most isolated city in the World? It is surrounded by nature.
The best time to visit Perth is during the spring season which is in the months between September and November. Even though there are many things to do in Perth, I think you need around 2 to 3 days to explore the city. But you need more number of days to explore the places around the Perth city which are the most beautiful places and the true beauty are outside of the city.
How to Get to Perth?
Perth has the fourth busiest airport in the country. It has an International airport and is very close to South East Asia. The cheapest flight is from South East Asia when compared to Sydney.
Name of the airport: Ltd. Perth International Airport (IATA).
There are many international airlines that operate out of Perth. Some of them are Singapore Airlines, Etihad Airways, Qatar Airlines, and Qantas. The budgeted ones are AirAsia and Scoot. Two of my most favourite international airlines among all of them are Singapore airlines and Qantas.
If you are traveling by budgeted airlines, then read my post for tips to make your journey comfortable.
There are frequent domestic flights between the major cities and towns in Australia and Perth. Jetstar and Tigerair are the budgeted airlines, and the other domestic flight operators are Virgin Australia and Qantas with a few regional ones.
Transportation within Perth City and Suburbs
Transportation from / to Perth Airport
Perth airport is both a domestic and international airport in the city of Perth. The airport is the fourth busiest airport in Australia. It is around 18 kilometres from the city centre.
Taxis
The taxis (Ola cabs) from the airport to the city centre costs around AUD 25 and is definitely the quickest way to get to the city.
Buses
There are affordable options from the various terminals to get to the city. It is through the public transport. Below are the details of the buses that run between Airport and the City:
Terminal 1 & 2 – Route 380 goes to Perth City via Belmont Forum.
Terminal 3 & 4 –Route 935 goes to Kings Park via Belmont Forum and Perth City.

Route 40 goes to Elizabeth Quay Bus station via Great Eastern Highway and Victoria Park.
Both these services are operated by Transperth and most up-to-date information can be found on their website.
The cost of the ticket one way is around AUD 4.90.
Getting around in Perth
Perth has three modes of transport for getting around within the city.
Perth Railway Station is the largest station on TransPerth network. The recent and up-to-date information on public transport in Perth can be found on TransPerth website.
A stand alone one time ticket can be purchased at any of the train stations.
SmartRider is the transportation card that can be re-used by recharging. The card can be bought at any SmartRider Retail Outlets. All the outlet addresses can be found on the TransPerth website.
Car is the best way to travel outside Perth. You can hire the car at the Perth airport or at any of the car hire agencies. All you need is a valid full driver's licence (in English language) and a credit card.
Where to stay in Perth?
Hyatt Regency Perth
Located around 2 kilometres from the city centre, Hyatt Regency Perth is a luxurious 5 star hotel with comfortable and spacious rooms. The prices for the standard room starts from AUD 230 per night.
Click here to check for prices on Booking.com
Art Series – The Adnate
Located in the city centre, Art Series – The Adnate is another luxury hotel close to the Perth Convention Centre. The units in the hotel have stunning views of the city. The prices of the room starts from AUD 230 per night.
Click here to check for prices on Booking.com
The Ritz Carlton
Located in the city centre, also close to Perth Convention Centre, the Ritz Carlton is a 5 star hotel with luxurious rooms with city views. The prices for the room starts from AUD 550 per night.
Click here to check for availability on Booking.com
Budgeted Stay
I love staying at hostels and I have found the Youth Hostels Association (YHA) is one of the coolest hostels ever in Australia. It is neat and the staff is very professional. It is not like some of the nonsensical hostels I have stayed while traveling.
When I traveled to Perth, I stayed at two hostels, YHA Perth and YHA Fremantle. YHA Fremantle is very interesting as the hostel is inside a prison. How fascinating is that! Yes you heard it right, the hostel is right inside the prison and I would definitely recommend staying at this hostel at least for a night.
Itinerary – 5 Days in Perth
Day 1 – Wave Rock Tour
Even though I landed at around 5 AM that morning, I still took the Wave Rock tour. The tour that I booked on Viator.com was to visit the most famous rock that looked like a wave, which is known as Wave Rock. It is a natural formation made of granite.
The Wave Rock is approximately around 340 kilometres. I felt it was too much of a distance to cover in a single day. It surely was a tiring long day. I would suggest driving to the Wave Rock instead of taking a one day tour. It is best to stop at one of the villages or towns for a night and making this two days tour.
Day 2 – Walks in Perth
I had this day relatively free just to explore Perth city. So, I decided to do two walks around the city as I believe walking is the best way to explore and discover places.
Walk 1 – Around Swan River
The walk around Swan River is absolutely breathtaking. The skyline of Perth city is totally worth it.
Total distance: 12 kilometres.
Grade: Easy (Flat throughout).
Time taken: 2.5 hours.
Walk 2 – Art City Walk
The Art city walk was one of my most favourite walks in Perth. It was like a treasure hunt where one needs to find different art mapped out on a map provided at the visitor centre.
Total distance: 5 kilometres.
Grade: Easy.
Time taken: 2 hours.
Day 3 – Rottnest Island / Fremantle
Last time I was in Perth for a weekend, I did not have sufficient time to visit Rottnest Island, and hence I did not miss Rottnest Island this time. I had booked the return ferry tickets in advance that would take me between the Rottnest Island and Fremantle. You can explore Fremantle as well as there are many things to do in Fremantle. Refer Guide to Rottnest Island for all the details on what to do on Rottnest Island.
Day 4 – Scuba Diving in Rottnest Island
One of the best sites to scuba dive in Australia is in Rottnest Island. I decided to scuba dive in Rottnest Island. The diving buddy and the staff were absolutely amazing and they took care of me. However, I had a panic attack as my body could not cope with the cold waters.
Scuba diving provider: Dive Ski & Surf. The Dive Ski and Surf is right in front of the Fremantle wharf, the wharf from where the boats leave for Rottnest Island.
Cost: AUD 229.
Day 5 – Perth Mint
I visited the Perth Mint on the day. And I must say that the Perth Mint is totally worth visiting. They have some unique coin collection and they also demonstrate how to make gold – which is pretty cool.
The fun things to do in Perth Mint is:
Get a personalised coin with the name embossed.
Know your gold worth based on your weight and that day's gold rate. I found this extremely fun. Such an awesome idea to attract customers!
Is Perth safe for solo female travelers?
Both the times I have been to Perth, I have traveled solo. It is one of the safest places I have traveled as a solo female traveler. So yes, absolutely Perth is safe. However, like any other place, be cautious especially at nights and trust your instinct.
Closing Notes for 5 Days in Perth
Hope this post has given you the itinerary and the information on how you can spend 5 days in Perth. Perth is a city definitely worth visiting. The city itself has some amazing vibes and the places around the Perth city are absolutely stunning. I would visit again to explore more of this city and the surrounding areas.
Have you been to Perth city yet? What did you think of it? And do you have any other suggestions for what can be done during the 5 days in Perth? Let me know by writing to me on Solopassport@gmail.com.
How can you support me?
You know how much I love coffee, so you can buy me coffee – Buy me Coffee!

Or you can purchase from one of the below travel resources without any extra charge to you:
Travel Resources
Book your flight on Skyscanner.com or Trip.com
Reserve your accommodation on Stay22
Buy comprehensive travel insurance on SafetyWing and WorldNomads
Book your tours and travels or purchase tickets on Viator or GetYourGuide
For a universal SIM card, use DrimSim
If you liked this article and if it was helpful in your planning or traveling, do share, tweet, or pin this post.

Follow me on Instagram | Facebook | YouTube | Twitter | LinkedIn
Do you have a question? Or want any suggestions, and tips for travels, hikes and scuba dives? Use the Subscription box below to sign-up and get updates by email.
PIN for later reference | Make the Most of Your 5 Days in Perth