Best Places to Visit in Istanbul
The last stop on my Turkey travel last year was Istanbul. I visited this city, just after my lovely vacation at Kas. It is the city that I fell in love with. Blending both the cultural and modern aspects of the city, Istanbul stands out and is one of the most beautiful cities to visit. In this post, I will mention the best places to visit in Istanbul.
PIN for later reference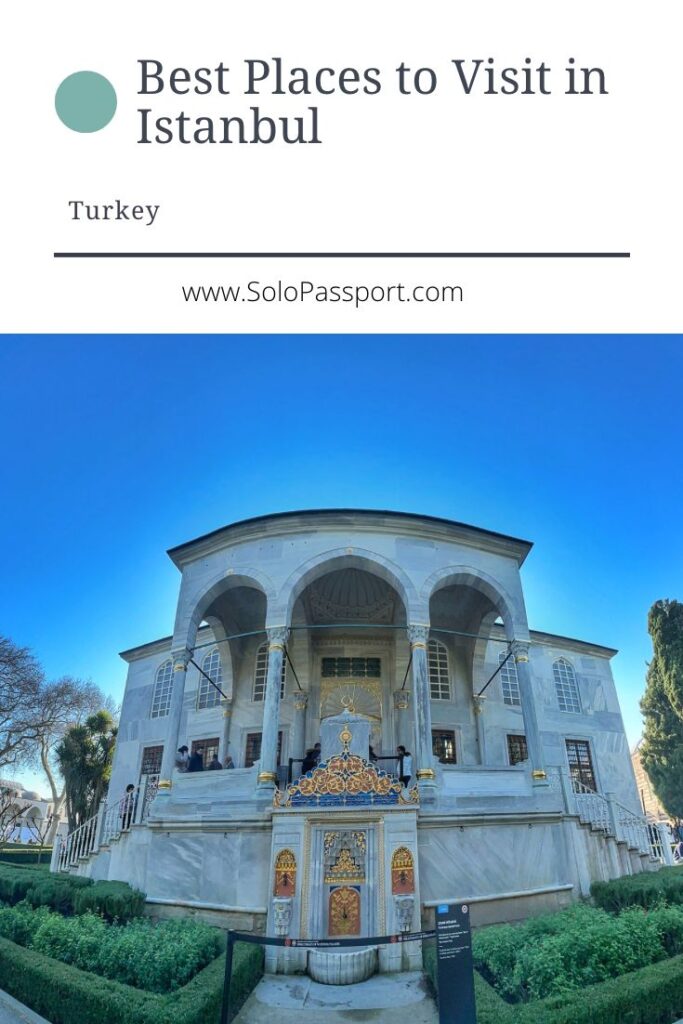 This article may contain affiliate links, meaning if you decide to make a purchase via my links, I may earn a commission at no additional cost to you. For full information, please see our affiliate disclaimer here.
About Istanbul
Istanbul is Turkey's largest city and is also an economic, cultural and historical hub. Founded in the 7th century by the Greek settlers, Istanbul served as an imperial capital for around 1600 years. The first name of Istanbul was Byzantium, of origin Thracian language (an extinct language).
Tip: Carry a scarf to cover your head while entering the mosques.
The best time to visit Istanbul is between April and October and you need at least 3 days to cover all the places to visit.
Did you know that Istanbul is not the capital city of Turkey? The capital city is Ankara.
Best Places to Visit in Istanbul
For mosques, please ensure:
You carry a head scarf so you can cover your head before entering the mosque.
Wear appropriate and non-revealing clothing.
Try to visit the mosques in the morning so you can avoid the crowd and finish them off to cover other places in Istanbul.
You can take pictures of almost everything, except the pictures of people praying.
Apart from these best places to visit in Istanbul, the city also has amazing old cafes and did you know that the café culture exists from Ottoman era.
Even though Istanbul is conservative, the city does have some amazing nightclubs and open-air rooftop bars. Here is the guide to having a great nightlife at Istanbul.
The Blue Mosque
Constructed between 1609 and 1616, the Blue Mosque is officially known as the Sultan Ahmed Mosque. It is an historical imperial mosque from the Ottoman era. Part of the UNESCO World Heritage Site, the distinct feature of the mosque is the hand painted blue tiles in the interior walls.
You will not be allowed inside the mosque 30 minutes before the prayer times. Also, the prayers on Friday goes till afternoons during which you will not be allowed inside.
Entrance fee: No entrance fee.
Timings: 9 AM to 5 PM everyday (except during the prayer times)
Update January 2023: The Blue Mosque is going through a renovation and you can only see the women's prayer hall.
Hagia Sophia Mosque
Built as an Eastern Orthodox Church, the Hagia Sophia Mosque is a major cultural and historical site. Situated next to the Blue Mosque, it was built between 532 and 537 by the Byzantine Emperor Justinian I. Formally known as the Church of the Holy Wisdom, it was considered as the epitome of the Byzantine architecture. It was converted to a mosque in 1453 by Mehmed the Conqueror.
Be prepared for really long queue, especially on a weekend or a holiday.
Entrance fee: No entrance fee.
Timings: 9 AM to 7 PM everyday.
Basilica Cistern
Built in the 6th century during the reign of Byzantine Emperor Justinian I, the Basilica Cistern is the largest of the ancient cisterns in Istanbul.
Try to visit the Basilica Cistern in the late afternoon for less crowd.
Entrance fee: 28 Euros.
Timings: 9 AM to 10 PM everyday.
Many Hollywood movies such as Inferno, 1963 James Bond film From Russia with Love among others were filmed in Basilica Cistern.
Topkapi Palace and Museum
Being one of the main residences of its sultans and an administrative centre of the Ottoman Empire, the Topkapi Palace and Museum is one of the interesting places to visit. Originally called as the New Palace, the Topkapi name came into being in the 19th century.
Buy your tickets in advance and online so you can avoid long queue at the ticketing counter.
Entrance fee: 35 Euros (200 Turkish Lira per person). You need to take an extra ticket (100 Turkish Lira per person) to visit Harem.
Timings: Summer – 9 AM to 6 PM, Winter – 9 AM to 4:45 PM everyday except Tuesday. The palace and the museum are closed on Tuesdays.
You need at least 3 to 4 hours to cover the palace and the museum.
Galata Tower
Built as the watch tower, the Galata Tower is an old Genoese tower, which is now an exhibition space and museum.
Best time to visit the Galata Tower is in the morning to avoid crowd.
Entrance fee: 175 Turkish Lira per person.
Timings: 8:30 AM to 10 PM everyday.
Museum of Innocence
Created by the novelist Orhan Pamuk, the Museum of Innocence is a museum centred around two Istanbul upper-class families. The novel 'The Museum of Innocence' was created in tandem with the museum. Revolving around the story of Kemal, a wealthy Istanbul boy who falls in love with his poorer cousin Fusun, the museum displays the artefacts of their love story.
Entrance fee: 65 Turkish Lira per person.
Timings: 10 AM to 6 PM Tuesday to Sunday.
Museum of Turkish and Islamic Arts
Being the first museum in Turkey, the Museum of Turkish and Islamic Arts holds artefacts from 1400 years. It has unique and fine examples of tiles, rugs and calligraphy.
Entrance fee: 100 Turkish Lira per person.
Timings: 9 AM to 6:30 PM everyday.
Grand Bazaar
With more than 4000 shops, the Grand Bazaar is one of world's largest and oldest markets. The prices are reasonable and you get anything and everything at Grand Bazaar.
Ensure to haggle and do not accept the first price that the shop keeper quotes.
Entrance fee: No entrance fee.
Timings: 8:30 AM to 7 PM Monday to Saturday. Sundays closed.
How to get to Istanbul?
By Plane
Istanbul has two major airports:
Ataturk Airport, which is closer to the city and is around 25 kilometres from the city.
Sabiha Gokcen Airport, which is around 35 kilometres from the city.
Both these airports are 30 minutes apart and there are shuttle buses that operate between the two airports.
Istanbul International Airport (Ataturk Airport) is one of the major hubs and transit airports in the world and most of the airline providers, including Turkish airlines and Indigo, operate from this airport.
By Bus or Train
There are many frequent buses that connect other European cities and Istanbul.
There is only one train Istanbul-Sofia Express between Istanbul (Turkey) and Sofia (Bulgaria) with a connection at Dimitrovgrad for Bucharest (Romania).
Places to stay in Istanbul
Crowne Plaza Istanbul
Situated close to the Old Istanbul and Grand Bazaar, Crowne Plaza Istanbul is a convenient stay with good amenities. The hotel has a spa, in-house restaurant, gym and an indoor pool.
Click here to check availability and prices on Booking.com
Ramada Plaza Sultanahmet
Another centrally located accommodation in Istanbul is the Ramada Plaza Hotel in Sultanahmet. It is around 500 metres from Grand Bazaar and offers rooftop bar and restaurant, with relaxing hammam and sauna.
Click here to check availability and prices on Booking.com
Safety for Solo Female Travelers
Istanbul is very safe for solo female travelers. Even though I traveled with a friend, I still say that as a solo traveler, you will not face any issues. The city is beautiful and the people are very kind and approachable. However, like any other city in the world, be cautious and know your surrounding, especially at night.
Closing Notes
I had a great time in Istanbul. The vibes of the city is amazing. The places and the food are something to cherish and I highly recommend adding Istanbul to your travel bucket list.
How many of these places have you visited in Istanbul? Let me know in the comments section below.
How can you support me?
You know how much I love coffee, so you can buy me coffee – Buy me Coffee!

Or you can purchase from one of the below travel resources without any extra charge to you:
Travel Resources
Book your flight on Skyscanner.com or Trip.com
Reserve your accommodation on Stay22
Buy comprehensive travel insurance on SafetyWing and WorldNomads
Book your tours and travels or purchase tickets on Viator or GetYourGuide
For a universal SIM card, use DrimSim
If you liked this article and if it was helpful in your planning or traveling, do share, tweet, or pin this post.

Follow me on Instagram | Facebook | YouTube | Twitter | LinkedIn
Do you have a question? Or want any suggestions, and tips for travels, hikes and scuba dives? Use the Subscription box below to sign-up and get updates by email.
PIN for later reference