Complete Guide to Wadi Shab Hike in Oman
Hiking and Scuba diving are always on my list. I knew Oman was one of the most beautiful countries to dive in but I was not aware that it also had great trails to trek/hike. While researching, I found Wadi Shab which was one of Oman's top places to go hiking for. In this post, I will provide a complete guide to Wadi Shab Hike, which is one of the amazing things to do in Oman.
This article may contain affiliate links. For full information, please see our affiliate disclaimer here.
About Wadi Shab
Located in Al-Sharqiyah region of Oman, Wadi Shab is a dry river gorge leading into spectacular natural pools and waterfalls. With picturesque canyons and stunning pools, Wadi Shab makes one of the most popular tourist destinations in Oman.
The best time to visit Wadi Shab is during the winter months, between November and April, as the months are not too hot and the weather is pleasant. The summer months are very hot and the temperature may go up to 40 to 45 degrees centigrade.
How to get to Wadi Shab?
By Air
The closest airport is the Muscat International Airport. Distance between the airport and Wadi Shab is around 170 kilometres and by road, the journey takes up to 2 hours. The roads in Oman are amazing and there is hardly any traffic.
By Road
Wadi Shab is around 115 kilometres from Muscat city centre and by road, it just takes about 1 hour 40 minutes. The route to take is Route number 17 and the roads are spectacular. I highly recommend hiring a self-driven car as it is very easy to drive in Oman.
Note the driving side in Oman is right hand side and you need to have a valid international licence to drive around.
By Public Transport
Unfortunately, there is no public transportation to Wadi Shab from Muscat. The only ways to get to Wadi Shab is to either drive or hire a taxi.
The return journey from Muscat in a taxi is around OMR 60. It is a one day trip where the taxi driver will pick and drop you at your hotel.
Ensure to haggle with the taxi drivers before agreeing on a price. I was quoted OMR 130 and I got it down to OMR 60.
I hired a taxi and my taxi driver was one of the best. He was friendly, knowledgeable and kind. And most importantly I felt very safe with him. Below are his details:
Name: Moosa.
Contact Number: +968 9266 3384.
One day tour to Wadi Shab
You also have one day tours to Wadi Shab from Muscat city. There are travel agencies that organise these tours and you can easily book them on Viator website. The only catch is that the dates that they have are very limited (usually Saturday and Sunday) and this is the only reason why I hired a taxi rather than opting for one day tours.
Click here to check prices on Viator.com
Wadi Shab Hike
Hiking statistics
Total distance: 5.5 kilometres return.
Time taken: 45 minutes one way.
Type of trail: Return. The end point is the pool where you can swim.
Grade: Easy to Moderate. Moderate only because certain section of the trail has boulders.
Do not miss – The pool, cave, and a waterfall.
Terrain
The trail starts off with an easy walk between the canyon. It is a marked path and is very easy to walk. As and when the trail progresses, it goes through a trail that is filled with pebbles and rocks. It also passes through the cliffs and boulders.
Be careful where you step and take it slow along the boulders.
Facilities
During the trail, there is absolutely no facility. There are no water sources or toilets. But you do have public toilets at the parking lot which you can use before you start your trail. There are no cafes or restaurants near by as well so ensure to take lunch or snacks with you.
Visitor Information
Things to carry – Ensure to carry the below for the hike:
Sunscreen (as there is very limited shade on the trail).
Shades and a cap.
Swimmers (it is absolutely amazing to swim in the pool) and towel.
Water bottle (carry at least 2 litres).
Snacks (carry a light snack so you can enjoy at the pool).
Comfortable shoes (you need to walk on pebbles and rocks).
Entrance fee – There is no entrance fee to hike on the trail. The only cost is the return boat ride from parking lot to the other side. This is OMR 1 per person.
Safety – It is absolutely safe to hike alone. There is nothing that can go wrong on the trail. There are people throughout and you will be hiking with others.
Dress modestly and appropriately – One thing to remember while traveling in Oman is to dress modestly and appropriately. It is a very conservative country and they appreciate if the culture is respected. Even though some call it over dressed, I wore a kurta and a pyjama to the hike and I was amazed by the number of locals who appreciated and spoke to me.
You are okay to wear bikini/swimmers at the pool.
Places to stay at Wadi Shab
Wadi Shab is not very developed to handle over tourism. They are happy for visitors to visit the place for just one day and there are only two chalets/homestay in the area:
Wadi AShab Chalets.
Guest House near White beach.
Other things to see at Wadi Shab
White beach
Very close to Wadi Shab is the white beach. With crystal clear and dark blue waters, this beach is stunning and picturesque. It is also very secluded as not many people visit this beach. Unfortunately, there are no distinct white pebbles on the beach anymore as the water has swept most of these pebbles under the ocean bed. But in spite of it, it is lovely to do a stop over and enjoy the cool breeze.
Entrance fee: No entrance fee.
Bimmah Sinkhole
Another interesting and breathtaking place to visit is the Bimmah Sinkhole. The sinkhole is a very popular swimming spot as the water is very tempting and blue.
Visiting time: 8 AM to 8 PM.
Entrance fee: No entrance fee.
There is drinking water available at the entrance of the park and sinkhole.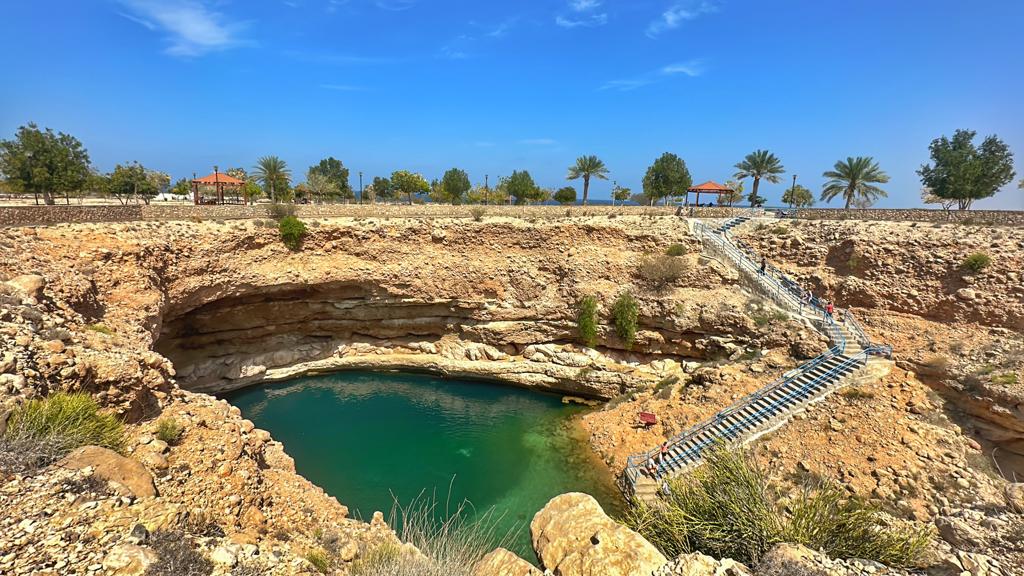 Safety for Solo Female Hikers
This is one of the hiking trails that I can surely say is the safest as there are other people who are hiking. There is no scare of animals or reptiles harming you. And the trail is well defined. The only thing is be a bit careful at the edge of the cliffs.
Frequently asked questions (FAQ) for Wadi Shab Hike
Q: What should I pack for Wadi Shab Hike?
Comfortable shoes
Swimmers and towel
Shades, Sunscreen and a cap
Water and snacks
Q: How long is the Wadi Shab Hike?
Total distance is around 5.5 kilometres return and it takes about 1.5 to 2 hours return.
Q: What is the entrance fee for Wadi Shab Hike?
There is no entrance fee for the hike itself but you need to pay OMR 1 per person for a boat drop from parking lot to the other side (1 minute ride).
Q: How hard is the Wadi Shab Hike?
It is an easy to moderate trail. Moderate because you need to walk on rocks and boulders at certain sections.
Q: What is the best time to go to Wadi Shab?
The best months are between November and April and the best time is in the morning.
Q: How far is Wadi Shab from Muscat city centre?
The distance is around 150 kilometres and it takes 1 hour 40 minutes to go from Muscat City Centre to Wadi Shab.
Q: Are there toilets at Wadi Shab?
There are public toilets only at the parking lot. The trail does not have any.
Q: Are there any cafes or restaurants at Wadi Shab?
No, none. Take water, lunch and snacks with you from Muscat. There is one fuel station along the way where you can stop and buy food and drinks.
Closing Notes
I loved visiting Wadi Shab. It was surely one of my favourite places I saw in Oman. The trail was beautiful and the gorges were stunning. It surely reminded me of RIM walk in Kings Canyon (Australia) which has a very similar landscape. If you are short on time in Oman, definitely do not miss Wadi Shab.
How can you support me?
You know how much I love coffee, so you can buy me coffee – Buy me Coffee!
Or you can purchase from one of the below travel resources without any extra charge to you.

Travel Resources
Click to book your flight on Skyscanner.com
Click to book your accommodation on Stay22
Click to book a comprehensive travel insurance on Safety Wing
Click to book your tours and travels on Viator or GetYourGuide
If you liked this article and if it was helpful in your planning or traveling, do share, tweet, or pin this post.

Follow me on Instagram | Facebook | YouTube | Twitter | LinkedIn
Do you have a question? Or want any suggestions, and tips for travels, hikes and scuba dives? Use the Subscription box below to sign-up and get updates by email.
PIN for later reference