Top 10 Things to do in Muscat in One Day
Muscat has surely become one of my favourite cities in the world. The city has charm. It is beautiful, people are friendly and respectful, and there are plenty of things to do in the city. During the Easter break this year, I visited Oman for 4 days and I spent one day exploring Muscat.
You need a little more than a day to see everything in Muscat but you can cover most of the touristy places in one day. In this post, I will list down the top 10 things to do in Muscat in one day.
This article may contain affiliate links, meaning if you decide to make a purchase via my links, I may earn a commission at no additional cost to you. For full information, please see our affiliate disclaimer here.
Oman Travel Resources
Best Time to Travel to Oman
Top 10 Things To Do in Muscat in One Day
Scuba Diving in Daymanyiat Island
Complete Guide to Wadi Shab Hike
Bucket List Accommodations: 5 Best Hotels in Muscat; Hotel Ramada Encore Muscat by Wyndham
For Best Hotels in Oman, use Booking.com
For Hostels in Oman, use Hostelworld
To book your bus tickets, use BusBud
Use Skyscanner or Trip.com for good deals on flight tickets
For tours and travels, use Viator or GetYourGuide
Rental Cars is the best car rental company to hire self-driven cars
About Muscat
Popular for its hospitality and souks (markets), Muscat is a port and capital city of Oman. According to a report by Al Jazeera, Muscat has been ranked in the top 5 most beautiful cities in the world, along with Paris, Venice and others. But not to forget that Muscat is one of the expensive cities to travel and is a major upcoming tourist destination in the world.
Did you know Muscat means anchorage? The name is given because the city is located between Persian Gulf and the Indian Ocean.
Top 10 Things to do in Muscat in One Day
When you are in Oman, it is required for you to be dressed modestly and this is the perfect guide to understand what to wear in Oman.
Some of these landmarks have a discounted price if you book tickets online on Otaxi application.
If you are an Omani citizen or a resident, then the entrance fee vary and are cheaper than the tourist entry fee.
Disclaimers:
The prices mentioned in the post are valid only at the time of publication. Ensure to check the booking websites for up to date information and prices.
Opinions and views expressed solely mine and are unbiased. If the post is a collaboration, then they are specifically mentioned.
Ensure to check the relevant websites for up to date information on COVID protocols.
For any adventurous activities, please note that there is a risk that can be dangerous. Ensure to read the terms and conditions with individual agencies recommended and do them at your own risk.
For visas, it is best to see the embassy website for any changing rules.
Visit Sultan Qaboos Grand Mosque
Opened in 2001, the Sultan Qaboos Grand Mosque is the only mosque that is open to non-Muslims in Oman. Built as a gift to the country, the mosque was commissioned by Sultan Qaboos and it took 6 years 7 months for completion.
!! Do not forget to have a look at the carpet in the main (male) prayer hall, it is unique and is one big carpet.
Muslims can enter throughout the day but non-Muslims can enter only between 8 AM and 11 AM Saturday to Thursday as Fridays are closed.
Entrance fee: None.
As it is a religious site, you need to dress appropriately. Women are supposed to cover their heads too. You can hire Abaya at the entrance.
Attend a show at Royal Opera House
Opened in 2011, the Royal Opera House Muscat is the main venue for Oman's music and art. Initially known as House of Musical Arts, the venue not only hosts Omanis music and culture but also other musical concerts from around the world. The venue can host up to 1100 people and consists of theatre, auditorium, gardens, art centre and many more.
Entrance fee: OMR 3 (including a guided tour) for tourists.
The fee for watching a concert can vary depending on the artist playing and the stand selection, and can go up to Euros 1100.
Business casuals and conservative dress code is preferred for the concerts in the Opera house.
Go See Al Alam Palace
Built by Imam Sultan bin Ahmed, the Al Alam Palace is one of the six residences the Sultan. Surrounded by Mirani and Jalali Forts, the palace has a facade of gold and blue.
Entrance fee: None.
You can only walk around the palace and cannot enter inside.
Visit National Museum of Oman
Established in 2013, the National Museum of Oman is a museum that was built as a result of 10 year collaboration between the Ministry of Heritage and Culture, the Royal Estate Affairs of Oman, Jasper Jacob Associates and Arts Architecture International Limited. The museum is now home to more than 5000 artefacts dating back to prehistoric era and has 14 galleries.
The museum is open between 10 AM and 5 PM Saturday to Thursday, and between 2 PM and 6 PM on Friday.
Entrance fee: OMR 5 for tourists.
Visit an offbeat attraction, Omani-French Museum
Opened in 1992, the Omani-French Museum is an offbeat place to visit in Muscat and was established to preserve the artefacts and historical relations between Omanis and French. The museum hosts photographs, ships, documents, costumes and jewellery from both Omani and French diplomats.
The museum is open between 8 AM and 1:30 PM Saturday to Thursday, and between 9 AM and 1 PM on Friday.
Entrance fee: OMR 1 for tourists.
Shop at Muttrah Souq
Known for local products and handicrafts, the Muttrah Souq is a great place to shop for any souvenirs and local items. Along with the products, it is also famous for local sweets, spices and incense. Dating back 200 years, the souq/market is one of the oldest markets in Oman.
The market is open between 9 AM and 1 PM, and between 4 PM and 10 PM everyday.
Entrance fee: None.
Visit Muscat Fish Market
Located close to Muttrah Corniche, the Muscat Fish Market is a place where you can take amazing and dramatic pictures of fishermen and locals trading fishes. There is an on-site restaurant to try seafood.
The market is open between 6 AM and 10 AM everyday.
Entrance fee: None.
Go back in time at Old Fort in Qurum
Built by Portuguese under Philip I of Portugal, the Old Fort of Qurum is also known as Al Jalali or Ash Sharqiya Fort. It is one of the 5 main forts of Oman. Very little of the original fort remains today but is a great place to go back in time.
The fort is open between 9 AM and 5 PM Saturday to Thursday, and between 8 AM and 11 PM Friday.
Entrance fee: None.
Watch sunset at Muttrah Corniche
Muttrah Corniche is a 2 kilometres promenade along the waterfront with the spectacular views of mountains and water. There is a pavement to walk along watching the views.
Entrance fee: None.
You witness spectacular sunsets and you can also see Sultan's private cruise parked here.
Things to do in Muscat – You can also scuba dive in Muscat | Read Oman Diving.
Hang out at Shatti Al Qurum Beach
One of the most happening and crowded places is the Shatti Al Qurum Beach. With buzzing restaurants and food joints, this beach is surely a must visit. Known for its lovely beach, rich neighbourhood, this area is a great place to spend time with family and friends.
Entrance fee: None.
There are many restaurants and cafes at the beach and is one of the happening places in Muscat.
Best time to visit Muscat
The best time to visit Muscat is between the months of November and March as it is winters. During the winter season, the weather is pleasant and not too hot. The summer months can be very hot and the temperature goes to 40 to 45 degrees centigrade.
Places to stay in Muscat
Muscat has some amazing places to stay. From 4 / 5 Star Hotels to the budgeted hotels, the city offers plenty of options.
Golden Tulip Headington Ruwi Hotel
Located in Ruwi area, the Golden Tulip Headington Ruwi Hotel is a 4 star hotel with very comfortable and spacious rooms. It is situated in the heart of the city and makes a nice stay when you want to be in the middle of busy streets and markets.
Click here to check prices on Booking.com
Ramada Encore Muscat
Located in Al-Ghubra area, Ramada Encore Muscat is a 4 star hotel with standards of 5 star hotel. The rooms, staff and the amenities are amazing and surely one of the best.
Click here to check prices on Booking.com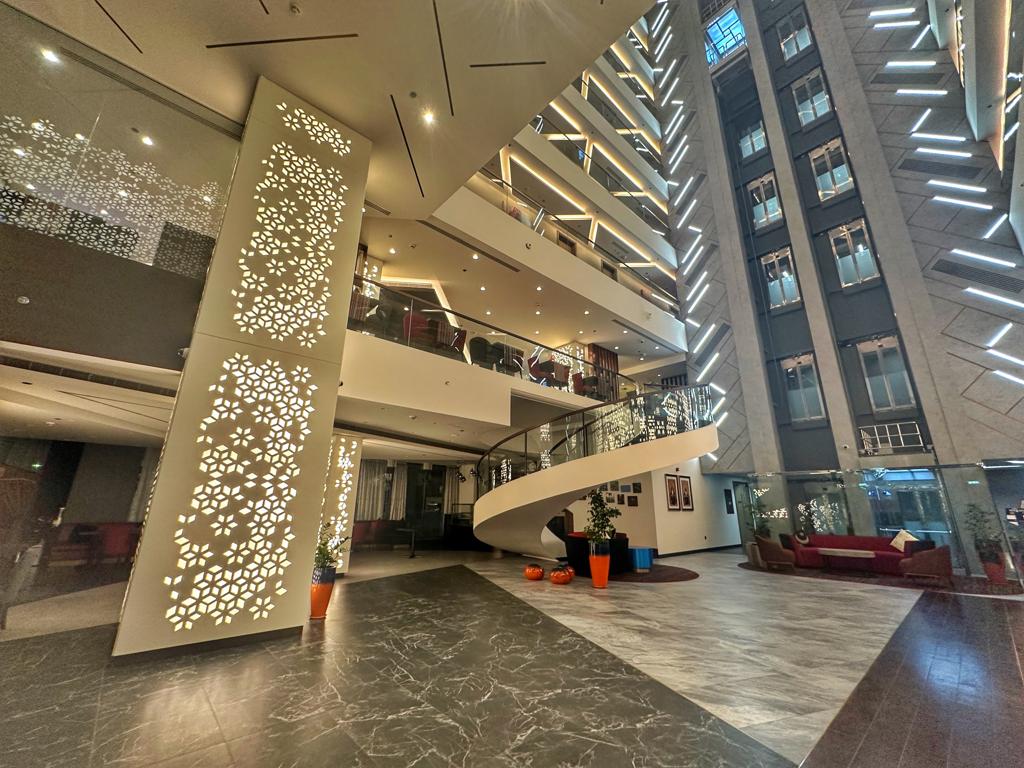 Grand Millennium
One of the best 5 star hotels I have stayed so far is at the Grand Millennium. Featuring more than 300 luxury rooms and suites, the hotel is located in Al-Ghubrah area.
Click here to check prices on Booking.com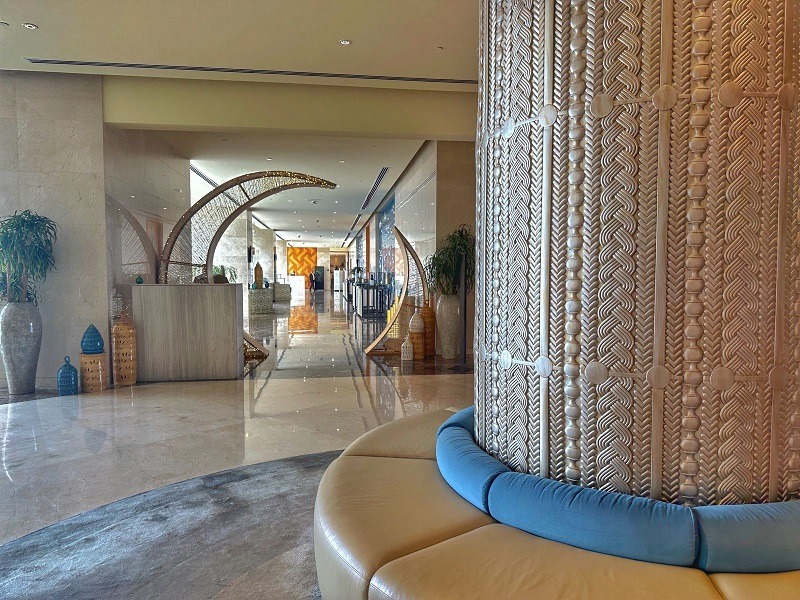 How to get to Muscat?
By Air
Muscat has an international airport of its own and most of the airline providers have a stop over at Muscat International airport. It is one of the main transit hubs in the world. The airport is around 10 kilometres from Muscat city. Oman Air, Turkish Airlines, IndiGo Airlines, Emirates are among others that operate at the airport.
Click here to check and compare flight prices on Skyscanner.com
You can hire taxis just outside of the International Airport and the taxi ride to the city centre on Marhaba taxis is OMR 16 per person.
https://www.skyscanner.net/?irclickid=_9y3lx0debsflyglpggmh6qc3ef2x6sjbzrh1kwtv00&associateid=AFF_TRA_19354_00001&utm_medium=affiliate&utm_source=4093033-Solopassport&utm_campaign=&irpartner=4093033-Solopassport&irgwc=1
By Sea
As Muscat is one of the major port cities, there are many cruises that stop over at Muscat. These cruises arrive from Abu Dhabi and Doha, and they can be one of the affordable ways to arrive into the country. The visas are usually handled by the cruise companies.
By Road
Muscat is connected very well with Dubai and the journey by road takes just less than 5 hours. The roads are in excellent condition and you can easily cover a distance of 450 kilometres in that 5 hours.
You can hire a self-driven car at the airport which makes it easier to travel around the city.
By Public Transport
Muscat is connected well with buses as well from Dubai and Abu Dhabi. These buses are operated by Oman National Transport Company and the main bus stop is at Ruwi.
Safety for Solo Female Travelers
Muscat is very safe for solo female travelers. I found that the locals are very respectful towards women and they take extra care to make sure you feel comfortable. However, be cautious, especially at night. Also for taxi rides, it is better to go with taxis booked under Otaxi or Shetaxi mobile applications as the rides are tracked.
Closing Notes
As mentioned, there are many things to do in Muscat but the ones listed in the post are the top 10 of them in one day. The city is beautiful and one of the hospitable cities in the Middle Eastern countries.
How can you support me?
You know how much I love coffee, so you can buy me coffee – Buy me Coffee!

Or you can purchase from one of the below travel resources without any extra charge to you:
Travel Resources
Book your flight on Skyscanner.com
Reserve your accommodation on Stay22
Buy a comprehensive travel insurance on SafetyWing and WorldNomads
Book your tours and travels or purchase tickets on Viator or GetYourGuide
If you liked this article and if it was helpful in your planning or traveling, do share, tweet, or pin this post.

Follow me on Instagram | Facebook | YouTube | Twitter | LinkedIn
Do you have a question? Or want any suggestions, and tips for travels, hikes and scuba dives? Use the Subscription box below to sign-up and get updates by email.
PIN for later reference