Diving at Clifton Gardens
One of the most amazing dive sites I have dived at is the Clifton Gardens. Even though it was murky when I dived, I saw some unique and spectacular marine life. Definitely the beautiful, protected and calm dive site in Sydney is the dive at Clifton Gardens.
PIN for later reference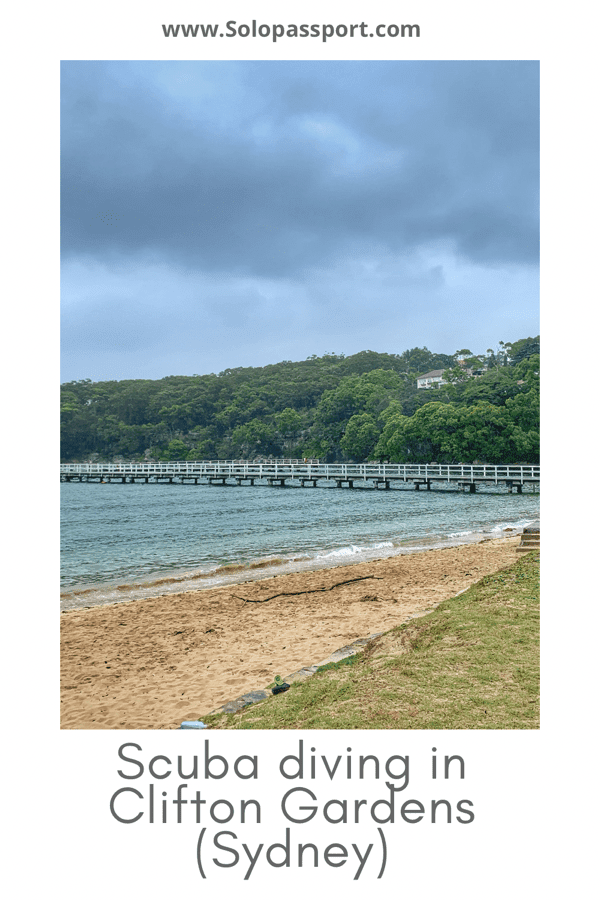 Please note: This post may contain affiliate links which means I may earn a commission if you make a purchase by clicking a link on this post. This will be at no additional cost to you. Affiliate links help me keep this website up and running. Thank you for your support.
Where is Clifton Gardens?
Adjacent to the Chowder Bay, Clifton Gardens is a locality in the suburb of Mosman in Sydney. It offers great views of the harbour and is an awesome place for swimming, snorkeling and scuba diving.
Note: The beach is generally popular for families and is sometimes crowded especially over the weekends.
There are no cafes at the beach. However, there are a few picnic tables with barbecue.
How to get to Clifton Gardens?
Driving
The distance between Sydney Central Business District (CBD) and Clifton Gardens is around 10 kilometres (15 minutes drive). There is a paid car park very close to the Clifton Gardens where one can park their car. Note: The parking ticket (AUD 20 for all day) is applicable even on the weekends.
Public transport
Clifton Gardens can be reached easily from Wynyard station.
Bus – Bradleys Head Rd at Thompson St is the closest bus stop to Clifton Gardens. The distance between the bus stop and the beach is just 1 minute (30 metres) walk. There are frequent buses between Wynyard station on Carrington Street and Bradleys Head Rd.
The bus to Taronga Zoo (bus number 247) is the one that goes to the Bradleys Head Rd.
More up-to-date information on the bus route and timings can be found on the Transport for NSW.
Credit/Debit or Opal transportation cards can be used to pay the fare on public transport in Sydney.
For things to do in Sydney, read Ultimate travel guide to Sydney.
Dive Site at Clifton Gardens
In spite of being murky and with almost zero visibility, I had a nice dive at Clifton Gardens. I was told by my dive instructor Pio that the beach is protected from the winds and hence the water is less rough. I dived at this site as part of my PADI Nitrox course (as an add on to the course itself). The Nitrox course teaches the diver to dive with a Nitrox tank so one can be prepared for diving deep waters and staying for longer duration.
Logistics
Type of Dive: Shore dive. Note: The beach is a sandy beach with sea grass making it look green. As soon as we wore our fins inside water, we pretty much descended to the bottom. Note there is a pier across and the dive is around those wooden poles.

Beware of the fishing lines as there are plenty of people fishing.
Take a torch with you for diving. This is the best way to spot the cute seahorses.

Dive site: Open (Sea).
Depth: 9 to 10 metres.
Visibility: I have been told that this site has the best visibility on good days. However, I had really bad visibility of just 1 metre Note: The visibility depends mainly on the conditions of the ocean and the weather. One of the divers who accompanied us mentioned that there was a time where a fish went straight to his face as it could not see the diver.
Ideal for: All level divers including the beginners.
Wet suit: Yes (5 mm thickness) advised. The Australian waters especially in Sydney are a bit chilly.
Current: Usually calm.
Facilities
There are toilets available at the dive site. One can use the toilet facilities to change the wet suits. Also there is a water filling station where one can also fill water bottles for drinking.
Marine Life
The marine life here was unique and the best here. There are plenty of seahorses, crabs and octopuses.
My most memorable moment was when I saw a seahorse for the first time ever. It was so tiny (they grow from 6 to 30 cms) and fragile. Absolutely precious and beautiful.
The best time to dive is in the mornings as there is less crowd and the visibility is much better.
Dive Centre and Cost
NOTE: As mentioned, these two dives were part of my PADI Nitrox course.
Cost: Shore dive with full gear and 1 Nitrox tank cost AUD 110. This is additional to the Nitrox course. Also, the dive centre provides transportation to and from the dive site.
Equipment: One Nitrox tank, BCD, weights, a regulator, 7 mm wet suit, mask with an inner vest, fins, and boots.
Booking: via phone 02 9369 3855.
I had a great experience a nice time interacting with the staff. My instructor Pio was very knowledgeable and the theory session she took for the Nitrox course was awesome. I loved diving with her and the other divers. Even though she was not aware of the dive site, there was another experienced diver Jimmy who was very good with the dive site.
The best thing about diving with Dive Centre Bondi was that we had to clean our gear when we got back. This helps the divers in learning how to maintain the equipment in case they purchase their own equipment in future.
I loved Dive Centre Bondi and diving with them. But the only drawback that I saw was that:
It is very expensive to do a shore dive when compared to other dive centres. Some of the dive centres like Dive Centre Manly offer free guided shore dive for members (becoming a member only cost AUD 100 for a year that provides unlimited access to shore dives). So, it makes it difficult to dive with them Dive Centre Bondi every weekend.
Is it safe for solo female travelers?
As a rule in Scuba diving, it is always best to dive with a buddy and if you are a newbie like me then an instructor works best. So, always buddy up with some more experienced than you. If you are going with a dive centre, then there is nothing to be worried about as the safety is taken care by the centre.
Traveling to and from the dive site/centre is extremely safe for solo female travelers. Sydney, in general, is a very safe city. But like any other place, be cautious about your surroundings.
Closing notes
Clifton Gardens has now become one of my top favourite places to dive in Sydney. I have been diving at different places around Sydney and diving at Shelly Beach and Camp Cove were my favourites. Now Clifton Gardens have been added to that list and I recommend diving at this site for sure.
PIN for later reference