Diving at "The Docks" (Jervis Bay)
Jervis Bay comes to the top of the list when someone mentions diving in the South coast of New South Wales (NSW). Known for its beautiful caves underwater and spectacular marine life, diving in Jervis Bay is on everyone's list. And hence it was on my list too. So a few weeks ago, a fellow scuba diver and I decided to head to Jervis Bay to do a dive. The dive centre we went with selected the dive site "The Docks" due to the weather condition.
PIN for later reference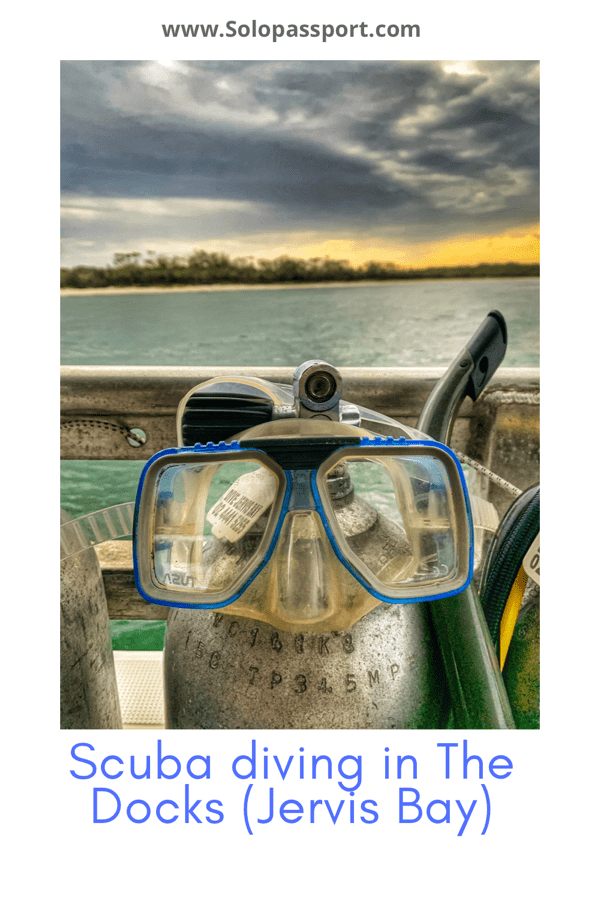 Please note: This post may contain affiliate links which means I may earn a commission if you make a purchase by clicking a link on this post. This will be at no additional cost to you. Affiliate links help me keep this website up and running. Thank you for your support.
Where is The Docks?
The Docks is the dive site that is on the northern side of Jervis Bay. Huskisson is the town that one needs to get to and the coastal town is along the shores of Jervis Bay. From Huskisson, we need to take a boat to reach the dive site The Docks.
Note: The Docks dive site is known for its caves. And Huskisson is known for its spectacular sunsets.
Did you know that there are more than 60 dive sites in the Jervis Bay Marine Park?
How to get to Jervis Bay?
Driving
The distance between Sydney Central Business District (CBD) and Huskisson is around 185 kilometres (2 hours 30 minutes drive). There are paid car parks very close to the dive centre where one can park their car. And also there are plenty of street car parks a little further away from the dive centre where one can park the car for free.
Public transport
Reaching Huskisson is not very straightforward. It does require two modes of transport. The easiest and quickest way is by:
Train– One needs to fist take a train from Martin Place train station to Bomaderry train station.
Bus – From Bomaderry train station, there are buses that go to Huskisson.
More up-to-date information on the bus route and timings can be found on the Transport for NSW.
Credit/Debit or Opal transportation cards can be used to pay the fare on public transport in Sydney.
For things to do in New South Wales, refer the section Travel in New South Wales on my blog and for other dive sites around Australia, refer the section Diving in Australia.
Dive Site (The Docks at Jervis Bay)
Honestly speaking, I was not very impressed with the dive here at the Docks. In fact I was disappointed as I had heard so much about the dive sites at Jervis Bay. I do understand that this could be one off and is based on the day's weather conditions. And because of which I will go back again to dive there.
Logistics
Type of Dive: Boat dive. Around 20 to 30 minutes from the shore as the dive site is in the bay itself. Note: The dive site has a few caves and it does get dark inside the caves.

We took a giant stride to get into the water from the boat.
Carry a torch especially for the passages within the caves.

Dive site: Open (Sea).
Depth: 18 to 21 metres.
Visibility: approximately around 4 to 5 metres. When I dived at The Docks, the visibility was not that great. I believe there was a muddy storm that had hit Jervis Bay a few weeks before our dive. Note: The visibility depends mainly on the conditions of the ocean and the weather.
Ideal for: All level divers including Open Water divers.
Wet suit: Yes (5 mm thickness) advised. The Australian waters, especially Sydney and south coast, are a bit chilly.

The surface temperature when I dived was around 40 degrees Centigrade but the water was freezing with 15 degrees Centigrade.

Current: A bit rough.
Marine Life
The marine life supposedly is abundant and spectacular here. I was told to look out for lots of Bull Rays, Wobbegong sharks, Cuttlefishes and Groupers. I saw a Blue Grouper which swam with us all along. There was a time where the Blue Grouper was chased by a tiny little fish and the Blue Grouper ran for its life. This was such a cute and funny moment.
The best time to dive is in the mornings as there is less crowd and the visibility is much better.
Dive Centre and Cost
Cost: AUD 225 including the boat ride and the full gear.
Equipment: Two tanks, BCD, weights, a regulator, wet suit, with an inner vest, mask with snorkel, fins, and boots.
Booking: via phone 02 4441 5255.
Even though the water was murky and rough, I had a great time diving and interacting with the staff. They are absolutely amazing and friendly. Even their equipment were very good and maintained. So I enjoyed diving with them.
I really hope I can get back to Jervis Bay again and dive there. The main drawbacks about the dive was:
It is very expensive for a boat ride and to hire the gear. And so it makes it difficult to dive with them every weekend.
Also, it is quite a distance to go from Sydney and to get the water that is murky.
Is it safe for solo female travelers?
As a rule in Scuba diving, it is always best to dive with a buddy and if you are a newbie like me then an instructor works best. So, always buddy up with some more experienced than you. If you are going with a dive centre, then there is nothing to be worried about as the safety is taken care by the centre.
Traveling to and from the dive site/centre is extremely safe for solo female travelers. Australia, in general, is a very safe country and so is Huskisson. But like any other place, be cautious about your surroundings.
Closing notes
The dive at The Docks was one of the bad dives. However, I do know that Jervis Bay has much more to offer and I would like to dive at this bay again to see the pretty dive sites and the marine life.
PIN for later reference