Harbour Foreshore Walk | Peek into Sydney History
Exploring Sydney and discovering its history has become a new obsession for me. Sydney as a city has so many things to see and do and one such thing is the Harbour Foreshore walk that starts at the Circular Quay and finished at the Darling Harbour. There are so many hidden gems that only the locals know. The other two walks that I highly suggest doing in The Rocks and Circular Quay are:
For all the things to do in Central Business District (CBD), refer Sydney CBD section on my blog.
PIN for later reference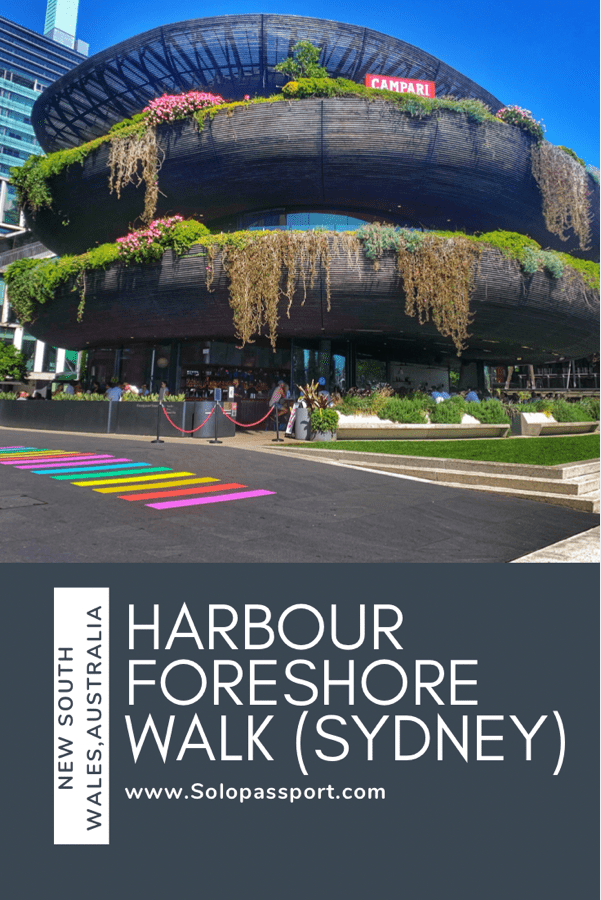 Please note: This post may contain affiliate links which means I may earn a commission if you make a purchase by clicking a link on this post. This will be at no additional cost to you. Affiliate links help me keep this website up and running. Thank you for your support.
Harbour Foreshore Walking route
The walk starts at the Customs House in Circular Quay and ends at the Darling Harbour. It takes around 1.5 to 2 hours to complete this walk at a leisure pace. Note: The walk is mostly flat.
Starting point: Customs House.
Finishing point: Darling Harbour.
Total distance: 4.5 kilometres.
Total time taken: 1.5 to 2 hours.
Grade: Easy.
Path: Customs House — Bulletin Place — Science House — Susannah Place — The Big Dig — Observatory Hill — The Lord Nelson Brewery Hotel — Argyle Bar — Barangaroo — Darling Harbour.
Points of Interest
Stop 1 – Customs House
Customs House in the Circular Quay is a heritage listed museum. Opened in the year 1845, Customs House now hosts a library and a restaurant. The building once served as a head office of the New South Wales (NSW) operations for Department of Trade and Customs until the year 1988. The building is of the Victorian Georgian style architecture and is built on the land of traditional Indigenous owners, the Eora people.
Definitely dine at Cafe Sydney. The food and the view of the Sydney Opera House are absolutely amazing, especially at nights.
The closest train station to the Customs House is Circular Quay train station. The Sydney city line goes to Circular Quay from Central train station. For up-to-date and recent information on the public transportation is found on the Transport for NSW website. Note: The fare for transport can be paid either using credit/debit cards or Opal transport card. Paying by Opal attracts a discounted fare rates.
Stop 2 – Bulletin Place
The Bulletin Place is the place where the first newspapers were printed in Sydney. It is named after JF Archibalds weekly publications. The JF Archibalds weekly publications were founded in the year 1880.
Stop 3 – Science House
Built in 1931, Science House is a heritage listed building. The building was opened as a co-operative venture between three major scientific organisations in NSW. It was built to share facilities and operate as a centralised headquarters. It was occupied by various scientific organisations.
Stop 4 – Susannah Place
Susannah Place is a living museum and a heritage listed former grocery store and worker's cottages in the Rocks. It is a terrace of four houses built by the Irish immigrants in the year 1844.
Unfortunately, one cannot go in as it is closed until further notice.
Stop 5 – The Big Dig
The Big Dig is a heritage listed archaeological site located on the Cumberland street. It reveals what homes and lanes were in old Sydney. These were foundations of the places built by early settlers in Australia.
Ensure to check out the Big Dig Archaeological Education Centre.
Stop 6 – Observatory Hill
Providing spectacular views of the Sydney Harbour bridge, Observatory Park Hill is an amazing place in the Sydney Central Business District (CBD). The park's history dates back to 1796 and it was used as the site of the first windmill in the colony. It is also known as Windmill Hill and Fort Philip and Flagstaff Hill. The park hosts a number of historical buildings and the most prominent one is the Sydney Observatory, that was built in 1858.
Entry into the Observatory Hill Park and Sydney Observatory is FREE.
Observatory Hill Park is a popular lookout and photography spot among the wedding photographers.
Stop 7 – The Lord Nelson Brewery Hotel
The Lord Nelson Brewery Hotel is home to Australia's oldest pub brewery and also Sydney's oldest continually licensed hotel. The hotel was established in 1841 and is recognised around the World for its beers. It is a three storey sandstone building in the Old Colonial Regency style. The hotel claimed it liquor licence one year before Sydney was proclaimed as a city.
The Lord Nelson Brewery Hotel is known for its good variety of craft beers. So beer lovers take a note!
Stop 8 – Argyle Bar
The Argyle Bar at the Millers Point is a licenced bar. They serve cocktails and are open from Friday to Sunday.
Stop 9 – Barangaroo
Barangaroo Reserve is a waterfront park with walking and cycling trails. It is famous among the locals for pretty lookouts, picnic spots and exercise. Barangaroo is named after a powerful woman who lived in the area during the time of early colonial settlement. She was and is a key figure in the Aboriginal culture and community.
Along the way, we had an opportunity to see the construction of the Barangaroo train station, which will be marked down in the history.
Last stop – Darling Harbour
Darling Harbour is a harbour in Sydney CBD. It is a very lively place in Sydney where Sydneysiders flock to every weekend. Darling Harbour is famous for its restaurants and cafes along the harbour. For top things to do in Darling Harbour, refer my post 10 things to do in Darling Harbour.
The closest train station for Darling Harbour is Town Hall train station. There are frequent trains that travel between Sydney city train stations and Town Hall is one of them. For more information on public transport, refer the Transport for New South Wales (NSW) website.
Safety for Solo female travelers
Sydney is one of the safest cities I have traveled in. I have never faced too many issues while traveling within the city. However, like any other city be cautious and know your surroundings especially at nights.
Closing Notes
I highly suggest doing this self guided and slow paced walk in The Rocks. This provides a sneak peek into Sydney's history with some breathtaking views of the Harbour. I enjoyed all the sights that I visited along the way and just seeing the difference between what Sydney was and what it is today.
PIN for later reference