Bunjee Jumping in Queenstown
All of my special occasions are very well planned. And it was time for me to plan something for my birthday. After deciding on the location (Queenstown in New Zealand (NZ)), I started planning the itinerary. One of the items on my to-do list in NZ was bunjee jumping.
This article may contain affiliate links. For full information, please see our affiliate disclaimer here.
Disclaimers:
The prices mentioned in the post are valid only at the time of publication. Ensure to check the booking websites for up to date information and prices.
Opinions and views expressed solely mine and are unbiased. If the post is a collaboration, then they are specifically mentioned.
Ensure to check the relevant websites for up to date information on COVID protocols.
For any adventurous activities, please note that there is a risk that can be dangerous. Ensure to read the terms and conditions with individual agencies recommended and do them at your own risk.
For visas, it is best to see the embassy website for any changing rules.
Bunjee Jumping agency
After my research on the various things to do and agencies in NZ, I decided to go with AJ Hackett Bungy in Queenstown. There were three bunjee jumping options:
Kawarau Bungy Jump (43m),
The Ledge (400m) and
The Nervis Bungy Jump (134m).
I decided to go with the world's first commercial bungy jump, which was the Kawarau Bungy Jump, which cost me about NZD 220. I took the help from Flight Centre and booked the jump. I was so excited and freaked out at the same time that I did not sleep that night thinking about the jump.
By the way, you can do New Zealand at a budget and the country is made for backpacking. With plenty of hostels and camping grounds, the travel to New Zealand can be done easily at affordable budget. One of my travels in South Island was a backpacking trip and I had visited Queenstown as part of that backpacking travel.
Jump Day – 18 July
We were picked up at 8 AM from Queenstown city centre and were taken to the Kawarau bridge. Even though, the drive was very scenic and breathtakingly beautiful, I was panicking and I was cold. I wanted to do the jump but at the same time I was cursing myself for booking it.
After signing our declarations and medical forms, we were allowed to go into the viewing platform. The viewing platform had few steps to the bridge, from where we were jumping. The bridge had two spots next to one another for jumps. And there was a river flowing underneath. I stood at the platform for sometime looking at all the crazy ones jumping one by one from the bridge. My heart was racing. What if this was a mistake?
'Why cannot I overcome my fear?' I was challenging myself again and again. On our turn, we took the two spots, next to each other. There were two guys helping me wear the gear. First one helped me with the waist belt and second one tied the bunjee chord to the towel and wrapped it around my calf muscles.
The second instructor was reiterating (noticing me constantly looking down the river), 'Don't look down!' And he tried to give me confidence by saying, 'it's like jumping into a swimming pool.' (Unfortunately, I was that person who had never ever jumped into a swimming pool). Finally, when I had to stand at the edge just before the jump, I chickened out. Announcing that I can't, I left the bridge with a heavy heart and teary eyes. I had never given up in my life, Never! And this time, I had, on my birthday. I had surrendered to my fear.
Seeing me all upset, we decided to go for a tandem jump. We spoke to the staff (who were super friendly) and asked them if there was just one spot for us that day. Unfortunately, there was a tour group of youngsters who had booked the entire day. But the manager gave us a light of hope, she informed us that she would give us a call, if there were any cancellations.
Hoping for a second chance, we returned to Queenstown city centre. And guess what? We received a call. Super excited, we caught the bus again. This time I had to do it. After so much drama!
I was panicking again (panic was my favourite expression that day). But I made sure I never looked down at the river. After wearing our belts and chords, we were ready. We had to take small tiny steps to the edge. I was super nervous, whilst the staff cracked some light hearted jokes (of course on me!).
'Jump, jump and jump!' I heard and then in no time we had jumped (or pushed, who knows). I had frozen (yes, my way of getting scared is to freeze and not scream). I had had no time to think or act. I don't even remember if I was holding my breath. All I know was I had clinging onto my tandem partner, like real tight (we had jumped from the bridge).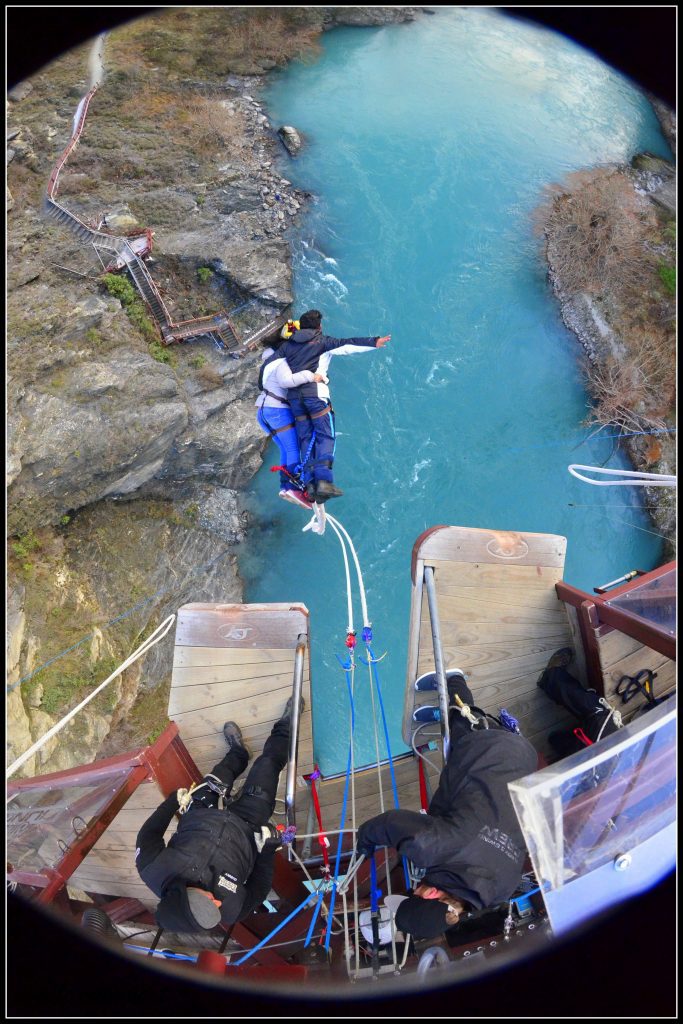 After a short free fall, we bounced up two or three times. When we slowed down and stopped bouncing, we were gradually pulled down, onto a raft.
After stepping onto the raft, I felt something extraordinary, happy, delighted and liberated. I had done it!
Even though I had given up the first time, I had tried again and I had jumped. This was the craziest thing I had ever done in my life. Sky diving had looked like a cake walk. I had never ever been so scared in my life and yet I overcame my fear of heights.
Closing Notes
I am sure whoever said, "Try until you succeed" told it with a lot of experience. Even though I had given up the first time, I was so happy to have done it the second time.
How can you support me?
You know how much I love coffee, so you can buy me coffee – Buy me Coffee!
Or you can purchase from one of the below travel resources without any extra charge to you.

Travel Resources
Click to book your flight on Skyscanner.com
Click to book your accommodation on Stay22
Click to book a comprehensive travel insurance on Safety Wing
Click to book your tours and travels on Viator or GetYourGuide
If you liked this article and if it was helpful in your planning or traveling, do share, tweet, or pin this post.

Follow me on Instagram | Facebook | YouTube | Twitter | LinkedIn
Do you have a question? Or want any suggestions, and tips for travels, hikes and scuba dives? Use the Subscription box below to sign-up and get updates by email.