6 Things to do at Mount Buller in 2023
Mount Buller is the first place in Australia where I saw snow and made a snowman. The experience was magical and I had a great time when I visited Mount Buller. Just a 3 hours drive from Melbourne, Mount Buller is a great weekend break from the busy city of Melbourne.
Also Read | Are you in Sydney? And do you want to see snow in New South Wales (NSW)? Then read my post trip to Snowy Mountains for more details.
PIN for later reference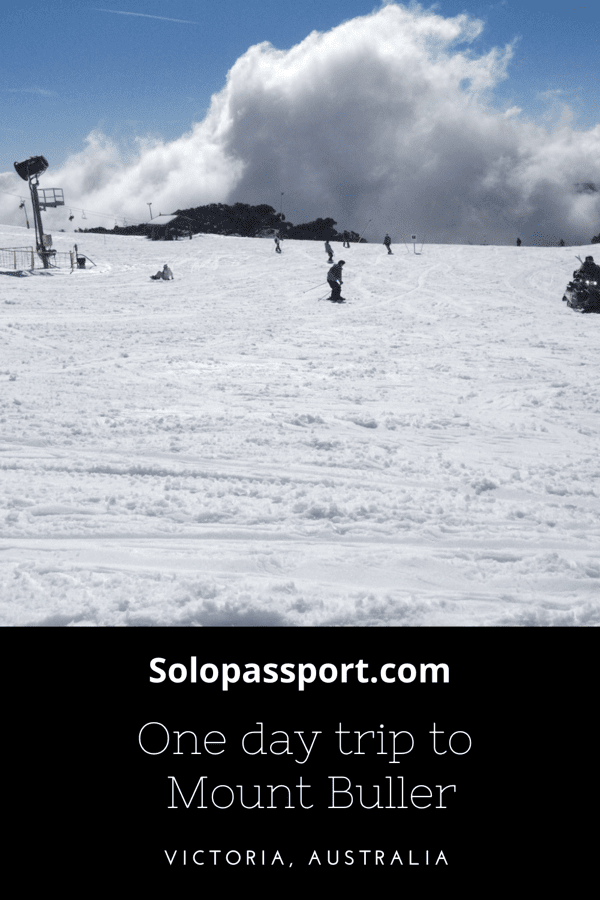 This article may contain affiliate links, meaning if you decide to make a purchase via my links, I may earn a commission at no additional cost to you. For full information, please see our affiliate disclaimer here.
Disclaimers:
The prices mentioned in the post are valid only at the time of publication. Ensure to check the booking websites for up to date information and prices.
Opinions and views expressed solely mine and are unbiased. If the post is a collaboration, then they are specifically mentioned.
Ensure to check the relevant websites for up to date information on COVID protocols.
For any adventurous activities, please note that there is a risk that can be dangerous. Ensure to read the terms and conditions with individual agencies recommended and do them at your own risk.
For visas, it is best to see the embassy website for any changing rules.
Where is Mount Buller?
Mount Buller is a snow resort village in the Shire of Mansfield in the Victoria state of Australia. It is part of the Australian Alpine region where it snows during the winter season (between the months of June and August). Being a very popular destination during the ski season, Mount Buller is home to amazing ski, and mountain bike tracks.
The climate at Mount Buller during the winter season are between 5 degree to -(minus)2 degree centigrade. Ensure to dress appropriately for the weather. If you do not have a jacket that can protect you for the weather, then ensure to hire a jacket at the ski shop which is located at Mount Buller.
How to get to Mount Buller?
By Road
Mount Buller is around 260 kilometres from the Melbourne Central Business District (CBD) and takes about 3 hours 20 minutes to drive by car.
There are a few routes that you can take from Melbourne to Mount Buller and one of them passes through the Yarra Valley region, which is more picturesque. You will also pass through some of the towns such as Merrijig, and Mansfield.
There are toll roads on the route.
During the winter season, the car tyres need to have chains to drive on the slippery and snowy road. And these chains have to be shown at the resort if you are planning on staying overnight.

I would suggest that you take the car only if you are an experienced driver, during the winter season as the roads are slippery and the car could skid.
By Public transport
Unfortunately, there is no public transportation to Mount Buller from Melbourne. The only best way is by taking a bus to MMBL Depot and then taking a taxi to Mount Buller. The bus between Melbourne CBD and MMBL Depot takes around 3 hours and the taxi takes 40 minutes. It is expensive to take the taxi from MMBL Depot to Mount Buller and it may cost up to AUD 150.
By One day tours from Melbourne
If you do not have a car, then booking a one day tour via Viator or GetYourGuide is definitely the best way to visit Mount Buller. I took the one day tour from Melbourne that included the pickup and drop at Federation Square in Melbourne. The bus tour also included the lift pass so to use the chair lift at Mount Buller. The cost of one day tour starts from AUD 79 per person.
Also Read | Things to do in Melbourne during winter season
6 Things to do at Mount Buller
Mount Buller ski resort have plenty of activities to keep their guests entertained. Even though it is a ski resort, you can still do many things and not just skiing.
If you take the bus tour from an agency, one of the stops that they make before reaching Mount Buller is at the ski/snow board shop where you can hire the required equipment, including jackets.
Skiing and Snow Boarding
Mount Buller has many ski and snow boarding tracks and these depend on the level you are at. They start from beginners and go through to the advanced tracks.
You need chair lift pass for the ski tracks. If you are on a bus tour or learning to ski, you are already covered as the cost includes the chair lift pass. But if you are doing it by yourself, you need to purchase depending on how many days you are going to be staying at Mount Buller (maximum is 7 days and minimum is 1 day). The prices for 1 day pass starts from AUD 115.
If you have never tried skiing or snowboarding then the best thing to take ski and snowboard lessons. Spread around 3000 hectares, Mount Buller is the place where you can take skiing and snowboarding lessons from a professional.
The lessons range between an hour to few hours, from one to multiple days. As I said before that the ski tracks are divide between the beginners, intermediates and the experienced. And the ski or snowboarding lessons are conducted in the beginner tracks.
Stay at the resort village
Mount Buller is a ski resort village so there are plenty of options to stay.
Make a snowman
This is definitely my best part of visiting any mountain that has snow. I love making a snowman and dressing him up. It's a fun way to enjoy the snow with friends and family. Sometimes we do have snow fights too!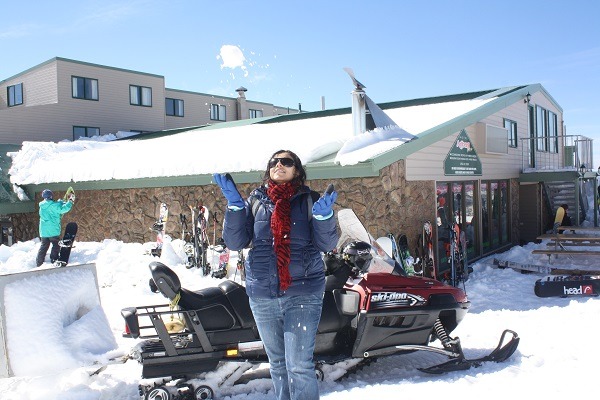 Tobagganing
If you are not up for skiing or snowboarding, then tobogganing must be for you. Tobogganing is sliding on the snow slides by sitting on top of a sled (in simple terms a plastic slab). It is absolutely fun.
Take the scenic chairlift
I did this a lot when I visited Mount Buller. As the chair lift ride was included in the pass, I took the scenic chairlift as many times as I could. Its a fun way to enjoy the weather and have a cool cable car ride.
Have a hot chocolate at the café
What better way to spend a day in the cold than having a hot chocolate? There are cafes where one could buy hot chocolate and enjoy the weather.
Be prepared for really long queues at the cafes and restaurants in the village.
Safety for solo female travelers
Absolutely yes! Even though I did not go to Mount Buller by myself, I can still vouch that it is really safe for solo female travelers. I lived in Melbourne for a few months and I have been around alone many times, I have never had any issues. However, like any other place in the world, be cautious and know your surroundings, especially at nights.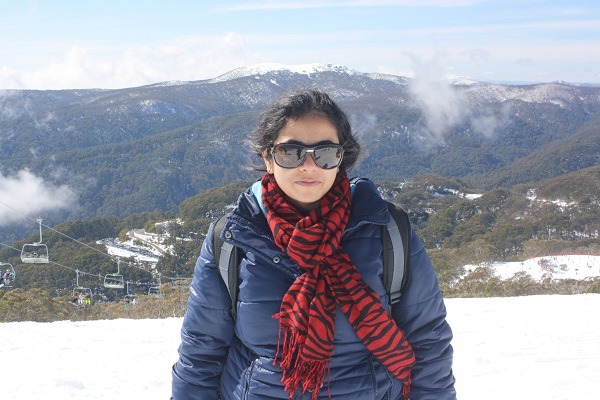 Closing Notes
Mount Buller is a definite must visit in Victoria and a nice weekend getaway. The mountains and the snow are stunning and a fun place to spend a few days. As it is just 3 hours from Melbourne city, it could be perfect for a quick city escape.
Do you think I missed anything that can be done in Mount Buller? Let me know in the comments below.
How can you support me?
You know how much I love coffee, so you can buy me coffee – Buy me Coffee!

Or you can purchase from one of the below travel resources without any extra charge to you:
Travel Resources
Book your flight on Skyscanner.com or Trip.com
Reserve your accommodation on Stay22
Buy comprehensive travel insurance on SafetyWing and WorldNomads
Book your tours and travels or purchase tickets on Viator or GetYourGuide
For a universal SIM card, use DrimSim
If you liked this article and if it was helpful in your planning or traveling, do share, tweet, or pin this post.

Follow me on Instagram | Facebook | YouTube | Twitter | LinkedIn
Do you have a question? Or want any suggestions, and tips for travels, hikes and scuba dives? Use the Subscription box below to sign-up and get updates by email.
PIN for later reference