10 places to visit in Tbilisi
Tbilisi is one of the most beautiful cities I have traveled in. There are so many places to visit in Tbilisi and the city has so much to offer to every kind of traveler and tourist. The vibes and the history is remarkably fascinating. And the culture of Georgians is truly something to appreciate and adore. In this post, I will list down the top 10 places to visit in Tbilisi.
PIN for later reference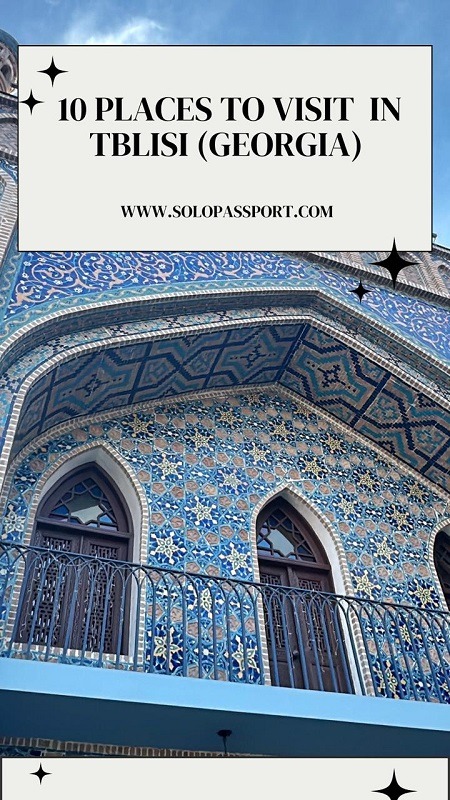 This article may contain affiliate links. For full information, please see our affiliate disclaimer here.
About Tbilisi
Founded in the 5th century by Vakhtang I of Iberia, Tbilisi is the capital city of the nation of Georgia. The city was formerly known as Tiflis and is located on the banks of River Kura. Tbilisi name is derived from Old Georgian word t'bilisi or tpili, which means warm. This name was given to the city because of the sulphuric hot springs that is found in the area.
Tbilisi experiences four seasons.
Summer – June to August are the summer months in Tbilisi where the weather is dry and hot. The temperature varies between 20 to 25 degrees centigrade. These months are also the most crowded season in Tbilisi.
Winter – November to March are the colder months where January is the coldest. The temperature is in single digits where it also goes to a low of -1 degrees centigrade.
Spring – March to May are the spring months where you can enjoy the perfect weather without facing the two extreme weathers.
Autumn – September to November are the autumn months. In Tbilisi, you can see the autumn colours and the temperature drops below 20 degrees centigrade.
The best time to visit Tbilisi is around May, June or September so you can enjoy a pleasant weather.
How to get to Tbilisi?
Fly – Tbilisi has an international and domestic airport. The international airport has connectivity from all major cities around the world. I traveled through Air Arabia which had a transit stop over at Sharjah.
Intercity travel in Georgia – There are frequent trains and buses between the cities in Georgia. You can check TKT website for routes, availability, fares, timings and booking.
Transportation within Tbilisi
The public transport is good in Tbilisi and below are the two ways you can commute within the city.
Metro – Tbilisi has two metro lines. And these metro lines connect 23 stations and they operate between 6 AM and 12 AM everyday. The cost of one way in a metro is 1 Georgian Lari.
Buses – Tbilisi has many frequent buses that connect between different parts of the city. The cost of one way in a bus is 1 Georgian Lari.
You need to purchase Travel Card for 2 Georgian Lari at any metro station. This is used to pay for the metro and Rike-Narikala cable car. For buses, you can either use the Travel Card or cash.
Stay in Tbilisi
Musmore boutique hotel
If you are looking for a budgeted hotel close to the city centre, then Musmore boutique hotel is perfect. Located conveniently near the Liberty square, Musmore boutique hotel is a cute and cost hotel with small rooms and an inhouse restaurant. The staff are also very friendly and you do feel like home at this hotel.
Sheraton Grand Tbilisi Metechi Palace
Located in the old town of Tbilisi, Sheraton Grand Tbilisi Metechi Palace by Marriott is a luxurious 5 star hotel with rich heritage history. This is the hotel to stay if you want to be pampered with great service and a room with amazing views of Tbilisi.
Visitor information
Money exchange and ATMs
Georgian's currency is Georgian Lari but Euros are also accepted throughout the city. Tbilisi has many money exchange centres and ATMs, which are spread throughout the city and old town. The money exchange providers do accept all major currencies such as USD and Euros.
The money exchange centres do accept Indian Rupees but the exchange rate from Indian Rupees to Georgian Lari at these money exchange centres is very high. And hence, it is better to avoid getting the Indian Rupees exchanged as you will incur loss.
At ATMs, you can withdraw money in USD or Georgian Lari. The exchange rate at these ATMs depend on the bank credit or debit card that you use.
Note there are something called as Pay machines in Tbilisi where you can purchase transportation cards and other services that look very similar to ATM machines.
Dress code
Tbilisi city is very relaxed with the dress codes. You can wear any clothes in the city. But when you enter any religious centres such as churches, you have to follow some dress code:
Women have to cover their heads and wear a skirt (more like a sarong). These skirts and scarves are provided at the entrance of the churches.
Men should remove any hats or caps.
All should wear appropriate full clothing.
10 places to visit in Tbilisi
If you are one of those who love exploring a city by walk, then read self-guided Tbilisi walking tour to explore some of these amazing landmarks by walk at your own pace.
Freedom or Liberty square
Located in the centre of Tbilisi city, Freedom or Liberty square is the site of various mass and public demonstrations. Formerly known by many different names such as Erivansky square under Imperial Russia, and Beria or Lenin Square under Soviet Union, Liberty square was also the site of 1907 Tiflis bank robbery. Today, the square is surrounded by many offices, cafes, restaurants and banks, including Tbilisi city assembly.
Rustaveli theatre
Located on Rustaveli Avenue, the Rustaveli National theatre is the largest and one of the oldest theatres in Georgia. Founded in 1887 as Artists' Society, the theatre has three stages to host performances, conferences and events.
Chronicles of Tbilisi
One of the amazing places that I visited in Tbilisi was the Chronicles of Tbilisi. Created in 1985 by Zurab Tsereteli, the Chronicles of Tbilisi is a monument with 16 pillars showcasing the 3000 years old Georgian history and the stories from the life of Christ. The bets time to visit the Chronicles of Tbilisi is at sunset.
Bridge of Peace
Opened in 2010, the Bridge of Peace is a bow shaped pedestrian bridge stretching over Kura River. Made of steel and glass, the bridge stretches for 150 metres and was created to remind of a marine animal. Among the locals, the bridge has been nicknamed as "Always Ultra" because of its perceived resemblance to a ladies maxi-pad.
Mother of Georgia
Erected in 1958, the Mother of Georgia was installed to celebrate Tbilisi's 1500th anniversary. Also known as Kartvlis Deda, the Mother of Georgia symbolises Georgian national character. She holds a bowl of wine on her left hand to greet the people who come as friends and holds a sword on her right hand to fight the people who come as enemies.
Holy Trinity Cathedral of Tbilisi
Constructed recently between 1995 and 2004, the Holy Trinity Cathedral of Tbilisi is one of the largest religious buildings in the world. Commonly known as Sameba, the church is an Eastern Orthodox cathedral which is designed in a traditional Georgian style.
Church timings: 8 AM to 10 PM everyday.
Tbilisi wine museum
Did you know that wine can be prepared in two ways, one the Georgian style and the other European style? And the Georgian style is the oldest style of making wines dating back to more than 8000 years and is a UNESCO intangible cultural heritage.
Tbilisi wine museum holds that 8000 years of wine history and demonstrates the vessels and other artefacts used in making Georgian wine and chacha.
Museum timings: 12 PM to 8 PM Tuesday to Sunday. Mondays are closed.
Narikala Fortress
Dating back to the 4th century, Narikala Fortress is an ancient fortress consisting of two walled sections. The complex also has a church that was recently built in 1996. According to the legend and history, the fortress was built by the founder of Tbilisi, King Vakhtang I Gorgasali.
Fortress timings: 8 AM to 8 PM everyday.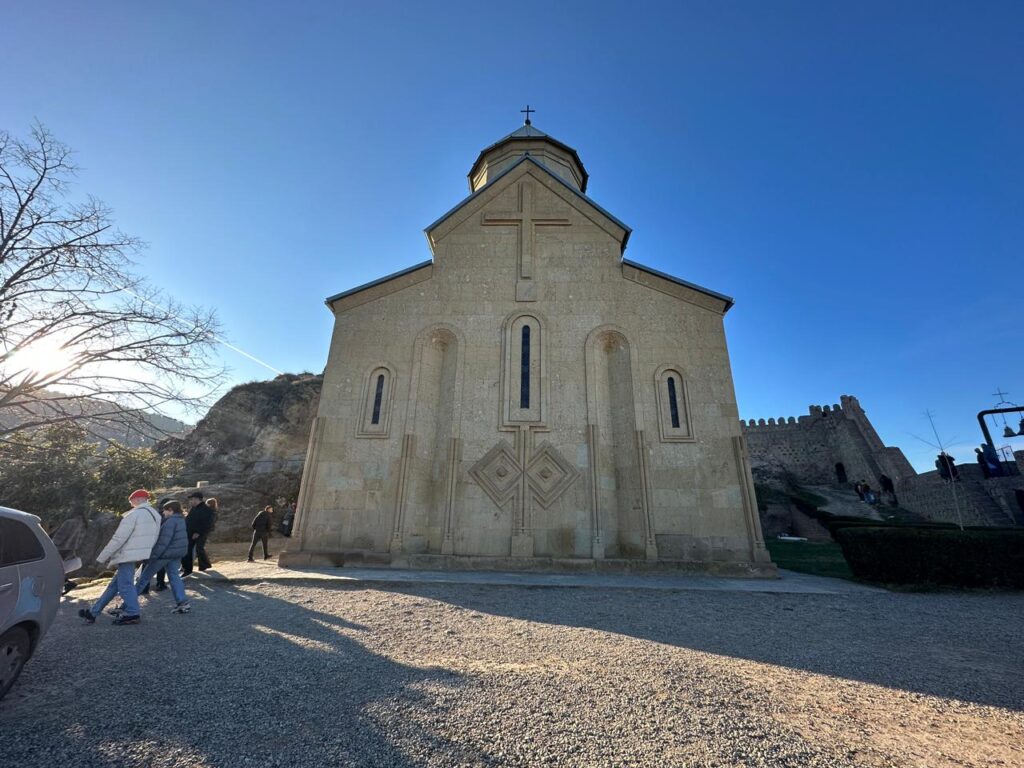 Tbilisi Open air museum of Ethnography
Founded in 1966, Tbilisi Open air museum of Ethnography is an open-air museum. The museum is named after Giorgi Chitaia, it displays the artefacts of folk architecture and craftwork.
Museum timings: 10 AM to 6 PM Tuesday to Sunday. Mondays are closed.
Sioni Cathedral
Initially built in the 6th and 7th centuries, Sioni Cathedral is an Orthodox cathedral. The church is an example of medieval Georgian church architecture and it bears the name of Mount Zion at Jerusalem.
Church timings: 8 AM to 9 PM everyday.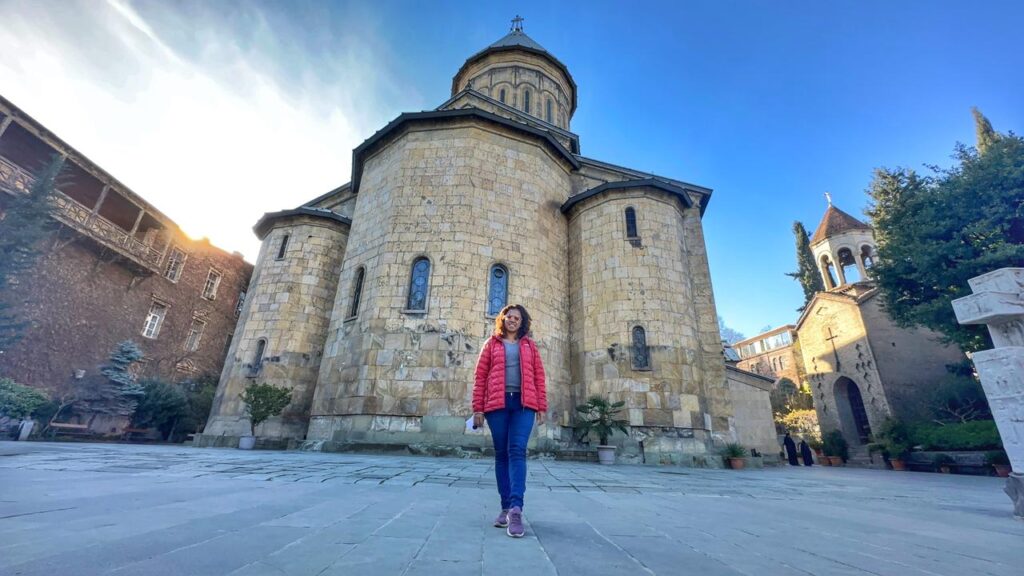 Safety for solo female travelers
I found Tbilisi to be very safe for solo female travelers. It is one of the safest cities I have traveled in. The people mind their own business and I did not face any issues whatsoever. However, like any other city in the world, be cautious and know your surroundings.
Are you new to solo female traveling? Or do you have a lot of questions on solo traveling? Read frequently asked questions (FAQ) on solo traveling.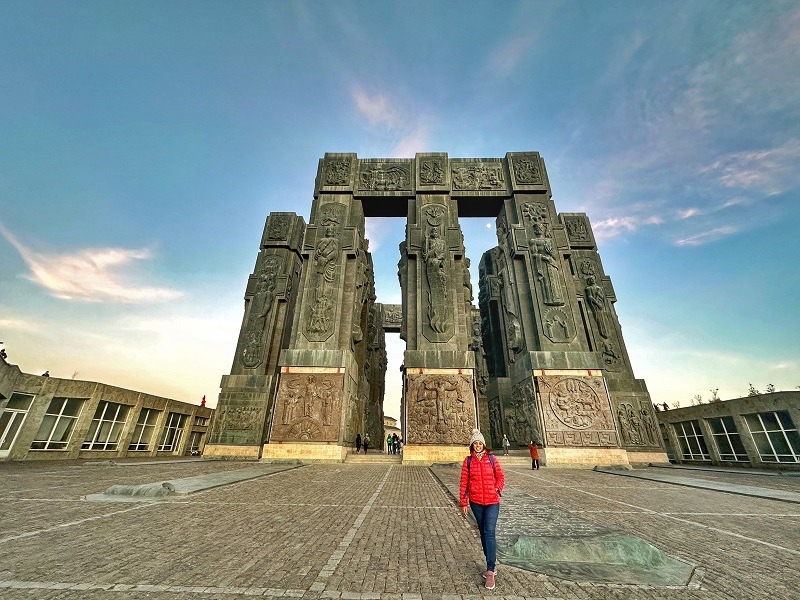 Closing Notes
There are so many places to visit in Tbilisi which makes the city so interesting and beautiful. It is the city that caters for all kinds of travelers, including the history and cultural travelers. I had a lovely time in Tbilisi and I wish to go back again to the city during the summer season.
Have you been to Tbilisi? Which of these places have you seen? Let me know in the comments below.
How can you support me?
You know how much I love coffee, so you can buy me coffee – Buy me Coffee!
Or you can purchase from one of the below travel resources without any extra charge to you.

Travel Resources
Click to book your flight on Skyscanner.com
Click to book your accommodation on Stay22
Click to book a comprehensive travel insurance on Safety Wing
Click to book your tours and travels on Viator or GetYourGuide
If you liked this article and if it was helpful in your planning or traveling, do share, tweet, or pin this post.

Follow me on Instagram | Facebook | YouTube | Twitter | LinkedIn
Do you have a question? Or want any suggestions, and tips for travels, hikes and scuba dives? Use the Subscription box below to sign-up and get updates by email.
PIN for later reference