Samarkand Travel Guide – The Pearl of the East
Do you want to visit one of the Arabian nights locations? With blue mosques, spectacular architecture, warmth vibes? Then Samarkand is surely the place to be. This is the ultimate Samarkand travel guide that will help you plan your travel to this amazingly beautiful city of Samarkand hassle-free.
This article may contain affiliate links. For full information, please see our affiliate disclaimer here.
Uzbekistan Travel Resources
Traversing Through Uzbekistan's Timeless Gem: Things to do in Tashkent
Samarkand Travel Guide – The Pearl of the East
For Best Hotels in Uzbekistan, use Booking.com
For Hostels in Uzbekistan, use Hostelworld
Use Skyscanner to get affordable tickets to Uzbekistan
Viator and GetYourGuide are the best tour operators
Rentalcars and Discover cars the best agencies to rent out cars at lowest prices
About Samarkand
Famous for being one of the most important cities on the Silk Road / Silk trade, Samarkand is the second largest and historical city in Uzbekistan. Known as the Pearl of the east, Samarkand city is a UNESCO World Heritage site.
The name Samarkand means stone fort or stone town where samar means stone or rock and kand means fort or town. This name comes from an Eastern Iranian spoken language called Sogdian.
Did you know that Samarkand shares the same meaning as that of Tashkent, the capital city of Uzbekistan?
History of Samarkand
Dating back to the 8th – 7th centuries BCE, Samarkand is one of the oldest inhabited cities in Central Asia and was founded as ancient Afrasiab. Initially known as Maracanda by the Greeks, Alexander the Great conquered the city in 329 BCE. Following Alexander's death, the city moved through various empires such as Seleucid Empire, Greco-Bactrian Kingdom and Kushan Empire, and being conquered by Persian Sassanians in 260 CE.
The city was again conquered by Xionites in 350 – 375 AD and started adapting the culture of nomads. Unfortunately, the city again became part of various successors through the centuries until it came under imperial Russian rule in 1868. The city had most of its development and modernisation during Timurid period in the 14th and 15th centuries.
Samarkand was the capital city of Soviet Period between 1925 and 1930. The capital city was later moved to Tashkent. And Uzbekistan finally gained independence on 31 August 1991.
Best time to visit Samarkand
Samarkand has four seasons spread across the year. The summer and winter seasons are extreme and the best time to enjoy the city is during the autumn and spring seasons. But do note that rains are common during the spring season.
Season
Months
Temperature Range
Summer
July to August
July is the hottest month
30 to 40 degrees centigrade
Autumn (recommended)
September to November
5 to 22 degrees centigrade
Winter
December to February
January is the coldest month
-3 to 7 degrees centigrade
Spring (recommended)
April to May
11 to 31 degrees centigrade
It is common to rain
Seasons in Samarkand
How many days are required for Samarkand?
Samarkand is a city with many historical monuments and landmarks. Most of these monuments are close to each other but you do require significant amount of time at each of these attractions.
I was in Samarkand city for 2 days and I felt it was rushed. As I am a slow traveler, I would have loved to have enjoyed some spare time at each of these locations.
However, if you are a tourist who likes to tick off the bucket list items and who does not like to waste time, then 2 to 3 days is more than enough to explore and see Samarkand.
How to get to Samarkand?
By Air
Samarkand has an international airport of its own. The Samarkand International Airport (SKD), around 6 kilometres from the city centre, is the second busiest airport in Uzbekistan. There are domestic and international flights that operate from the airport. Uzbekistan Airways is the major airline in the country.
By Public Transport
Ensure to book the trains well in advance (at least a month before your planned departure date) as the train tickets do get sold out quickly.
For speed trains, definitely book Afrosiyob. They are very convenient and fast. You can reach Samarkand in less than 1.5 hours from Tashkent city.
For affordable train tickets, there is Uzbekistan Railways. These are slow trains and take longer hours to travel between destinations. There are different classes of seats / berths available in the train.

If you are booking tickets for Uzbekistan Railways, use the mobile application – UZRAILWAYTICKETS.
Note that most of these classes are without air conditioning. And in the ones that have air conditioning, sometimes the air conditioning does not work and it gets extremely stuffy and hot inside the train.
By Road
Samarkand is around 305 kilometres from the capital city of Tashkent. And by road, the journey takes up to 4 hours 30 minutes.
Transportation within Samarkand
Many of the monuments in Samarkand are at walkable distance. Google maps work very well and you can easily navigate and walk around the city.
However, if you do not like walking then Samarkand has a good network of taxis. The taxis here are really cheap and you can easily hire them using the Yandex Go app. Yandex Go in Uzbekistan is a similar service to Uber or Ola. The fare for the taxis can be paid by cash and the drivers are very friendly and safe in spite of having the language barriers.
Where to stay in Samarkand?
Samarkand caters for all kinds of visitors. Ranging from luxury hotels to budgeted hostels, the city has it all. There are plenty of accommodation options to choose from. Staying in Samarkand may be a bit more expensive than the other cities such as Khiva and Bukhara. You can look for accommodations ranging between $20 to $200 per night.
If you are a budgeted traveler, then you can consider staying at hostels like Heartland Hostel, Chashma Hostel or Hostel Muborak. The beds at the dorms in these hostels start from $20 per night.
The city also has many comfortable and luxury stays. I stayed at Zarafshon Parkside Hotel during my travel in Samarkand which was a nice and comfortable stay. You can also consider staying at Movenpick Hotel, Hotel DiliMah Premium, and Hilton Garden Inn (recommended).
Zarafshon Parkside Hotel
During my visit to Samarkand, I stayed at Zarafshon Parkside Hotel which is one of the luxury hotels in the city. Located just 10 minutes car ride from Registan Square, this hotel is a great option to experience comfort in the middle of the city.
The hotel is housed in the 19th century huge mansion with clean and luxury rooms. They have an in-house restaurant with a fitness centre, garden and a swimming pool. The staff members are very polite and professional.
Where to find vegetarian food in Samarkand?
Samarkand is a meat eating city and finding vegetarian food in this city can be hard. The restaurants offer steamed vegetables or French fries in the name of vegetarian food. However, there are eateries around the city where you can get veggie burger, bread, and soups. The common types of soups are lentil soups (dal) and mushroom soups.
You can try the below restaurants for vegetarian options. Note that these restaurants also prepare and service meat and are not pure vegetarian restaurants.
Bibikhanum Teahouse.
Platan.
Best Chinor.
Even though I eat chicken, I still had a tough time finding chicken dishes in the city. In the menu of 3 to 4 pages, only one dish would be of chicken. You can also buy some vegetarian food and fruits at the super markets that are easily available everywhere.
What to wear in Samarkand?
Samarkand is a modern city where there is no strict dress code unless you are visiting sacred places. Even at sacred places, they require you to dress modestly which is to cover your knees and shoulders.
You can wear jeans and t-shirts, shorts that are knee length, dresses (not short dresses), and trousers and shirts. Also, carry a scarf when you are traveling.
Do not wear revealing and inappropriate clothes and respect the local culture in the city.
Samarkand Travel Guide: Places to see in Samarkand
Most of the monuments have entrance fee. You can buy these tickets at the ticketing office situated outside of each of these monuments.
As some of these are religious places, wear appropriate clothing.
Registan Square
Dating back to 15th century, Registan Square was a public square where people gathered for public executions, and hear royal proclamations. Now, the Registan Square has three madrasas (school):
Ulugh Beg Madrasa (15th century) built by Ulugh Beg during Timurid Empire era,
Sher-Dor Madrasa (17th century) built by Yalangtush Bakhodur, and
Tilya-Kori Madrasa (17th century) built by Yalangtush Bakhodur.
You can visit all these madrasas together as they are all located next to each other. And these madrasas currently have souvenirs and handicraft shops located.
There is an entrance fee of 50,000 UZS (~$5) that covers all the three madrasas.
Registan Square is open to visitors everyday between 8 AM and 11 PM. Note that the timings may vary during the winter season.
One of the best things to see at Registan Square is to see the light show that happens everyday at 9 PM. It lasts for one hour where all the madrasas light up. You can see the light show from outside the entrance area for free.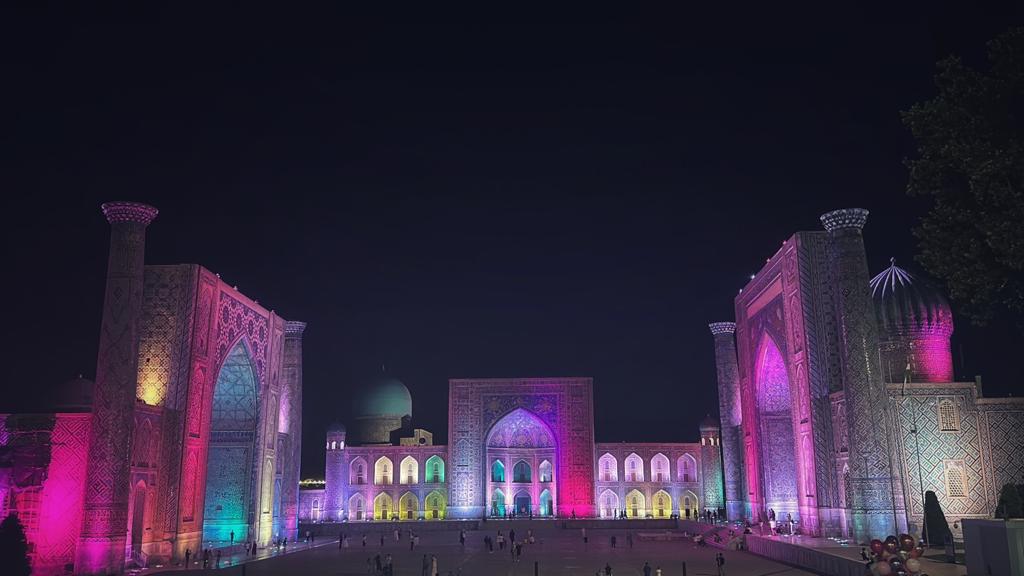 Gur-e-Amir Mausoleum
In Persian language, Gur-e-Amir means Tomb of the King, which is a mausoleum of the Turco-Mongol conqueror Amir Timur. He was the first ruler of the Timurid dynasty between the 14th and 15th centuries. Known as one of the best military leaders and undefeated commanders in history, Amir Timur is a national figure in Uzbekistan.
There is an entrance fee of 30,000 UZS (~$3).
The mausoleum is open everyday between 9 AM and 7 PM.
Bibi-Khanym Mosque
Built in the 15th century, Bibi-Khanym mosque is one of the largest mosques in the Islamic world. Considered as a masterpiece, only some ruins survived by the 20th century which were attempted to be restored during the Soviet Period. One of the highlights of the mosque is the huge Quran stand in the middle of the courtyard, and dates back to the time of Timur.
There is an entrance fee of 30,000 UZS (~$3).
The mosque is open everyday between 9 AM and 7 PM. Note that the timings vary during the winter season.
Puppet Theatre
One of the fun things to do in Samarkand is to watch the puppet show at the Puppet Theatre. Named after A. Djurayev, the Puppet theatre performs plays with traditional puppet dolls.
If you wish to see the puppet show, then ask at your hotel reception. They will be able to provide you with more information on where and when you can see the shows.
Siyob Bazaar
Right opposite to the Bibi-Khanym mosque is the Siyob Bazaar. With busy and active markets selling the local products such as dry fruits and souvenirs, the Siyob Bazaar is the largest market in Samarkand. The market is perfect for shopping.
The market is open everyday between 5 AM and 7 PM.
Ensure to haggle before buying the products as the shopkeepers do increase the price for tourists.
Shah-i-Zinda
Shah-i-Zinda meaning the Living King is a necropolis (cemetery) where you can walk between the stunning architectural buildings. These buildings are houses to the tombs from different periods.
According to legend, cousin of Prophet Muhammad, Qutham ibn Abbas, came to Samarkand as part of the Arab invasion in the 7th century. He believed and preached Islam in the city for 13 years. Due to his belief and faith, he was beheaded in this complex. But he did not die and that his body carried his head to a nearby well (Garden of Paradise) where locals to date believe that he is still alive. They also believe that the well water contains power to bring back the dead to living.
There is an entrance fee of 40,000 UZS (~$4).
The complex is open everyday between 9 AM and 7 PM.
By the way did you know that Shah-i-Zinda is the most Intagrammed place in Central Asia?
Is Samarkand worth visiting?
Hell yeah! I loved Samarkand. Even though it was very touristy and large when compared to Khiva, this city stole my heart. With plenty of things to see and do, and with so much of history, this city is really worth visiting. You will not regret traveling to Samarkand. I do hope to come back to Uzbekistan where I will spend more number of days in Samarkand and also visit Bukhara.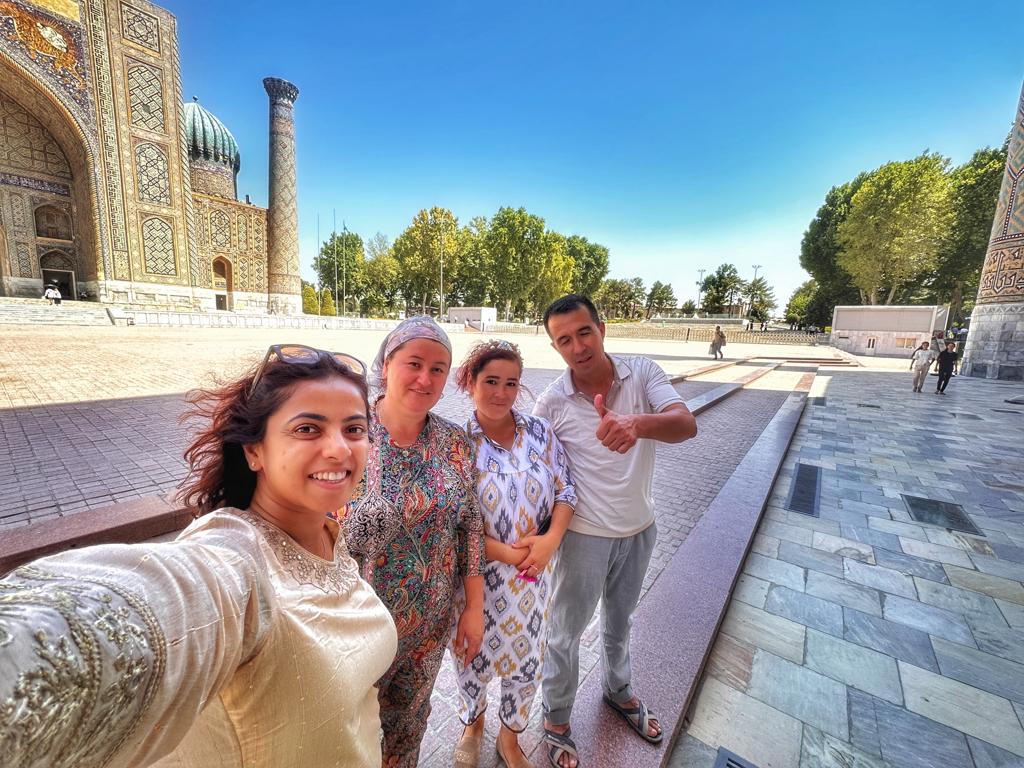 Safety for solo female travelers
Samarkand is extremely safe for solo female travelers. I traveled solo, met strangers, took taxis, and walked around in the city and I had no issues or concerns whatsoever. People here are very friendly and nice. They are always ready to help. Even at nights, I did not have any problems. However, like any other place in the world, be cautious when you are traveling by yourself and always trust your instinct.
Closing Notes
Samarkand definitely stands out as a city. It surely made me feel part of the Arabian Nights. What I loved the most in Samarkand were the people who were so nice to me throughout my stay here. There was not even a single person who was rude or arrogant. And I strongly believe that the people make up the place.
If you have any more questions about traveling to Samarkand, write your questions to me on Solopassport@gmail.com or contact me on my Instagram page.
How can you support me?
You know how much I love coffee, so you can buy me coffee – Buy me Coffee!
Or you can purchase from one of the below travel resources without any extra charge to you.

Travel Resources
Click to book your flight on Skyscanner.com
Click to book your accommodation on Stay22
Click to book a comprehensive travel insurance on Safety Wing
Click to book your tours and travels on Viator or GetYourGuide
If you liked this article and if it was helpful in your planning or traveling, do share, tweet, or pin this post.

Follow me on Instagram | Facebook | YouTube | Twitter | LinkedIn
Do you have a question? Or want any suggestions, and tips for travels, hikes and scuba dives? Use the Subscription box below to sign-up and get updates by email.
PIN for later reference | Samarkand Travel Guide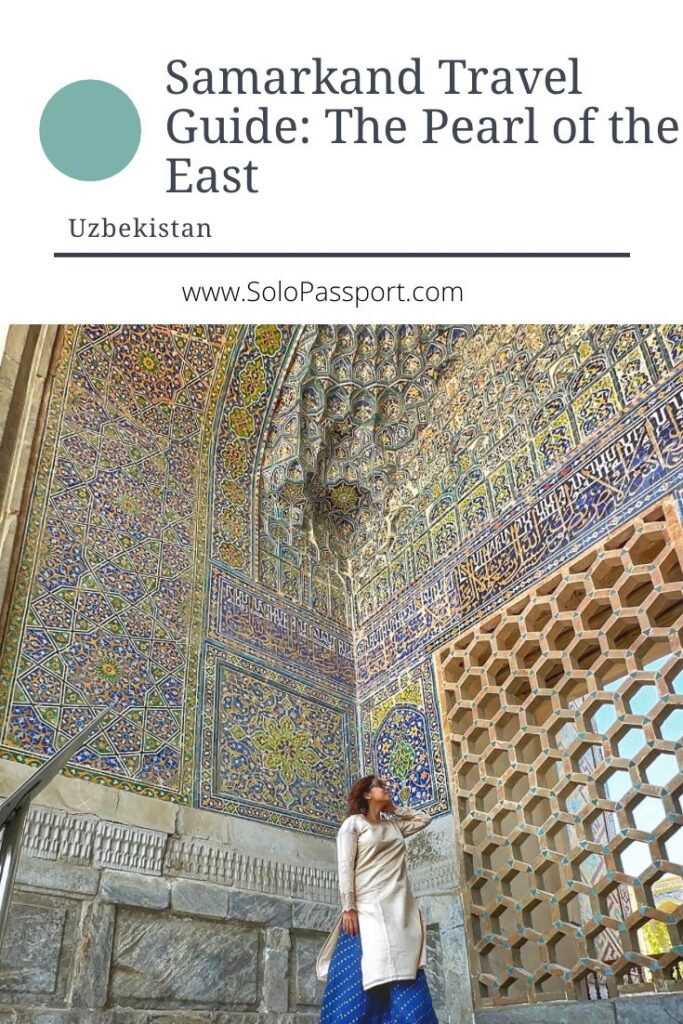 Disclaimers:
The prices mentioned in the post are valid only at the time of publication. Ensure to check the booking websites for up to date information and prices.
Opinions and views expressed solely mine and are unbiased. If the post is a collaboration, then they are specifically mentioned.
Ensure to check the relevant websites for up to date information on COVID protocols.
For any adventurous activities, please note that there is a risk that can be dangerous. Ensure to read the terms and conditions with individual agencies recommended and do them at your own risk.
For visas, it is best to see the embassy website for any changing rules.