Traversing Through Uzbekistan's Timeless Gem: Things to do in Tashkent
Tashkent was the first city that I visited in Uzbekistan. You may think that Tashkent is just like any other city, but this city has plenty of things to do and is perfect for all travelers. Before heading to Khiva and Samarkand, I spent a few days at Tashkent exploring the city. In this post, you will find the things to do in Tashkent.
This article may contain affiliate links. For full information, please see our affiliate disclaimer here.
Uzbekistan Travel Resources
Traversing Through Uzbekistan's Timeless Gem: Things to do in Tashkent
Samarkand Travel Guide – The Pearl of the East
For Best Hotels in Uzbekistan, use Booking.com
For Hostels in Uzbekistan, use Hostelworld
Use Skyscanner to get affordable tickets to Uzbekistan
Viator and GetYourGuide are the best tour operators
Rentalcars and Discover cars the best agencies to rent out cars at lowest prices
About Tashkent
Formerly known as Chach, Tashkent is the capital city of Uzbekistan. Tashkent name is derived from Turkic words tash and kent, meaning Stone City or City of Stones. With many beautiful museums and landmarks, Tashkent has history dating back to Timurid dynasty.
History of Tashkent
Tashkent has a very diverse history. Dating back to the 5th to 3rd centuries, the city has come a long way till Uzbekistan gained its independence in 1991. The city was situated along the Silk Route that connected China and Mediterranean.
During the 8th century, the city came under the influence of Islam after it was conquered by the Arabs. Then the city was conquered by many rulers, including Persians, Turkic Karakhanids and Mongols. After which it was taken over by the Timurid dynasty where the city prospered.
During the 19th century, the city was again conquered and came under the Russian Empire. This is where the city developed and was modernised as it was the administrative centre of Russian Turkestan.
This too came to an end after the 1917 Russian Revolution where Tashkent became part of Uzbek Soviet Socialist Republic. With the dissolution of Soviet Union in 1991, Uzbekistan gained its independence to become Republic of Uzbekistan.
Best Time to Visit Tashkent
The best time to visit Tashkent is during the spring (March to May) and autumn (September and October) seasons. Summer and Winter seasons have extreme temperatures. I visited Tashkent during July and it was extremely hot going up to 35 to 40 degrees centigrade. Note that the off season and the cheapest month to travel is in the month of November.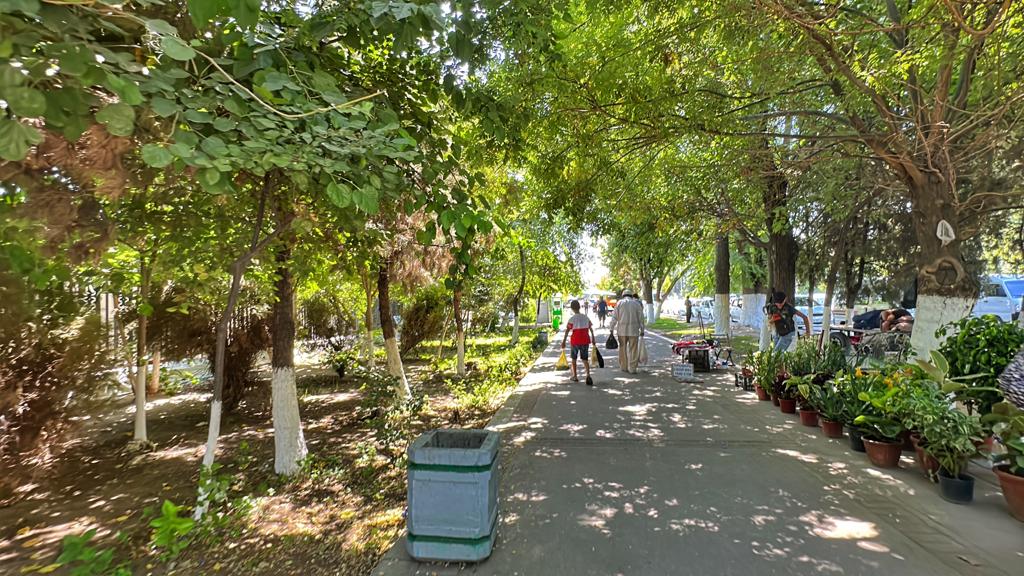 How many days are required for Tashkent?
I was in Tashkent for 2.5 days and I felt that was sufficient to explore the city. Even though there are many cultural things that you can see and spend time at, you can comfortably cover all of them within that 2.5 days. So, I suggest being in the city for 2 to 3 days.
How to get to Tashkent?
By Air
Tashkent has an international airport of its own. There is good connectivity at Tashkent International Airport and other airports around the world. Uzbekistan Airways operate direct flights out of Delhi in India. The flight journey is less than 3 hours and is very convenient.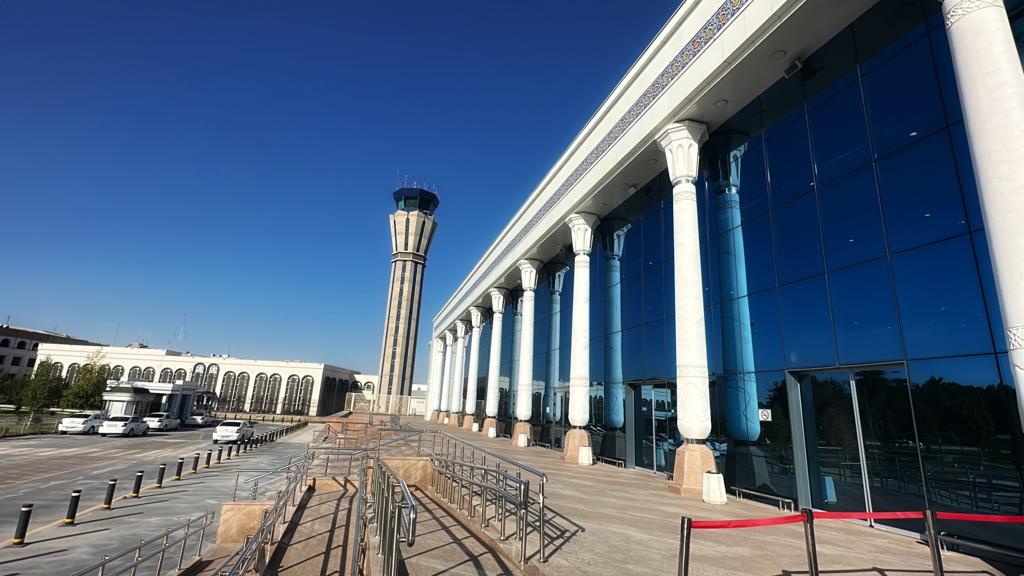 Tashkent International Airport is just around 8 kilometres from the city centre and the journey by road takes a little over 30 minutes. Yandex Go is allowed at the airport and the fare from airport to city centre is less than USD 2.
Transportation within Tashkent
If you are comfortable, then you can easily hire a car at the airport. You will need a valid international driver's licence and a credit card.
When you are in Tashkent, Yandex Go app is your friend to travel in the city. Yandex Go is similar to Uber or Ola, and is an affordable taxi service provider in Tashkent. You can book the rides on the app and pay either using your card or cash.
The city also has very good public transport. There are city buses that operate between 6 AM and 11 PM. There are apps such as MyBus Tashkent or 3TM to track these buses and you can purchase the fare from the bus conductor or driver.
For city tours, there are tourist buses. These buses take you around the landmarks and give you a lot of information about the places. They support 8 languages, including English.
ATM and Money Exchange in Tashkent
Tashkent is a blend of modern and traditional outlook. The city has plenty of ATMs and money exchange centres where you can convert your money. Note that Indian Rupees or Australian Dollars are not accepted at the money exchange centres and you need to use only US Dollars or Euros. However, the ATMs do accept any international Visa or Mastercard.
Where to stay in Tashkent?
I highly recommend staying close to City Centre. If you stay at the city centre, then all the landmarks become closer. You can walk around and explore the city without the hassle of taking taxis or public transport.
Hotel Marwa Tashkent Pool and Spa
When I landed in Tashkent, I initially stayed at Hotel Marwa Tashkent Pool and Spa. The staff at the hotel were very friendly and the check-in process was smooth. My room was on the fourth floor which was really nice, spacious, and clean. The only drawback is that they do not have an in-house restaurant. They do serve breakfast which is part of your stay but nothing after that. For lunch, dinner or any snacks, you have to step out.
The Time Hotel
During my second visit to Tashkent, I stayed at The Time Hotel. Located closer to the airport, this hotel is ideal if you are there only for a night and using Tashkent as a transit stop. The rooms were spacious but it was not as fancy as the Hotel Marwa Tashkent Pool and Spa.
What to wear in Tashkent?
Unlike Muscat in Oman, Tashkent in Uzbekistan is more liberal when it comes to clothing. Tashkent is a very modern city and there are no dress code or restrictions in the city. You can wear shorts (knee length) and t-shirts without any issues. However, you need to dress modestly when you are entering any religious site. Also, do not wear too much of revealing clothes and respect the local culture and traditions there.
What to eat in Tashkent?
I will be honest, it was hard to find some vegetarian food options. The popular vegetarian food that you can get is either bread or salad. There are a few Indian restaurants where you can eat the Indian cuisine but note that they are very expensive when compared to the other food that you get around the city.
Some of the shopping malls have fast food joints where you can get veggie burgers. Just to beware that these veggie burgers do not have anything in them except some leaves and mustard sauce. However, you do have cafes such as Gloria Jeans where you can get coffee and light snacks.
Tip: If you are a hardcore vegetarian, ensure to carry some ready to eat food.
The city also has super markets where you can buy bread and other things if you do not get any vegetarian food.
Traversing Through Uzbekistan's Timeless Gem: Things to do in Tashkent
There is so much to see in Tashkent. With spectacular mosques, madrasas, parks, museums, squares and metro stations, every corner looks pretty and beautiful.
Amir Temur Square
Located in the heart of the city, Amir Temur Square is a public park and space which is named after the Central Asian Rules and Conqueror Amir Timur from the Timurid dynasty in the 14th century.
The square is the national pride and an important landmark in Tashkent. It is very popular among the locals and the tourists. The statue of Amir Temur is surrounds by trees and green spaces, so you can take a stroll around the park.
Minor Mosque
Known for its detailed design, blue ceramic tiles, and unique architecture, the Minor Mosque is a beautiful mosque that must not be missed when you are in Tashkent.
Situated in Zangiota district, the Minor Mosque represents Uzbekistan's rich heritage and pays homage to the architecture of the region, especially from the Timurid and Samanid periods.
The mosque is open to public throughout the day but can be closed during the prayer times that happen five times during the day.
Kukeldash Madrasa
Located in old town of Tashkent, close to Chorsu Bazaar, the Kukeldash Madrasa is a historical Islamic educational institute. Built in the 16th century during the reign of Abdullah Khan II, the Kukeldash Madrasa provides as a place for students to gather, and engage in religious activities.
The Madrasa is open to public between 9 AM and 5 PM, and you can see the architecture and courtyard. There is an entrance fee of Uzbekistani Som 10,000 (USD 1).
Chorsu Bazaar
Offering a vibrant and historical experience, the Chorsu Bazaar or the Chorsu Market is a commercial and social gathering place in the heart of Tashkent. It is one of the oldest markets in Uzbekistan. You can buy souvenirs and also the goods that reflect the Silk Road trading such as textiles, carpets, spices, ceramics, and more. The market also has local delicacies, dried fruits, vegetables among others.
The market is open for public every day between 5 AM and 8:15 PM (a few days till 9 PM).
State Museum of the Timurids
Established in 1996, the State Museum of Timurids is a museum that exhibits the artefacts and history of the Timurid dynasty. It was opened in honor of Amir Timur's 660th anniversay. There are more than 3000 exhibits at the museum.
The museum is open to public every day (except Mondays) between 10 AM and 6 PM. There is an entrance fee of Uzbekistani Som 5,000 (USD 0.5).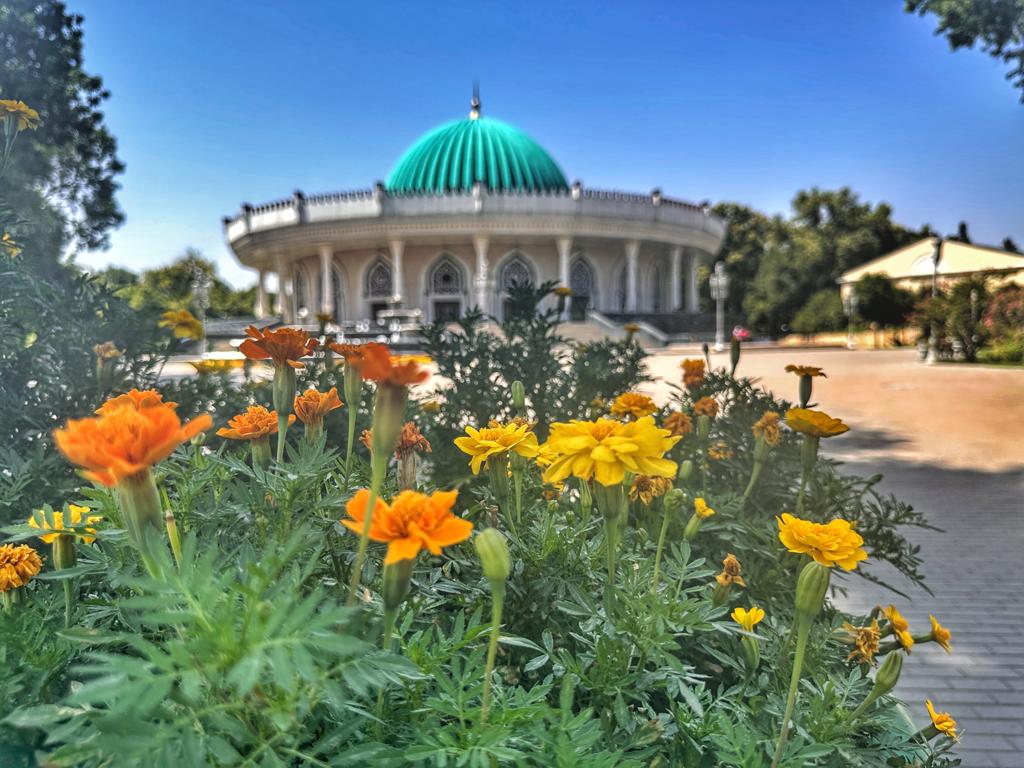 Hazrati Imam Complex
With two mosques and a mausoleum, the Hazrati Imam Complex is a religious site in Tashkent. It houses one of the oldest copies of Quran in existence called the Usman Quran or Ottoman Quran. This copy is said to be around 1400 years old.
The complex is open for public every day between 9 AM and 9 PM. There is an entrance fee of Uzbekistani Som 15,000 (USD 1.5).
Metro Stations
Tashkent metro stations are art galleries in themselves. With spectacular art, architecture, and attractions, the metro stations are surely worth visiting. Each of the metro stations look like a museum exhibiting the tradition, history, culture and art. You must visit some of the below (if not all) metro stations when you are in Tashkent:
Cosmonauts / Kasmonavtlar Station
Amir Timur Square Station
Tashkent / Toshkent Station
Chorsu Station
Hamid Alimjan / Khamid Alimdjan Station
Pakhtokar Station
Alisher Navoi Station
Great Silk Road / Buyuk Ipak Yuli Station
Do not forget to look at the ceilings, columns, chandeliers and tiles at these stations.
Tashkent City Park
Centrally located in the heart of the city, Tashkent City Park serves as a recreational hub. It is a green space where locals and tourists visit to exercise, jog, cycle and have picnics.
The park is open to public every day between 11 AM and 11 PM.
Is Tashkent safe for solo female travelers?
Absolutely yes! Tashkent is very safe for solo female travelers. I traveled to the city alone and I did not have any issues whatsoever. The people are very friendly and nice. Even with the language barrier, they helped me whenever I needed help. But like any other city, be careful, especially at night.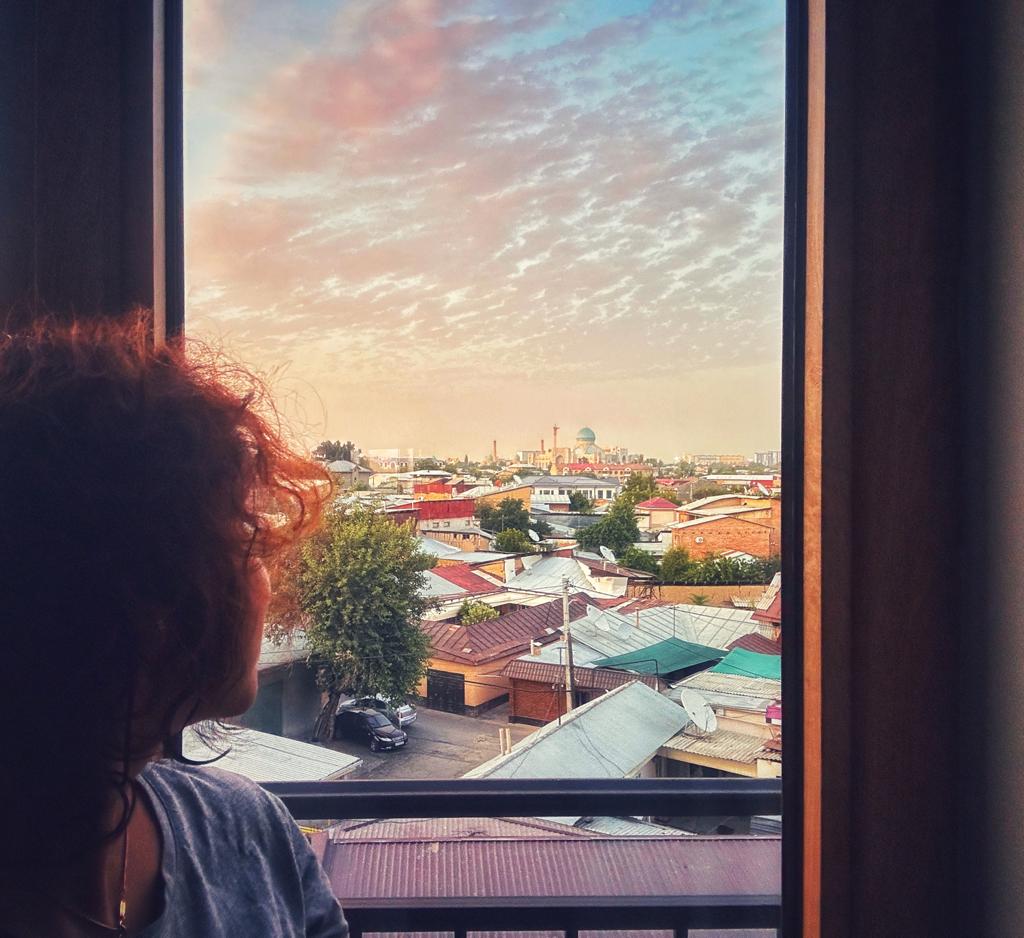 Closing Notes
With a blend of both modern technology and traditions, this capital city must surely be on your bucket list. I had never imagined Tashkent to be so advanced and clean. I had a great time walking around this beautiful city and exploring its landmarks. Even though it was very hot when I visited, the city compensated by having so much of green space.
I hope this post has provided you with all the things to do in Tashkent and a guide to visit the city. If you have any questions, feel free to write me an email on Solopassport@gmail.com.
How can you support me?
You know how much I love coffee, so you can buy me coffee – Buy me Coffee!
Or you can purchase from one of the below travel resources without any extra charge to you.

Travel Resources
Click to book your flight on Skyscanner.com
Click to book your accommodation on Stay22
Click to book a comprehensive travel insurance on Safety Wing
Click to book your tours and travels on Viator or GetYourGuide
If you liked this article and if it was helpful in your planning or traveling, do share, tweet, or pin this post.

Follow me on Instagram | Facebook | YouTube | Twitter | LinkedIn
Do you have a question? Or want any suggestions, and tips for travels, hikes and scuba dives? Use the Subscription box below to sign-up and get updates by email.
PIN for later reference | Things to do in Tashkent