Savandurga trek is where my trekking journey started. It was the first trek I had ever done in my life. Since I was young and had done this trek with my friends, beautiful memories of the trek had etched in my mind. As I have been exploring one day treks around Bangalore these days, I decided to trek Savandurga hill again just to see how much it had changed over the years.
PIN for later reference
This article may contain affiliate links. For full information, please see our affiliate disclaimer here.
Disclaimers:
The prices mentioned in the post are valid only at the time of publication. Ensure to check the booking websites for up to date information and prices.
Opinions and views expressed solely mine and are unbiased. If the post is a collaboration, then they are specifically mentioned.
Ensure to check the relevant websites for up to date information on COVID protocols.
For any adventurous activities, please note that there is a risk that can be dangerous. Ensure to read the terms and conditions with individual agencies recommended and do them at your own risk.
For visas, it is best to see the embassy website for any changing rules.
About Savandurga hill
At an altitude of 1226 metres, Savandurga hill is considered as Asia's largest monolith hill. Famous among trekkers, cave explorers and rock climbers, the hill surely provides great adventures to adventure seekers. At the base of the hill, there are two temples, Sri Savandi Veerabhadreshwara Swamy and Sri Narasimha Swamy temples that attract many devotees from around Karnataka.
Savandurga is formed by two hills called Karigudda (translating to black hill in Kannada) and Biligudda (translating to white hill). There are many theories behind how the name Savandurga originated. One theory is that it came from 1340 AD by Hoysala Ballala III from Madabalu where the hill was referred as Savandi. Another theory shows that a British painter of the 18th century referred the hill as Savinadurga or the fort of death. Interestingly there were Megalithic burial urns that were found, and Saavana in Sanskrit refers to three time rituals.
The best time to trek the Savandurga hill is during the winter season (November to February). It becomes very difficult and dangerous during the rainy season as the rocks become very slippery. It is also not advisable to do the trek during the summer season as there is no shade and the hill and rocks become very hot.
How to get to the base of Savandurga hill?
Drive – The foothills of the Savandurga Hill is in the Savanduraga state forest. And it is around 50 kilometres from Bangalore city. The journey by road takes just about 1 hour 30 minutes. The route is towards Mysore Road.

There is plenty of parking available at the foothills of the hill near the temple.
Public transport – There are two ways to get to Savandurga.

One is to take a Karnataka State Road Transport Corporation (KSRTC) bus from Majestic bus stop in Bangalore to Magadi bus stop and then take either a local bus or an auto rickshaw to the foothills of Savandurga hill.

Something to keep in mind while planning is that this option of traveling could be a problem, especially if you finish the trek a bit late as you might not get an auto rickshaw back to the bus stop at Magadi.

And the other way is to take a KSRTC bus from KR Market bus stop in Bangalore to the foothills/ Sri Savandi Veerabhadreshwara Swamy temple.
Ensure to inquire the bus timings for the return journey.
Savandurga trek
The Savandurga trek is one of the most beautiful treks around Bangalore. It provides lovely views of Manchanabele and Thippagondanahalli reservoirs.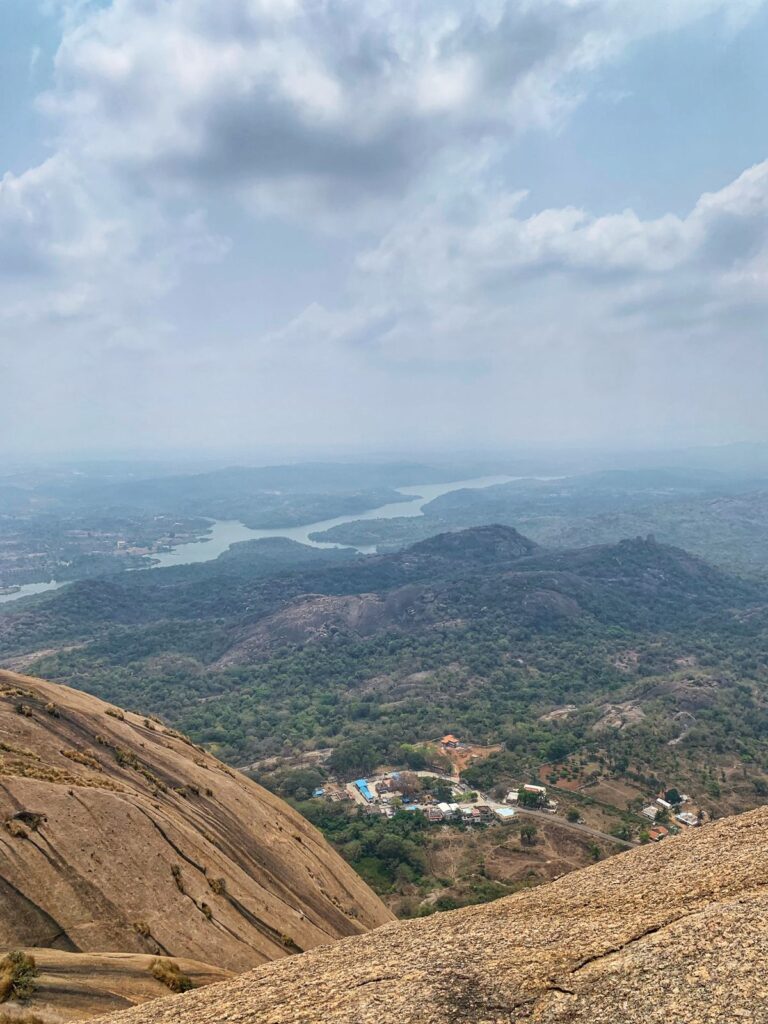 Statistics
Trekking distance: 6 kilometres.
Grade: Moderate as certain sections are very steep. This trek is not for the people who are afraid of heights.
Type of trek: Return.
Trail: The trail goes through three fort walls and finally making to the peak that has a Nandi.
Need permission from My eco trip which costs INR 250 per person.
I would not suggest Savandurag hill as your first trek. It is best to have some trekking experience before attempting this one. See one day treks in Bangalore for other trek details.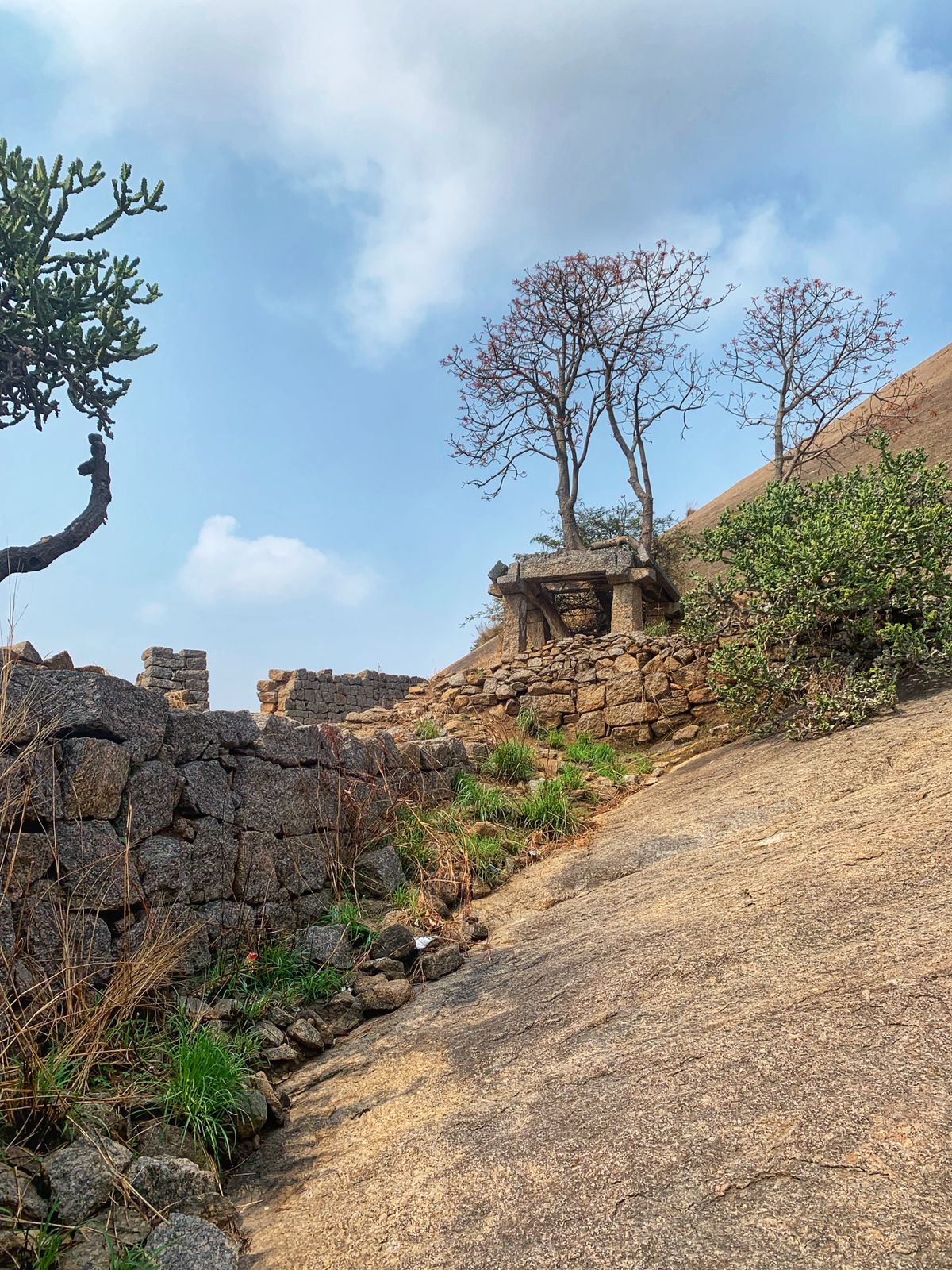 Important information
The Savandurga trek has very steep sections in some parts and hence is not advisable for people who fear heights.
Ensure to keep yourself hydrated throughout the trail. The only water source is at the foothill. There are a few vendors who sell cold drinks along the trail.
Toilets are located only at the base of the hill.
Take a day pack with sunscreen, sun glasses and first aid kit.
Carry your lunch so you can have it at the peak.
Take some trail snacks and chocolate bars.
Wear sturdy and comfortable trekking shoes.
There is intermittent network coverage at the peak.
Be alert and take small steps as certain sections are very steep.
Trek responsibly
The first time I trekked the Savandurga hill many years ago, there were hardly any people. The hill and the trail were pure and pristine with no garbage anywhere. Unfortunately, this time when I visited Savandurga hill, I was disheartened and disappointed to see how much of garbage the trail has.
There were plastic bottles and wrappers throughout the trail and there was not one place that was left clean. This is what happens because of over tourism and irresponsible trekkers. Even though the trekkers need to take permission from My Eco Trip, the trail is not maintained, and it has so much of plastic everywhere.
Being a trekker, one needs to appreciate nature and keep the trail clean as much as possible. Throwing rubbish is not cool and done. Please DO NOT throw your rubbish on the trail and take it with you and only dispose it in a garbage bin. If we do not take the steps to keep our natural resources clean, then I am not sure who can.
Trekking agency
On my second visit to Savandurga hill, I went with a trekking agency as it is easier. The trekking agency I went with was Bangalore Mountaineering Club (BMC) Adventures and I had a great time with them.
Trek agency: BMC Adventures.
Cost: INR 1400 + GST.
Safety for solo female trekkers
I would not suggest trekking the Savandurga hill alone. It is very steep and dangerous, and it is always best to go with a trekking buddy for any unforeseen situations. The first time, I went with a group of friends and the second time, I went with a trekking agency, and I had a good experience.
Closing Notes
Savandurga trek is truly one of the best treks around Bangalore and offers the required excitement and adventure. I loved trekking here even though I wish the trail was maintained by the government and trekkers are educated to keep the trail neat.
Have you trekked Savandurga hill? What did you think? Let me know in the comments below.
How can you support me?
You know how much I love coffee, so you can buy me coffee – Buy me Coffee!
Or you can purchase from one of the below travel resources without any extra charge to you.

Travel Resources
Click to book your flight on Skyscanner.com
Click to book your accommodation on Stay22
Click to book a comprehensive travel insurance on Safety Wing
Click to book your tours and travels on Viator or GetYourGuide
If you liked this article and if it was helpful in your planning or traveling, do share, tweet, or pin this post.

Follow me on Instagram | Facebook | YouTube | Twitter | LinkedIn
Do you have a question? Or want any suggestions, and tips for travels, hikes and scuba dives? Use the Subscription box below to sign-up and get updates by email.
Frequently asked questions (FAQ)
Q: Where is Savandurga?
Savandurga is 60 kilometres from Bangalore, off Magadi Road, in Karnataka state.
Q: What is Savandurga famous for?
Savandurga hill is Asia's largest monolith hill.
Q: How long does it take to trek Savandurga?
4 to 5 hours return.
Q: Do we need permission to trek Savandurga?
Yes, from My Eco Trail for INR 250 per person.
Q: Is Savandurga open on weekends?
Yes.
Q: Is Savandurga ideal for beginners?
Savandurga is a moderate grade trek and is fine for beginners. However, I would not suggest trekking this hill as your first trek.
PIN for later reference