Snowies High Plains Hut to Hut Trek
The Snowy mountains region has plenty of historical huts. Trekking for multiple days between hut to hut is a very popular trekking adventure among the trekkers. I have done the Mount Kosciuszko Summit walk multiple times in the Snowy Mountains region but had never done the multi day treks. So over the Easter long weekend, I decided to do a multi day trek that was organised by David and Yen from Aussie Explorers. The trek was for 4 days, trekking between the huts and camping at each of those huts.
The best thing about this trek was the beautiful sunsets and sunrises that we saw all the 4 days. They were spectacular and the sky was dramatic.
PIN for later reference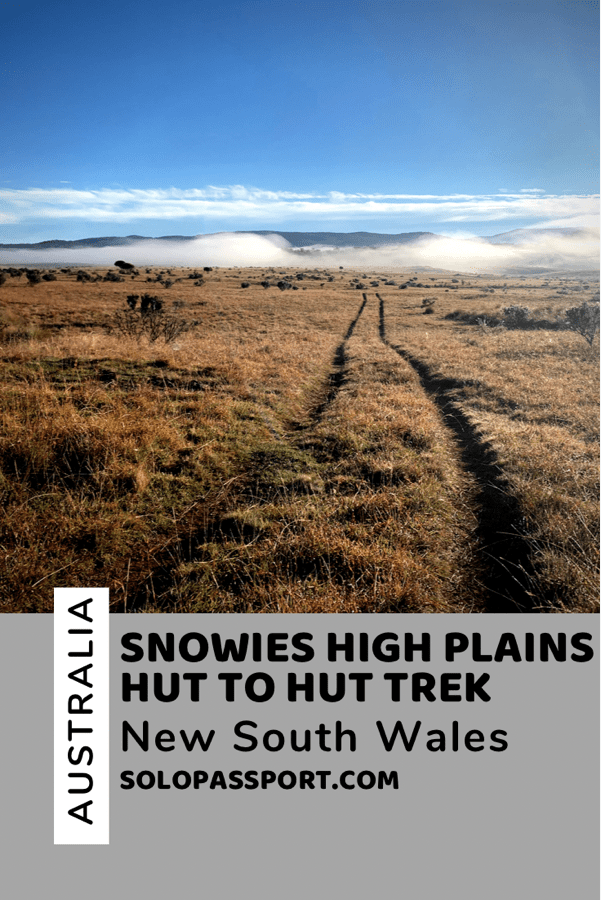 Please note: This post may contain affiliate links which means I may earn a commission if you make a purchase by clicking a link on this post. This will be at no additional cost to you. Affiliate links help me keep this website up and running. Thank you for your support.
The Snowy mountains region
The Snowy mountains or the Snowies are a region in the New South Wales (NSW) state of Australia. They range in the Australian Alps and have several peaks that has a height more than 2100 metres and Mount Kosciuszko is the tallest among all.
The Snowies is also a very popular skiing destination in the winters.
Huts in Snowy mountains
The national park has plenty of historical huts that were built in the early days of settlement and they all have cultural significance and are protected by the government. They were built by stockmen, fishermen, miners and others. All the details of the huts and their significance can be found on Kosciuszko National Park Huts.
One of the rangers we met during the trek informed us that there are close to 69 huts in the region that have historical significance.
How to get there?
Best and quickest way to reach Snowy mountains from Sydney is to drive. The distance between Sydney and Snowy mountains is around 492 kilometres and takes about 5 hours 30 minutes to drive. There are two routes, one is through Canberra and the other is the coastal route. The shortest is through Canberra.
As I car pooled with two others, the total fuel with the tolls cost only AUD 56 per person.
Trekking itinerary
The first thing you need is the 4 days national park pass. This is to be purchased at Jindabyne visitor centre. So your first stop before starting the trek must be to the visitor centre.
Things to take and note
** Did you know you can purchase 100% Australian made body and health related products from home? Visit Love your health website today! **
There is absolutely no mobile coverage in the national park.
The toilets at the huts are mostly not working but the toilets at Old Snowy campground and Blue waterhole are bio degradable toilets.
Take water purifying tablets as you will be drinking water from the streams and water bodies.
Carry sunscreen and cap as it is a dry land and can get really very hot during the day.
One cannot sleep inside the huts until there is an emergency.
Day 1 – Sydney to Old Snowy campground
The day 1 was mostly driving from Sydney to the Old Snowy campground. The drive that is around 6 hours can easily become 8 to 9 hours when following Google and taking a short route. That is because the roads that lead to the ground (about 90 kilometers) are horrible and are unsealed.
The best way to reach the campground is by going from Sydney to Cooma and then Cooma to the campground. This avoids most of the unsealed road.
Campsite – Old Snowy Campground
The Old Snowy campground was a dream campsite. There were horses with very pretty sunrises. And the cold night made sure that there was frost which in turn made the landscapes look even more gorgeous.
The campsite has no mobile network coverage.
There are two bio degradable toilets at the site.
Day 2 – Old Snowy Campground to Pockets Hut
The day 2 is the day when our trek started. From the Old Snowy campground, we drove till the end of Pockets Saddle Road. It is a free parking but the parking has no shade, so be prepared to park your car for 4 days under the sun without any shade.
The trek starts from the car park till the Pockets Hut on a fire trail. The walk is pretty and one can see many of the wild horses.
Statistics
Path: Pockets Saddle Road to Pockets Hut.
Distance: 5 kilometres. The other trekkers extended the trek by another 20 kilometres by hiking to the Mt Bimberi. I have been told that the sunset is amazing at the summit.
Time taken: Just over an hour.
Grade: Easy.
Campsite – Pockets Hut
Built in the 1920s, the Pockets Hut is a very pretty hut, built by a wealthy Australian company Australian estates of Cooma. I personally loved the Pockets hut. It is a beautiful hut with plenty of shade and a platform to chill.
There is no toilet facility at the hut.
There is a stream of water but the water needs to be treated.
Day 3 – Pockets Hut to Bill Jones Hut via Blue Waterhole
The day 3 was a long day where we passed through two different campsites. From Pockets hut, we walked till Bill Jones hut via Blue waterhole.
Blue Waterhole Campground
The Blue waterhole campground is a car camping ground. It is a very popular campsite and is usually crowded over the weekends and holidays. The campsite is very close to the Blue waterhole where one can swim. Some of the trekkers swam and enjoyed the water. I did not swim there as the water was too cold for me.
There is a drop toilet facility at the campground.
Statistics
Path: Pockets hut to Bill Jones hut via Blue waterhole.
Distance: 15.2 kilometres.
Time taken: 4 to 5 hours.
Grade: Medium with few steep hills.
Campsite – Bill Jones Hut
Built in the year 1952, the Bill Jones hut was supposedly the last hut built for grazing in the area. The hut was built by William Travis Jones. More details can be found on the Kosciuszko Huts website. I did not find the Bill Jones hut very exciting. It is a very small hut with no place to sit around. But the hut is surrounded by trees.
Look out for kangaroos. There are many around the site.
The site has lots of bugs and insects. So keep your tent closed at all times.
There is a small puddle of water and the water needs to be treated.
There is no toilet facility at Bill Jones hut.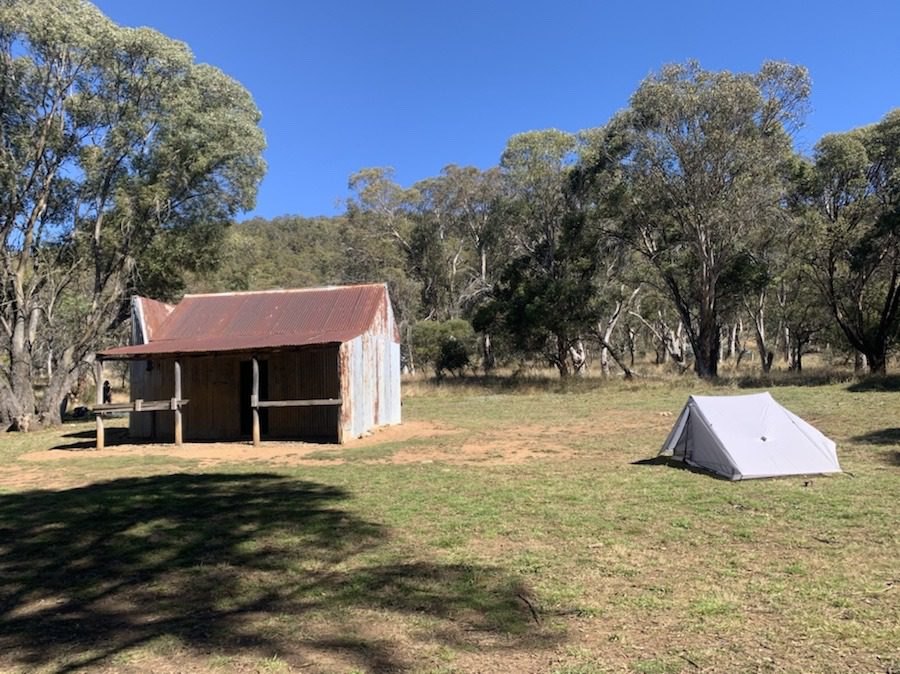 Day 4 – Bill Jones Hut to the car park
The day 4 was the last day of our trek (at least for a few of us). We walked from Bill Jones hut to the car park. Other trekkers continued their trek to the Old Currango Homestead as they wanted to camp for another day. Built in the 1870s, the Old Currango Homestead is the oldest hut in the national park.
After walking to the car park, we drove back to Sydney and this time we ensured we reached Cooma and then took the highway to Sydney.
Statistics
Path: Bill Jones hut to the car park.
Distance: 12.7 kilometres.
Time taken: 3 hours.
Grade: Easy to Medium.
Lessons learned
Every trek or a travel teaches something. Similarly, this trek taught me lot of valuable lessons for future overnight camping and trekking.
Number one lesson I learned is to keep my backpack light. My backpack during this trek was about 16 kilos and it was very heavy. I should definitely learn to lighten my backpack and keep it close to 10 kilos if possible.
Carry food that contain proteins in them. Either protein powder or daal (lentils) is the best bet. There are also good dehydrated food that trekkers bring. Ensure to invest in good ones even if they are expensive.
Always be prepared for cold weather. Take a good sleeping bag and a mat.
Invest in a good water bladder. I do have one but it kept leaking because of which I did not take it and I had to drink water from my water bottles. As we did not stop many times, I did not drink sufficient water and guess what? I suffered from headaches constantly and was dehydrated.
Take electrolyte tablets and keep sipping on them throughout the day.
I usually carry a first aid kit and ensure to have the un-expired tablets.
Be prepared for thigh rashes. Supposedly, this is very common among the female trekkers. One of the suggestions I was given was not to wear tight pants but to wear loose track pants and this way one can ensure that the cloth does not rub against the skin.
Closing Notes
Even though the sunrises and sunsets were memorable, this trek between the huts in the Snowy mountains is not my most favourite multi day hikes in Australia. There are many more treks that are stunning. However, if you have a few days to spare then I suggest doing the trek for 2 to 3 days in this region just to see the history and wildlife.
How can you support me?
You know how much I love coffee, so you can buy me coffee – Buy me Coffee!

Or you can purchase from one of the below travel resources without any extra charge to you:
Travel Resources
Book your flight on Skyscanner.com or Trip.com
Reserve your accommodation on Stay22
Buy comprehensive travel insurance on SafetyWing and WorldNomads
Book your tours and travels or purchase tickets on Viator or GetYourGuide
For a universal SIM card, use DrimSim
If you liked this article and if it was helpful in your planning or traveling, do share, tweet, or pin this post.

Follow me on Instagram | Facebook | YouTube | Twitter | LinkedIn
Do you have a question? Or want any suggestions, and tips for travels, hikes and scuba dives? Use the Subscription box below to sign-up and get updates by email.
PIN for later reference