A travel guide to Canberra
Canberra was the first city I lived in after migrating to Australia. I stayed in this city for around 10 months. Since it was very new to me, I explored the city like a tourist rather than a resident or a traveler. I wish I had explored more when I stayed in the city. But since I did not explore it much, I have gone back time and time again over the weekends from Sydney to see the places.
PIN for later reference
Please note: This post may contain affiliate links which means I may earn a commission if you make a purchase by clicking a link on this post. This will be at no additional cost to you. Affiliate links help me keep this website up and running. Thank you for your support.
About Canberra
Canberra is the capital city of Australia and is located in the Australian Capital Territory (ACT). Known for its tulip flower festival Floriade, Canberra is a planned city. The territory is an enclave within the state of New South Wales (NSW). The city is not as happening as Sydney or Melbourne and you need just around 3 to 4 days to see the city.
The best time to visit Canberra is during the Spring (September to November) and Autumn (March to May) seasons. The weather is pleasant during these months and Canberra is extremely pretty during the autumn season with so many colourful trees.
Canberra is cold during winters with an average temperature between 1 and 12 degrees centigrade.
How to get there?
Domestic flights – There are flights between Sydney/Melbourne and Canberra. Qantas and Virgin Australia are the flight providers.
Driving – The fastest and easiest way to get to Canberra is by driving. The distance between Canberra and Sydney is just 280 kilometres and it takes about 3 hours to drive.
Public transportation – There are trains that run between Central station in Sydney and Canberra. The train journey is about 4 hours and can be booked on Transport for NSW website. The Canberra railway station is 7 kilometres from Canberra Central Business District (CBD).
Stay in Canberra
The best place to stay is in the CBD. The bus network is great in the city and all buses stop by at the interchange. The stay ranges between budgeted and luxury accommodation. For a budgeted stay, I definitely recommend Youth Hostels Association (YHA) Canberra.
Things to see and do
Even though Canberra is not as big and happening as Sydney and Melbourne, the city still has plenty of things to do and caters for all kinds of travelers. There are many things that can be done for free or for almost free and hence the city of Canberra can easily be done on a budget.
Parliament House
The Parliament house in Canberra hosts meetings for the Parliament of Australia. The building contains 4700 rooms and many areas are open to public for viewing. The building was opened in the year 1988 by Queen Elizabeth II.
There is no entrance fee but bookings have to be made on their website.
Australian War Memorial
Opened in the year 1941, the Australian War Memorial is the nation's national memorial to commemorate the members of its armed forces and supporting organisations.
There is no entry ticket for the war memorial but one needs to register and have a valid ticket to enter. The registration can be done on their official website.
Canberra Deep Space Communication Complex (CDSCC)
The Canberra Deep Space Communication Complex (CDSCC) is a very cool place to visit. It is a satellite communication station part of NASA's Jet Propulsion Laboratory.
The CDSCC is around 35 kilometres from Canberra CBD and is in Tidbinbilla Nature Reserve.
There is no entrance fee to get into the space centre.
Do not forget to see the moon rock in the exhibit.
Telstra tower
The Telstra tower is a telecommunication tower in Canberra with a height of 195.2 metres. The tower was built in the year 1973 and is situated above the summit of the Black Mountain. It provides 360 degrees view of the city and has both indoor and outdoor viewing platforms.
There is an entry ticket of AUD 7.50 per adult and can be purchased at the entrance of the tower or by sending an email to them.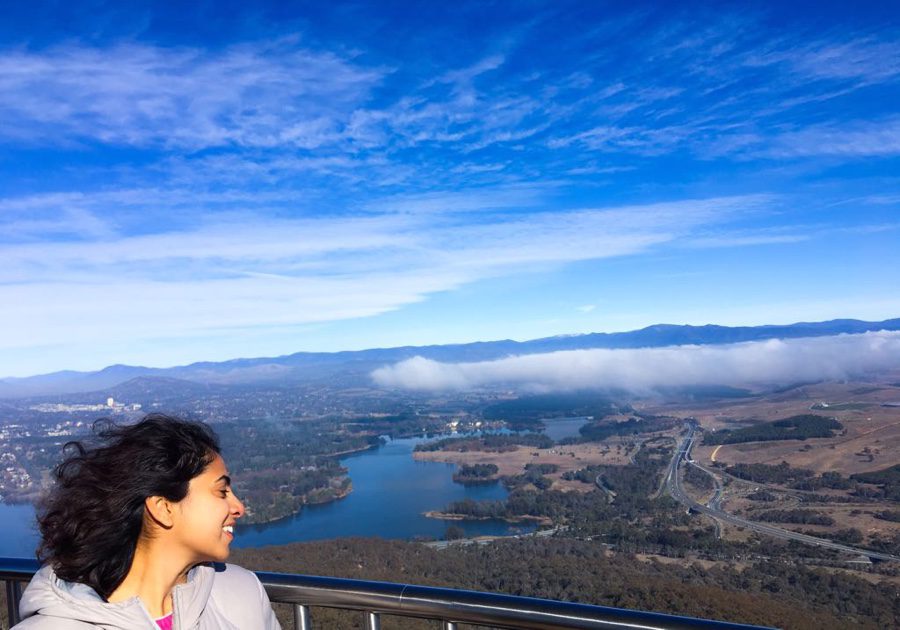 National Zoo and Aquarium
Opened in 1990, the National Zoo and Aquarium is a privately owned zoo in the city of Canberra. The zoo is home to many animals, reptiles and birds and one needs at least 3 to 4 hours to see all the exhibits in the zoo. One can pat a cheetah at the zoo.
The general entry ticket is AUD 49 and can be purchased online on their official website.
Floriade
Floriade is a flower festival celebrated in Canberra. It is a celebration of the Spring season and the festival is usually held between mid of September and mid of October.
There is no entry ticket to see the flowers. Ticket is required only to watch the musical concerts and any events.
Tidbinbilla & Namadgi National Parks
Tidbinbilla and Namadgi national parks are absolutely beautiful and offer a wide range of one and multi day hikes. Both these national parks are just about 40 kilometres from Canberra CBD. I have done a few hikes when I stayed at Canberra, one of them is the Square rock in Namadgi national park.
National Dinosaur museum
The National dinosaur museum is one of World's best dinosaur museums and Australia's largest permanent museum displaying the pre-historic specimens. It is situated in the Gold Creek village.
There is an entry fee of AUD 18 per adult and the ticket can be purchased on their website.
Safety for solo female travelers
Canberra is a safe city. When I lived there, I did not have any issues whatsoever. But the city becomes very quiet and isolated by 5 PM. So be cautious and know your surroundings, especially when it gets dark.
Closing Notes
Even though Canberra is not my favourite city in Australia, I would still suggest visiting the nation's capital. The city has its own vibes and one can easily spend a few days exploring the federal government buildings and the surrounds in the city.
PIN for later reference