Two hikes in Tidbinbilla Nature Reserve
During my days in Canberra, I was exploring the near by national parks and nature reserves through meetups. And because of those meetups organised by various hiking groups, I had hiked in the Tidbinbilla Nature Reserve.
The other nature reserve to explore when in Canberra is the Namadgi Nature Reserve. I had hiked to the Square Rock lookout in Namadgi.
PIN for later reference
This article may contain affiliate links. For full information, please see our affiliate disclaimer here.
About Tidbinbilla Nature Reserve
Belonging to the traditional owners of Ngunnawal people, the Tidbinbilla Nature Reserve is located near the Australia's capital city Canberra. It is the best place to see the unique wildlife of Australia, like koalas, kangaroos and many more.
The name Tidbinbilla is derived from Ngunnawal word Jedbinbilla, meaning 'where boys become men'. It identifies the traditional rituals and relationships that Ngunnawal men have with the valley. More details can be found on the Tidbinbilla official website.
The Tidbinbilla Nature Reserve is open everyday between 7:30 am and 6 pm during winter season and 7:30 am and 8 pm during the summer season. The reserve is closed when there is severe weather warning, make sure to check their website for the recent updates.
There is also an entrance park fees (ranging between AUD 5 to AUD 14 per day) that need to be purchased for all the vehicles (including the motor cycles) entering the reserve. One can also opt to purchase annual pass. The pass can be purchased at the Tidbinbilla visitor centre (for day pass and annual pass) or online (for annual pass).
The Tidbinbilla Visitor centre is only open between 9 am and 5 pm everyday.
Two hikes in Tidbinbilla Nature Reserve
There are plenty of hiking trails in the Tidbinbilla Nature Reserve that caters for all kinds of hikers. I have done only two of them, the hike to Gibraltar Peak and to Nil Desperandum.
These hikes can be done as either one day hikes each or can be merged and hike as a multiday hike.
Hike to Gibraltar Peak
At an elevation of 1038 metres, Gibraltar Peak is the 45th highest mountain the Australian Capital Territory (ACT) and a very well known walk among the hikers in Canberra. There are two trails leading up to the Gibraltar Peak, one is the longest route of 13 kilometres return via Birrigai Time trail and the other is the shorter route of 8 kilometres return via Dalsetta Car Park. I have done the shorter route from Dalsetta car park.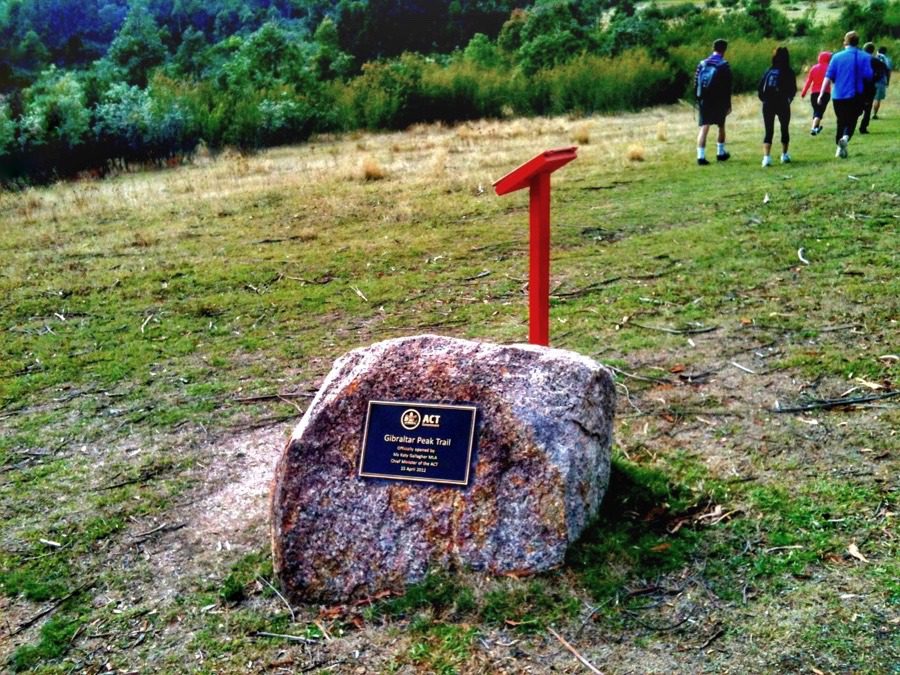 How to reach DALSETTA car park?
The best way to reach Dalsetta Car Park is by driving. The distance between Canberra Central Business District (CBD) and Dalsetta Car park is around 41 kilometres and takes 40 minutes to drive. Note: The road to the car park has restricted usage.
Unfortunately, there is no public transportation to Tidbinbilla Nature Reserve.
Logistics (via Dalsetta car park)
Starting and finishing points: Dalsetta Car Park.
Total distance: 8 kilometres return.
Total time: 4 hours.
Grade: Hard; The trail is steep.
Nil Desperandum
Nil Desperandum is a heritage listed homestead located in the Tidbinbilla Nature Reserve. Nil Desperandum literally translates to never despair. Built by an Irishman in the 1890s, the homestead now serves as a great spot to spend a night amongst the wildlife and nature. It is also an amazing place for astrophotography and star gazing.
Did you know that Nil Desperandum was destroyed in the 2003 bushfires but was later reconstructed and built to the current state?
Initially Nil Desperandum was used only by the reserve staff but now it can be rented by the visitors. You can stay at Nil Desperandum by sending an email listed on the Tidbinbilla official website. Note the Nil Desperandum homestead is accessible only by 4 wheel drive. And there is no electricity and has very limited mobile reception. The visitors will need to carry all the basic necessities required for the stay.
How to reach Greens picnic area?
The Greens picnic area is few kilometres from the Dalsetta car park. Ensure to ask the map at the Tidbinbilla visitor centre as there is no GPS location marking for the Greens picnic area.
Unfortunately, there is no public transport.
Logistics
Starting and finishing points: Greens picnic area. One can also park their car at Dalsetta car park and start hiking from there to Nil Desperandum.
Total distance: 12 kilometres return. If started from Dalsetta car park, then the hike is 13.4 kilometres return.
Time taken: 4 hours.
Grade: Moderate.
Important Information
Wear sturdy and comfortable shoes.
Be careful of the wildlife especially the kangaroos while driving.
Do not throw any garbage in the nature reserve. Take your rubbish with you.
Make sure to display the pass on the dashboard of the car when parked or entered in the nature reserve.
Take sufficient water especially during the summer season as it can get very hot.
Carry your lunch with you so you can enjoy a nice meal after a hard climb.
Safety for solo female travelers
As a general rule, hiking is usually done with a buddy. This helps in being prepared for any unforeseen or uncalled situations. Similarly, I suggest going on these hikes with a buddy or group of people. If you are a solo female traveler, then look for an organised event on meetup where you can join other people for the hike and be safe in the wild. Also, if you are alone and you do not have any other people, make sure to register at the Tidbinbilla visitor centre.
Closing Notes
Both the hikes in Tidbinbilla are totally worth it. They are challenging and provide great views of the nature reserve. I wish I had explored more hikes in the reserve when I lived in Canberra. I do hope to hike and explore more in the future when I get a chance.
Have you done any of these hikes or other hike in the Tidbinbilla Nature Reserve? Let me know in the comments below.
How can you support me?
You know how much I love coffee, so you can buy me coffee – Buy me Coffee!
Or you can purchase from one of the below travel resources without any extra charge to you.

Travel Resources
Click to book your flight on Skyscanner.com
Click to book your accommodation on Stay22
Click to book a comprehensive travel insurance on Safety Wing
Click to book your tours and travels on Viator or GetYourGuide
If you liked this article and if it was helpful in your planning or traveling, do share, tweet, or pin this post.

Follow me on Instagram | Facebook | YouTube | Twitter | LinkedIn
Do you have a question? Or want any suggestions, and tips for travels, hikes and scuba dives? Use the Subscription box below to sign-up and get updates by email.
PIN for later reference