Pat a Cheetah at Canberra Zoo
I love big cats. I am actually obsessed with them. And because of this love and obsession that when I had heard that at the Canberra zoo, known as National Zoo and Aquarium, you can pat and meet a cheetah, I straight away added it into my Australian bucket list. It was a unique experience and I wanted to do it. I had never seen a cheetah up close let alone pat it.
This article may contain affiliate links. For full information, please see our affiliate disclaimer here.
Disclaimers:
The prices mentioned in the post are valid only at the time of publication. Ensure to check the booking websites for up to date information and prices.
Opinions and views expressed solely mine and are unbiased. If the post is a collaboration, then they are specifically mentioned.
Ensure to check the relevant websites for up to date information on COVID protocols.
For any adventurous activities, please note that there is a risk that can be dangerous. Ensure to read the terms and conditions with individual agencies recommended and do them at your own risk.
For visas, it is best to see the embassy website for any changing rules.
Where is National Zoo and Aquarium?
Opened in 1990, the National Zoo and Aquarium is a privately owned zoo in the city of Canberra. Canberra is the capital city of Australia, which is in the Australian Capital Territory. The zoo is home to many animals, reptiles and birds and one needs at least 3 to 4 hours to see all the exhibits in the zoo. The best thing to do at the zoo is the animal encounter, where one can interact with a wild animal with supervision and safety in place.
The National Zoo and Aquarium is the only zoo in Australia that has a combination of both zoo and aquarium.
Ticket cost and Timings
The General entry ticket for an adult is AUD 49. Up-to-date ticket information and booking details can be found on their website.
The zoo is open between 9:30 AM and 5 PM.
Due to COVID restrictions, ensure to call the zoo to check for timings and if there are any restrictions to visit.
How to get to National Zoo and Aquarium?
By Road – The National Zoo and Aquarium is about 7 kilometres from the Canberra Central Business District (CBD). And the best way to reach the zoo is by driving which takes just 10 minutes. There are ample parking space available at the zoo.
By Public transportation – There is no public transport to the zoo. The only way to get to the zoo currently is either by driving or taking a cab service.
Note that the public transportation is bad in Canberra city. They only have buses to go between the suburbs in the city and the frequency is not that great with really long routes to reach between the stops. The city was designed for cars and most people commute by cars in the city.
Wild Animal Encounter – Meet a Cheetah
At the zoo, one gets to face an unique experience of meeting a cheetah in its enclosure. It is a chance to get up close with a beautiful big cat. The enclosure has the zoo keepers taking care of the safety of the animal and the people. The visitors get to pat a cheetah and also ask any questions regarding them. It is definitely one of the cool experiences I have had with the wild animals.
Cost: The experience is a bit expensive. The cost ranges between AUD 175 to 195 depending on whether you want to do it on a weekday or a weekend.

The entry ticket to the zoo then becomes free if one of these encounters are booked.

Booking: On their website.
Length of the stay: One can get to stay in the enclosure only for 10 minutes.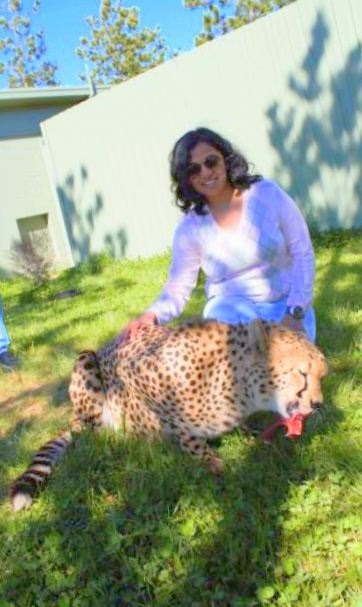 Other animal encounters at the zoo
Some of the other cool things one can do at the National Zoo and Aquarium are:
Pat a Rhino.
Meet the best friends, a Cheetah and a dog.
Hand feed a giraffe.
Meet the tree kangaroos.
Feed a meerkat. I would have loved to have done this while I visited the zoo.
Feed a Red Panda.
Meet an owl.
And more amazing things.
For all the details and bookings for animal encounters, visit their website.
Note: The Giraffe encounter generally gets booked very quickly as it is the most popular one among the kids and families.
One can also stay overnight in the zoo and I am sure this must be one of the spectacular experiences ever. I have not done it so far but would love to sometime.
Note: The stay is very expensive for a solo traveler and works out reasonably well when you visit with a group of people.
My experience of meeting and patting a cheetah
After more than two years of having this on my bucket list
Even though the purpose of visiting Canberra that year, was to see the Floriade festival, it was also the time for me to cross off my bucket list item of meeting and patting a cheetah.
On the day
I was super excited on the day. Finally, I was crossing off my bucket list item. I was given a specific time and location, from where I was picked up and was driven to the enclosure.
I was welcomed by a zoo keeper. She briefed me about the security norms and what the cheetah likes and dislikes. Inside the enclosure, there were two zoo keepers already, one to take the pictures (same zoo keeper who met me at the entrance of the enclosure) and the second to keep a watch at the cheetah during the pat.
The name of the cheetah that I patted was 'Elsa' (inspired from the movie 'Frozen'). And she was a fully grown 3.5 years old cheetah. Oh my God! She was magnificent and looked super elegant. Her fur coat was so soft. I was overwhelmed by how beautiful she looked and all I did was just look at her the entire time. And because of my overwhelming emotion, I posed so badly for the pictures.
Is Canberra safe for solo female travelers?
Absolutely Yes. Canberra is one of the safest cities in Australia and I have traveled and lived in this beautiful city for a few months alone. I had no issues or concerns while I was there. However, like any other city in the World, be cautious and know your surroundings, especially while traveling at nights. Canberra becomes very isolated after sunset and most times you will see no one else on the roads.
If you are into adventurous activities such as hiking, then definitely visit Tidbinbilla and Mount Taylor Nature Reserves, and Square Rock at Namadgi National Park for some exciting hiking trails and wildlife encounters.
Closing Notes
Meeting and patting a cheetah was definitely one of the most beautiful things I have ever done. It was a very beautiful feeling to be touching the most precious big cat and see it that up close. I would definitely recommend doing this activity when in National Zoo in Canberra. Even if you are not into animal encounters, I would still suggest visiting this amazing zoo and looking at the animals.
How can you support me?
You know how much I love coffee, so you can buy me coffee – Buy me Coffee!
Or you can purchase from one of the below travel resources without any extra charge to you.

Travel Resources
Click to book your flight on Skyscanner.com
Click to book your accommodation on Stay22
Click to book a comprehensive travel insurance on Safety Wing
Click to book your tours and travels on Viator or GetYourGuide
If you liked this article and if it was helpful in your planning or traveling, do share, tweet, or pin this post.

Follow me on Instagram | Facebook | YouTube | Twitter | LinkedIn
Do you have a question? Or want any suggestions, and tips for travels, hikes and scuba dives? Use the Subscription box below to sign-up and get updates by email.