"Just take a Manta Ray and turn them by 90 degrees and you get a Mola Mola", my diving instructor explained to one of the divers. Mola Mola are one of the rare finds in the ocean and they have a flat body with one fin facing upwards and the other downwards. They look weird but are absolute delight to watch. I was really lucky to have seen them during one of my dives in Bali. It was so overwhelming to see them in the wild where banner fishes were cleaning them. Such a cool scene to spot during a dive!
PIN for later reference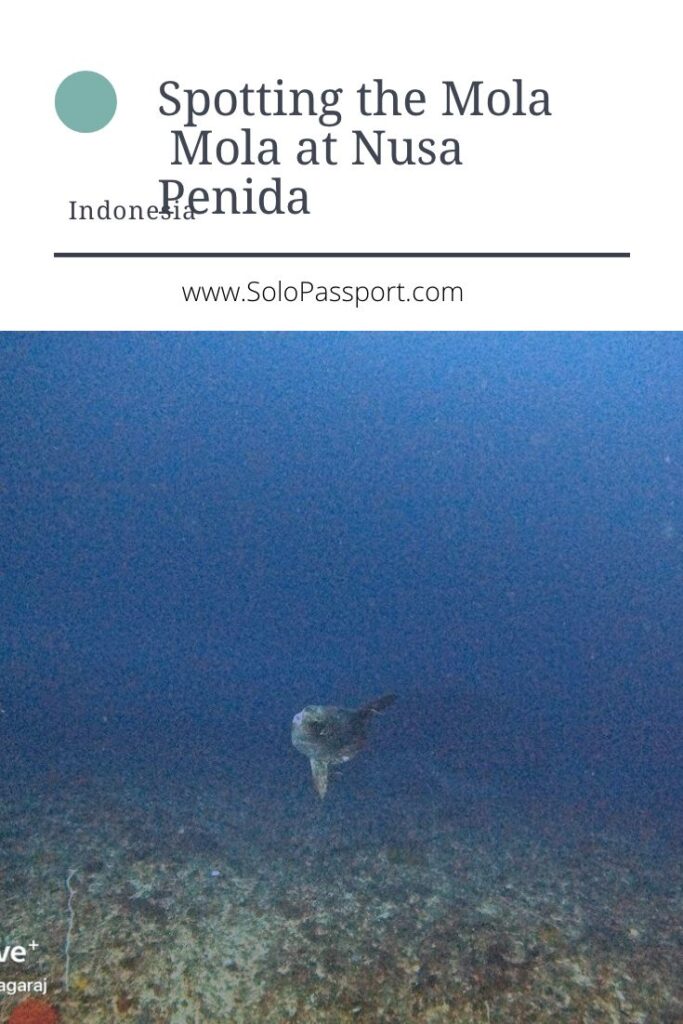 This article may contain affiliate links. For full information, please see our affiliate disclaimer here.
About Mola Mola
Also known as the Ocean Sunfish, Mola Mola is the second heaviest bony fish in the world. Mola is derived from a Latin word which means Millstone. These fishes are native to temperate and tropical waters. Their bodies are flat giving them an oval shape and resemble a fish head with a tail. The average length of Mola Mola fin to fin is about 2.5 metres and can weigh between 250 and 1000 kilograms. Their lifespan in the wild is yet to be determined.
Mola Molas have been a part of many legends and myths. One such legend is that Polynesians, the indigenous people of Hawaii, believe slender sunfish are makua, the king of mackerel, and by killing the makua brings in bad luck.
As Mola Molas carry a lot of skin parasites, they are not killed for food and are usually left as useless creatures. But they do invite smaller fishes like banner fishes and birds to feast on these parasites. They even come to the surface and breach up to 10 feet as well in an attempt to shake off the parasites.
What do Mola Mola eat?
Mola Molas are predators who consume jellyfishes, squids, smaller fishes, fish larvae and crustaceans. As these are food only provide 15% of the nutritional value, Mola Molas have to eat these food in abundance. To cover their calorie and nutritional need, an average grown Mola Mola consumes around 70 kilograms of jellyfishes each day.
Are Mola Mola dangerous to humans?
Mola Mola are the most docile fishes one can find in the ocean. They are no threat to humans and usually mind their own business. The divers are advised to stay at a distance from them because any closer interaction drives the Mola Mola away.
Places to see Mola Mola around the world
Spotting Mola Molas are rare and unique experience for divers. There are very few places around the world where Mola Mola can be spotted. They usually stay in temperate and tropical waters and the divers can spot them when the water temperature is above 10 degrees centigrade and the depth is more than 12 to 15 metres.
Did you know that Mola Mola can easily dive to a depth of 600 metres?
Mola Molas can be found in the Galapagos Islands, The Monterey Bay in California, Oban in the United Kingdom and a few other handful places.
Where to spot them in Indonesia?
There are many dive sites at Nusa Penida where one can spot Mola Molas but the most famous one is the Crystal Bay. The dive at Crystal Bay can be a bit challenging as there are unpredictable currents. It is best to listen to your dive master and instructor as they know the area well and will tell you which one is safe. I spotted not one but two Mola Molas during my dive at Crystal Bay and it was at around 28 metres deep. My fellow divers spotted four of them together. Mola Mola usually stay in groups to escape from predators so there are higher chances of seeing more than one Mola Mola.
The other place where you can find the Mola Molas are at Gili Tepekong, which is again a boat ride away from Bali. The dive sites are suitable only for the certified divers, especially for advanced divers and above. Mola Molas are usually spotted after 12 to 15 metres and in deeper waters.
Mola Mola season in Indonesia
Mola Mola season in Indonesia is between July and October where the temperatures are colder in the water. As per Bali standards, cold water mean somewhere between 21 to 25 degrees centigrade. I was told by my diving instructor that it is best to dive during August and September to have higher chances in spotting them in more numbers.
Closing Notes
Spotting Mola Molas is a unique and once in a lifetime kind of experience. It is hard to spot them as they are seen only at few places around the world. I was very fortunate and all my stars were aligned to have seen them in the wild during my scuba dive in Nusa Penida. They were massive and such a pleasure to have seen them. I do hope to see them in more numbers in the future.
Have you spotted a Mola Mola? Where have you seen them? Let me know in the comments below.
How can you support me?
You know how much I love coffee, so you can buy me coffee – Buy me Coffee!
Or you can purchase from one of the below travel resources without any extra charge to you.

Travel Resources
Click to book your flight on Skyscanner.com
Click to book your accommodation on Stay22
Click to book a comprehensive travel insurance on Safety Wing
Click to book your tours and travels on Viator or GetYourGuide
If you liked this article and if it was helpful in your planning or traveling, do share, tweet, or pin this post.

Follow me on Instagram | Facebook | YouTube | Twitter | LinkedIn
Do you have a question? Or want any suggestions, and tips for travels, hikes and scuba dives? Use the Subscription box below to sign-up and get updates by email.
PIN for later reference