9 Things to do in Thanjavur
Do you love Indian architecture? The architecture of the spectacular temples and the historical monuments? Then Thanjavur must definitely be on your bucket list. The city is specifically famous for its amazing landmarks and the monuments, especially the UNESCO recognised Brihadeeshwara temple. The temple is an architectural marvel and there is no other monument or a temple that has come to it.
PIN for later reference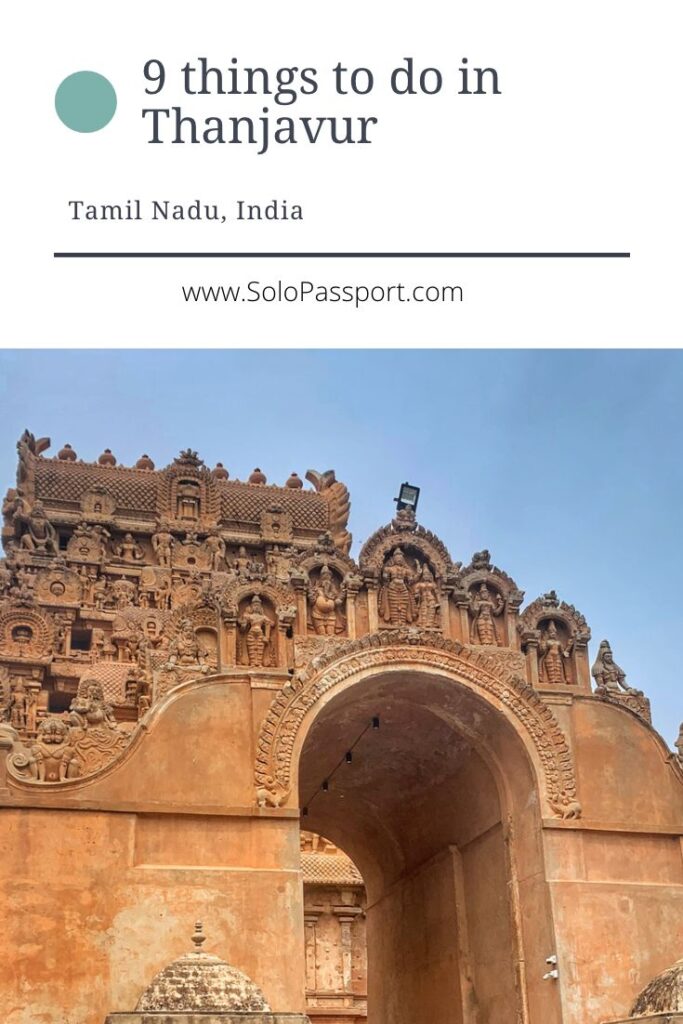 This article may contain affiliate links. For full information, please see our affiliate disclaimer here.
About Thanjavur
Popular for the famous 11th-century Brihadeeshwara temple, Thanjavur is a city in the south Indian state of Tamil Nadu. Most of the temples built by the Great Living Cholas are located in and around Thanjavur. Also known as Tanjore, Thanjavur city is also home to other cultural traditions such as Bharatnatyam, Thanjavur paintings, and Thanjavur dolls.
The best time to visit Thanjavur is during the winter season which are between the months of October and February as the months are pleasant. The other months are too hot. One needs just one or two days to explore Thanjavur.
How to get to Thanjavur?
Public transportation
Thanjavur is well connected by buses from Chennai and Bangalore. The buses are operated by government and private bus operators. For up to date information on buses, refer Redbus website.
Thanjavur also has a railway station of its own. The Thanjavur Junction railway station is around 1 kilometres from the city. For trains, refer IRCTC website.
Driving
Thanjavur is around 400 kilometres from Bangalore and it takes about 8 hours by road.
Thanjavur is closer to Chennai than Bangalore and is around 350 kilometres. The road journey takes about 6 hours.
Airport
The closest airport to Thanjaviur is at Tiruchirapalli. Tiruchirapalli airport is an international airport that is well connected to the major cities within India and cities in South East Asia. The airport is about 60 kilometres from Thanjavur. Air India is one of the flight operators that operate from Tiruchirapalli International airport.
Transportation within Thanjavur city
The best way to travel within Thanjavur city is either by an auto rickshaw (tuk-tuk) or public bus.
Definitely negotiate with the auto drivers as they tend to charge a lot of money (something around INR 100 for just one kilometre) and there is no metre system in the city.

To give you a comparison, the auto drivers in Bangalore city charge around INR 30 for 2 kilometres and they operate by a metre.

There is no fare collected for women travelers in public buses. If you are a female traveler, then you can travel for FREE in public buses.
9 things to do in Thanjavur
Visit the UNESCO heritage site Brihadeeshwara temple
Part of the UNESCO world heritage site known as the Great Living Chola temples, the Brihadeshwara temple is a Hindu temple dedicated to Lord Shiva. It was built by Chola emperor Rajaraja I between 1003 and 1010 CE and temple complex also has many shrines and gods within it, including a temple built in the Hoysala architecture.
The temple has had many mysteries and stories associated. One of the most interesting theories is that the temple does not case a shadow, even at noon. Another mystery is that the entire temple is built from a granite that is not native to Thanjavur city and that this granite was obtained around 50 kilometres from the city.
The temple is open between 6 AM and 8:30 PM. But it is best to visit the temple in the morning before 11 AM as it gets very hot after 11 AM.
It is best to hire a guide to listen to the stories and know about the history. The guide charges around INR 600 for one hour.
Go back in time at Aranmanai or the Maratha Palace
The Aranmanai Maratha Palace is the official residence of the Bhosle family, who ruled Thanjavur region between 1674 and 1855. Originally known as Sivagangai Fort, the palace was built by Thanjavur Nayaks in 1535. The palace complex has many small buildings within. And they include museums with artefacts, ruins, the Dharbar hall, and bell tower.
The palace is open everyday between 9 AM and 6 PM and is closed during the lunch hour.
There is an entrance fee of INR 50 for Indian and INR 100 for foreign nationals.
Mobiles and cameras have an extra fee.
Watch a Bharatnatyam performance
Thanjavur is the birthplace for the traditional and classical dance of Bharatnatyam. The origin of the dance can be traced back to the sage Bharat Muni's Natyasastra. Performed in the temples, the Thanjavur Bharatnatyam style is more traditional including the devotion to that of the deities. So, definitely try to catch a performance when you are visiting Thanjavur.
Talk to the local dance classes to know if there are any performances scheduled.
Walk around the city to see old monuments
One of the best ways to discover and explore a city is by walking around aimlessly and observing the locals and the local monuments. These speak a lot about the city's character. And similarly, Thanjavur city has many old buildings and landmarks that date back to many centuries ago.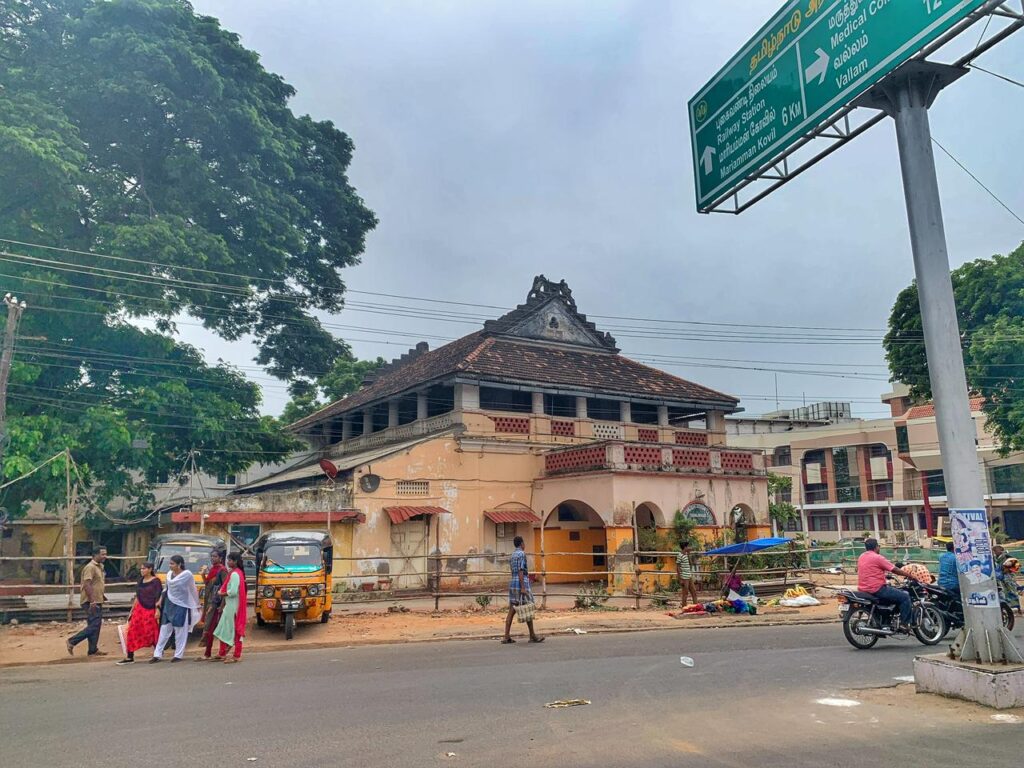 Visit the churches
Who would have thought that in a city dedicated to temples, I would find some local churches? It was really nice to find the old churches and witness a different kind of architectural style than the temples.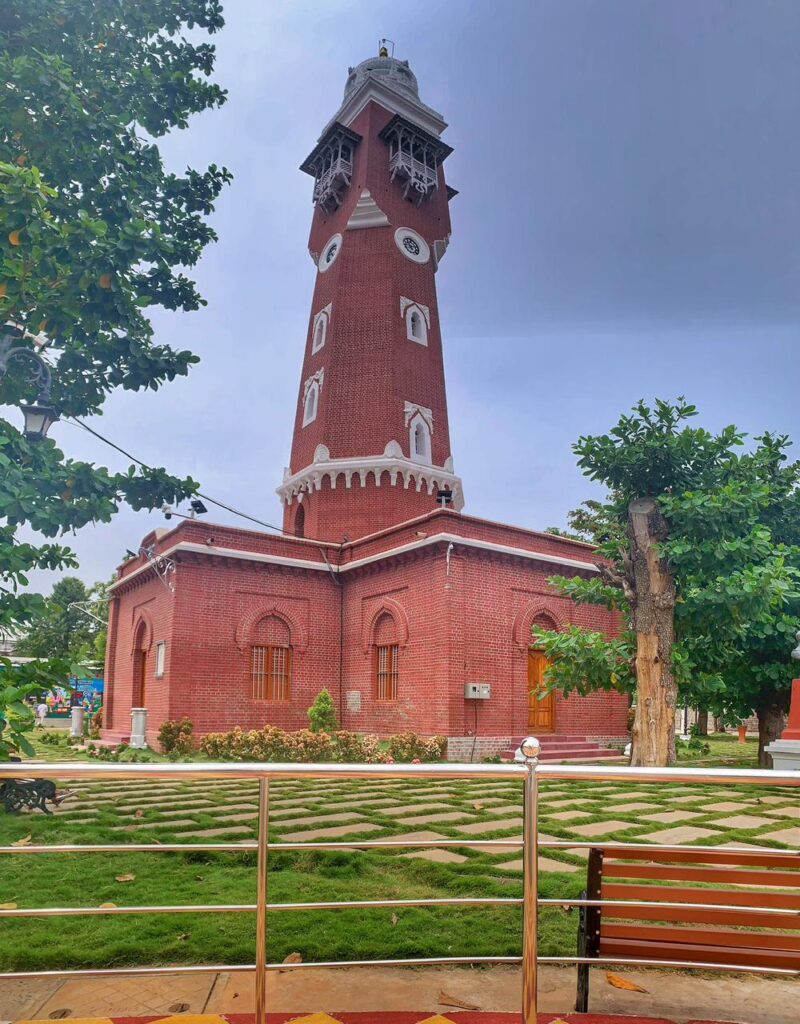 Watch the dying art of Veena making
Made out of Jackfruit wood, Thanjavur city is known for its Veena making. The families in Thanjavur have been making these Veenas for centuries, and the art and skill of making the instruments get passed on to the future generations. Currently, there are only a few families left (as less as 15) who master the art of making Veena. And watching these craftsmen make the instrument is a delight.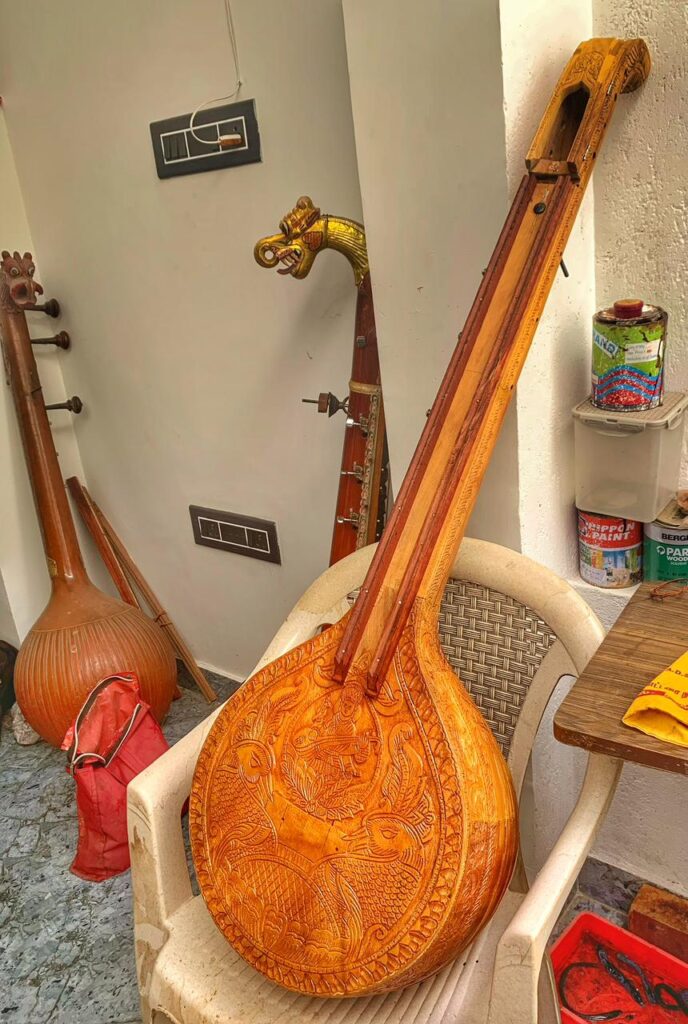 Indulge in Chettinadu lunch
Chettinadu is a Tamil Nadu cuisine and is made of freshly grounded masalas (spices). The cuisine offers both vegetarian and non-vegetarian options, even though the traditional cuisine was supposed to be only vegetarian. Thanjavur has many restaurants that offer this traditional Chettindau cuisine.
Observe the artists paint the Thanjavur paintings
Dating back to 1600 AD, Thanjavur painting is a unique style of painting characterized by vibrant and rich colours, especially the gold foils overlaid as jewellery on the paintings. The paintings are mostly of the Hindu gods and goddesses, and saints. These are recognised as Geographical Indication by the Government of India Thanjavur city is a great place to watch the artists at work, and also to buy these unique paintings directly from the artists.
Buy the dancing Thanjavur dolls
Another beautiful and unique piece of art that can be found in Thanjavur are the Thanjavur dancing dolls. Made of Terracotta material, the Thanjavur dolls have a bobblehead dancing heads and are also recognised as Geographical Indication by the Government of India. One of these dolls surely make a great souvenir for your home.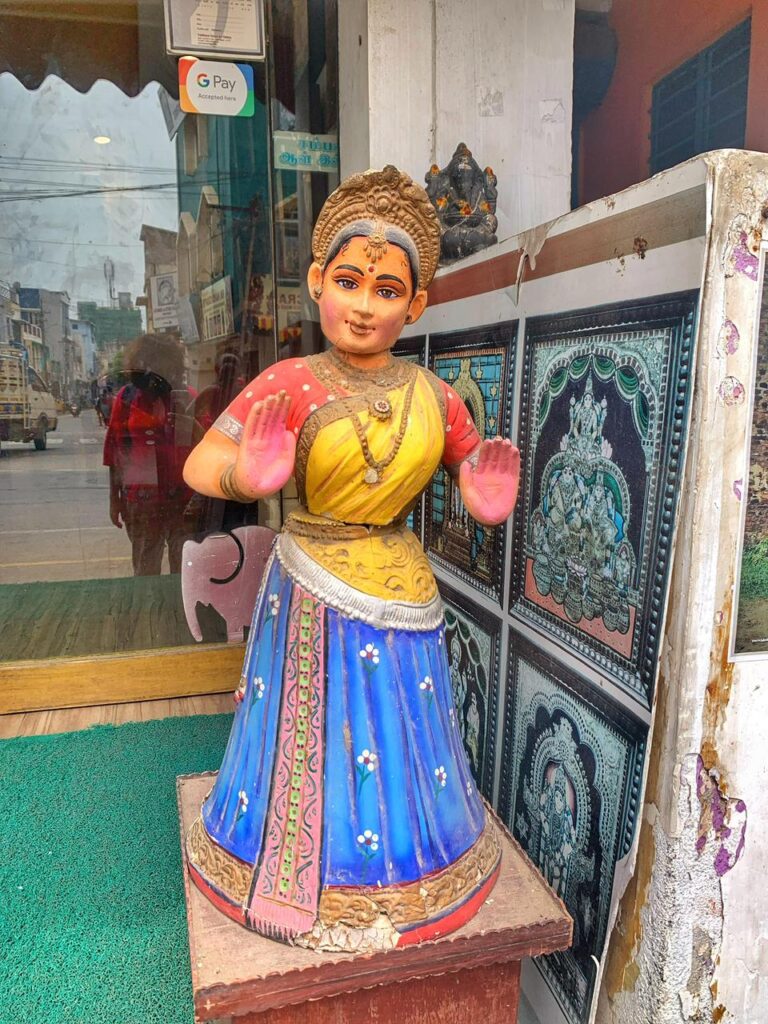 Safety for solo female travelers
Thanjavur is absolutely safe for solo female travelers. I traveled to the city alone and I had an amazing time there. All the time I was in the city, I had no issues or concerns whatsoever. Every person minds their own business and usually are very friendly people. However, like any other city in the world, know your surroundings and be alert, especially at night.
Are you new to solo traveling or are not sure of how to start solo traveling? Refer my frequently asked questions (FAQ) for solo traveling.
Closing Notes
Thanjavur is one of the beautiful places I have visited in Tamil Nadu. It has so much of culture, art and history, and has a mix of old and new traditions. I highly recommend visiting this beautiful city when you are in Tamil Nadu.
How can you support me?
You know how much I love coffee, so you can buy me coffee – Buy me Coffee!
Or you can purchase from one of the below travel resources without any extra charge to you.

Travel Resources
Click to book your flight on Skyscanner.com
Click to book your accommodation on Stay22
Click to book a comprehensive travel insurance on Safety Wing
Click to book your tours and travels on Viator or GetYourGuide
If you liked this article and if it was helpful in your planning or traveling, do share, tweet, or pin this post.

Follow me on Instagram | Facebook | YouTube | Twitter | LinkedIn
Do you have a question? Or want any suggestions, and tips for travels, hikes and scuba dives? Use the Subscription box below to sign-up and get updates by email.
PIN for later reference