Travel Guide to Washington D.C. (2023)
Washington D.C. is one of the cities I visited on my 10 days of East Coast U.S. and Canada road trip. I always had Washington D.C. and New York city on my list because of all the Hollywood movies I had seen since childhood. In this post, you will find the detailed information about Washington D.C. and things you can do in this capital city.
PIN for later reference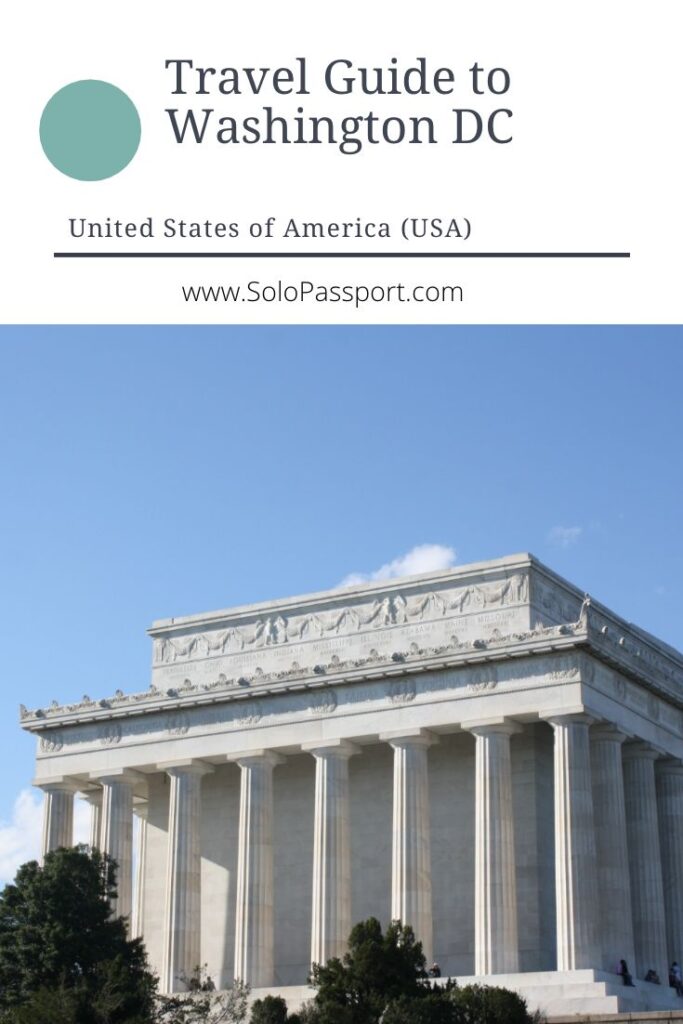 This article may contain affiliate links. For full information, please see our affiliate disclaimer here.
About Washington D.C.
Washington D.C. is the capital of the United States of America. The city is inside the District of Columbia (D.C.), a federal district that is not part of any state. The capital city is located between Virginia and Maryland on the banks of Potomac River. It is famous for the government monuments and buildings, including the White House. The city is also famous for its free museums and historical places.
Fun facts about Washington D.C.
Every city has some fun facts and likewise Washington D.C. also has fun facts. To name a few are:
Two American Presidents (Herbert Hoover and John Quincy) had alligators as pets at the White House.
There are marble bathtubs at the Capitol building that were installed in the year 1859.
There is a crypt for George Washington under the Capitol Building.
The city is home to the unique International Spy museum and it is one of the 10 best museums to visit in Washington D.C.
Washington D.C. gets more rain (on an average of 2 inches) than Seattle.
John Adams was the first president to live in the White House.
The city is named after Christopher Columbus.
Capitol building was not designed by an American.
The White House theater was originally a coatroom.
Best time to visit Washington D.C.
Washington D.C. enjoys all the four seasons and during the winter season, it sometimes snows. The best time to visit Washington D.C. are between September and November, and between March and May. Washington D.C. during the spring season is very pretty with all the Cherry blossom around the city.
How to get to Washington D.C.?
By flight
There are three International airports at Washington D.C.:
Ronald Reagan Washington National Airport.
Washington Dulles International Airport (Biggest airport).
Baltimore/Washington International Thurgood Marshall Airport.
There are many U.S. and international airline providers that operate from Washington D.C. Some of the providers are American Airlines, Qantas and United Airlines.
By train
Amtak is the national train operator in United States. There are frequent trains that run to and from Washington D.C., as frequent as 85 trains a day.
For cheaper fares, book the tickets well in advance on Amtak website.
Local transportation
Public transport
The city has 4 modes of transport:
Metro – The metro rail, operated by Washington Metropolitan Area Transit Authority (WMATA), are easy to use and has around 91 stations around the city.

SmarTrip card is the best way to travel on Metros. It is a reusable card that can be recharged and used to enter and use the metro trains.

Bus – The metro buses, operated by WMATA, can be used to get to places where metro rails do not operate.

The fare on bus trips can be paid either by using SmarTrip card or cash.

Cab – The most expensive mode of transport is hiring and hailing a cab. Uber cabs run in the city and can be booked using the Uber app. The other cab provider to use is Lyft.
Bike – One can also rent a bike and ride around the city. The bikes can be rented on Capital Bike Share website.

Note: The bike here means a bicycle and not a motor bike.
Time required to explore Washington D.C.
The suggested time to spend at Washington D.C. is about 3 to 4 days to comfortably cover all the tourist attractions.
I had just couple of days in Washington D.C. and hence I could not do too many things while I was at this beautiful city. I wish to get back to explore and spend more time at this city.
Things to do in Washington D.C.
Washington D.C. has many things to do for all kinds of travelers. Be it solo travelers like me or for a family vacation, Washington D.C. offers all. Here is a perfect guide if you are traveling to Washington D.C. with kids.
Note: U.S.A. has a culture of tipping. While I was traveling, I was confused as to how much and when to tip. Read this guide on how much to tip in U.S.A to know about the amount to tip.
Lincoln Memorial
One of the things that I always wanted to do was to see the iconic Lincoln Memorial. I had only seen the memorial in movies.
The Lincoln Memorial is built to honor Abraham Lincoln, the 16th President of the United States. It was erected in the year 1868 and is a Greek Revival. The statue is carved from Georgia white marble and is about 5.8 metres tall.
Timings: The memorial is open 24 hours on all days.
There is no entrance fee to visit the Lincoln memorial.
One cool fact about the Lincoln Memorial is that Lincoln's Gettysburg Address is engraved on the north wall of the memorial. And there is a mural of an angel granting freedom to a slave that is displayed.
Washington Monument
The monument was designed by Robert Mills to commemorate George Washington. Standing tall at 169 metres, this tourist site is a must visit. The monument embodies respect and gratitude towards the Founding Father and depicts 'Like the man, the monument stands in no one's shadow.'
Address: 2, 15th St NW, Washington DC, 20024.
Timings: The monument can be visited everyday between 9 AM and 5 PM.
There is no entrance fee to visit Washington monument but there is a USD 1 that is taken as a reservation service fee.
One cool fact about the Washington Monument is that no other building is allowed to be taller than the monument in the city. And the original elevator took 20 minutes to ride to the top.
The White House
Who does not want to see where the World's most powerful person stays? The White House is the official residence of the President of United States. Designed by the architect James Hoban, the White House was built in 18th century Palladian style. It used Aquia Creek sandstone. The name White House was recorded in 1811.
Timings: There are public tours available for the White House. And they are available from Tuesday to Saturday between 8 AM and 12:30 PM.
There is no entrance fee to take the White House tour.
One cool fact about the White House is that the building has 132 rooms, 35 bathrooms and 6 levels. There are also 412 doors, 147 windows and 3 elevators.
Note: I was told strictly by my guide not to point anything towards the White House, not even an umbrella.
Other attractions
Washington D.C. has around 70 museums that you can visit and some of them are very unique and interesting.
If you are into history, then do not forget to visit WWII sites. For more information, read WWII Sites at Washington D.C.
Bordering with Washington D.C., you can extend your trip to the neighbouring state to do some outdoor activities in Maryland.
Safety for solo female travelers
In a nutshell, the nation's capital is safe and friendly for solo female travelers. I did not have any problems while I was traveling in Washington D.C. and I enjoyed my stay at the city very well. However like any other city, ensure some caution when traveling alone and trust your instincts.
Note: Avoid the dangerous areas of the city, especially at night.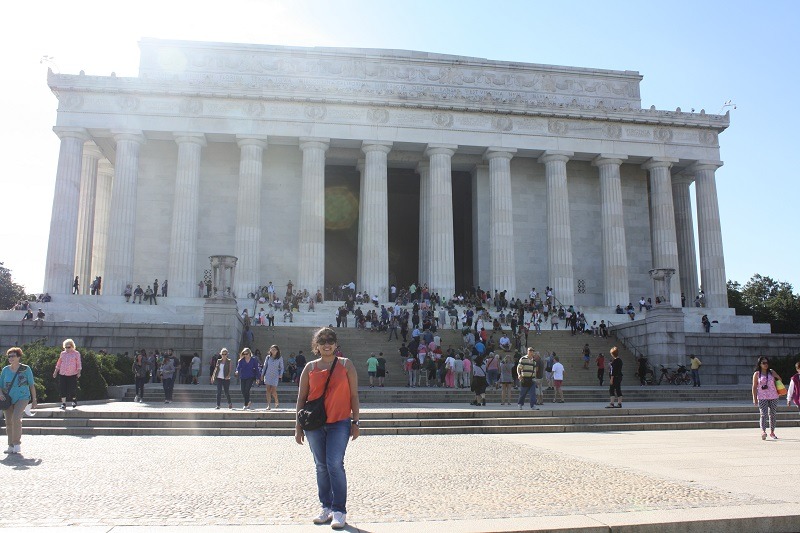 Closing Notes
I really enjoyed traveling in Washington D.C. Even though I prefer traveling out of the cities and enjoy countryside more, this city was one of the reasons why I liked traveling in the United States. I really liked interacting with the locals as they were really friendly and amicable. The city was clean and organised. I definitely recommend visiting this capital city while traveling in the United States.
How can you support me?
You know how much I love coffee, so you can buy me coffee – Buy me Coffee!
Or you can purchase from one of the below travel resources without any extra charge to you.

Travel Resources
Click to book your flight on Skyscanner.com
Click to book your accommodation on Stay22
Click to book a comprehensive travel insurance on Safety Wing
Click to book your tours and travels on Viator or GetYourGuide
If you liked this article and if it was helpful in your planning or traveling, do share, tweet, or pin this post.

Follow me on Instagram | Facebook | YouTube | Twitter | LinkedIn
Do you have a question? Or want any suggestions, and tips for travels, hikes and scuba dives? Use the Subscription box below to sign-up and get updates by email.
PIN for later reference