10 things to do in New York city
The city lights and the busy streets is what you get in New York City (NYC). It is one of those cities that are absolutely stunning and have breath taking skylines. In fact, the city is so beautiful that there is a song made on it.
I am in love with NYC. From my childhood, I have dreamt of living in this beautiful city and experience what it has to offer. When I was on a 10 days East Coast US and Canada trip, I visited NYC and it surely did not disappoint me in any way.
PIN for later reference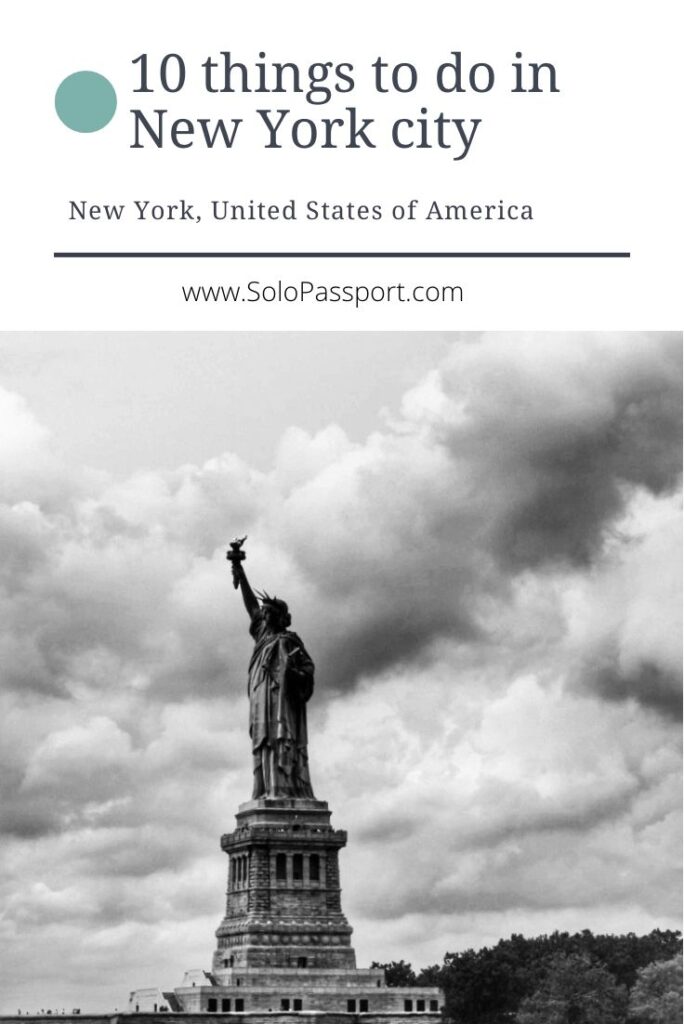 This article may contain affiliate links. For full information, please see our affiliate disclaimer here.
Disclaimers:
The prices mentioned in the post are valid only at the time of publication. Ensure to check the booking websites for up to date information and prices.
Opinions and views expressed solely mine and are unbiased. If the post is a collaboration, then they are specifically mentioned.
Ensure to check the relevant websites for up to date information on COVID protocols.
For any adventurous activities, please note that there is a risk that can be dangerous. Ensure to read the terms and conditions with individual agencies recommended and do them at your own risk.
For visas, it is best to see the embassy website for any changing rules.
About New York City
The most populous city in the United States of America (USA) and largest metropolitan area in the world is New York city. The city has been described as the cultural, financial and media capital of the world. It consists of five boroughs, Brooklyn, Queens, Manhattan, the Bronx and Staten Island.
The initial settlement was named New Amsterdam in 1626. It was later then renamed as New York in 1664, named after Duke of York by the English. After the Dutch regained the city in 1673, the city was renamed to New Orange. But since 1674, the city has been named as New York. New York City was the capital of USA between 1785 and 1790 and the capital status was later moved to Washington D.C.
Often referred as the Big Apple, the city is famous for its sky scrappers, landscapes, and branded shops. It is also famous for its flashy Broadway performances. Here are some tips to purchase the Broadway tickets.
The best time to visit New York City is during the spring (April to June) and autumn/ fall (September to November) seasons. However, the offseason is between January and March as the weather is cold. January is the coldest month of the year. One needs at least 4 days to explore the city.
On the East Coast of U.S.A., there are many interesting road trips from New York. One of the road trips to do is to Florida and the road trip from New York to Florida is very pretty and has plenty of things to see and do.
By the way it is not just the east coast of U.S.A. that has interesting cities and places, even the west coast of U.S.A. has some amazingly beautiful cities.
How to get to New York City?
Flights
New York City has three main airports, John F. Kenedy International airport, LaGuardia airport and Newark International airport. More than 70 airline providers operate from the JFK airport. I landed at JFK when I visited the city.
The security screening is intense, so ensure to arrive at the airport well in advance.
Trains
New York city has two main train stations, Grand Central Terminal and Penn Station. Operated by Metropolitan Transit Authority (MTA), there are trains that stop at these stations from various cities and towns.
Buses
New York city is also accessible by buses from various cities and towns across United States and Canada. These buses are operated by Greyhound, Megabus and Flixbus.
Public transportation within New York City
New York city has a very good public transport system and hence getting around New York city is very simple. There are subways, trains and buses, operated by Metropolitan Transit Authority (MTA), that can be used for travel between places in New York city and buying the tickets are also very easy. It is best to get one of the transportation cards called Metro Card or OMNY to travel hassle free.
10 Things to do in New York City
New York City offers plenty of things for its visitors. The city never sleeps and is one of the most happening cities in the world. With its iconic landmarks and skyscrapers, this city must be on every traveler's list. The city also has some of the amazing restaurants and bars, including the vegan and vegetarian restaurants.
If you are on the west coast of U.S.A., then do visit Los Angeles, especially Griffith Observatory and Universal Studios Hollywood.
Trivia: Did you know that New York city is the most diverse city in the world where there are more than 500 spoken languages? Read many of such interesting facts of New York city.
The Statue of Liberty
Number one thing to do in New York city is to go see the Statue of Liberty. The Statue of Liberty is a UNESCO world heritage monument. Dedicated in 1886, it was a gift from people of France to United States of America (USA) to commemorate the friendship between the two countries.
The statue can be visited between 8:30 AM and 4:30 PM.
There is no entrance fee to visit the monument but a ticket needs to be purchased for the ferry ride and museum.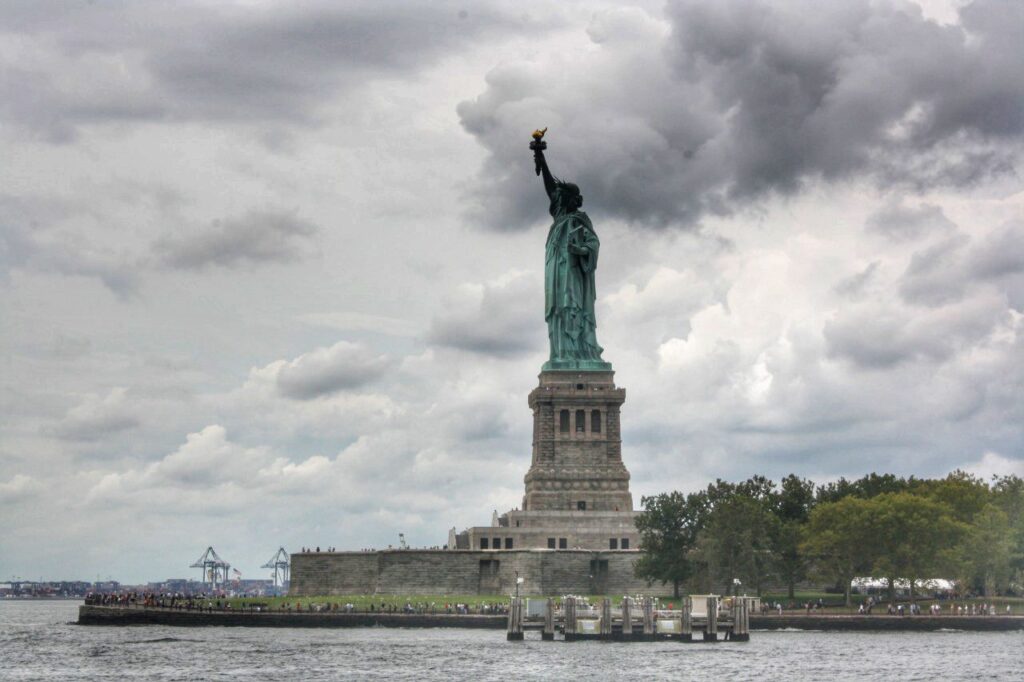 Financial District
Home to Wall street, the Financial district is New York city's financial heart and historically rich neighbourhood. The district has plenty of skyscrapers, restaurants and bars. It is an absolute delight to people watch on these busy streets of the district.
Charging bull
Referred to as Bull of Wall street or Bowling Green Bull, the Charging bull is an iconic place in the Financial district. Weighing about 3200 kilograms, the statue was created by an Italian artist Arturo Di Modica in the wake of the 1987 Black Monday stock market crash. The statue is made of bronze and depicts a bull, the symbol of aggressive financial optimism and prosperty.
Empire State Building
Built from 1930 to 1931, the Empire State building is a 102 storey skyscraper in Manhattan. The building was designed by Shreve, Lamb and Harmon in the Art Deco style. It has been named as one of the Seven Wonders of the Modern world.
The Empire State building is open between 9 AM and 12 AM everyday.
There is an entrance fee to enter the building and it is best to purchased the tickets well in advance.
Fifth Avenue
Also called as Millionaire's Row, the street of Fifth Avenue passes from north to south. Fifth Avenue is one of the most expensive shopping streets in the world. It is famous for designer bags, shoes, clothes and beauty products.
Times Square
Sometimes referred to as the Crossroads of the world or the Centre of the universe, the Times Square is a major commercial intersection and neighbourhood in Manhattan. It is also the hub of Broadway Theatre District. The street is specifically famous because of the New Year's eve ball drop that started on 31 December 1907.
The National 9/11 Memorial and Museum
Commemorating the 11 September 2001 attack and its victims, the National 9/11 memorial and museum documents the impacts and honors those killed in the attack.
Visitors can visit the museum between 10 AM and 5 PM.
There is no entrance fee for memorial but tickets need to be purchased for the museum.
NYC has many such museums. Here is the detailed list of amazing museums in NYC.
Central Park
Located between Upper East and Upper West sides of New York city, the Central park is an urban park covering 843 acres.
The park is open between 6 AM and 1 AM every day.
In the Upper East side of New York City, there are plenty of Vegan and Vegetarian restaurants that you would want to try.
Woodbury Premium Outlet
The Woodbury Premium Outlet is a shopping centre that has around 240 stores with most sought out and high end fashion and retail brands. Opened in 1985, the outlet is located in Central Valley.
The outlet is open between 11 AM and 8 PM every day except on Friday and Saturday where it is open between 10 AM and 9 PM.
West Point Academy
Just around 80 kilometres from New York City is the United States Military Academy (USMA) which is also known as West Point Academy. Founded in 1802, the West Point Academy is the oldest of the five American service academies. It educates cadets for commissioning into the United States Army.
Visitors can take West Point tours to see and hear the history and information about the academy.
Safety for solo female travelers
I have a bitter sweet memory of New York city. Even though I walked around New York city alone and had the best time, I still had to be a bit more cautious of my surroundings most of the times. I did not have any major issues as such but there were a few times where I experienced people teasing.
Closing Notes
I was in New York city for a short period of time. But I do hope to go back and stay there for a longer period of time. If you love a busy city that never sleeps then New York city must surely be on your list of places to visit when you are in the United States.
Have you been to New York city? What are your recommendations? Let me know in the comments below.
How can you support me?
You know how much I love coffee, so you can buy me coffee – Buy me Coffee!
Or you can purchase from one of the below travel resources without any extra charge to you.

Travel Resources
Click to book your flight on Skyscanner.com
Click to book your accommodation on Stay22
Click to book a comprehensive travel insurance on Safety Wing
Click to book your tours and travels on Viator or GetYourGuide
If you liked this article and if it was helpful in your planning or traveling, do share, tweet, or pin this post.

Follow me on Instagram | Facebook | YouTube | Twitter | LinkedIn
Do you have a question? Or want any suggestions, and tips for travels, hikes and scuba dives? Use the Subscription box below to sign-up and get updates by email.
PIN for later reference