16 Places to Visit for White Christmas in the USA (2024)
Who doesn't want to experience the magical white Christmas? Just seeing the cities and places around Christmas when it is snowing feels like being part of a fairytale. In the quest to find the best places to witness the white Christmas, I asked my fellow bloggers for their suggestions and my god! The results are stunning. In this post, you will find the Top 16 Places to Visit for White Christmas in the United States of America (USA).
This article may contain affiliate links, meaning if you decide to make a purchase via my links, I may earn a commission at no additional cost to you. For full information, please see our affiliate disclaimer here.
Best Time to Visit for a White Christmas in the USA
The best time to visit for white Christmas is during the winter season. Winter in the US officially starts on the winter solistice, i.e. on December 21st or 22nd and it lasts till the vernal equinox, i.e. March 20th or 21st.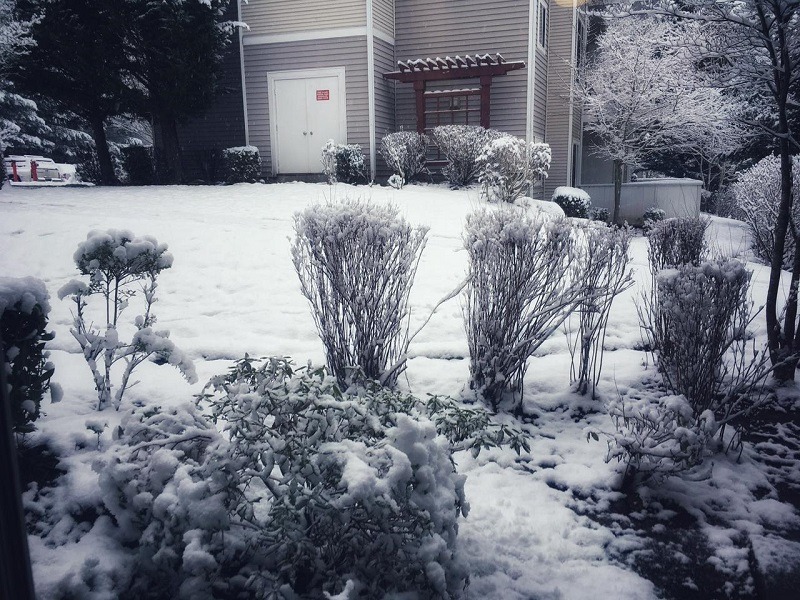 You will need to visit the areas and regions where snowfall is common during the winter season. The intensity and the weather conditions may vary depending on which region you are visiting. Note it's a good idea to check on the local weather forecasts and climate data for that area before planning your visit.
If you are looking for bucket list places on the west coast of USA, then here are the top 20 cities to visit on the west coast.
USA Winter Wonderland Destinations: Top 16 Places to Visit for White Christmas
Bryce Canyon
Submitted by Meg from Fox in the Forest
For a white Christmas in the USA head to Bryce Canyon National Park. This incredible place is located in Southwestern Utah and is famous for its vibrant hoodoos.
The majority of the park is open in winter. The only exception is that the visitor's center is closed on Christmas Day and the General store / bathrooms at Inspiration Point and Peekaboo Loop are closed all winter.
You can still do things like drive the Main Road to Sunrise Point, Sunset Point, Bryce Point, and Inspiration Point for stunning views of the area. Just know that the 1-mile road leading to Fairyland Point and the 0.30-mile road leading to Paria View are closed. However, you can snowshoe or cross-country along both of these road instead.
You can even go snowshoeing along the Queens Garden to Navajo Loop or try cross-country skiing on the Rim Trail since it is closed to hikers during winter in Bryce Canyon.
Best Time to Visit Bryce Canyon for white Christmas
In particular, Christmas is an excellent time to visit since you can avoid the heat and crowds of summer. Plus, you are also almost guaranteed a white Christmas since the park receives 14 to 17 inches of snow per month, beginnjing in October and ending in April. Plus, with daily highs of 36 F and daily lows of 15 F in December, you know the snow won't melt.
How to get to Bryce Canyon?
To get here, fly into McCarran International Airport in Las Vegas or Salt Lake City International Airport in Utah. Both are a 4.5 hour drive from the park and be sure to rent your own car to get there in the winter.
Where to stay in Bryce Canyon?
When you need to relax, spend the night at The Bullberry Inn Bed and Breakfast. It's well located near the park and offers a delicious complimentary breakfast served in a John Wayne themed dining room.
Burlington
Submitted by Karen Warren from Outdoor Adventure Sampler
The vibrance city of Burlington, nestled up to Lake Champlain in the northwest corner of Vermont, is a fabulous winter destination. Snow sport enthusiasts will love the alpine and backcountry ski trails of nearby Bolton Mountain or Stowe. Cross country ski fanatics can find incredible cross country ski centers near Burlington. Add in ice skating, ice fishing or watching a sunset on Lake Champlain for more winter activities.
For visitors with less athletic ambitions, the pedestrian mall of the Church Street Marketplace is the place to be. Stroll past festive lights, shop at cute boutiques, or sample Burlington's famous foodie scene. It's the perfect place to get a special holiday gift for loved ones. The ice sculptures from a weekend ice festival can be seen on a local hotel terrace.
The Echo Center is the premiere science and nature center on Lake Champlain. A few hours of scientific discovery in the exhibits of the Echo Center are popular with families.
Vermont is also known for its craft breweries so sample a flight of microbrews on a night out. Many music venues found throughout the city provide a wide range of entertainment.
Best Time to Visit Burlington for white Christmas
Snow flies through the winter from December to March and ice on Lake Champlain is perfect for winter sports and to experience the white Christmas.
How to get to Burlington?
Fly into Burlington International Airport or drive one of the major highways connecting New York, Boston, and other New England cities to Burlington.
Where to stay in Burlington?
Stay downtown at the Hilton Garden Inn overlooking Lake Champlain. Hen of the Woods, a locally acclaimed upscale restaurant, is nearby for a fine dining experience as the snow falls outside.
Click here to check for availability on Booking.com
Denver
Submitted by Jolayne Kline from simplyjolayne travels
Are you dreaming of a white Christmas? The odds are definitely in your favor if you plan a trip to Denver, Colorado in December.
The Mile-High City averages approximately 57 inches of snow each winter. If you are flying into Denver International Airport, the airport receives about 47 inches of snow.
Whether you call Colorado home or are planning to visit and enjoy winter activities and the Christmas festivities in Denver, you'll love all of the amazing things to do in Denver for Christmas. Here's just a sampling:
Colorado Nutcracker Ballet.
Colorado Symphony Orchestra.
Christkindlmarkt.
Denver Parade of Lights.
Polar Express Train Ride.
Denver Zoo Lights.
Downtown Denver is very walkable. You can visit many of the popular events on foot, by light rail and by bus.
To make your white Christmas memorable, be sure to come prepared for the weather with hats, gloves, warm puffy jackets and great footwear. You'll be fashionable and cozy.
Best Time to Visit Denver for White Christmas
Typically the winter season blows in with a few flurries in October and continues with the heaviest snow falling from December through March.
How to get to Denver?
As Denver is the capital city of Colorado, the city has its own major international airport. You can fly into Denver International Airport from any major cities across the US.
Where to stay in Denver?
You'll find the Embassy Suites and other major hotels in downtown Denver are steps away from the Denver Performing Arts Center, 16th Street Mall, and Larimer Square.
Estes Park
Submitted by Bett Staton from Couple Travel the World
One of the best places to visit in the USA for a white Christmas is Estes Park Colorado, the gateway town to the beautiful Rocky Mountains National Park.
There are plenty of things to do in Estes Park over Christmas, making it the ideal place to vacation at this time of year. Snowshoeing is a must do activity in December in the Rocky Mountains National Park. Some of the best trails to conquer are Bear Lake (a flat and easy trail) and the Emerald Lake trail (a moderately easy hike passing by 3 beautiful lakes including the impressive Dream Lake). There is no skiing available close to Estes Park but there is great sledding at Hidden Valley nearby.
Best Time to Visit Estes Park for White Christmas
One of the most romantic getaways for couples, Estes Park has snow annually as early as October and as late as May. The temperatures at Christmas in Estes Park will be between a high of 35F (1C) and a low of 18F (-7 C).
How to get to Estes Park?
To access Estes Park for Christmas, the best airport to fly into is Denver Airport (DEN) which is around a 1.5 hour drive away. There are shuttle services that can take you directly from Denver airport to Estes Park but it is better to hire a car as all the attractions nearby the town require a vehicle to visit.
Where to stay in Estes Park?
The Huge Stanley Heights Home is the best place to stay in Estes Park over the Christmas break as it gets into the Christmas spirit with beautiful Christmas decorations and a large tree inside the lobby.
The Stanley Hotel inspired the Stephen King novel, The Shining, so it is a destination to visit in its own right for some spooky fun including ghost tours. The Stanley Hotel is also a great choice for Christmas lunch as they offer a 3 course Christmas dinner at the cost of $95 + tax and gratuity.
Glacier National Park
Submitted by Jamie from Photo Jeepers
Glacier National Park is one of the best places for a white Christmas in the USA. This park is home to stunning peaks and valleys that extend all the way to Canada.
Now, Christmas is a special time to visit since crowds are minimal and there are a number of winter activities that you can only enjoy at this time of year.
If you want to visit Glacier National Park in the winter then you can still drive portions of this scenic road from West Glacier to Lake McDonald Lodge. Just check the park's website before you attempt to drive the road. Next, go cross-country skiing amd snowshoeing at popular spot like Apgar Looiut and Fish the Lake McDonald West shore.
You also cannot leave without marveling at the magnificent Northern Lights from Lake McDonald. This area is perfect for seeing the lights since it offers obstructed views of the north. However, do check out the Aurora Forecast before you go and be sure you have a KP rating of 5 or more.
Best Time to Visit Glacier National Park for White Christmas
Snow regularly falls from mid-October to mid-June. In fact, snow can fall at any time at higher elevations since this 1583 square mile park is located in Montana's Rocky Mountains.
How to get to Glacier National Park?
Fly into Glacier Park International Airport and rent a car so that you can drive a half an hour to the park. However, do know that higher elevation portions of the Going to the Sun Road will be closed.
Where to stay in Glacier National Park?
Because there are no winter accommodations in the park, book a hotel inside the West Glacier Community. The Great Northern Resort is a lovely place to stay since it has fully equipped, cozy chalets that are less than 2 miles away from the park. You also have your own kitchen and can prepare meals since there are limited restaurants in the area.
Click here to check for availability on Booking.com
Grand Forks
Submitted by Sabrina Maasdam from US Adventure
Grand Forks, North Dakota (ND) is one of the best places in the USA to spend a white Christmas. The quaint little city is located on the border with Minnesota. While temperatures get extremely cold in winter, it is also a great time to visit.
In the city center, a beautiful Santa's Village is being set up that spreads some holiday cheer. But there are many other great things to do in Grand Forks in winter. From watching a hockey game in the Ralph Engelstad arena to doing some winter sports, Grand Forks has got you covered.
Two things to look out for when going to Grand Forks in winter: on many days, you can see a sun halo from the snow crystals, which is super special. And if you keep an eye on the weather forecast, you might see Northern Lights as well.
Best Time to Visit Grand Forks for White Christmas
In Grand Forks, snow usually starts falling around late October or November. By Christmas, chances are pretty good you'll see a winter wonderland.
How to get to Grand Forks?
Grand Forks has its own small airport, it is located just outside the city. You can rent a car at the airport to drive down to the city.
Where to stay in Grand Forks?
A great place to stay is the Springhill Suites by Marriott, they have a lovely spa with a hot tub that is simply divine on these cold days.
Kennebunkport
Submitted by Disha Smith from Disha Discovers
Kennebunkport, Maine is one of the best places to visit in the USA for a white Christmas.
With its quaint New England-style homes, cobblestone streets, and breathtaking coastal views, the pretty harbor town of Kennebunkport is the perfect place to spend a festive winter season.
With the Christmas decorations lining Main Street and the many Christmas parades, Kennebunkport is overflowing with holiday cheer and feels like a Hallmark Christmas movie.
There's no shortage of Christmas things to do in Kennebunkport, with the Christmas Prelude being the most popular event. Starting in early December, this event lasts around two weeks and celebrates everything festive.
From candlelight caroling to Christmas markets to a festive tree-lighting ceremony, this delightful event brings this little town to life and creates a unique holiday ambiance.
If you're visiting Kennebunkport a little later and won't be there for the Christmas prelude, the town is still decorated and brimming with Christmas spirit. There are plenty of activities to do, like going on a holiday lights tour, visiting the local stores to find unique gifts, going ice skating, and more.
Best Time to Visit Kennebunkport for White Christmas
The snowy season starts in November and extends until late March, making this picturesque town a perfect destination for anyone searching for a white Christmas.
How to get to Kennebunkport?
Getting to Kennebunkport is easy, too. You can fly into Portland International Jetport, which is 30 miles from Kennebunkport. Or you can fly into Boston Logan International Airport, which is 83 miles away from Kennebunkport. You can rent a car from either airport and drive to the charming town of Kennebunkport.
Where to stay in Kennebunkport?
The 1802 House Bed & Breakfast is the perfect place to stay in Kennebunkport because it offers a historical charm with a Christmas ambiance.
Click here to look for availability on Booking.com
Leavenworth
Submitted by Jessica Schmit from Uprooted Traveler
If you're looking for a magical place to have a white Christmas, consider visiting Leavenworth, a teeny town tucked into Washington state's Cascade Mountains.
Leavenworth always looks like something out of a Hallmark movie, given that its downtown is full of Bavarian-themed buildings. But Christmas in Leavenworth is truly magical, with carolers strolling the streets, half a million twinkling lights festooning the buildings, and the snowy Cascades, towering above town. Stop in a cozy cafe for a mug of gluhwein to warm up and don't miss the Nutcracker Museum, home to over 7,000 nutcrackers from all over the world.
Best Time to Visit Leavenworth for White Christmas
While Leavenworth celebrates the holidays from after Black Friday throughout February, if it's just snow that you're after, you can enjoy it here from late October through March.
How to get to Leavenworth?
To reach Leavenworth, fly into Seattle Tacoma International Airport and drive two hours east. The mountain passes can get treacherous here in the snow, so, alternatively, consider taking the train from Seattle.
Where to stay in Leavenworth?
Once you're in the city, the Bavarian Lodge is an excellent place to make your homebase, with cozy alpine decor and a stellar hot tub overlooking the surrounding mountains. Just be sure to book early if you're visiting during the holidays as people come from all over the world to enjoy Leavenworth and hotels book up fast!
Lake Placid
Submitted by Tamar Marder from World by Weekend
If you're dreaming of a white Christmas in the United States, then look no further than Lake Placid, New York. Located in the heart of the Adirondack Mountains, winter in Lake Placid is full of fun snow-based activities.
Lake Placid was home to the 1932 and 1980 Olympic Winter Games, and one of the best things to do during a winter trip to Lake Placid is tour the Olympic Museum. There, you'll learn the history of the games and also see the ice rink, ski jump, and bobsled track built for the games. Adventure seekers can even ride a bobsled down the original Olympic route! On Christmas Day, hit the slopes at Whiteface Mountain for some of the best skiing in New York State.
Best Time to Visit Lake Placid for White Christmas
From October through May, Lake Placid is transformed into a winter wonderland, making it an ideal destination for a snowy Christmas getaway.
How to get to Lake Placid?
The nearest airport is the Adirondack Regional Airport (SLK), approximately 17 miles (approximately 30 kilometres) away. There is no public transit in the region, so driving or renting a car is the only way to get around.
Where to stay in Lake Placid?
For a comfortable stay, book a room at the Lake Placid Retreat, a rustic-chic retreat situated on the lake shore. It offers cozy accommodations and breathtaking views, making your white Christmas in Lake Placid truly unforgettable.
Lake Tahoe
Submitted by Gabriel from Chef Travel Guide
If you are looking for the perfect place in California for a white Christmas, then head up the mountain to the beautiful shores of Lake Tahoe.
The forest-covered mountains are enough to get most people in the holiday spirit, but combine the stunning scenery with a large list of fun snow activities, and you have the perfect December getaway.
At the start of the month, not only do the Christmas decorations start to go up, but Lake Tahoe's ski resorts start to open up for the season.
One of the best ways to embrace the holidays is to hit the slopes, and you may see Santa Claus snowboarding down the mountain at several of the local resorts.
Even if you are not a skier or snowboarder, you can take the Heavenly Ski Resort gondola to the top of the mountain, where you can enjoy the views of the stark white snow in contrast with the emerald blue lake.
The holiday fun doesn't stop there as you can head to the Village at Northstar, which pulls out all the stops for Christmas, including their annual ice skating rink. Between skating sessions, you can roast smores by the fire, and the kids can take pictures with Santa.
Best Time to Visit Lake Tahoe for White Christmas
This gorgeous alpine lake transforms each December into a winter wonderland, with the surrounding peaks and pine trees covered in a blanket of the season's first snow.
How to get to Lake Tahoe?
If flying, Reno-Tahoe International Airport is the closest major airport to Lake Tahoe. The airport is around 60 miles (approximately 100 kilometres) from Lake Tahoe. You can either drive or take a shuttle from the airport.
Alternatively, you can take a train from one of the closest cities like Truckee or Reno.
Where to stay in Lake Tahoe?
For many, renting a charming cabin in the woods in the winter is the best way to get in the Christmas spirit. You can cuddle by the fireplace with your loved ones and a cup of hot cocoa and watch the snow fall outside the window. And you may even get lucky and wake up on Christmas morning to a fresh dusting of snow on the trees.
If you want to have an amazing and comfortable holiday, then consider staying at Lake Tahoe Ski Retreat.
Newport
Submitted by Amanda Walkins from Hey! East Coast USA
If you're looking to get into the festive spirit, Newport RI at Christmas is absolutely a top-tier destination! Mostly known as a summer getaway for the rich and famous, Newport boasts jaw-dropping mansions that get fully decked out for the holidays.
The Breakers boasts a massive Christmas tree made of vibrant red poinsettias, with a sparkling light experience throughout the gardens, too.
Other mansions host special events and go all-out with the decorations. Plus, you can see The Nutcracker, watch the festive boat parade, and get some Christmas shopping done at the holiday market while you're visiting!
Best Time to Visit Newport for White Christmas
While Newport can't promise a white Christmas (few places reliably can!), there's always a chance of getting a classic snowfall around the holidays.
You're most likely to see snow in Rhode Island in January or February. In fact, in January 2022, Newport (and all of RI) was hit with a blizzard that dropped 21 inches of snow on the coastal city.
How to get to Newport?
It's easy to get to Newport, with TF Green International Airport (PVD) only about a 40-minute drive away. Train service also connects Boston Logan International Airport (BOS) with TF Green, so you could also fly into Boston if that's easier or cheaper.
Where to stay in Newport?
To enjoy all the festivities, book a stay in the Newport Harbor Island Resort, where igloos on the back patio offer you a chance to stay cozy and warm while still enjoying the waterfront views. There is also an outdoor ice skating rink and they decorate the small lighthouse at the edge of the property, too.
New York City
Submitted by Raksha Nagaraj
Decked up in holiday and Christmas decorations, New York City is a perfect place to visit and see white Christmas. The winter season is magical and provides the festive vibes.
There are many things that you can do in New York City during the Christmas season. Start by visiting the iconic Rockefeller Center Christmas Tree to see the extravagant decorations. There are ice skaing rinks that are fun and quintessential winter activity.
You can see the winter wonderlands at Central Park or shop at the winter markets at Union Square and Columbus Circle Holiday Markets. Also, do not miss the famous ball drop at Times Square during the New Year.
Best Time to Visit New York City for White Christmas
The winter months in New York City is from December to February. The temperatures range between 30F (-1C) and 45F (7C). As snowfall is common during the winter season in New York City, be prepared to experience the best white Chrsitmas.
How to get to New York City?
Located on the east coast of USA, the best way to get to New York City is by flying into John F. Kennedy International Airport that connects with major cities domestically and internationally. From airport, you can use subways or buses, or even use the ride sharing options on Uber or Lyft.
If you want to travel by trains, then you can take Amtrak trains from Boston or Washington D.C. to Penn Station in Manhattan.
Where to stay in New York City?
New York City offers plenty of accommodation options. From budgeted travelers to the luxury travelers, everyone can find a home in the city. If you love luxury and comfort, then consider staying at The Ritz-Carlton near Central Park.
Salt Lake City
Submitted by Geogina D'Angelo from Alpacka My Bags
Nestled in the Wasatch Mountains of Utah sits the underrated Salt Lake City. While it's a small city compared to giants like Chicago, it has so much to offer and is a beautiful place to enjoy a white Christmas.
A few of the best activities to enjoy during Christmas in Salt Lake City are strolling through the Christkindlmarkt, skiing in the Wasatch Mountains, and ice skating outdoors at the Gallivan Center. Other popular holiday events include a live show of The Nutcracker ballet and the Zoolights at Hogle Zoo. But the best part about spending Christmas in Salt Lake City is enjoying the fresh snow all around and admiring the snow capped mountains surrounding the city.
Best Time to Visit Salt Lake City for White Christmas
The best months to see snow in Salt Lake City are November through March, the highest snow falls occurring in December through February.
How to get to Salt Lake City?
Despite being a small city, Salt Lake City has its own international airport making it easy to travel to. There is some public transportation available here. In fact, you can take the train from the airport to downtown in about 25 minutes. However, if you're only staying a few days, renting a car would be best to be able to make the most of your time here.
Take caution if you plan on driving in Salt Lake City as snowy roads are very common. December can be busy here, but most visitors will continue their journey into the mountains for skiing opportunities.
Where to stay in Salt Lake City?
One of the best places to stay here is the Element Salt Lake City Downtown. This modern hotel offers a great location in downtown, breakfast included, private parking, and pet-friendly rooms. Being located in the picturesque snowy mountains, Salt Lake City is a wonderful place to spend a white Christmas.
Stowe
Submitted by Abby Price from Trekking Prices
One of the very best places to visit for a White Christmas in the United States is Stowe, Vermont.
This charming mountain town is known for being a winter wonderland in the northeast and is home to some of the best snowy conditions on the East Coast.
There are countless activities to do during the Christmas season including skiing and snowboarding at one of the best resorts in the United States, Stowe Mountain Resort.
If skiing or snowboarding is not your thing, be sure to check out ice skating at the Spruce Peak Village or snowmobiling around the resort.
Stowe, Vermont is one of the best places to visit in the United States for a white Christmas due to its snowy conditions and fabulous things to see and do around the holiday season.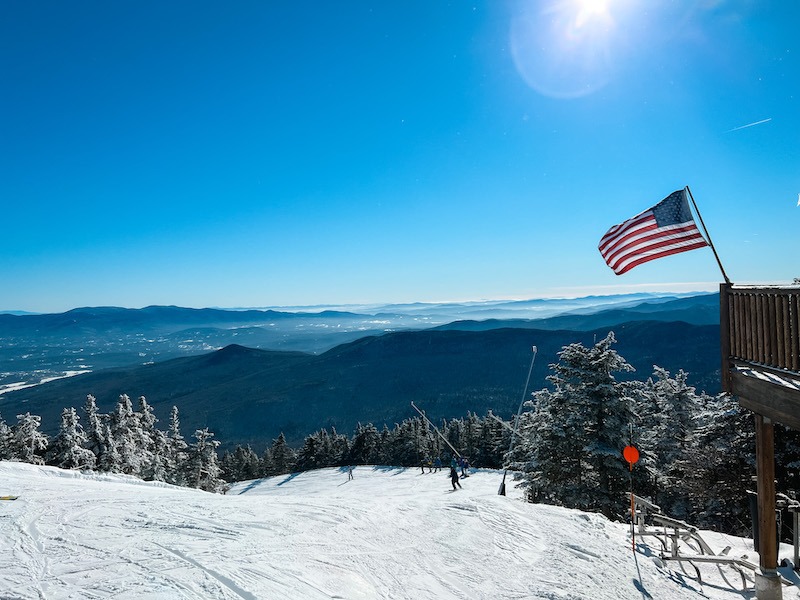 Best Time to Visit Stowe for White Christmas
The best time to experience snow in Stowe is between the months of December to March.
How to get to Stowe?
For those looking to fly into Stowe, make sure to fly into the nearest large airport, Burlington International Airport. This airport is roughly 50 minutes away from the heart of Stowe.
Green Mountain Transit does run buses throughout the state of Vermont and can get you from the airport to Stowe with a few transfers. However, we recommend renting a vehicle for the best experience so that you can explore all that Stowe has to offer.
Where to stay in Stowe?
For the best place to stay in the area, be sure to check out The Lodge at Spruce Peak. This hotel has a beautiful aesthetic, is in a phenomenal location, and has fantastic amenities.
Click here to check for availability on Booking.com
Traverse City
Submitted by Rebecca Gade Sawicki from Veggies Abroad
For travelers looking to experience a white Christmas, there isn't a more beautiful place than Traverse City, Michigan. The quaint town blanketed in a pristine layer of snow, evokes a feeling of a storybook winter wonderland.
There is no shortage of fun holiday-themed activities. From the annual Light Parade, marking Santa's arrival, to performances of The Nutcracker at The Interlochen Center for the Arts, you will find plenty of things to do in between playing in the snow.
Depending on how much you love snow, another great winter activity is hiking or cross-country skiing. There are many trails throughout the area; many include gorgeous lake views.
Best Time to Visit Traverse City for White Christmas
If you can't make it around the holidays, don't worry! That's not the only time to enjoy the snowy season. On average, Traverse City has snow every year from November to March, giving you plenty of time to enjoy it.
How to get to Traverse City?
Getting to Traverse City is easy via plane or car. If you're flying, the closest regional airport is Cherry Capital Airport, or for an international airport, you will need to fly into Detroit Metro. During the winter time, the drive to Traverse City can be unpredictable. Be sure to pack emergency supplies in case of any emergency situation like if you get stuck in the snow.
Where to stay in Traverse City?
From the Detroit area, the drive is approximately four hours. When choosing somewhere to stay, you can't go wrong with one of Traverse City's popular waterfront hotels, like The Delamar Hotel, which offers beautiful views of frosty Lake Michigan.
Click here to look for prices on Booking.com
Washington D.C.
Submitted by Raksha Nagaraj
With less crowds, Washington D.C. is perfect to visit during the winter season. It has a unique and special charm during the festive season.
During winters, you can go for ice skating at National Gallery of Art Sculpture Garden Ice Rink or the Wharf Ice Rink. The city hosts many Christmas markets and events that you can attend. Museums are a great place to stay indoors and warm. And to catch on the festivities, definitely do not miss the National Christmas Tree lighting ceremony on the Ellipse.
Check the operation hours for museums as they differ during the winter season.
Best Time to Visit Washington D.C. for White Christmas
Starting from December, Washington D.C.'s winter season lasts till February. The temperature range between 35F (1C) and 45F (7C). With temperatures dropping drastically during the nights, be prepared to see snowfall.
How to get to Washington D.C.?
You can fly into Washington Dulles International Airport as it is one of the major airports in Washington D.C. The airport is located around 26 miles (approximately 42 kilometres) from the downtown. To get to the downtown, use Metrorail or Metrobus. You can also use Uber or Lyft to take a cab ride.
Where to stay in Washington D.C.?
As winter season is the off-peak season, you can find great deals on hotels. Four Seasons Hotel is a luxury hotel with to experience 5 star service and class.
Closing Notes
These are the top 16 places to visit for White Christmas in the USA. Hope this list has inspired you to make your plans to witness the spectacular and winter wonderland these places can offer.
How can you support me?
You know how much I love coffee, so you can buy me coffee – Buy me Coffee!

Or you can purchase from one of the below travel resources without any extra charge to you:
Travel Resources
Book your flight on Skyscanner.com or Trip.com
Reserve your accommodation on Stay22
Buy comprehensive travel insurance on SafetyWing and WorldNomads
Book your tours and travels or purchase tickets on Viator or GetYourGuide
For a universal SIM card, use DrimSim
If you liked this article and if it was helpful in your planning or traveling, do share, tweet, or pin this post.

Follow me on Instagram | Facebook | YouTube | Twitter | LinkedIn
Do you have a question? Or want any suggestions, and tips for travels, hikes and scuba dives? Use the Subscription box below to sign-up and get updates by email.
PIN for later reference | USA Winter Wonderland Destinations: Top 16 Places to Visit for White Christmas