Top 20 Cities to Visit on the West Coast of USA (2023)
United States of America (U.S.A) is a very vast country with heaps of places and cities to visit and explore. Few weeks ago, I published a post about the cities on the east coast of USA that need to be on your bucket list. Similarly, I decided to ask the fellow bloggers for their recommendations on the cities to visit on the west coast of USA and the results were breathtaking.
In this post, you will find the list of beautiful and amazing cities to visit on the west coast of USA, including the things that you can do, and a recommendation of where you can stay.
This article may contain affiliate links. For full information, please see our affiliate disclaimer here.
Top 20 Cities to Visit on the West Coast of USA
If you are looking for places to see white Christmas, then here is the list of top 16 places to visit for white Christmas.
Ashland
Submitted by Anu Agarwal from Destination Checkoff
Ashland, Oregon, is one of the most charming cities to visit in Southern Oregon. This city has a small-town appeal and is known for its unique blend of cultural vibrancy and natural beauty.
How to get to Ashland?
By Air – If you prefer flying in Rogue Valley International–Medford Airport is the closest airport, around a 20-minute drive from Ashland.
By Road – Ashland is accessible by car via Interstate 5. It is around 5 hours from the San Francisco Bay Area and Portland.
By Public Transport – Klamath Falls is the closest Amtrak bus station to Ashland. From Klamath Falls, you can take local shuttles or bus service to reach Ashland. The distance is around 60 miles (90 kilometres) between Klamath Falls and Ashland city centre.
Place to stay at Ashland
Staying in a bed and breakfast in Ashland adds to the small-town experience in Ashland. There are several amazing B&Bs in Ashland.
Consider staying at The McCall House Boutique Hotel, a historic Inn and bed and breakfast that offers a relaxing escape while being close to the city's attractions. You can also consider staying close to the Oregon Shakespeare Festival at Winchester Inn.
Best time to visit Ashland
The best time to visit Ashland is during the spring, summer and fall seasons. Summer is the peak season so be prepared for lot of people.
Things to do at Ashland
There are plenty of things you can do at Ashland.
Ashland is renowned for the Oregon Shakespeare Festival, which brings artists and Shakespeare fans from all over the country to this city. This happens annually in October.
For film enthusiasts, Ashland showcases independent films and documentaries by celebrating the Independent Film Festival.
Ashland is also famous for its historic downtown, where you can walk around and explore the various art galleries, shops, and restaurants. "Larks Home Kitchen Cuisine" is a local favorite, offering farm-to-table dining and a warm ambiance.
Lithia Park is a great place for a stroll or a hike to explore the park's trails, gardens, and Lithia Pond. It's a perfect place for picnics or to just take in the serene green spaces.
Astoria
Submitted by Denise Ekroos Macuk from Chef Denise
Located on the stunning Columbia River on the west coast of Oregon, Astoria is a great place to visit for nature lovers, foodies, architecture enthusiasts, and history buffs.
As the oldest U.S. settlement west of the Rocky Mountains, you'll find charming Victorian homes and historic buildings that now house local restaurants and shops. It's truly one of the most picturesque towns of the Pacific North West.
How to get to Astoria?
By Air – Astoria does not have its own airport. The closest airport is Portland International Airport and Astoria is about 2.5 to 3 hours drive from the airport.
By Road – US-30 West gets you to Astoria. From any city, you take a freeway to reach US-30 West.
By Public Transport – Reaching Astoria by public transport is a bit tricky. You first need to reach Portland. And then from Union Station in Portland, you can either drive or take an Amtrak train to Kelso in Washington. From Kelso, you will need to take a bus or a shuttle to reach Astoria.
Place to stay at Astoria
Stay at the Bowline Hotel and you'll hear the waves of the river as you fall asleep.
Best time to visit Astoria
Summer is the peak season in Astoria. It is warm and dry weather during summer.
Things to do at Astoria
Astoria has various types of activities.
Stroll Astoria's scenic River Walk and immerse yourself in nature while admiring the town's charm. Keep your eyes peeled, as you might even encounter seals, sea lions, herons, egrets, and more. Take the walk to the end and admire the Astoria-Megler Bridge that extends to the green hills of Washington.
Another highlight in Astoria is climbing up to the Column. There are a few options, but the Cathedral Tree-Coxcomb Hill Hike is highly recommended. You'll meander through a forest with a majestic tree that has stood for over 300 years. The hike culminates with a truly awe-inspiring view.
For hiking and history enthusiasts, a visit to the Lewis and Clark National Park is a must. This spot marks the end of their great expedition. Keep a lookout for Roosevelt Elk, which can often be spotted among the forests and willow swamps. The park is also home to a variety of other wildlife.
If you travel to Astoria for the food, you will not be disappointed. Astoria is one of the best foodie destinations in Oregon and is worth the 2 hours drive from Portland airport. Don't miss the fish and chips from an old boat at Bowpicker, sandwiches from Sasquash, and a meal and a brew at Buoy Brewery.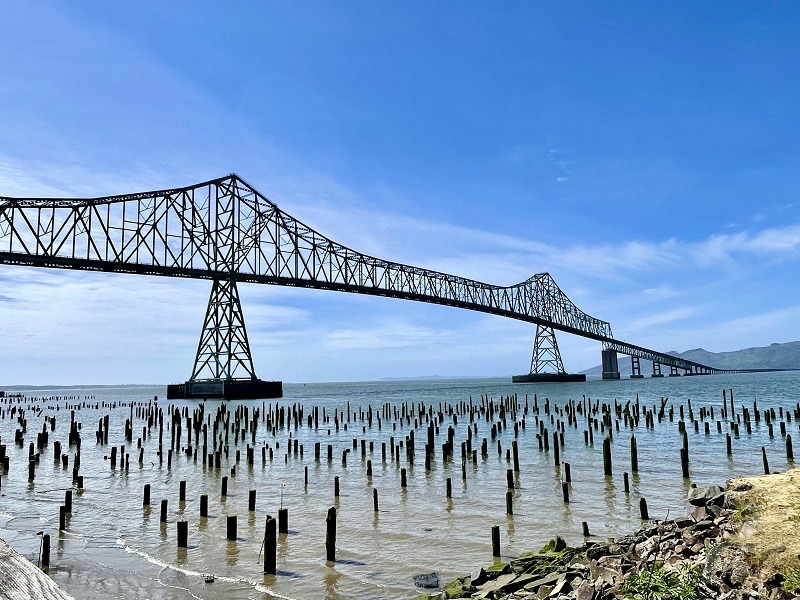 Bend
Submitted by Michele Granera from Adventures Abound
Bend is a wonderful outdoorsy town located in Central Oregon. It is centrally located between several incredible national park cites and state parks, making it an ideal city to visit on the West Coast.
How to get to Bend?
By Air – The most common way to get to Bend is flying into a nearby major city like Portland or Eugene and then driving 3 hours to the town. The closest airport is Portland International Airport.
By Road – Portland is also accessible by a 5 hour drive from Seattle in Washington or Boise in Idaho.
By Public Transport – Portland is well connected by public transport. Union Station is the closes Amtrak train station. You can also use Greyhound to reach Portland from various cities.
Place to stay at Bend
Stay at the McMenamins Old St. Francis School Hotel for a quirky Pacific Northwest staple experience. McMenamins are a family owned chain of properties that are renovated in a unique style. This one is an old high school, but it's complete with a pub and movie theater.
Best time to visit Bend
The ideal time to visit Bend will vary by the activities you are interested in. While summertime brings sunshine and paddling on the river, winter means skiing and snowshoeing on nearby mountains. Bend is a great city to visit during any season.
Things to do at Bend
Bend is very famous for its outdoor and cultural activities.
The Deschutes River runs right through the heart of downtown Bend and is perfect for a stroll along the banks. You can also rent paddle boards or kayaks.
The outdoors enjoyment doesn't stop there, however, as Bend is close to a myriad of waterfalls, mountains, and volcanic monuments for the adventure seekers.
You can even go glamping near Crater Lake National Park – Oregon's only National Park and the deepest lake in the United States.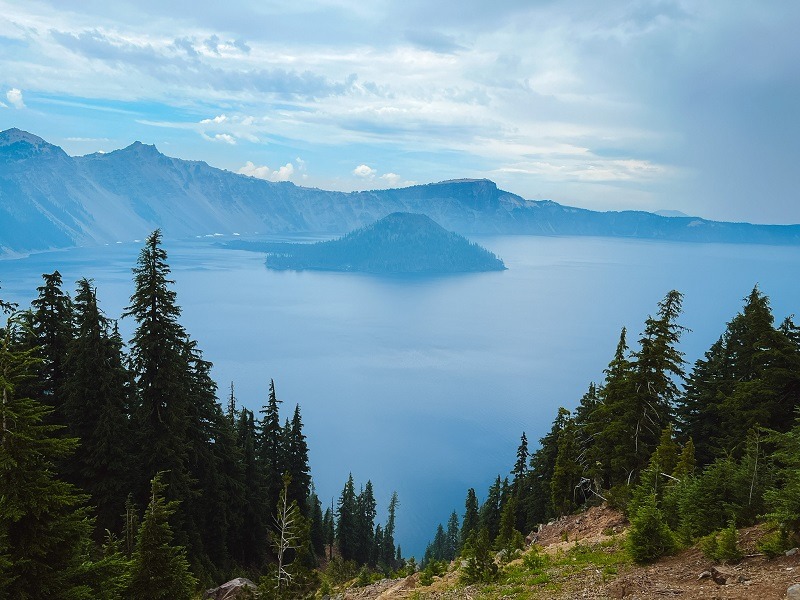 Carlsbad
Submitted by Kristin Lee from Global Travel Escapades
Another city that's lovely to visit is Carlsbad, California! The city is situated along the coast in Southern California and is known for its pleasant year-round temperatures, balmy climate, and beautiful beaches.
How to get to Carlsbad?
By Air – For those interested in visiting the city, you can reach Carlsbad by flying into Los Angeles International Airport or the San Diego International Airport and then driving.
By Road – Carlsbad can easily be reached by road. The I-5 highways (North or South) connect you to the city.
By Public Transport – There are also train routes that pass through Carlsbad. One of the most scenic routes is the Coaster train service that connects between San Diego and Carlsbad Village Station.
Place to stay at Carlsbad
Check out Hilton Grand Vacations Club MarBrisa Carlsbad Resort. It promises guests a luxurious stay.
Best time to visit Carlsbad
In terms of the best time to visit, try to plan your trip during the Spring season. This is when the famed flower fields are blossoming, which create quite the visual spectacle and always attract lots of visitors.
Things to do at Carlsbad
There are lots of fun activities to fill your time in the city:
Must-do is to spend time at one of Carlsbad's many beaches, such as Tamarack Beach. This beach is quite popular amongst the local surfers but is suitable for doing some sun bathing as well.
Another attraction to visit is the LEGOLAND California Resort. With interactive LEGO exhibits and exertainment, this attraction is a family themed park.
If you're looking for a fun way to explore the area, try eating your way through the city. The Carlsbad Village area contains a diverse mixture of restaurants and cuisines.
Las Vegas
Submitted by Catherine Xu from Nomadicated
Las Vegas, known globally for its many nicknames like "Sin City" or "the Gambling Capital of the World," is one of those famous entertainment places you should absolutely visit on the West Coast, USA. With casino jingles on every street corner, countless entertainment options, and iconic landmarks, millions of visitors flock to this desert oasis every year.
How to get to Las Vegas?
By Air – The easiest way to get to Las Vegas is to fly into the well-connected McCarran International Airport, conveniently located just a few miles south of the famous Las Vegas Strip.
By Road – Las Vegas is connected by a number of freeways. You can take I-15 from Los Angeles or Salt Lake City to reach Las Vegas.
By Public Transport – Bus services and trains are also available from nearby cities. You can consider taking Greyhound, Megabus or FlixBus for buses. For trains, the closest train station is around 100 miles (160 kilometres) away from Las Vegas which is Kingman in Arizona.
Place to stay at Las Vegas
When it comes to choosing where to stay, roll with the big leagues at places like The Venetian Resort Las Vegas or MGM Grand Hotel and Casino, known for their lavish suites and entertainment amenities. If you're on a budget, you can find more affordable options in off-strip hotels.
Best time to visit Las Vegas
The best time to visit Las Vegas is in the spring and fall when the weather is great, and the pool parties are in full swing. Summers can get scorching hot, with temperatures above 100°F (37°C), while winters might catch you off guard with freezing temperatures at night.
Things to do at Las Vegas
With colourful nightlife, casinos and many attractions, Las Vegas is perfect for people who love vibrant cities. If you have 5 days in the city, then here is the perfect 5 days itinerary for Las Vegas.
A visit to the Las Vegas Strip is a must – it's where you'll find sights like the Bellagio Fountains and the Venetian's indoor gondola rides. Lined along its streets is world-class entertainment like Cirque du Soleil, celebrity eateries, and upscale clubs with some of the world's best DJs.
Las Vegas is a great place to watch many magic shows as the city is home to plenty of popular magicians, including David Copperfield and Shim Lim.
If you have more time in Vegas, get off the strip to the artsier neighborhood of 18B, stop by Freemont Street for its light show, or watch the fire-breathing mantis at Downtown's Container Park.
And if you're into outdoor adventures, go on a tour from Las Vegas to the Grand Canyon or Death Valley National Park for some incredible natural landmarks!
Los Angeles
Submitted by Raksha Nagaraj
Known for Hollywood, Los Angeles (LA) is a city situated in Southern California. Bordering Pacific Ocean, the city is a very vibrant and lively city on the west coast.
How to get to Los Angeles?
By Air – Los Angeles has many airports but the main and major one that connects with most of the cities in US and other cities from around the world is the Los Angeles International Airport.
By Road – Los Angeles is connected by I-15 from various cities. And this freeway takes you to the city centre.
By Public Transport – Los Angeles serves as major transportation hub for Amtrak. Union Station in Los Angeles connects with many cites and towns.
Place to stay at Los Angeles
Courtyard by Marriott at Santa Monica is the perfect place to stay when you are in Los Angeles.
Best time to visit Los Angeles
The best time to visit Los Angeles is during the spring season as the weather is perfect to enjoy the outdoors and the beaches. You can also visit the city during the summer season which is also the peak season.
Things to do at Los Angeles
Los Angeles offers heaps of things to its visitors.
If you are a Hollywood fan, then definitely visit the Walk of Fame and Hollywood museum. You can also visit the Universal Studios Hollywood which was absolute fun and Warner Bros Studio Tour.
For beach lovers, Los Angeles has some stunning beaches like the Santa Monica Beach and Venice Beach.
If you love hiking, then hike up to the Hollywood sign. There are some amazing trails that take you up very close to the sign. And try being at the sign during the sunset as the views from the sign are spectacular.
Griffith Observatory must not be missed too. It is a planetarium where you can see and learn about the stars and planets.
And do not forget to explore the night life in Los Angeles. The best area to visit for the night life is the West Hollywood.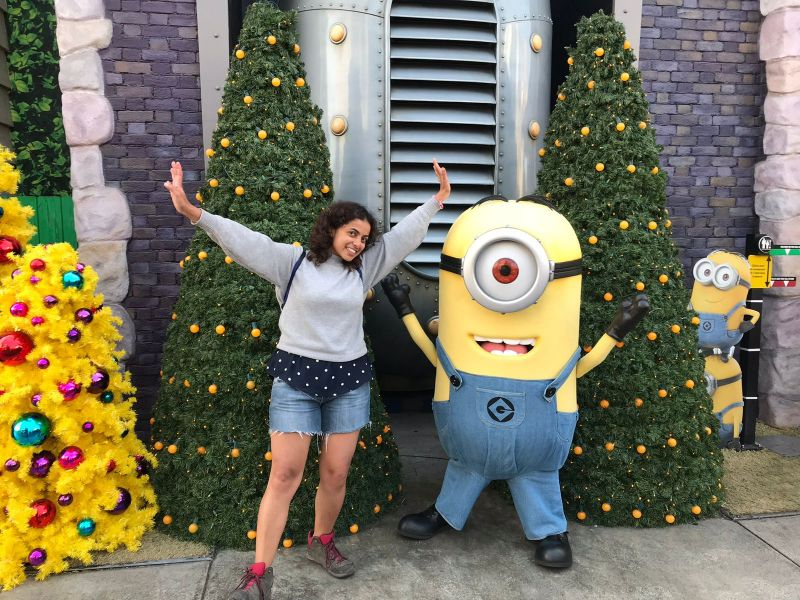 Moab
Submitted by Yan Itza from Next Stop Adventures
Moab is the city that many refer to as the adventurer's paradise! Moab in Utah is the epic place to be for exciting outdoor activities and the most stunning and breathtaking landscapes. It is a gateway to Arches National Park, which are very popular for the red rock formations.
How to get to Moab?
By Air – You can either fly into Canyonlands Field Airport in Moab or the Grand Junction Regional Airport in Colorado. The Grand Junction Regional Airport is around 2 hours drive from Moab.
By Road – You can drive into Moab as it is a popular gateway to get into the national parks. US-191 South connects to Moab.
By Public Transport – Reaching Moab by public transport is a bit challenging. You need to get to Grand Junction in Colorado and then take a shuttle to Moab. The Moab Express or Canyonlands Shuttle will take you to Moab and the journey is around 2 hours. And Greyhound Bus will take you to the Grand Junction in Colorado.
Place to stay at Moab
One of the most beautiful places to stay in Moab is the Under Canvas Moab. This 3 star hotel provides high end luxury tents.
Best time to visit Moab
For an even more exciting and unforgettable experience, plan your visit during the fall season which is the best time to explore nature's wonders in Moab, Utah.
Things to do at Moab
Moab is the gateway to the national parks and offers a range of outdoor activities:
Located on the east side of Utah, this city is home to two of Utah's Mighty 5 – Arches and Canyonlands National Park, making this an incredible destination for national park lovers. But with its breathtaking desert scenery also comes scorching hot weather, with the average temperature soaring in the triple digits, especially during the months of June, July, and August.
Regardless, Moab is visited by millions of people each year and has become one of the most sought-after destinations on the west coast of the U.S. for thrill-seekers and outdoor lovers alike. Whether it be hiking, mountain biking, canyoneering, or rock climbing, Moab has it all!
One of the hidden gems around this outdoorsy city is The Moab Brewery which serves over 12 locally-brewed beers like the Dead Horse Amber Ale named after Utah's scenic state park. For a great dining experience in Moab in a lodge setting, you can check out The Broken Oar where you'll find delicious American cuisine right in the downtown area.
If you like exploring local gems, then you can hike up to Wilson Arch – a natural sandstone arch located just off US-191.
North Bend
Submitted by Tammi Kaeberlein from Wander Healthy
North Bend in Washington is the furthest east you can go from Seattle before heading over Snoqualmie Pass. Nestled in the Snoqualmie Valley, this town is a dream for outdoor lovers of all kinds. From hiking and skiing, to kayaking and biking, there's something for everyone of all ages.
How to get to North Bend?
By Air – As the city is close to Seattle, the closest airport is Seattle-Tacoma International Airport. The airport is around 35 miles (55 kilometres) from North Bend city. The drive is about 30 minutes east on I-90 from Seattle.
You can stop at milepost 25 to view the iconic Snoqualmie Falls, a truly magnificent waterfall that is one of most visited attractions in Washington state.
By Road – The city is conveniently located near freeways and is accessible by car. I-90 is the freeway to take to get to North Bend.
By Public Transport – The closest bus stop is at Issaquah Transit Centre and that is about 15 miles (25 kilometres) from North Bend. You will need to take a taxi to get into the city.
You'll need a car in North Bend as public transportation is unreliable at best.
Place to stay at North Bend
There are many places to stay depending on your planned activities and budget. The Salish Lodge and Spa is right next to Snoqualmie Falls and is a sweet treat for honeymooners especially. If you plan to do a lot of hiking or skiing, consider renting a house at the pass for your stay.
Best time to visit North Bend
The best time to visit is during the summer months for hiking or watersports, and after December for winter sports. Scenic drives through the Snoqualmie Valley, however, are particularly enchanting during the autumn foliage, between late September through October, and offer many fantastic hiking opportunities as well.
Things to do at North Bend
The city offers plenty of outdoor and hiking things to do:
You can hike up the Rattlesnake Mountain or Mount Si Trails if you love and enjoy hiking.
For devotees of the popular TV series "Twin Peaks," Snoqualmie Falls and North Bend are a special place as they served as the filming location for much of the series. You can visit many of the same sites in the show in a self-guided tour.
Whenever you visit, be sure to stop at Pressed on Main or try the Apple Cinnamon Bread at the North Bend Bakery for a special treat.
Phoenix
Submitted by Kate Kaehler from Kate Roams the World
Phoenix, located in the heart of Southern Arizona, is a fantastic city to visit on the West Coast. Enjoy the desert heat with 360 views of mountains and towering cacti everywhere you look.
How to get to Phoenix?
By Air – Phoenix is the fifth largest city in the U.S., and you can reach it by flying into one of US's busiest airports Sky Harbor International Airport. You can take Valley Metro Rail to the downtown Phoenix from the airport.
By Road – Phoenix is well connected by freeways and interstates. You can take I-10 to reach Phoenix.
By Public Transport – The best way would be to reach Flagstaff in Arizona using the Amtrak's Southwest Chief route and then taking a local transportation such as a shuttle, Valley Metro Rail, or taxi to reach Phoenix.
It's best to rent a car so you are free to roam around as you please and take your adventures to other areas of Arizona such as Sedona or the Grand Canyon. These make perfect weekend trips from Phoenix.
Place to stay at Phoenix
For lodging, get out of the hustle and bustle of the city to stay at Saguaro Lake Ranch. This peaceful lodge makes for a great nature retreat just outside of the city's center. If you stay during the spring- early fall months you can also book a Salt River kayak tour. You may be lucky and spot wild horses!
Best time to visit Phoenix
You can visit year-round, though the most comfortable temperatures will be late fall through the early spring. It will be warm and mild, and not too hot for hiking.
Things to do at Phoenix
Phoenix offers many activities ranging from outdoors to cultural.
Some of the best hikes in the Phoenix area include the Wave Cave, the Echo Canyon trail at Camelback Mountain, and the Peralta trail to Fremont Saddle. If you're an early riser, head to Piestawa Peak for the best sunrise in the Phoenix area.
The Desert Botanical Garden is a great place to wander around for a few hours. All year long you can enjoy thousands of species of plants, flowers, and cacti. And check out The Lost Dutchman State Park- it is one of the best places in Phoenix to watch the sunset!
But Phoenix isn't just about nature. There's plenty of art and culture here too. Rosevelt Row in downtown Phoenix is a walkable art district with street murals, plentiful art galleries, museums, restaurants, and bars.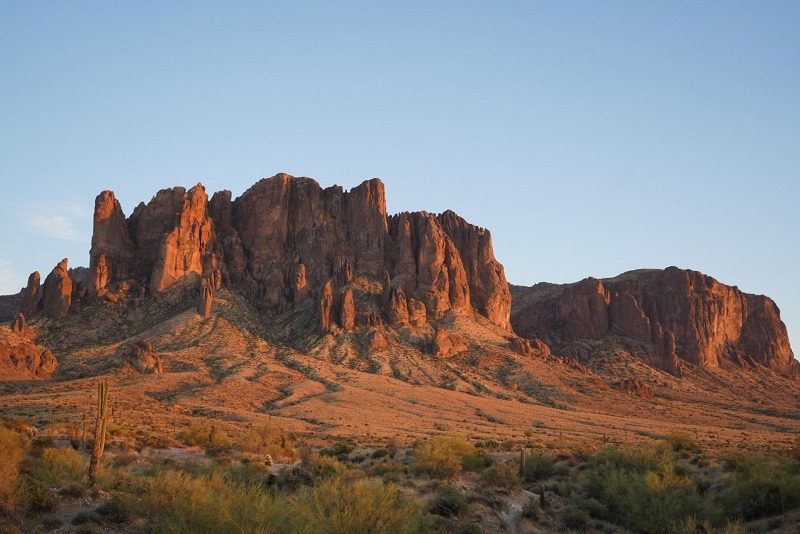 Pismo Beach
Submitted by Farha Mukri from Trips Come True
Pismo Beach located in the southern part of San Luis Obispo County in Central California is a classic coastal city perfect for beach and nature lovers. The long, spacious beach beckons everyone from surfers catching waves to children making sand castles to couples taking a leisurely stroll.
How to get to Pismo Beach?
By Air – The nearest airport is San Luis Obispo County Airport from where a less-than-15-minute cab ride will get you to Pismo Beach. You can also get here using a change of buses via downtown San Luis Obispo but this takes about an hour and a half.
By Road – Getting here is easy whether you're driving a car or taking public transportation. The city is located along Highway 1 and makes for a great destination on the road trip.
By Public Transport – The nearest Amtrak station is Grove Beach from where you can take a short cab ride or a local bus to arrive at Pismo Beach.
Place to stay at Pismo Beach
SeaVenture Beach Hotel is conveniently located by the beach and has several rooms featuring private oceanfront balconies with hot tubs.
Best time to visit Pismo Beach
The best time to visit Pismo Beach is during spring, summer and fall seasons. The weather is pleasant and you can do many outdoor activities during these seasons. Summer is the peak season and is the most crowded and expensive period.
Things to do at Pismo Beach
With beautiful beaches and outdoor activities, Pismo Beach offers many things to its tourists.
At the heart of Pismo Beach is one of California's longest piers, the historic Pismo Pier, with its diamond-shaped decks. Fishing enthusiasts can cast a line from this pier (not from the shore or boat) as it doesn't require a fishing license. Hiking or mountain biking along the trails of Pismo Preserve is another way to enjoy the sweeping ocean views and green hills.
Don't forget to check out the Monarch Butterfly Grove during the annual migration of these butterflies from late October to February. Watching thousands of monarch butterflies hanging from the limbs of tall eucalyptus trees is one of the best ways to enjoy your time in Pismo Beach.
Top off your visit with a stop at the famous Splash Café to try their best-selling clam chowder in a bread bowl.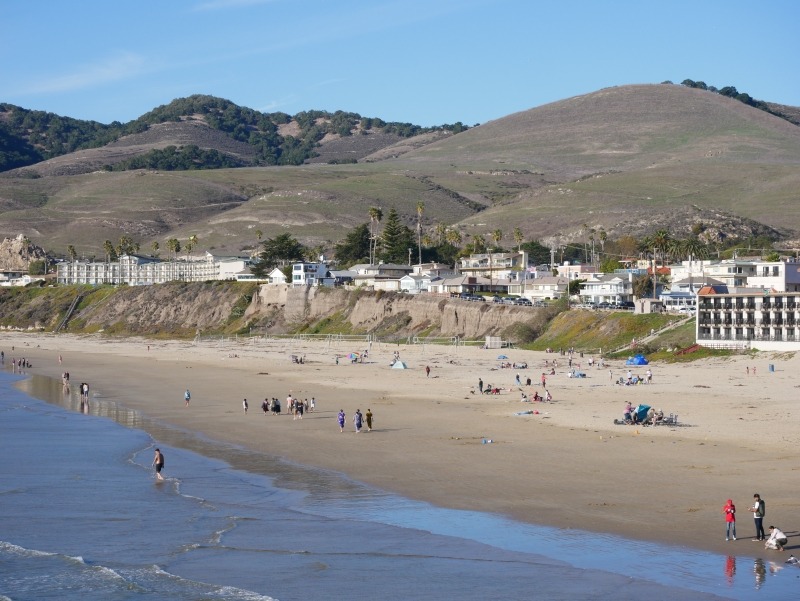 Portland
Submitted by Danni Briggs from The Solo Plan
Portland, Oregon is a Pacific Northwest gem that is a haven for foodies, nature enthusiasts and everyone in between. It's a vibrant city with an eclectic arts culture, surrounded by lush forests and beautiful rivers. It's a destination that provides a little something for everyone, making it an unmissable stop on any West Coast itinerary.
How to get to Portland?
By Air – If you're flying in, Portland International Airport (PDX) is the closest airport. From there, you can easily hop onto the MAX Light Rail to reach the downtown area.
By Road – There are a number of freeways that connect to Portland. I-5 is the freeway that takes you directly into Portland.
By Public Transport – Portland has an Amtrak train station of its own. You can consider traveling to Portland by one of the most scenic train routes Amtrak Cascades from Seattle to Portland.
Place to stay at Portland
The best area to stay for first-time visitors is the Pearl District / Downtown. Ace Hotel Portland is a great option with a quintessential Portland vibe. Make sure to try the nearby Nong's Khao Man Gai for their delicious chicken and rice specialty.
Best time to visit Portland
The best time to visit Portland would be between May and September for optimal weather. However, it's not uncommon to rain year-round so make sure to pack a raincoat!
Things to do at Portland
Portland is a colourful and vibrant city and has many things to do.
During your Portland visit, enjoying the beautiful nature is a must. Take a hike through Forest Park and take a short drive to visit Bridal Veil Falls.
For book lovers, visit Powell's City of Books, one of the largest independent bookstores in the world.
Make sure to dive into the city's craft beer scene, which is among the most vibrant in the United States.
You can also visit the museums like Oregon Museum of Science and Industry (OMSI) and Portland Art Museum.
Sacramento
Submitted by Gladis D. Morales from Happiness on the Way
Sacramento is the capital city of California and is located in Northern California along the Sacramento River. As the capital, Sacramento has a unique history and culture all its own.
How to get to Sacramento?
By Air – Sacramento has an international airport of its own. You can fly into Sacramento International Airport from various cities. From airport, you can either take a bus or a light rail, operated by Sacramento Regional Transit, to reach the city centre.
By Road – Getting to Sacramento is easy whether you're driving or taking public transportation. The city is just a short 90-minute drive on I-80 from San Francisco.
By Public Transport – Amtrak runs direct trains from the Bay Area daily, dropping you off in the heart of downtown.
Place to stay at Sacramento
The Hyatt Regency Sacramento is in a great central location within walking distance of many attractions.
Best time to visit Sacramento
The best time to visit is spring or fall seasons when the weather is mild.
Things to do at Sacramento
Once you arrive, you'll find a lively city with Southern hospitality and Northern California charm.
Be sure to spend a day exploring Old Sacramento along the riverfront. Wander through the historic buildings and check out the museums and shops. Many buildings from the Gold Rush era have been restored, and the facades are stunning.
Another "can't miss" is a tour of the capitol building to learn about California's government. If you're lucky enough to be there during the legislature season, you can even witness debates or voting in progress by requesting access to the public galleries.
For dinner, you can't go wrong with a burger from The Firehouse, a Sacramento institution known for its massive burgers. And, for locally roasted coffee and pastries, be sure to stop by Old Soul Co. Keep in mind that parking can be limited downtown, so allow extra time if you plan to drive.
With its small-town feel and big-city amenities, Sacramento offers the perfect balance for a California getaway. Enjoy exploring everything this underrated capital has to offer.
From Sacramento, you can also go one many day trips that are great for solo or groups. Here are some of the amazing day trips from Sacramento.
San Diego
Submitted by Daria from Explore Baja California
Located in Southern California, San Diego is a coastal city known for its beautiful beaches and pleasant climate. Attracting thousands of visitors, San Diego is a laid-back city with many attractions.
How to get to San Diego?
By Air – You can directly fly into San Diego International Airport. From airport, you can take a transit service such as buses, operated by San Diego Metropolitan Transit System, to the city.
By Road – San Diego is well connected to the major cities through the road network. I-5 gets you to San Diego from Los Angeles which is about 3.5 hours away.
By Public Transport – You can take the coastal train journey from Union Station in Los Angeles to San Diego. The train journey is operated by Amtrak and is called Amtrak Pacific Surfliner.
Place to stay at San Diego
One of the luxurious and posh hotels to stay when in San Diego is Pendry San Diego. The hotel has many bars and restaurants catering for all its guests.
Best time to visit San Diego
San Diego is known for mild temperatures and plenty of sunshine year-round. It's an ideal destination for those seeking to escape harsh weather or enjoy outdoor activities. But no matter when you visit San Diego, you can enjoy its gorgeous beaches, world-class restaurants and outdoor spaces.
The average high temperature in San Diego in spring hovers around mid-to-high 60's which is perfect for spending time outside and enjoying activities like hiking, surfing or sunbathing on the beach.
Things to do at San Diego
With diverse and vibrant neighbourhood, San Diego has many things to offer.
You need at least 3 days to explore the city highlights of San Diego. But if you have just one day, then here is a perfect itinerary to explore San Diego in one day.
San Diego has over 70 miles of beautiful coastline, offering a wide range of beaches for surfing, swimming, and sunbathing. Some popular beaches include Coronado Beach, Pacific Beach, La Jolla Cove, and Mission Beach.
Another great place to check out is the Cabrillo National Monument where you can learn the history of the area, do some hiking and enjoy a spectacular landscape.
The city has a thriving arts scene with numerous museums, galleries, and theaters. Balboa Park, one of the largest urban cultural parks in the US, is a hub for art, science, and culture.
You can also explore its historic sites like the Old Town San Diego State Historic Park, the Gaslamp Quarter, famous for its nightlife and restaurants, which makes for a fun night out.
San Diego is conveniently located near other popular Southern California destinations like Los Angeles, Orange County, and Tijuana, Mexico. You can easily take day trips to explore more of the region.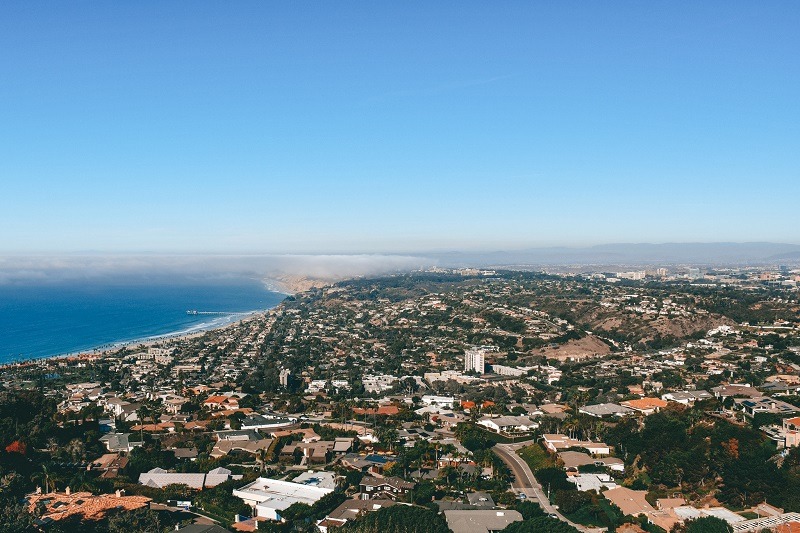 San Francisco
Submitted by Shweta Singhal from Zest In A Tote
It is likely that San Francisco is your gateway, or first port of destination for the US west coast itinerary. If travelling from overseas, you would take a flight to the SF airport. There is so much to do in this city that our 4 days in San Francisco just flew by!
How to get to San Francisco?
By Air – You can fly into San Francisco International Airport that has connectivity to many cities across the US and Internationally. From the airport, take transit service to the downtown area using Bay Area Rapid Transit (BART).
By Road – US-101 gets you into San Francisco from Los Angeles or Phoenix. San Francisco is also connected by other freeways.
By Public Transport – There is no direct train line into San Francisco. From Los Angeles, Sacramento or Seattle, you can get to Oakland. And from Oakland, you can take a BART train to get to downtown.
Place to stay at San Francisco
Whether you book yourself in a city hotel or take an Airbnb, San Francisco would be a unique experience. You can consider staying at Four Seasons Hotel or the Ritz-Carlton. They both provide a luxurious and comfortable stay.
Best time to visit San Francisco
The best time to visit San Francisco is during the spring and summer seasons. Many tourists flock the city during these months.
Things to do at San Francisco
San Francisco has a range of activities and attractions for the tourists.
There is the iconic Golden Bridge to visit, one of the most Instagram-worthy places in San Francisco. If you drive to Fort Baker, you can get some of the best views of this bridge. And the Golden gate Park is recommended as well.
For families, a visit to California Science Center and Exploratorium is a must.
There are touristy areas like the Fishermen's Wharf, you can see the antics of sea lions and take a ferry to the Alcatraz Prison.
The Ferry building with its tall clock tower is not to be missed. And you can take a stroll through the Embarcadero area. Lombard Street, famous for being the most crooked street in the Americas, is a fun option. Another area to walk through is Mission District, with its street art on the buildings.
San Francisco is full of hip bars, cafes and restaurants. And being a very cosmopolitan city, there are myriad options of cuisines available at different price points.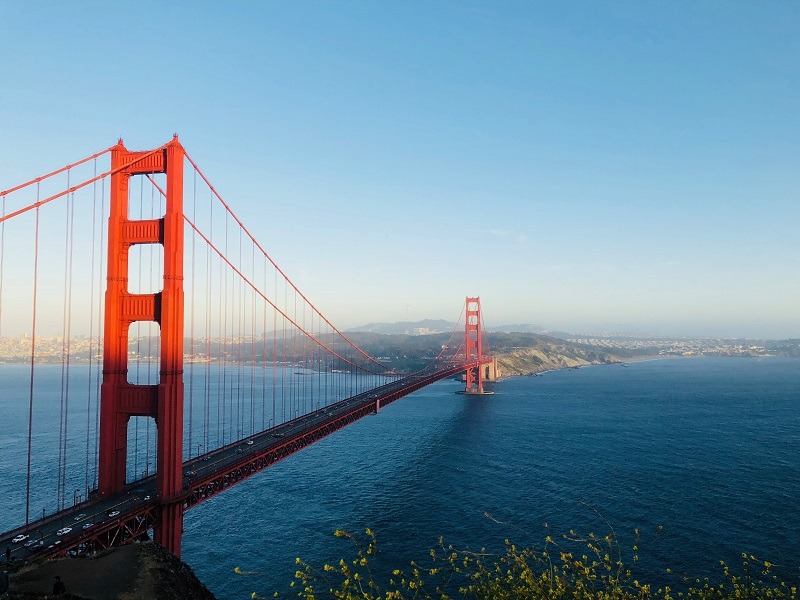 San Jose
Submitted by Anastasia Kornilova from Travel Realist
San Jose is a great stop on your trip along the West Coast. The city has a lot of parks, museums, wineries, breweries, and restaurants. It is also a great hub for your Bay Area visit.
How to get to San Jose?
By Air – You should fly to San Jose Mineta International Airport when visiting the city. This airport has a good number of non-stop flights from major cities across the US.
By Road – A road trip is another great option for reaching San Jose. The city connects to San Francisco via I-280, Oakland via I-880, and Sacramento via I-5 and I-580.
By Public Transport – You can take the Capitol Corridor train if you are traveling from neighboring cities.
Once in San Jose, use the VTA, the region's public transportation network. Buses and light rail will bring you to many places around the Bay Area. A day pass costs $7.50 per adult.
Place to stay at San Jose
Look into WhyHotel by Placemakr when choosing accommodation in San Jose.
Best time to visit San Jose
Fall and spring are the best seasons to visit San Jose. The temperatures range from 55°F to 75°F. Mild weather makes outdoor exploration quite enjoyable.
Things to do at San Jose
San Jose offers plenty of indoor and outdoor adventures for every taste:
Tour the Winchester Mystery House, a perfect destination for those interested in architecture and paranormal mysteries.
Admire blooming roses in San Jose Municipal Rose Garden and Rosicrucian Park during late spring and early summer.
Get close to farm life and animals at Emma Prusch Farm Park. It is a great destination if you are traveling with kids.
Venture out of the city to hike in Alum Rock Park. Enjoy gorgeous views of Silicon Valley from the overlooks.
Reward yourself with a nice Italian dinner at Orchestria Palm Court Restaurant after all adventures in San Jose.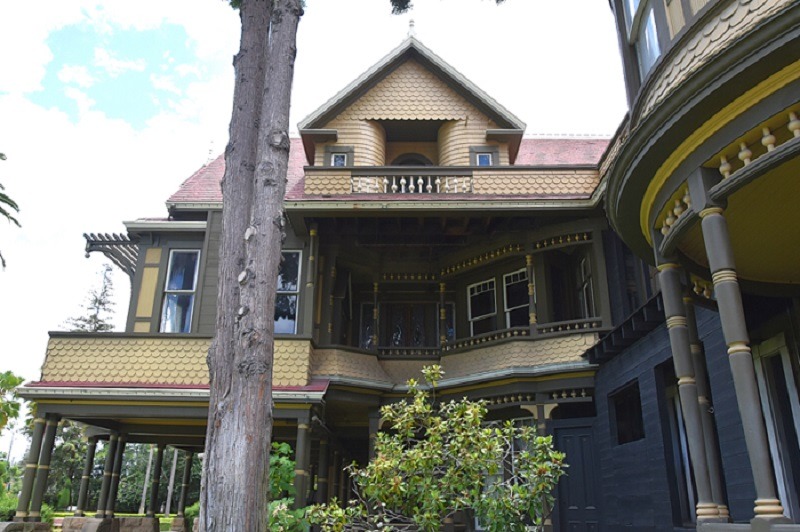 San Luis Obispo
Submitted by Alanna Koritzke from Periodic Adventures
San Luis Obispo is a gem of California's Central region and is not only a city, but also a county including the coastal cities of Pismo Beach, San Simeon, Oceano Dunes, and more!
How to get to San Luis Obispo?
By Air – To get to San Luis Obispo, you can fly into their regional airport or into Los Angeles International Airport or SFO, both 3 hours away to the south and north, respectively. You'll want to rent a car to make the trip from Los Angeles or San Francisco. However, while you're there, you can get by on public transportation where fares are only $1.50 each way with 1-, 3-, 5-, and 7-day passes.
By Road – Getting to San Luis Obispo is a bit tricky. It is connected via Santa Rosa Street which leads to the downtown.
By Public Transport – The Amtrak Pacific Surfliner or Amtrak Coast Starlight trains travel to San Luis Obispo.
Place to stay at San Luis Obispo
Finally, the best place to stay is at the iconic Madonna Inn, which opened in 1958 and has expanded now to include 110 uniquely themed rooms with a kitschy steakhouse, copper-centric café, and shops where you can buy your own glass Madonna Inn goblet to bring home.
Click here to check for Madonna Inn prices on Booking.com
Best time to visit San Luis Obispo
San Luis Obispo is a great year-round destination because the weather never gets too hot or cold. For fewer crowds, aim for a weekday trip. Off season travel to SLO is in March, April, and December.
Things to do at San Luis Obispo
San Luis Obispo is a charming city with variety of things to do.
The city of San Luis Obispo has some incredible things to do including visiting Mission San Luis Obispo de Tolosa (be sure to read up on their often glimpsed over history with Native Americans), seeing California poppies at the San Luis Obispo Botanical Garden, and hiking through the beautiful mountains, where the most popular spot is Bishop Peak.
Great restaurants are plentiful in downtown San Luis Obispo. Try one of the spots in Creamery Marketplace, a collection of local restaurants where some highlights are Quesadilla Gorilla and Mama's Meatballs.
Also, try High Street Market and Deli for the most delicious handmade sandwiches in a historic corner shop building from 1927!
Santa Barbara
Submitted by Karen Hosier from Forever Karen
Santa Barbara may not be as popular as its neighbor, Los Angeles, but it provides a peaceful escape from a busy city.
How to get to Santa Barbara?
By Air – You can reach Santa Barbara by flying into Santa Barbara Municipal Airport. It has connectivity from Los Angeles International Airport or San Francisco International Airport.
By Road – From Los Angeles, it takes almost two hours to drive the 95-mile distance.
By Public Transport – The Pacific Surfliner of Amtrak train stops at Santa Barbara. This is one of the scenic routes.
Place to stay at Santa Barbara
If you need a place to stay, you can't beat the location of Hotel Santa Barbara. Situated on States Street, you can easily access shops, restaurants, and beaches.
Best time to visit Santa Barbara
April to June and September to November provide the best time to visit, with daytime highs in the 70s. This California city is laid-back, with many patio restaurants, beautiful beaches, and Spanish architecture.
Things to do at Santa Barbara
With stunning beaches, Spanish architecture and many attractions, Santa Barbara has popular things to do.
Renting a Surrey bike and riding along the waterfront lets you enjoy the seafront. If you prefer a bit of retail therapy, State Street has charming boutiques, restaurants, and historic theaters. Be sure to visit the Arlington Theater, built in 1931.
Browsing State Street, you can buy Turkish Delights, Baklava, and handmade chocolates. Stop by Lilac Patisserie for gluten-free sandwiches, cakes, and delicious pastries.
The Sterns Wharf provides a fantastic activity in Santa Barbara. The historic pier is home to the Sea Center, a small aquarium featuring local sea life. You can also enjoy the views of West Beach, have oysters at The Harbor Restaurant, or fish at the end of the pier.
For many visitors, the County Courthouse highlights a trip to Santa Barbara. The Spanish Colonial building oozes charm, and its interior is more intriguing than its exterior.
Inside, you can view a stunning Mural Room, Bisno Schall Clock Gallery, and climb the clock watch to take in the city's best views.
Santa Barbara is also famous for its whale watching during the whale migratory season.
Sausalito
Submitted by Sophie Pham from Delightful Travel Notes
Located just north of San Francisco, Sausalito is a picturesque waterfront town known for its pretty Mediterranean-like scenery and thriving art culture. Its proximity to San Francisco makes Sausalito an ideal day-trip destination for those exploring the Bay Area.
How to get to Sausalito?
By Air – The closest airport is San Francisco International Airport. From the airport, you can take a taxi or a ferry into Sausalito.
By Road – There are two main options to get to Sausalito from San Francisco: either drive across the iconic Golden Gate Bridge or take a ferry ride.
By Public Transport – You can find regular ferry services to the town from San Francisco's Ferry Building and Fisherman's Wharf.
Place to stay at Sausalito
Sausalito has very few hotel options (only four), and they tend to be on the expensive side. Given the town's easy accessibility from San Francisco, you can still enjoy Sausalito without spending the night if it is beyond your budget. If you still want to enjoy and stay at Sausalito, consider staying at The Gables Inn Sausalito or Casa Madrona Hotel and Spa.
Best time to visit Sausalito
Sausalito is very popular during the spring season because of the weather and beautiful landscapes. And summer season is the peak season as the days are warm and sunny. Many festivals are conducted during the summer season.
Things to do at Sausalito
Sausalito has great waterfront and beautiful vibes.
The quaint city offers delightful waterfront walks visitors should not miss. Stroll down the Bridgeway Promenade for stunning bay views, and there are boutique shops, restaurants, and parks to explore along the way.
Beyond the leisurely harbor walks, head to Marin Headlands for breathtaking panoramic vistas of the Golden Gate Bridge. The headlands also have many hiking opportunities for outdoor lovers.
One of the city's unique attractions is its community of houseboats, each reflecting its owner's personality and taste. Family-friendly attractions include the Bay Area Discovery Museum and the Marine Mammal Center.
Sausalito is also known as an artistic city with many art galleries. The annual Sausalito Art Festival is considered one of the most prestigious outdoor art festivals in the US. This celebrated event draws artists and art enthusiasts from around the country, showcasing diverse forms of art against the backdrop of the bay.
Whether you are drawn to its scenic waterfront, intriguing history, vibrant art scene, or its laid-back ambiance, this picturesque city promises a memorable visit.
Seattle
Submitted by Lisa Garrett from Waves and Cobblestones
Seattle, Washington is one of the best cities to visit on the West Coast. The Emerald City has iconic attractions to check off your travel bucket list while you enjoy the natural beauty of this coastal city.
How to get to Seattle?
By Air – Fly into the Seattle-Tacoma International Airport. You can take the Link Light Rail to get from the airport to downtown Seattle, and then explore on foot, with bus and metro for longer distances.
If you're planning to visit downtown attractions, skip the rental car and use Seattle's public transportation network.
By Road – I-5 takes you to Seattle. This freeway is connected well with Portland and San Francisco.
By Public Transport – You can take Amtrak Cascades train to reach King Street Station in Seattle.
Place to stay at Seattle
Stay at the Palihotel Seattle, a retro-styled boutique hotel close to Pike Place Market. If you love seafood, enjoy a fantastic meal with harbor views at Elliott's Oyster House.
Best time to visit Seattle
The best time of the year to visit Seattle is in the summer months (June-September) when the weather is at its warmest and you're less likely to experience the rainy days that keep this city so green.
Things to do at Seattle
Seattle is a vibrant and colourful city with diverse neighbourhood.
One of the most famous Seattle attractions is the Pike Place Market. You'll find everything from fresh produce to fabulous handmade arts and crafts, as well as the famous fish-throwing fishmongers. Taking a food tour of the Pike Place Market is a tasty way to experience the market.
No visit to Seattle is complete without a visit to the iconic Space Needle. For the best views of Seattle, take the elevator to the top of the Space Needle. You can visit the open-air observation deck or relax and enjoy a drink in the rotating indoor observation space.
On the artsy side, check out the incredible glass designs at the Chihuly Garden and Glass, near the base of the Space Needle. Admire the outdoor sculptures at the Olympic Sculpture Garden and be on the lookout for murals and street art during your visit to Seattle.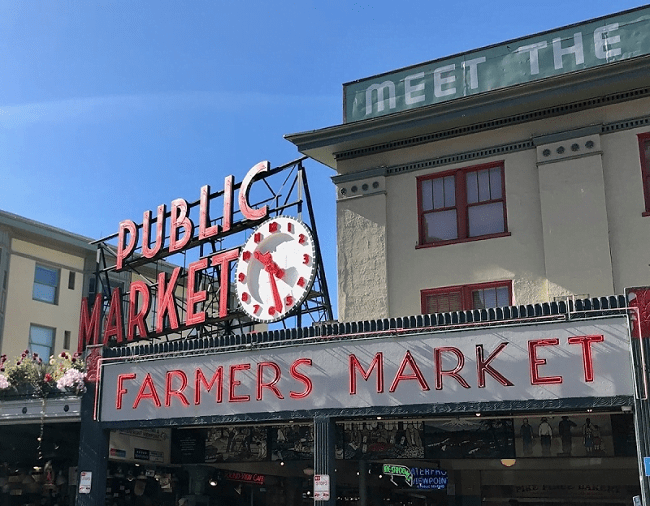 Sedona
Submitted by Marquita Mays Wright from Marquitas Travels
When planning a trip to the West Coast of the United States, Sedona, Arizona needs to be on your shortlist. This quaint town with a population of less than 10,000 people offers a blend of natural, outdoor beauty and relaxation. So don't let the small population fool you, there's a plethora of things to do in Sedona that makes it worth visiting.
How to get to Sedona?
By Air – Although Sedona has its own regional airport, most people fly into Phoenix Sky Harbour International Airport. From airport, hiring a car is the most convenient way to get to Sedona.
By Road – From Phoenix, the journey takes around 2.5 hours to reach Sedona. You will need to take I-17 and then AZ-179 to reach Sedona.
By Public Transport – The closest bus station is at Flagstaff in Arizona. From Flagstaff, you can take a shuttle service to get to Sedona.
If you choose not to rent a car, you can take advantage of the Verde Shuttle which provides service to the major attractions 7 days a week.
Place to stay at Sedona
Many of the hotels in the area are boutique hotels and offer balconies, so you can wake up to the unbelievable view of the Red Rocks. Matterhorn Inn is one of the most popular hotels in Uptown Sedona that offers this one-of-a-kind view. Plus it's centrally located, allowing you to navigate the area with ease.
Best time to visit Sedona
The best time to visit Sedona is in Spring, Summer and Fall seasons. The weather is pleasant and dry. It is also the busiest season with lot of people.
Things to do at Sedona
With lots of outdoor activities, Sedona has many things to offer.
The Red Rock formations alone, make Sedona one of the best cities to visit. Not only do they make an incredible, breathtaking backdrop to your vacation but you can also hike them.
Some of the most popular hikes include Devil's Bridge, Cathedral Rock (and its reflection pools), and Faye Canyon. Plus, the red rocks form the ultimate slide at Slide Rock State Park. In fact, this park was named one of America's Top 10 Swimming Holes by Travel Channel.
Many add a day trip to the Grand Canyon and other surrounding cities when visiting Sedona as it's only a two-hour drive. Don't feel like driving yourself? Many tour companies offer day tours as well.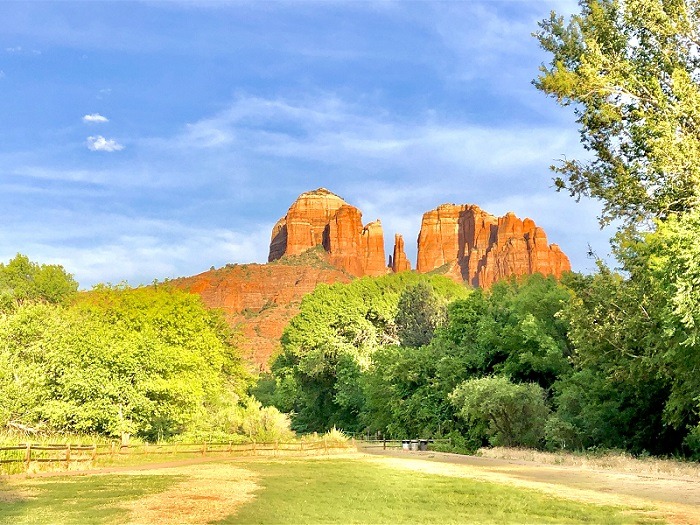 Season Chart for the West Coast of USA
Below table provides the season details:
| Season | Months |
| --- | --- |
| Spring | March to May |
| Summer | June to August |
| Fall / Autumn | September to November |
| Winter | December to February |
Season Chart for West Coast USA
Closing Notes
These are some of the most exciting and best cities to visit on the west coast of USA. And each one of these make a perfect holiday destination. Which one of these have you added to your bucket list now or which one of these have you visited and love the most? Let me know by writing to me on Solopassport@gmail.com.
Disclaimers:
The prices mentioned in the post are valid only at the time of publication. Ensure to check the booking websites for up to date information and prices.
Opinions and views expressed solely mine and are unbiased. If the post is a collaboration, then they are specifically mentioned.
Ensure to check the relevant websites for up to date information on COVID protocols.
For any adventurous activities, please note that there is a risk that can be dangerous. Ensure to read the terms and conditions with individual agencies recommended and do them at your own risk.
For visas, it is best to see the embassy website for any changing rules.
How can you support me?
You know how much I love coffee, so you can buy me coffee – Buy me Coffee!
Or you can purchase from one of the below travel resources without any extra charge to you.

Travel Resources
Click to book your flight on Skyscanner.com
Click to book your accommodation on Stay22
Click to book a comprehensive travel insurance on Safety Wing
Click to book your tours and travels on Viator or GetYourGuide
If you liked this article and if it was helpful in your planning or traveling, do share, tweet, or pin this post.

Follow me on Instagram | Facebook | YouTube | Twitter | LinkedIn
Do you have a question? Or want any suggestions, and tips for travels, hikes and scuba dives? Use the Subscription box below to sign-up and get updates by email.
PIN for later reference | Best Cities to Visit on the West Coast of USA