Top 15+ Cities to Visit on the East Coast of USA
Are you looking for some spectacular cities to visit on the east coast of United States of America (U.S.A.)? Or do you just want to add places to your bucket list? Then I say look no more! I asked fellow bloggers for their recommendations on the cities to visit on the east coast of USA and the results and suggestions were breathtakingly beautiful.
In this post, you will find the list of cities to visit on the east coast of USA, including the things to do at each of these cities with a recommendation of where to stay.
This article may contain affiliate links. For full information, please see our affiliate disclaimer here.
Top Cities to Visit on the East Coast of USA
For best cities to visit on the west coast – refer Top 20 Cities to Visit on West Coast of USA.
Asheville
Submitted by Phoenyx Powell from Phoenyx Rises
Asheville in North Carolina (NC) is a captivating city nestled in the breathtaking beauty of the Blue Ridge Mountain. The city is celebrated for its vibrant arts scene, historic architecture, and natural allure.
How to get to Asheville?
By Air – Ashville has a domestic / international airport Asheville Regional Airport. The airport is well connected across the country and provide access to some international destinations too. Allegiant, United, American and Delta are some of the airline providers that operate out of Asheville airport.
By Road – Access is easy, whether by car via well-connected interstates or a scenic drive along the Blue Ridge Parkway.
Navigating the city is a breeze, thanks to ART (Asheville Rides Transit), offering bus service throughout Asheville and to Black Mountain. Buses run from 5:30 a.m. to 10:30 p.m. on weekdays and 8:00 a.m. to 6:00 p.m. on Sundays and Holidays – check route schedules for exact timings.
Place to stay at Asheville
You can consider staying at Holiday Inn – Biltmore West, an IHG Hotel or Hotel Indigo Asheville in Downtown.
Best time to visit Asheville
For an unforgettable experience, visit in the fall when Asheville's scenery transforms into a vibrant, colorful display.
Things to do at Asheville
Asheville has plenty of things to do and it offers attractions and activities for all its visitors.
Nature enthusiasts will be thrilled by the abundance of hiking trails, waterfalls, and scenic mountain vistas, including the Blue Ridge Parkway, Catawba Falls, and Lake Lure.
Avoid crowds by planning visits to popular spots early in the morning or on weekdays.
Immerse yourself in the grandeur and history that intertwine at the Inn at the Biltmore Estate, where you're invited to witness a timeless masterpiece and embrace the essence of true elegance. With a myriad of activities available, from indulging in delicious wine tastings to exploring the vast trails spread across the nearly 8,000 acres it occupies, the Biltmore Estate promises an unforgettable experience for every traveler.
There are many venues in Ashville that offer live music. You can listen to the local artists play and enjoy at small bars and the events / concerts.
Asheville offers a captivating blend of culture, nature, and luxury, with efficient transportation, a grand retreat at the Inn at Biltmore, and an array of fun and exciting activities.
Embrace the wonders of this enchanting mountain city, creating memories to cherish for a lifetime. Pack your bags, and embark on a journey that promises lasting impressions.
Atlanta
Submitted by Alex Chapman from Twenty Something Traveler
Atlanta in Georgia, is a unique city with a diverse culture, rich history, and that special Southern charm. When a city can offer something for everyone, it is no wonder that travelers from all over add it to their list of must-visit cities on the east coast.
How to get to Atlanta?
By Air – Atlanta has an international airport Hartsfield-Jackson Atlanta International Airport. It is the busiest airport in the US. Some of the airlines that operate out of Atlanta airport are Frontier Airlines, Southwest Airlines and Spirit Airlines. Delta Airlines' primary hub is at Atlanta airport.
By Road – Getting to Atlanta by road is very easy. There are 6 highways that provide great access to Atlanta from anywhere.
To get from place to place, Atlanta has its own public transportation system, MARTA, with tickets starting at $2.50.
Place to stay at Atlanta
When choosing a place to stay, consider having a luxurious night at The Westin Peachtree Plaza and dining at their rooftop restaurant, The Sundial, which offers 360-degree views of the city.
Best time to visit Atlanta
The best time to visit a Southern city like this would be late Fall when the scorching Summer is over, and the cold Winter hasn't yet arrived. Plus, you get to witness the beauty of the color-changing leaves on the trees.
Things to do at Atlanta
Atlanta is a great place for history, art and nature lovers. Some of the things to do are:
Nature lovers will enjoy visiting the Atlanta Botanical Gardens for a stroll through some of the most gorgeous flower displays and greenhouses, and sports lovers will have a tough time choosing which games to attend, as Atlanta has some of the most impressive sports teams to watch.
For art and history lovers, Atlanta has numerous museums, such as The High Museum of Art and the National Center for Civil and Human Rights. You also can't leave Atlanta without visiting the famous Georgia Aquarium, the only aquarium in the United States that has whale sharks.
Lastly, did you know that Atlanta has earned itself the nickname "Hollywood Of The South" due to the amount of filming that takes place there? This means that when you visit Atlanta, you can also visit places like Hawkins from Stranger Things, President Snow's mansion from The Hunger Games, the zombie-filled world from The Walking Dead, and more!
Baltimore
Submitted by Lola Akingbade from Deyewa
Baltimore is the largest city in the state of Maryland and is known for its rich history, vibrant culture, and delicious food.
How to get to Baltimore?
By Air – The closest airport to Baltimore is Baltimore–Washington International Airport (BWI), which is located about 8 miles from downtown Baltimore.
By Road – The city is easily accessible by car from all directions.
There is also the light rail, metro subway, MARC train and MTA buses that offer great ways to get around the city. You can purchase a day pass for $4.40.
Place to stay at Baltimore
While in Baltimore, a great place to stay is the Four seasons Baltimore Hotel. It is one of the best hotels with Jacuzzis in the room and is located near a lot of great attractions and restaurants in Baltimore.
Best time to visit Baltimore
Visitors can visit Baltimore all year round and still have an amazing time, but summer is probably the best time to visit. The weather is warm and pleasant during these months, with average temperatures ranging from 60 to 80 degrees Fahrenheit (15 to 25 degrees centigrade). Although it could also go as high as 90 degrees Fahrenheit (30 degrees centigrade).
Things to do at Baltimore
Some great things to do when visiting Baltimore include:
Visit the Inner Harbor which is the heart of Baltimore and one of the most popular spots. It is home to a number of popular attractions, such as the National Aquarium, the Maryland Science Center, and the USS Constellation.
Visit Fell's point which is a historic neighborhood with Cobblestone streets that are interesting to Wander through. It is also known for its charming architecture, unique shops, and vibrant nightlife.
Fort McHenry, a historic fort, which played a major role during the War of 1812 and inspired Francis Scott Key to write the national anthem, "The Star-Spangled Banner".
For breakfast lovers, there are 2 restaurants to check out while in Baltimore – Miss Shirley's and Blue Moon Café. They are both very popular brunch spots and thus always have huge lines to get in so plan accordingly. At Blue Moon café, try the Captain crunch toast and the Sweet Baby Jesus. At Miss Shirley's the Waffles and Chicken are always a hit.
Boston
Submitted by Megan Indoe from Bobo & Chichi
Boston, one of the oldest cities in the United States, is without a doubt one of the best places to visit on the East Coast. Here you'll find no shortage of historic sites especially around the first days of the American Revolution and Independence to world class museums and institutions, and gorgeous neighborhoods to explore.
How to get to Boston?
Getting to Boston couldn't be easier as there are several convenient transportation options.
By Air – The city is well-served by Logan International Airport, which offers flights from various domestic and international destinations. There are many airlines, including Delta Airlines, JetBlue, United Airlines, American Airlines, Air Canada, and Southwest Airlines, that operate from Logan International airport.
By Train – If you're traveling on the East Coast already, you also have the option to take an Amtrak Train to Boston.
By Road – Boston is well connected with two major highways from many cities on the east coast.
Once you arrive, it's easy to navigate the city using Massachusetts Bay Transportation Authority (MBTA), a network of subway trains, buses, and commuter rails. Plus many of the incredible Boston attractions are walking distance from one another.
Place to stay at Boston
You can consider staying at DoubleTree by Hilton at Bayside, or The Revolution Hotel in Boston.
Best time to visit Boston
The best time to visit Boston is during the spring and fall seasons when the weather is mild and pleasant. Spring time showcases blooming flowers, while fall is popular among those wanting to witness New England leaf peeping.
Things to do at Boston
Boston has many things to do. Some of the best attractions to check out include:
The Freedom Trail, a 2.5-mile-long route that takes them through significant landmarks such as the Massachusetts State House, Paul Revere's House, and the Old North Church.
Or if you love museums, you're in luck. Boston boasts world-class museums like the Museum of Fine Arts and the Isabella Stewart Gardner Museum, and the Boston Public Library is worth visiting too!
Boston is also home to prestigious academic institutions including Harvard University and the Massachusetts Institute of Technology (MIT).
While you're here a few must-visit experiences include dining at Union Oyster House, what's considered the city's oldest restaurant or spend time exploring the amazing things to do in the North End of Boston, aka Little Italy where there's no shortage of amazing places to dine and more historic sites!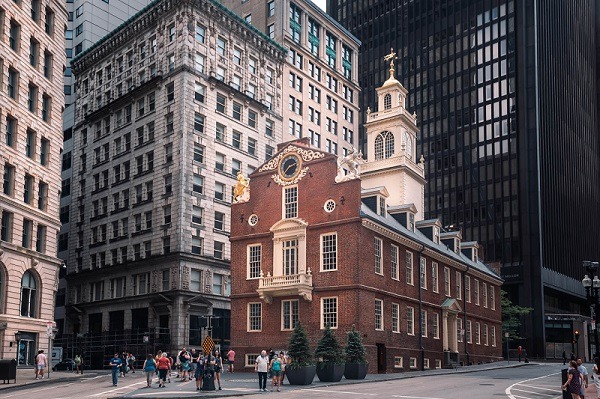 Charleston
Submitted by Michele Granera from Adventures Abound
Charleston is a historic city on the coast of South Carolina (SC) known for its beaches, storied past, and laid-back lifestyle.
How to get to Charleston?
By Air – Charleston also has its own international airport, the Charleston International Airport (CHS) – with 60+ direct routes from cities around the US.
By Road – Getting to Charleston, SC is easy, by driving South on I-77 or I-95 until reaching I-26 East which will head straight there.
Once in town, the best way to get around is driving, though there is a bus route and a trolley in the downtown area.
Place to stay at Charleston
Stay in a hotel downtown, like the Francis Marion Hotel (celebrating 100 years in 2024), and you can walk to many places without the worry of a vehicle.
Charleston also has some amazing camping sites that provide great views and are close to the coast.
Best time to visit Charleston
The weather is warm and lovely most of the year, with colder (relatively speaking) winters and extremely hot and humid summers, so the best time to visit would be spring or fall.
Things to do at Charleston
With lovely beaches and interesting tours, you can do below things in Charleston:
Exploring the beaches, learning about the rich history, and tasting southern fare are some of the many things to do in Charleston, SC. Some of the most popular beaches are Folly Beach, Isle of Palms, and Sullivan's Island. Just be prepared for traffic – with only a few ways on and off the barrier islands, these popular spots attract many visitors.
Downtown Charleston is also a beautiful part of the city to explore. Popular spots include the colorful Rainbow Row homes, Waterfront Park and the Pineapple Fountain, and the Charleston City Market.
Many visitors also enjoy going out at night – but not in the way you think. Charleston has a long history of spooky residents – and you can join a ghost tour to meet them!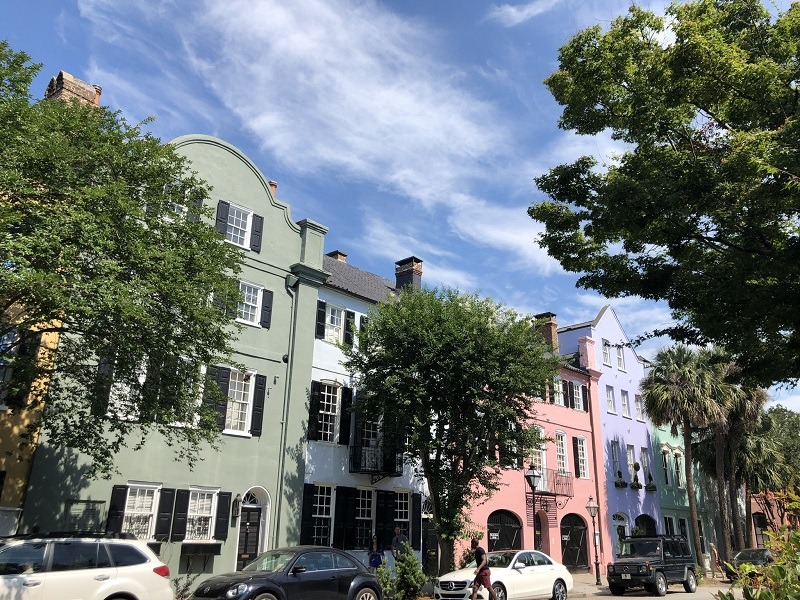 Cocoa Beach
Submitted by Bridget Gutierrez from Bridget Gutierrez Travels
Cocoa Beach, located on the eastern coast of Florida, is a charming seaside city renowned for its pristine beaches, surfing culture, and proximity to the Kennedy Space Center.
How to get to Cocoa Beach?
By Air – The nearest airport to Cocoa Beach is Orlando International Airport.

From there, you can reach Cocoa Beach by driving or taking a taxi.
Another option is to take a 32 minutes shuttle (55 to 65 USD) from the airport to Townsend Rd NE Corner and then hop on bus 8 for 24 minutes (17 stops), get off at Cocoa Transit Center, transfer to bus 4 for 24 minutes (21 stops), lastly transfer on to bus 9 at Shepard's park for a 1 minute ride to reach Cocoa Beach Pier Sign.

By Road – You can easily access Cocoa Beach through national highway.
Place to stay at Cocoa Beach
One highly recommended place to stay in Cocoa Beach is the Best Western Cocoa Beach Hotel & Suites. This hotel offers ocean-view rooms, two outdoor pools, and barbecue facilities, and it is even pet-friendly. It is conveniently located just a 20-minute drive from the Kennedy Space Center. The lush and well-maintained landscaping adds to the ambiance, and the complimentary breakfast provides delicious hot meals from friendly staff.
Best time to visit Cocoa Beach
The best time to visit Cocoa Beach is late November and early May. The weather is pleasant during this period, with temperatures not too hot and less rain compared to the summer months.
Things to do at Cocoa Beach
Cocoa Beach has a variety of attractions to explore.
The Cocoa Beach Pier is a must-visit spot, offering stunning ocean views, beachside dining, and lively entertainment options. Ron Jon Surf Shop is perfect for surf enthusiasts and those looking for beach gear. For a touch of history, visit Historic Cocoa Village, known for its charming shops, galleries, and restaurants.
While in Cocoa Beach, enjoy dining at the various waterfront restaurants offering fresh seafood and breathtaking views. Keep an eye on the forecast and plan outdoor activities accordingly.
Cocoa Beach is a destination that offers a perfect blend of relaxation and adventure and has something for everyone.
Fort Lauderdale
Submitted by Daria from Neurolutions
Located in South Florida, Fort Lauderdale is one of the best cities to visit on the East Coast of the United States, if you are looking for a sunny and tropical vacation.
How to get to Fort Lauderdale?
By Air – You can get to Fort Lauderdale by flying to Fort Lauderdale Hollywood International Airport or Miami International Airport.
By Road – Fort Lauderdale is connected by the Sawgrass Expressway in Sunrise.
It's a good idea to rent a car for your trip to explore the area, as it provides a quick and easy way to get around the area and not rely on Uber. Although there's light rail as well as some buses available in the area, it doesn't provide good coverage, and you will need either ride shares or taxis if you want to get outside your hotel.
Place to stay at Fort Lauderdale
Some of the best hotels in Fort Lauderdale come with amazing oceanfront views. You can book your stay at Four Seasons Hotel and Residences or Hotel Maren Fort Lauderdale Beach, Curio Collection by Hilton, if you want to enjoy on-site pools, great restaurants and amenities like fitness centers and spas.
If you are looking to save some money, consider booking one of the cheaper hotels like Soleado or Hotel Tranquilo – these small boutique stays offer good value for the money and great basic accommodations.
Best time to visit Fort Lauderdale
The best time to visit Fort Lauderdale is during the spring season that lasts between March and May where the weather is cool and dry.
Things to do at Fort Lauderdale
Some of the things to do at Fort Lauderdale are:
Famous for its beaches, the popular Las Olas Boulevard and the many waterways and canals, Fort Lauderdale is a perfect starting point for your adventures in South Florida, as it provides quick access to some of the best beaches in the region including Dania Beach, Hollywood Beach, and Lauderdale by the Sea.
Some of the most popular things to do in Fort Lauderdale are taking a walk along the Las Olas Riverfront, visiting Hugh Taylor Birch State Park where you can enjoy kayaking and hike some easy trails; and dining – Fort Lauderdale is well known for its fantastic food scene and you can plenty of great eateries from healthy cafes that have vegan and vegetarian options to lively Italian and Mexican restaurants or popular seafood spots along Fort Lauderdale Boulevard.
Fort Lauderdale Boulevard is also home to many great restaurants like Lona Cocina where you can try Mexican food or Kousine that offers a mix of Peruvian and Asian dishes. Finally, there are plenty of great bars in the area where you can enjoy a drink with a spectacular view of the Ocean.
Key West
Submitted by Mayuri Patel
Key West is one of the vibrant cities of the USA known for its vibrant culture, beautiful beaches, and stunning sunsets. Located just 4 hours away from Miami, the road trip to Key West is considered one of the best road trips in the USA crossing the 17-mile sea bridge.
How to get to Key west?
By Air – You can fly directly to Key West. The city has an international airport that also serves as the domestic airport. There are more than 20 airline providers that operate out of Key West International Airport.
By Road – Take a scenic Road trip from Miami to Key West via Bahia Honda State Park and Islamorada.
By Bus or Ferry – You can reach via Bus or ferry too but not recommended as it will take longer than usual.
Place to stay at Key West
You can consider staying at 24 North Hotel in Key West that provides amazing views of the ocean.
Best time to visit Key West
Key West can be visited year-round but from December to April is peak time due to pleasant weather. However, May and October are favorable months due to the low prices of the accommodation and still having warm temperatures at the beach.
Try to avoid the peak summer season from June to October as it's hot and humid.
Things to do at Key West
Whether you are doing a day trip or staying for a few nights, the city offers so much to everyone.
Key West is a historic city with so many beautiful beaches. So, experience the Sunrise at Smather's Beach and relax till the afternoon or visit the Fort Zachary Taylor State Park which is known for its history and beaches. You can go snorkeling here.
With clear water and heaps of marine life, Key West is popular for paddle boarding. There are also plenty of beautiful sites where you can paddle board in Key West.
Explore the famous Duval Street, lined with restaurants, bars, shops, and live music venues. It is the heart of Key West's nightlife and a must-visit for those looking to immerse themselves in the island's vibrant culture.
Visit the Ernest Hemingway Home and Museum, where the famous author lived and wrote some of his iconic works. You can see the descendants of his six-toed cats wandering the property, yes you heard it right! It's famous for cats.
Key West itinerary must include watching at least one sunset! And Key West is known for its Sunset Celebrations. You can participate in the lively Sunset Celebration at Mallory Square, where street performers, musicians, and artisans gather to celebrate the setting sun. It only happens in Key West!
Trip to Key West is incomplete without tasting its famous Key Lime Pie. Stop by Kermit's Key lime pie for delicious pie during your stay.
Cuba is closer to Key West than the continental USA, it's just 90 miles from Key West. And there is such a famous landmark known as the Southernmost Point Buoy. It represents the island's geographical uniqueness and its proximity to the Caribbean. Don't forget to snap a picture here!
Miami
Submitted by Victoria Heinz from Guide Your Travel
Miami, a vibrant city on Florida's southeastern coast, awaits your arrival with its stunning beaches, diverse culture, and lively atmosphere.
How to get to Miami?
By Air – Getting to Miami is a breeze. Hop on a flight to Miami International Airport, which offers excellent connectivity to major cities and towns across the country.
By Road – You can take the Overseas Highway to Miami and make it one of the most scenic road trips in the USA. If you love road trips, then do not forget to take an epic road trip from Orlando to Miami.
Once you land, public transportation is readily available. You can easily explore the city using the Miami Metrorail or hop on the comprehensive bus network of Miami-Dade Transit.
Place to stay at Miami
Consider booking a hotel like Esme Miami Beach or ABAE Hotel by Eskape Collection in the South Beach neighbourhood for a delightful stay. This iconic area is known for its art deco architecture, vibrant nightlife, and proximity to the beautiful beach. It offers a range of accommodations to suit various budgets and preferences.
Best time to visit Miami
The best time to visit Miami is during the winter and spring months, from December to May. The weather is pleasantly warm, with temperatures ranging from the mid-60s to mid-80s Fahrenheit (around 18 to 30 degrees centigrade). This period ensures enjoyable outdoor activities and avoids the hurricane season, typically from June to November.
Things to do at Miami
Miami offers an array of exciting things to do.
You can soak up the sun on the famous South Beach, explore the Art Deco Historic District, or visit the vibrant neighbourhood of Wynwood to admire its renowned street art. Take advantage of the Cuban influence in Little Havana's Calle Ocho, where you can enjoy authentic cuisine, live music, and a lively atmosphere.
There are plenty of amazing restaurants in Miami. When it comes to dining, a must-visit restaurant in Miami is Joe's Stone Crab. Indulge in their famous stone crab claws and fresh seafood delicacies. For a memorable bar experience, check out Ball & Chain in Little Havana, known for its vibrant ambience, live music, and delicious cocktails.
One of the other ways to enjoy Miami is to rent out a private boat tour. It is perfect way to have fun with friends and family.
While exploring Miami, remember to stay hydrated, apply sunscreen, and monitor your belongings in crowded areas. Additionally, be mindful of traffic and allow extra travel time, as the city can get congested, especially during peak tourist seasons.
New York City
Submitted by Raksha Nagaraj
Also known as the Big Apple, New York city is the most populous city in the country. It is known as the cultural, financial and media capital of the world.
How to get to New York City?
By Air – New York City has three main airports and there are more than 70 airlines that operate from the airports. The city is well connected with all the other cities and towns.
By Road – Getting to the city by road is very easy. There are highways that connect well with the city.
When you are in the city, you can use metros, trains or buses to get around. These modes of transport are operated by Metropolitan Transit Authority (MTA).
Place to stay at New York City
Consider staying at DoubleTree by Hilton at Times Square West which is an eco-certified hotel.
Best time to visit New York City
The best time to visit New York city is during the spring and fall seasons (between April and June, and between September and November).
Christmas is also a great time to visit the city as New York City is one of the places where you can see white Christmas in the US.
Things to do at New York City
There are heaps of things that you can do in New York City.
You have to start off by seeing the UNESCO World Heritage Site the Statue of Liberty. One of the best views come from the ferry that goes to the monument.
As I mentioned, the city is considered as the financial capital of the world. So, visiting New York City is incomplete without visiting the financial district and also getting a picture with the Charging Bull.
If you have time, definitely go watch a Broadway show.
To end the day, ensure to get the spectacular view of all the skyscrapers and buildings from the Empire State Building.
And see the city lights at Times Square.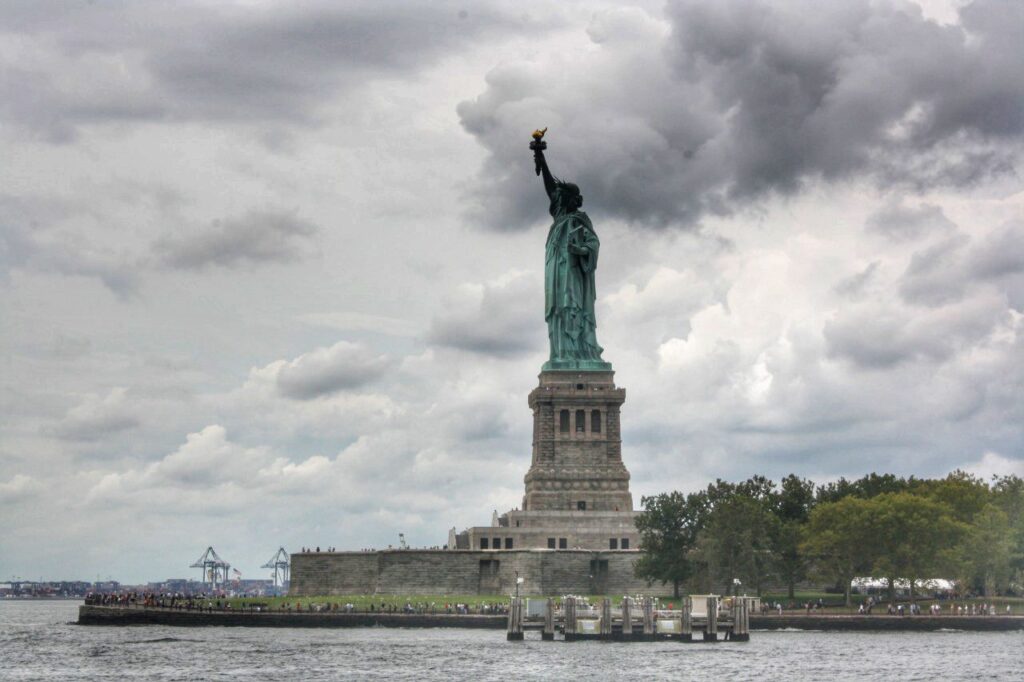 Orlando
Submitted by Candice Wood Steele from Exploring the Gulf
Orlando is one of the most popular cities to visit on the east coast. It is a famous Florida city full of opportunities for family fun, you can't go wrong with Orlando!
How to get to Orlando?
By Air – Most travelers to Orlando fly into Orlando International Airport. Ranked as the 11th busiest airport in the country, Orlando International Airport has more that 40 flights operating from it. The airport is around 6 miles (10 kilometres) from the Downtown Orlando.
By Road – For those who live near enough to drive or opt for a long road trip, I-95, I-75, and I-4 are the main interstates that will lead travelers into the city. Amtrak and Greyhound are also transportation options depending on the city you're traveling from.
If you're looking to spend a lot of time in downtown Orlando LYMMO will make a big difference in your vacation experience. The city's free public transportation bus carries passengers seven days a week to several of the most happening downtown destinations.
Place to stay at Orlando
Universal's Endless Summer Resort Surfside Inn & Suites is a fantastic place to stay while visiting Orlando. The comfortable rooms and charming property mix the fun theme park atmosphere of Orlando with the beach vibes of Florida at large.
Best time to visit Orlando
If you're looking for comfortable weather and fewer crowds, consider visiting Orlando sometime between mid-September through November. Fall offers the best all-around experience for this city.
Things to do at Orlando
Orlando has many things that it offers to its visitors.
Being the theme park capital of the country, you can't visit Orlando without hitting up Disney World and Universal Studios!
Travelers may think there's no hope for beach time on an Orlando vacation. Think again! There are many beaches near Orlando to explore, some less than an hour outside of the city.
Shark's Underwater Grill at SeaWorld provides an upscale dining experience in a setting your family will never forget. Enjoy steakhouse-style entrees in the heart of a 700,000-gallon shark tank. Marine life views will keep kids and adults alike entranced throughout the meal!
Philadelphia
Submitted by Lanie van der Horst from Make More Adventures
Filled with American history, art, and sports, Philadelphia is a fun city to visit on the east coast of the USA.
How to get to Philadelphia?
Philadelphia can be accessed by plane, train, and bus.
By Air – Philadelphia has three airports; Philadelphia International, Philadelphia Trenton-Mercer and North Philadelphia airports. American Airlines, Delta Airlines and Southwest Airlines operate out of Philadelphia airports.
By Road – I-95 is the best highway to take to get into Philadelphia.
Once you have arrived, it is easy to get around on public transportation, and much of the city is walkable. It is advisable not to drive to Philadelphia as according to WalletHub it has been ranked as one of the worst American cities for driving.
Place to stay at Philadelphia
Rittenhouse Square is a nice place to stay with hotels such as Sofitel Philadelphia or The Warwick Hotel. Rittenhouse Square is filled with restaurants and cafes and is within walking distance of many of the top attractions in Philadelphia.
Best time to visit Philadelphia
Spring is a lovely time to visit Philadelphia. The weather is mild and cherry blossoms pop up around the city.
Things to do at Philadelphia
Philadelphia has plenty of things to do.
Philadelphia played a role in the American Revolution and visitors can learn more by visiting Independence Hall where the Declaration of Independence was signed. You can also view the Liberty Bell. Nearby, see money being printed at The Mint.
Philadelphia is known for is being the stage of the Rocky movies. You can visit the stairs that he climbed by going to the Philadelphia Museum of Art.
Franklin Institute is a large science museum with plenty for all ages, and the Please Touch Museum is perfect for young kids. Philadelphia has plenty of fun things to do with kids of all ages.
Another thing Philadelphia has is 5 different major league sports teams including baseball, football, basketball, hockey, and soccer.
Philadelphia is best known for its cheesesteaks with Gino's and Pat's among the best-known options. One way to try a lot of different options is to check out Reading Terminal Market. The market is open daily and is filled with more than 75 restaurants, bakeries, and shops. Food tours take place twice almost every day at Reading Terminal Market.
Providence
Submitted by Sierra Wilbar from Your Guide to Wandering
Providence is an understated East Coast gem with artsy neighborhoods and a thriving culinary scene. While often overlooked for larger cities such as Boston, Providence is a smaller city with tons to do!
How to get to Providence?
By Air – Fly into Providence's TF Green Airport, a small airport that has many direct flights across the U.S.
By Road – I-95 goes through Providence and that is the best way to get into the city.
Providence is too small to have a metro but has a Rhode Island Public Transit Authority (RIPTA) bus system as well as Ubers.
Place to stay at Providence
Stay central downtown in the iconic Graduate Providence (formerly Biltmore Hotel) for easy access to restaurants and shopping.
Best time to visit Providence
You can visit Providence year-round but the best time is in the fall and summer.
Things to do at Providence
At Providence, you can:
Check out the prestigious Ivy League Brown University and stroll up Thayer Street for many Indi shops, restaurants, and boutiques. There are always plenty of local art shows and concerts. Then head over to Federal Hill for an upscale night of Italian dining. Providence's food scene, especially its seafood and Italian, rivals that of larger cities.
In the summer months come for Water Fire, when there are basins of fire lit along the Providence Rivers downtown. See gondolas, performers, and vendors along the route for a magical evening.
Providence is also in close proximity to many historic Rhode Island locations including the mansions of Newport Rhode Island and the charming sea town of Watch Hill. Nowhere in Rhode Island are you more than 30 minutes from a beach!
Richmond
Submitted by Erin Gifford of Go Hike Virginia
One of the oldest cities in the USA is Richmond in Virginia. There's no question that Richmond, Virginia is a must-visit destination on the East Coast. Just two hours from Washington DC, Richmond is an easy weekend getaway destination.
How to get to Richmond?
By Air – Richmond has an international airport which is around 7.7 miles (12 kilometres) from downtown. Some of the airlines that operate from the airport are Delta, Southwest and United Airlines.
By Road – Richmond is at the crossroads of Virginia and is best accessed by I-64 and I-95.
In Richmond, you can use the public transport or just walk around.
Place to stay at Richmond
Book a stay at the Berkeley Hotel, a stylish hotel that's a short walk to the Virginia State Capitol, the Poe Museum and the Richmond Canal Walk.
Best time to visit Richmond
Richmond is a destination that can be visited any time of the year. But due to the events and festivals, summer and fall seasons (between May and October) are the best time and also the peak season.
Things to do at Richmond
This historic capital city of Richmond captivates with a vibrant public art scene, flavorful dining options, notable landmarks and memorials, and easy access to green spaces and outdoor activities, like hiking, kayaking and biking.
Thanks to the Richmond Mural Project, colorful murals and street art can be found across town, including in 11 popular neighborhoods, like The Fan and Carytown. Take a self-guided tour of gram-worthy works of art, like the popular LOVE mural on the side of the Reservoir Distillery.
For outdoor fun, look to urban trails along the James River, which flows through Richmond. A favorite hike leads visitors along Texas Beach in James River Park. This shaded hike boasts colorful foliage, rock scrambles and a historic gristmill.
Hungry? There are many beautiful restaurants in Richmond. In Richmond's Manchester neighborhood, the Hatch Local Food Hall boasts six locally-owned food concepts, including Fat Kid Sandwiches and The Beet Box. For breakfast, 521 Biscuits & Waffles is a must for buttermilk biscuits and waffles served with organic 100% maple syrup. The Fancy Biscuit is another favorite for Southern staples, like biscuits and gravy.
St. Augustine
Submitted by Sam Opp from Find Love and Travel
St. Augustine is located in Florida on the East Coast of the USA and is a stunning city for a short getaway. This city has been coined the oldest city in the US, and with that comes a historic culture. Plus, the pristine beaches and incredible food scene make for an epic trip.
How to get to St. Augustine?
By Air – The best way to access St. Augustine is by flying and arriving at Jacksonville International Airport.
By Road – Alternatively, St. Augustine is a connected city, so you can take a road trip here, depending on your location.
St. Augustine is a walkable city, and there are buses and trains available, however, if you don't plan to leave the city center, it's unlikely that you will need to use them. If you do want to explore further out, renting a car would be a better option.
Place to stay at St. Augustine
A wonderful hotel to stay at during your visit is the historic Casa Monica Resort & Spa.
Best time to visit St. Augustine
When deciding what time of year to go, summer is a great time to experience the beaches. If you want to avoid crowds, opt to visit during May instead.
Things to do at St. Augustine
At St. Augustine, you can do:
With a weekend in St. Augustine, make sure to check out the Downtown Historic District, where you can visit the Fountain of Youth, Castillo de San Marcos, and grab a sweet treat at George Street.
Other worthwhile activities include soaking up the Florida sun at Anastasia State Park and visiting St. Augustine Lighthouse.
As mentioned, the food scene in this location is top-tier. You have to stop by The Blue Hen Café. This place has a great breakfast and is well worth the wait in line.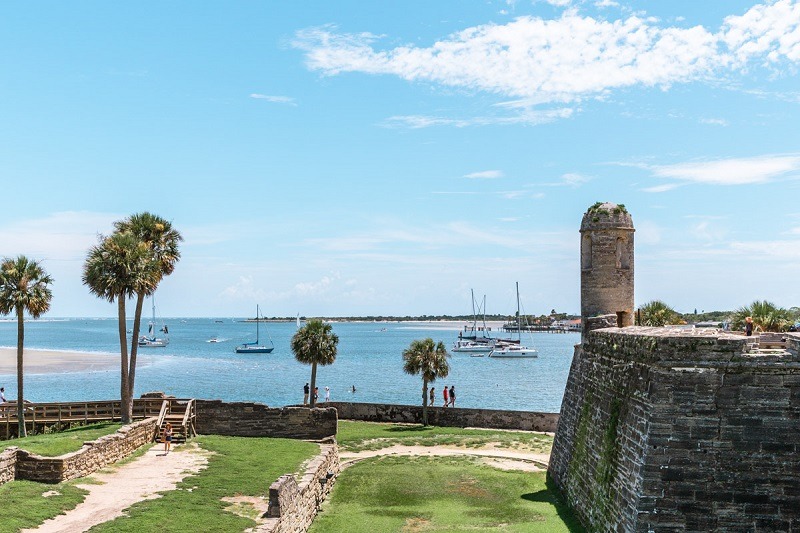 Savannah
Submitted by Sydney Richardson from A World in Reach
With a beautiful historic district full of draping Spanish moss, delicious food, and a touch of spookiness, Savannah, Georgia is definitely one of the best cities to visit on the East Coast.
How to get to Savannah?
By Air – Savannah has a international airport Savannah-Hilton Head International airport that has very good connectivity with more than 30 major cities across the country.
By Road – Savannah has good access through many interstate highways like I-16, I-95 and I-516.
When you are in Savannah, use the DOT to get a free bus ride throughout the Historic District.
Place to stay at Savannah
Stay in the Historic District of Savannah. Hyatt Regency or The Isetta Inn are the great options for staying in Savannah.
Best time to visit Savannah
To make the most of your Savannah visit, plan your visit for the spring or fall, when the temperatures are not too hot but not too cold.
Things to do at Savannah
Spending a long weekend in Savannah is a great way to experience the city for the first time.
A visit to Savannah isn't complete without a walk through the gorgeous Savannah Historic District. The district is home to more than 20 historic city squares along with beautiful churches and antebellum mansions. The district is compact and walkable, making it great for exploring on foot.
Grab a frozen daiquiri from Wet Willie's on River Street before making your way through the historic district, taking in the beauty and stopping to relax in the historic squares.
Make your way to beautiful Forsyth Park and have an Instagram-worthy photo shoot at the centerpiece fountain before heading back to one of Savannah's amazing restaurants for dinner.
Since Savannah is said to be haunted, you can't visit without taking a ghost tour! There are several different ghost tours given throughout the city, each catering to different travel styles. If you're visiting with your family, there are tours that are appropriate for all ages.
Other fun options include taking a haunted pub crawl or riding around in a hearse while learning about Savannah's haunted past. Each of the tours are unique and are a great way to end your visit to Savannah.
The Olde Pink House is a great option for a nice dinner – make sure to make reservations!
Washington D.C.
Submitted by Raksha Nagaraj
Located on the east coast of the USA in the District of Columbia (D.C.) is the capital city, Washington D.C. Famous for its government buildings and the White House, the city also has plenty of historical buildings and museums.
How to get to Washington DC?
By Air – It is very easy to fly into the capital city as there are three airport and most of the airlines, including American Airlines, and United Airlines, operate out of these airports. The city is well connected with all other cities and towns across the country.
By Road – You can also easily travel to Washington D.C. by car. The main highway is the USA's longest north to south highway Interstate 95 (I-95).
In the city, you can use Washington Metropolitan Area Transit Authority (WMATA) to commute. They run metros and buses in the city and purchase the reusable travel card SmarTrip.
Place to stay at Washington DC
The best area to stay in when you are visiting Washington D.C. is the downtown area as it is closer to all the major attractions. You can consider staying at the Hilton Garden Inn.
Best time to visit Washington DC
The best time to visit Washington D.C. is during the Spring and fall seasons (between the months of March and May, and between September and November).
Things to do at Washington DC
As I mentioned, Washington D.C. is popular for its museums and historical buildings. Some of the things to do in the city are:
The Lincoln memorial that is built in honor of Abraham Lincoln. You can visit this any time during the day as there is no entrance fee and it is open throughout the day.
You can spend an evening at Washington Monument watching the sun set with a spectacular backdrop. The monument is open for visitors from 9 AM to 5 PM.
You can see the USA President's official residence from a viewpoint. The public tours run between Tuesday and Saturday between 8 AM and 12:30 PM.
Closing Notes
These are some of the top cities to visit on the east coast of USA. And each one of these cities is beautiful and makes perfect holiday destination. Which one of these have you added to your bucket list now? Let me know by writing to me on Solopassport@gmail.com.
How can you support me?
You know how much I love coffee, so you can buy me coffee – Buy me Coffee!
Or you can purchase from one of the below travel resources without any extra charge to you.

Travel Resources
Click to book your flight on Skyscanner.com
Click to book your accommodation on Stay22
Click to book a comprehensive travel insurance on Safety Wing
Click to book your tours and travels on Viator or GetYourGuide
If you liked this article and if it was helpful in your planning or traveling, do share, tweet, or pin this post.

Follow me on Instagram | Facebook | YouTube | Twitter | LinkedIn
Do you have a question? Or want any suggestions, and tips for travels, hikes and scuba dives? Use the Subscription box below to sign-up and get updates by email.
PIN for later reference | Top 15+ Cities to Visit on the East Coast of USA
Disclaimers:
The prices mentioned in the post are valid only at the time of publication. Ensure to check the booking websites for up to date information and prices.
Opinions and views expressed solely mine and are unbiased. If the post is a collaboration, then they are specifically mentioned.
Ensure to check the relevant websites for up to date information on COVID protocols.
For any adventurous activities, please note that there is a risk that can be dangerous. Ensure to read the terms and conditions with individual agencies recommended and do them at your own risk.
For visas, it is best to see the embassy website for any changing rules.