4 days trekking in Meghalaya
I have always been fascinated with North East India. Meghalaya was one place that I surely wanted to visit and when I saw that there was a 4 days trekking expedition in Meghalaya, I just jumped on the opportunity. What better way to travel than to mix two of my favourite passions? Trek with travel!
PIN for later reference
This article may contain affiliate links. For full information, please see our affiliate disclaimer here.
4 days trekking in Meghalaya
A couple of years ago, I went on an exploration to Meghalaya. It was a 4 days trek visiting different caves and waterfalls in the state. The 4 days trek in Meghalaya was not a hard trek for me. Only the third day was a little difficult because of the number of steps we had to descend and then ascend. Other than the third day, I was fine throughout the trek and had no difficulty. However, I definitely suggest having some kind of trekking experience before attempting this trek especially if you are a beginner.
Trekking agency
The trekking expedition was with Youth Hostels Association of India (YHAI) and the trekking started from YHAI Shillong. Shillong is the capital city of Meghalaya state in India.
The trek cost INR 7100 per person that included the entrance fee, guide fees, transportation and food.
Note: I was forced to buy a YHAI membership by the staff when I reported in Shillong as the trek is only for members. The membership was just around INR 300 for two years.
The previous evening was our reporting day at Shillong and we were given a huge female dorm at YHAI Shillong for the night. The stay was horrible as the toilets were really bad. I suggest staying at one of the nice hotels in Shillong and then joining the trek the next morning. But do ensure to report the previous day so the staff know that you have arrived.
This trek was my second trek with YHAI. I love going with them on treks because:
Their trekking charges are very minimal.
The food that they serve during the treks is fresh and tasty.
The guides are very knowledgeable and professional.
You meet amazing people during the trek and some become great friends.
Throughout the trek, we had a bus with a driver, a guide and a helping hand to the guide and this was arranged by the trekking agency. The bus was very uncomfortable and it had moving seats. And some of the windows were broken. We were also more number of participants than the number of seats in the bus. But our guide Lucky was awesome. I think he is one of the best guides I have ever got during my treks and hikes in India.
The thing with Indians is we usually adjust to whatever we have and get. And hence, none of us said anything and we all were fine with what we had got from the trekking agency.
Important Information
Listen to your guides in the caves as some of them are really hard to navigate around.
If you are claustrophobic, be sure to get the guidance before attempting to go inside the caves.
Ensure to take torches with you when you are exploring the caves.
Wear good and comfortable trekking shoes.
All the days, we slept on the floor in sleeping bags.
Do not expect any showers during the trek.
Do not throw any litter. Take your garbage with you or throw them in dedicated bins.
All the accommodation was shared and it was with shared toilets.
Day 1 – Cave exploration
Did you know that there are more than 1500 caves in Meghalaya and only 950 of them have been explored till now? On our first day of the trekking, we were taken to two caves and we had the chance to see the stalagmites and stalactites in the caves.
Krem puri at Mawsynram
Located about 90 kilometres from Shillong and in Mawsynram, Krem Puri is the longest sandstone cave of the world. The cave stretches for about 24 kilometres. It was surely fun exploring this beautiful cave, crawling and jumping, we made it to a certain distance before returning back.
The cave is open between 9 AM and 4:30 PM.
There is no entrance fee for exploring the cave.
Mawsynram is the wettest place of the world (I was informed that Cherrapunji is no longer the wettest place).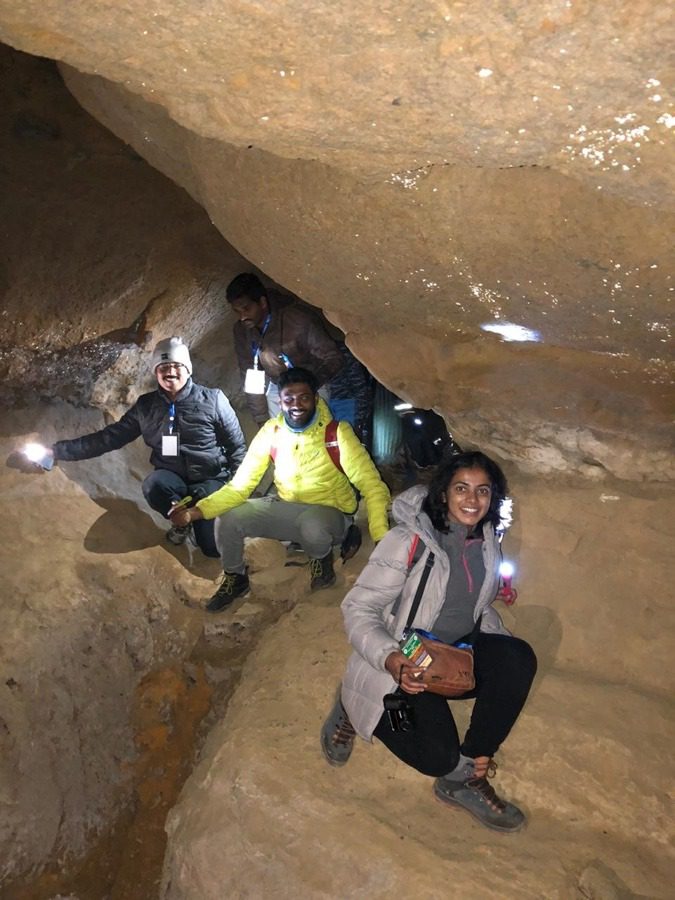 Krem Mawjymbuin cave
Situated in Khasi Hills district, the Krem Mawjymbuin cave, also known as Mawjymbuin cave, has religious significance because of its one metre tall stalagmite that resembles Shiva Linga. The cave is the wettest place on Earth and is 209 metres tall.
The best time to visit the cave is during the day, between 9 AM and 5 PM.
Even though I do not remember paying any entrance fee, I was told that there is an entrance fee of INR 10 per person.
Stay at Laitryngew
At Laitryngew, we stayed at a local school. The stay was comfortable even though the night was very cold as the school room windows were not insulated. There were shared toilets and they were in good condition.
Day 2 – Laitryngew to Sohra
On day 2, we hiked around 15.4 kilometres from Laitryngew to Sohra by visiting three waterfalls including the three layered waterfalls. Undoubtedly, the waterfalls were pretty, but I loved the terrain of the hike. The grassland and walk reminded me of Mount Kosciuszko in Australia. I would rate this walk as an easy one except for the last waterfalls bit where we had to go down the slippery and steep path. But the hike was totally worth it.
Lyngksiar falls
Even though we visited three waterfalls while trekking on day 2, my most favourite was the Lyngksiar Falls. Located in Cherrapunjee, Lyngksiar falls is absolutely breath taking. I believe the waterfalls got its name from a rare orchid known as Tiew Lyngksiar.
Unfortunately, the water was less as it was winters there, in spite of it, the place was mesmerising.
The hike to the falls and back is around 2 kilometres.
The best time to visit the waterfalls is during the day where there is sunlight.
There is no entrance fee.
Dainthlen waterfalls
The Dainthlen waterfalls is a 80 metres waterfalls situated in Cheerapunji. According to local legend, the giant serpent was vanquished by local residents and the sound from the waterfalls and the open space around provide a setting of the great battle.
The waterfalls is open the whole day.
There is no entrance fee.
There are small shops where one can purchase juices and noodles.
Be careful and do not go close to the edge.
Weisawdong waterfalls
Also known as three layered waterfalls, the Wei Sawdong waterfalls is very picturesque and one of the best waterfalls in Meghalaya. The hike to the waterfalls is steep and requires you to be fit. There are around wooden ladders and stairs to get down to the waterfalls.
The waterfalls is open between 8 AM and 5 PM.
There is an entrance fee of INR 30 per person.
Be careful of the eve teasers and locals as they can harass you if you are a solo female travelers.
Stay at Sohra
Sohra is same as Cherrapunji. At Sohra, we stayed at a huge local school close to a church. As the accommodation was huge, there was a lot of open space and the night was extremely cold. I think this was our coldest night.
Day 3 – Sohra to Tyrna
Day 3 was the hardest of all days. We started from Nohkalikai Waterfalls in Sohra to Tyrna via Rainbow Waterfalls (which was the highlight of day) and Double Decker Living Bridge. It was a total of 16.4 kilometres, and the path included descending 6500 steps, a hard return walk to Rainbow falls, visiting double decker living root bridge and climbing 3500 steps to reach Tyrna.
The reason why 6500 steps were a big deal because they were not the normal concrete steps. The steps were made of the tree roots, boulders and slippery paths. Climbing this kind of terrain is easy but getting down is hard as it puts a lot of load on the knees and the fear of falling kicks in.
The previous day at Sohra, we were briefed about the trek on day 3. And some of the trekkers who had already done this trek tried to explain and sketch out the path of the trek and it was hilarious as each one of them used their creative skills to draw the map.
Nohkalikai waterfalls
As part of our trek, we did not hike down to the waterfalls. We started our day by seeing the waterfalls from the viewpoint. With a height of 340 metres, the waterfalls is the tallest in India. One can hike down to the waterfalls and it takes around 2 to 3 hours for the return hike.
The waterfalls can be visited between 9 AM and 5 PM.
There is an entrance fee of INR 20 per person.
Rainbow waterfalls
One of the most prettiest waterfalls that I saw in Meghalaya was the Rainbow waterfalls. The water is blue and crystal clear and the waterfalls create a rainbow when it falls down the rock. It is absolutely stunning and is definitely worth visiting. The trek to the Rainbow waterfalls is hard and takes around 2 to 3 hours.
The waterfalls is open between 7 AM and 7 PM.
There is an entrance fee of INR 20 per person.
Double Decker living bridge
Who does not know about the Double Decker Bridge? It is the most popular touristy spot in Cherrapunjee. And one of the finest examples of how locals adapt to nature and make things work for them. Living root bridges are very common to see in Meghalaya, but I personally loved only the double decker one.
The Double Decker living bridge is a bridge made up of the tree roots. They are hand made bridges built by the Khasi people of South Meghalaya using the Ficus elastica trees. The bridges usually have a lifespan of up to 150 years.
The bridge is open 24 hours but it is advisable to visit it during the day.
There is an entrance fee of INR 20 per person.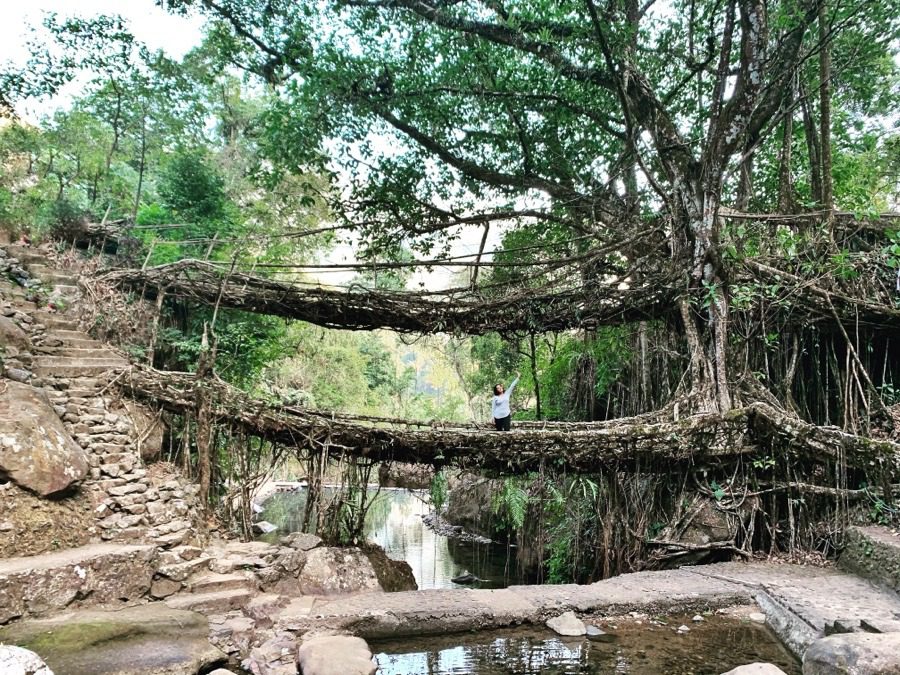 Alternate way to get to Double Decker living bridge
The easiest way to get to the Double Decker living bridge is by reaching the Tyrna village by a car or a bus. From Tyrna, one can take 3500 steps down to the bridge and then climb back the 3500 steps. This way the total number of steps is around 7000. Note this is a hard trek too.
I did the hardest way of getting down the 6500 steps from Nohkalikai waterfalls, and then climbing the 3500 steps to reach Tyrna village. The best thing was after the whole day of hiking, I was still game for hiking back to Double Decker Living Bridge again (3500 steps down and up again) but only as a challenge for a new iPhone. On a serious note, I was so happy with my body strength and the way it was ready to take this rigorous activity again. A few years ago, I was a totally different person, a person who hesitated to walk even a little, who did not want to do any fitness activity and who was lazy. Coming from that place to a place where I can enjoy hiking is a huge achievement for me.
Stay at Tyrna
At Tyrna village, we were given two accommodations. One for the ladies and the other for the guys. The ladies accommodation at B R Syiemlieh home stay was very good. It was a two storey building with multiple rooms with good toilet facilities. The guys stayed at Sacred heart school and we were told that the accommodation was not very good and the night was cold. The best thing about Tyrna is that the village has many home stays and one can rent a home stay for an additional cost.
Day 4 – Cave exploration
The last day was again spent exploring the caves. The limestone caves were absolutely beautiful and were an adventure for sure.
Mawsmai caves
The Mawsmai Caves were a lot of fun exploring as we had to crawl at many places to get to the other side. Formed out of limestones, the Mawsmai caves are quite long but only 150 metres is open for visitors.
The caves are open between 9 AM and 5 PM.
There is an entrance fee of INR 20 per person.
Arwah cave
One of the oldest caves I visited was the Arwah cave. The caves are like a maze and have lots of fossils of fishes and crustaoceans. The formation is said to have happen 56 million years ago.
The caves are open between 9:30 AM and 5:30 PM.
There is an entrance fee of INR 20 per person.
How to reach Shillong?
Flights
Shillong airport, located around 35 kilometres from the city, has very limited flights operated by Air India and they are from Kolkata and Jorhat. The best way to reach Shillong is by taking a flight to Guwahati (Assam) and then taking a taxi to Shillong. The taxi cost INR 1500 to INR 2500 for one way. There are many frequent flights between major cities and Guwahati.
If you are in Assam for a few days, then definitely have a look at my Assam travel diaries for ideas on what you can do.
Buses
Shillong can be reached by buses from Guwahati. There are frequent buses run by Assam state transport corporation. This is the cheapest way to get to Shillong and the journey takes only 2 hours 45 minutes.
Driving
The distance between Guwahati and Shillong is just about 100 kilometres and the road journey takes only 2 hours 30 minutes.
Safety for solo female travelers
I found Meghalaya pretty safe. However, I would definitely suggest going on this trek with a trekking agency as the places are very remote and need local guides to go around. Also, there was one waterfalls which I faced a bit of harassment even though I was with the group.
Closing Notes
Meghalaya truly lived up to its expectations and it was stupendous. I would love to go back there again and stay there for a longer period of time. This state must definitely be on every traveler's bucket list when visiting India.
How can you support me?
You know how much I love coffee, so you can buy me coffee – Buy me Coffee!
Or you can purchase from one of the below travel resources without any extra charge to you.

Travel Resources
Click to book your flight on Skyscanner.com
Click to book your accommodation on Stay22
Click to book a comprehensive travel insurance on Safety Wing
Click to book your tours and travels on Viator or GetYourGuide
If you liked this article and if it was helpful in your planning or traveling, do share, tweet, or pin this post.

Follow me on Instagram | Facebook | YouTube | Twitter | LinkedIn
Do you have a question? Or want any suggestions, and tips for travels, hikes and scuba dives? Use the Subscription box below to sign-up and get updates by email.
PIN for later reference