Shnongpdeng, a paradise in Meghalaya
One of the off beat places in Meghalaya is Shnongpdeng. Everyone goes to Dawki but not many of the tourists know about Shnongpdeng. When I was on a 4 days trekking expedition in Meghalaya, one of the guides mentioned about Shnongpdeng. And I must say it is undoubtedly one of the beautiful places I visited in Meghalaya.
PIN for later reference
This article may contain affiliate links. For full information, please see our affiliate disclaimer here.
About Shnongpdeng
On the banks of River Umngot in the Jaintia Hill district of Meghalaya state in India is Shnongpdeng. The village is known for its crystal clear river water and adventurous water sports activities. It is around 7.5 kilometres from Dawki and is a very less crowded place than Dawki. In fact when we visited Shnongpdeng, there was hardly any tourists.
The best time to visit Shnongpdeng is between the months of October and April as the weather is pleasant.
Did you know that Meghalaya is filled with many of such off beat places and one of the other Meghalaya's off beat places is Phe Phe waterfalls?
How to get to Shnongpdeng?
Driving
Shnongpdeng is around 90 kilometres from Shillong and by road, the journey takes about 3 hours.
One of the best ways to travel in Meghalaya is by hiring a motor bike or a taxi. The motor bike costs around INR 1000 per day and the taxi is about INR 2000 to 3000. Ensure to haggle at both the places to get a reasonable rate.
There is a parking fee that is applicable ranging from INR 10 to 100 per vehicle.
Public transportation
Bus – There is a bus from Shillong to Dawki everyday in the morning at 8 AM from Police Bazaar. And one can take a taxi from Dawki to Shnongpdeng. The distance between Dawki and Shnongpdeng is just 7.5 kilometres and it takes less than 30 minutes to reach by a car.
Sumo cars – There are many shared Sumo cars that are available at Shillong where one can take a ride to Shnongpdeng. As these are shared with strangers, it is surely economical way to travel between the places in Meghalaya.
Visitor Information
Alcohol is not allowed in the village.
No quarrelling, violent behaviour or abusive language is allowed.
Visitors are not allowed inside the village after 10 PM.
If one needs to stay in the village, then a permission need to be obtained from the tourism society of Meghalaya.
Do not throw garbage and dirty the place. Take your rubbish with you.
Respect the local culture.
Things to do in Shnongpdeng
Shnongpdeng, even though not so famous as Dawki has plenty of things to offer. There are many adventurous activities one can do at Shnongpdeng.
Camp by Umngot River
There are many camping tents and home stays available at Shnongpdeng. They are run by two accommodation companies, Bright Star Camps and Home Stay Shnongpdeng or Pioneer Adventures. It is truly an amazing place to spend a night or two where one can soak in the spectacular and raw beauty of Meghalaya.
Zip line across the river
Costing around INR 500 per person, zip lining is a fun activity one can do along the River Umngot. There are two zip lines available, the shorter one is just 400 metres and the longest one is around 800 metres. Pioneer Adventures conduct zip lining activity in Shnongpdeng.
Walk on the Suspension bridge
Opened in the year 2016, the Suspension footbridge is a walking bridge across the river. It provides stunning views of the river and the water beneath.
Snorkeling and scuba diving
What better way to enjoy the warm and crystal water than snorkeling and scuba diving? The only river scuba diving in India is available at Shnongpdeng. Pioneer Adventures conduct both these activities.
Unfortunately, I did not do these activities while I was in Shnongpdeng. But these are surely for my next visit.
Cross over the Root bridge
One of the living root bridges found in Meghalaya is at Shnongpdeng. The bridge is a great place to see how the locals engineer used the roots of the trees and created a suspension bridge. At a time, around 7 to 8 people can cross the bridge.
Cliff jump into the river
Cliff jumping is surely not for the faint hearted but is an extremely fun and adventurous activity. I have cliff jumped twice in the past and have had such an adrenaline rush. This activity is also conducted by Pioneer Adventures. There are 3 levels of height, 6, 14 and 22 feet and these are based on how confident and adventurous the person is.
Kayak or go boating over the river
Kayaking or boating on the rives must surely be on your list when visiting Shnongpdeng. The feeling of being close to the clear and blue water is something that cannot be expressed by words. The boats and the kayaks when photographed from the banks of the river seem as though they are floating in the air.
Safety for solo female travelers
Meghalaya in general is very safe for solo female travelers. I did face some harassment in one of the waterfalls I went during my trek but not near Shnongpdeng. The villagers are extremely friendly and nice. However, like any other place, be careful and know your surroundings, especially at night.
Are you new to solo traveling? Or do you have lots of questions related to it? Then read my frequently asked question on solo traveling.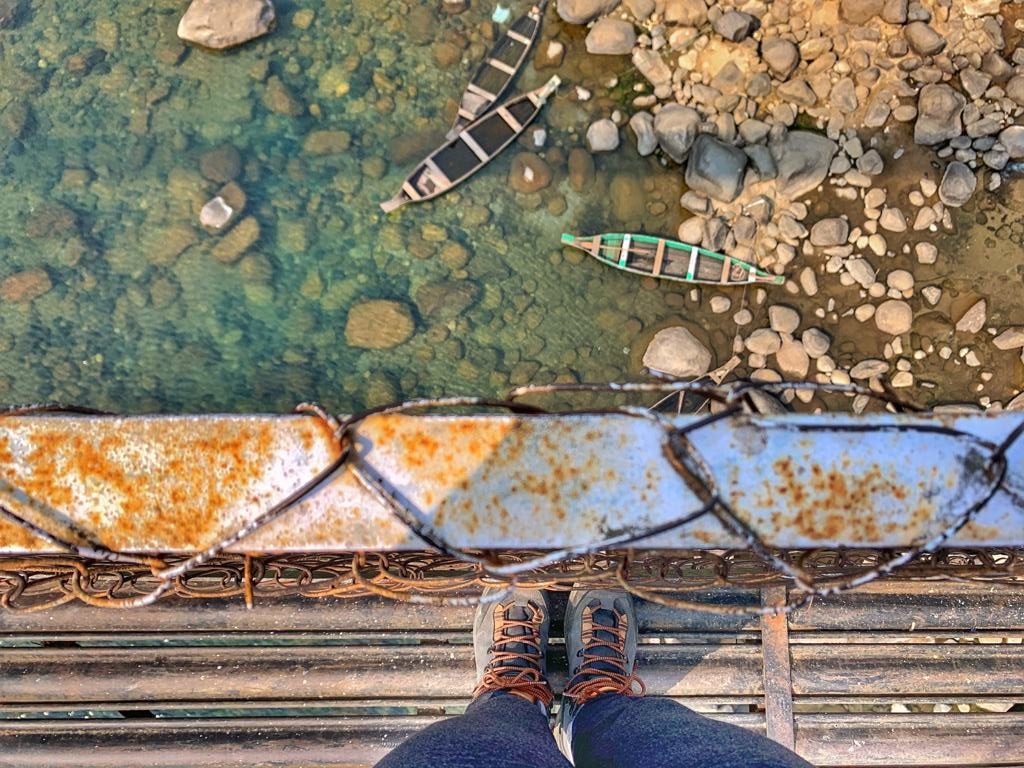 Closing Notes
Shnongpdeng is truly a paradise. The colours of the water and the whole vibes of the village is absolutely amazing. I would highly recommend this place when you are in Meghalaya. As it is less crowded than Dawki, I loved visiting Shnongpdeng and spending time there. Unfortunately, I was there only for a day and I do hope to go back again and stay there for long.
Have you been to Shnongpdeng? Let me know what you loved about the place in the comments below. Also, did you like Shnongpdeng or Dawki?
How can you support me?
You know how much I love coffee, so you can buy me coffee – Buy me Coffee!
Or you can purchase from one of the below travel resources without any extra charge to you.

Travel Resources
Click to book your flight on Skyscanner.com
Click to book your accommodation on Stay22
Click to book a comprehensive travel insurance on Safety Wing
Click to book your tours and travels on Viator or GetYourGuide
If you liked this article and if it was helpful in your planning or traveling, do share, tweet, or pin this post.

Follow me on Instagram | Facebook | YouTube | Twitter | LinkedIn
Do you have a question? Or want any suggestions, and tips for travels, hikes and scuba dives? Use the Subscription box below to sign-up and get updates by email.
PIN for later reference