Akshayakalpa Farm Visit, weekend getaway from Bangalore
Do you enjoy farms? Do you want a relaxed getaway from Bangalore where you can forget all the city hustle bustle and enjoy a nice stay at a farm? Then Akshayakalpa farm visit at Tiptur is perfect for you. A couple of weekends ago, I had an opportunity to visit Akshayakalpa. Since it was a road trip, I decided to invite one of my girl friends so we can have a beautiful and enjoyable girls trip.
The visit was very educational and informative. Being a city girl, I have hardly visited any farm or village and hence this was an amazing experience where I lived at a farm. I would like to thank Akshayakalpa and the staff members for hosting me and my friend, and most importantly introducing me to the farm and village life.
If you are looking for other farm stays around Bangalore? Read Chiguru farm or Chukkimane.
PIN for later reference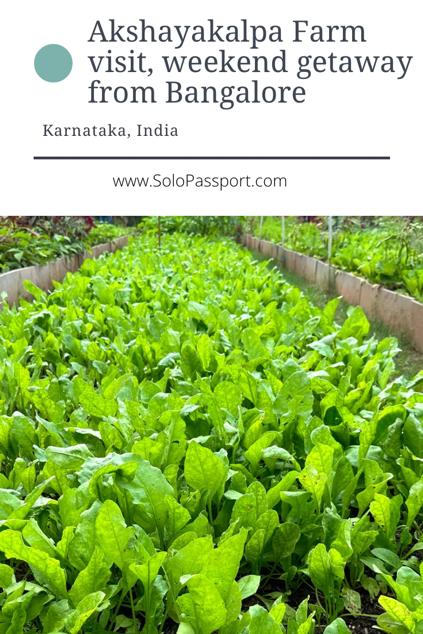 This article may contain affiliate links, meaning if you decide to make a purchase via my links, I may earn a commission at no additional cost to you. For full information, please see our affiliate disclaimer here.
About Akshayakalpa
Registered as a company in 2010, Akshayakalpa Organic is the first certified organic milk brand in India and has the headquarter in Tiptur. Founded as a farmer-entrepreneurship initiative, the company's aim is to resolve the issues of economic non-viability of dairy and agricultural farming.
According to their website, Akshayakalpa's vision is to share a healthier and more sustainable food ecosystem through farmer-entrepreneurship collaboration.
Today, they are working with farmers in Karnataka, and Tamil Nadu. Even though they do not have any dairy farms of their own, they work with farmers to set up small organic dairy that are owned and managed by the farmers themselves.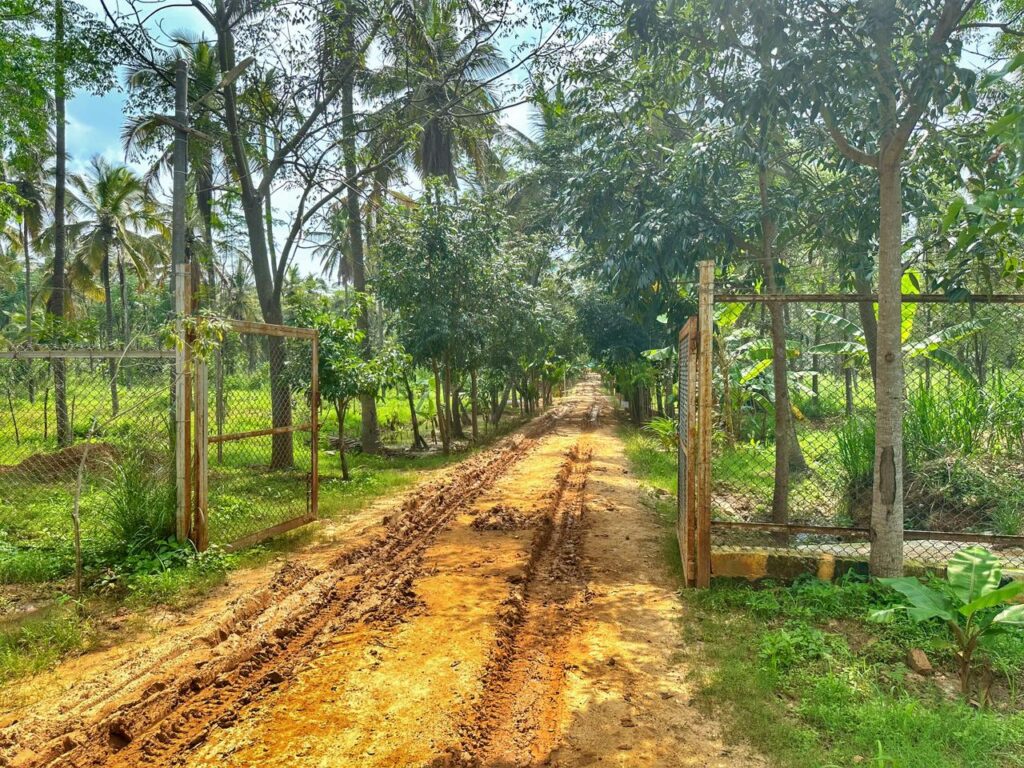 How to get to Akshayakalpa Farms from Bangalore?
Driving – Akshayakalpa farm in Tiptur is around 160 kilometres from Bangalore. The route is towards Tumkur. The highway is in good condition but the road after the deviation through the village is not great and that is where you would drastically slow down. By road, the journey would take about 3 to 4 hours.
Public transportation –

Trains: There are frequent trains between Yeshwanthpur train station in Bengaluru and Tiptur railway station. From Tiptur railway station, either take a local bus or a taxi to reach Akshayakalpa. The distance between the railway station and Akshayakalpa is just around 3 to 5 kilometres.

For up-to-date information on trains, refer IRCTC website.
For local buses and taxis, talk to the locals when you get down at the railway station.

Buses: There are also many buses that travel between Bengaluru and Tiptur. These buses are operated by Karnataka State Road Transport Corporation (KSRTC) or private operators.
Things to do at Akshayakalpa farm Bangalore
Note: You can also visit the Akshayakalpa farm in Chennai as well.
Harvest vegetables from the fields
One of the most interesting activities to do at the farm is to harvest fresh vegetables from the fields. All vegetables grown here are organic and chemical free. Various methods of gardening are used in the field to grow vegetables. On previous day of the harvest, one of the staff members took us around the field and explained us the different methods used to grow vegetables and why they are grown in a certain way.
Take a farm walk and educational tour
The farm has many trees and plantations that grow a variety of fruits and vegetables. The staff members took us around the farm to explain the various sustainable farming techniques applied, biogas setup and the trees/plantations grown. At some parts of the farm, we were encouraged to walk bare foot and it was therapeutic.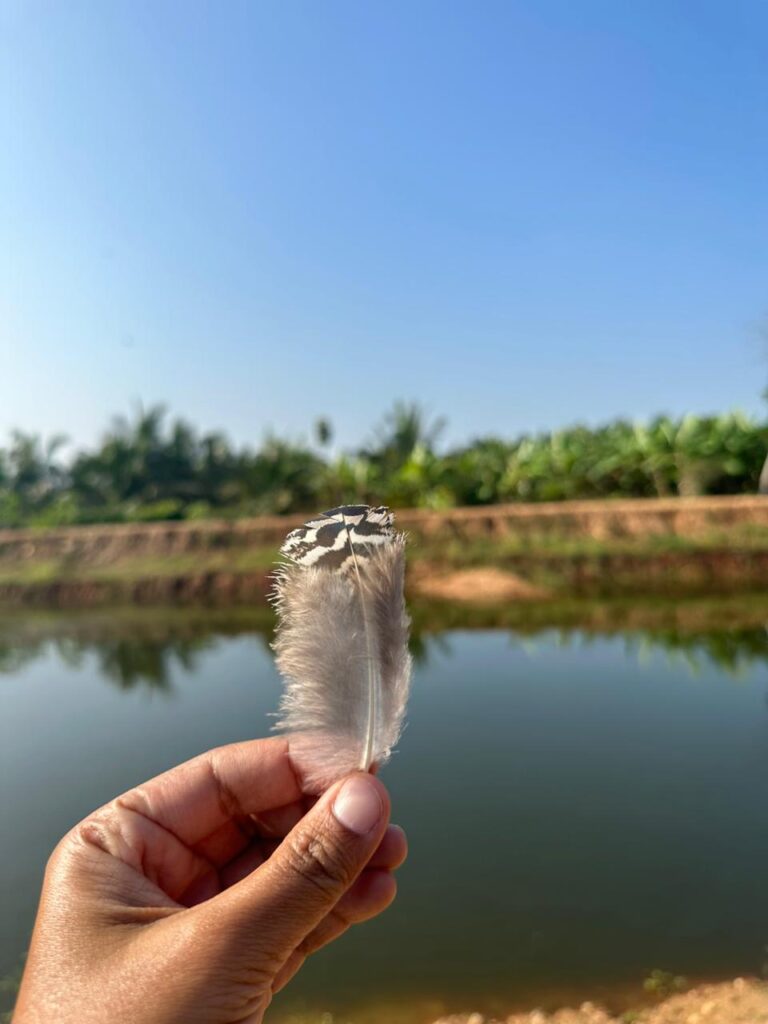 Learn about automated cow milking process
Let me be honest, I had never seen a cow milking process before, let alone automated cow milking process. This was one of the most educational parts of the farm visit. A local veterinarian and the staff members showed us the milking process and how the milk is processed later once it has been milked from the cows. One of the friendly cows interacted with us too while we were listening to the vet. We were also provided with an opportunity to taste raw milk.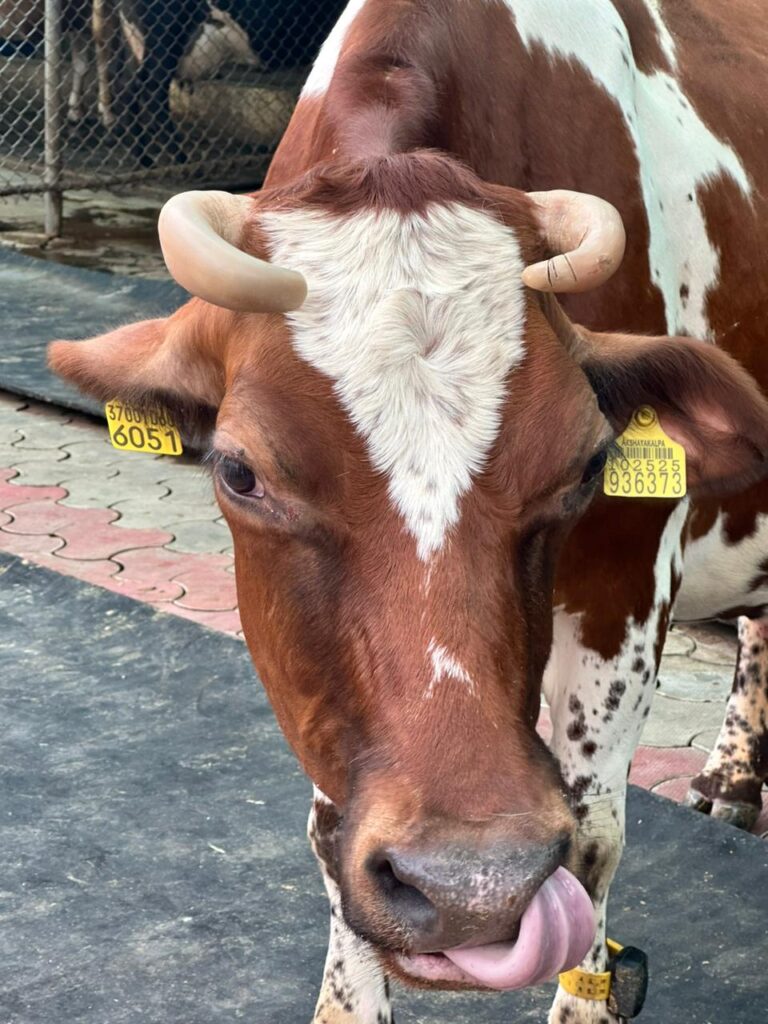 Experience camping in a spacious tent
It is always nice to get away from the city life and experience a minimalistic life. And one of the best ways to live a minimalistic life is to stay at the tents. Even though the setup was supposed to be minimalistic, the camping tents pitched at the farm are spacious and huge that can easily accommodate more than 3 people. There were beds and bedsheets within the tent that made the sleep comfortable.
Note: Do not forget to take your own blankets as they are not provided along with the tents.
Taste and buy their organic dairy products
Being the number one producer of organic products in India, Akshayakalpa has some delicious and tasty dairy products. As part of the activities, the staff members also walked us through various products they produce and explained us the entire process that goes behind producing these products. The milk, curd, yogurt, and cheese were some of the products shown to us. I absolutely loved their smoked cheddar cheese, it was mouth-watering.
Akshayakalpa has a mobile app of their own. You can download the app and place the order. They have also collaborated with Big Basket so you can buy their products.
Feast on local and authentic village food
On both the days, we were served with tasty and authentic village food. The food was simple without too many spices but there was variation of food. It was again a beautiful reminder to eat fresh and respect the local food. The vegetables used for cooking were from their own farm and were organic.
Have fun by playing village games
We were taken back to the childhood days. There were a few village games that were setup at the farm. My friend and I loved the swings and we spent most of our time at the swing. Other guests enjoyed playing the catapults, archery, bow and arrow, coconut tree climbing and others. They were especially favourite for the kids that were visiting the farm.
Unwind at a bonfire
Like everyone else, I am in love with bonfires. Just relaxing by the fire, listening to the stories, and watching others groove and enjoy are some of my favourite things to do at a bonfire. The staff member set up a bonfire for all the guests to gather around and listen to the dance numbers. My friend and I decided to sit on one of the cemented benches while we watched the kids dance with ease and enthusiasm. It was surely one of the memorable events during our stay.
See the sky full of stars
The farm has zero light pollution at night and is one of the perfect places to see Milky Way in India. While we were returning from the bonfire to our tents, my friend and I had an uninterrupted view of the stars and trust me there were millions of them if not billions.
Listen to the peacocks
What better way to start a day than being woken up by the sounds of peacocks? The farm has many wild peacocks and peahens that wander around. So, if you are lucky, you may spot a peacock or two on your walks.
Cost to visit and stay at Akshayakalpa farm
Disclaimers:
The prices mentioned in the post are valid only at the time of publication. Ensure to check the booking websites for up to date information and prices.
Opinions and views expressed solely mine and are unbiased. If the post is a collaboration, then they are specifically mentioned.
Ensure to check the relevant websites for up to date information on COVID protocols.
For any adventurous activities, please note that there is a risk that can be dangerous. Ensure to read the terms and conditions with individual agencies recommended and do them at your own risk.
For visas, it is best to see the embassy website for any changing rules.
Akshayakalpa has different set of activities visits depending on the number of days you wish to spend at the farm. And the cost varies based on the days. The bookings can easily be done by contacting them (+919535388122 or farmvisit@akshayakalpa.org). All contact details are also mentioned on their website.
All prices mentioned below includes experience and food and does not include the transportation.
They do not have farm visits on all the days.
One day visit
For a child below 5 years of age: Free.
For a child between 5 and 12 years of age: INR 250 per child.
For an adult above 12 years of age: INR 500 per person.
Two days visit
For a child below 5 years of age: Free.
For a child between 5 and 12 years of age: INR 500 per child.
For an adult above 12 years of age: INR 1000 per person.
Safety for solo female travelers
Even though I visited Akshayakalpa with a friend, I can say that it is absolutely safe for solo female travelers. The staff are very friendly and caring and take care of you throughout the time you are there. I highly recommend this farm for solo female travelers. However, like any other place, be cautious, especially at night as the farm does have snakes.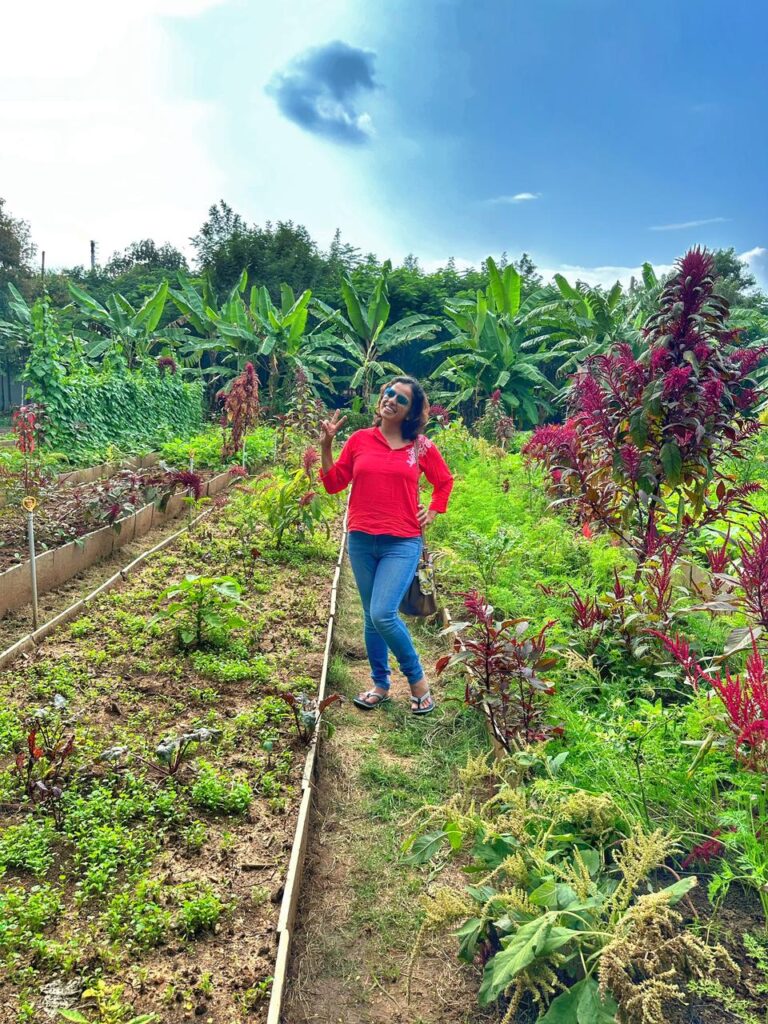 Frequently asked questions (FAQ)
How far is Akshayakalpa farm from Bangalore?
Akshayakalpa is around 160 kilometres from Bangalore and the journey by road takes about 3 to 4 hours one way.
What all activities can we do at Akshayakalpa Bangalore?
The visit to the farm is jam-packed with amazing activities. They include seeing the automated cow milking process, walking around the farm, playing village games, learning about bee keeping, and many more.
What food do they serve at Akshayakalpa Bangalore?
The food is included in the prices and the food served is basic but authentic village food. It has rice, roti, vegetables, and rice. The food is also supplemented with curd, and pickles. During the visit, refreshments such as butter milk, coffee and tea are also served.
What organic products can I buy at Akshayakalpa?
Akshayakalpa produces organic and delicious dairy products. Their products include milk, curd, yogurt, panner and cheese. You can either buy them at the farm or online from their app or on Big Basket.
How much does it cost to stay at Akshayakalpa Bangalore?
The price varies depending on the number of days of the visit. Contact +919535388122 or farmvisit@akshayakalpa.org for booking your visit.
Number of days
Pricing
One day visit
Below 5 years: No charges.
5 years to 12 years: INR 250 per child.
Above 12 years: INR 500 per person.
Two days visit
Below 5 years: No charges.
5 years to 12 years: INR 500 per child.
Above 12 years: INR 1000 per person.
Cost for farm visit at Akshayakalpa
What are the days I can visit Akshayakalpa?
The farm visit is not open on all days of the week. Fridays are closed and you cannot visit the farm that includes Friday as a day. The days you can visit for two days activities are:
Monday and Tuesday.
Wednesday and Thursday.
Saturday and Sunday.
Where are do Akshayakalpa have farm visits?
Akshayakalpa farms are near Bangalore and Chennai. You can visit either of them.
Closing Notes
Staying and visiting Akshayakalpa was very special for me. There were many things I did and saw for the first time, such as vegetable harvesting and automatic cow milking process. I had never seen them before. And hence the weekend spent at the farm was totally worth it. If you have a family and want to have a nice weekend away, then this is the place. The kids will love all the activities and also learn about sustainability and organic farming methods.
Note: I was hosted by Akshayakalpa for the weekend and this post is written in collaboration with them. But all the views and opinions expressed in this blog post are solely mine and unbiased.
How can you support me?
You know how much I love coffee, so you can buy me coffee – Buy me Coffee!

Or you can purchase from one of the below travel resources without any extra charge to you:
Travel Resources
Book your flight on Skyscanner.com
Reserve your accommodation on Stay22
Buy a comprehensive travel insurance on SafetyWing and WorldNomads
Book your tours and travels or purchase tickets on Viator or GetYourGuide
If you liked this article and if it was helpful in your planning or traveling, do share, tweet, or pin this post.

Follow me on Instagram | Facebook | YouTube | Twitter | LinkedIn
Do you have a question? Or want any suggestions, and tips for travels, hikes and scuba dives? Use the Subscription box below to sign-up and get updates by email.
PIN for later reference