Chiguru Farm, a farm stay near Bangalore
Are you one of those who love visiting farms? Or do you love taking your kids to near by farms so they can interact with farm animals? Then Chiguru Farm is a perfect farm stay near Bangalore. I have been to many farms around the city and I must admit that I was impressed with Chiguru farm and its owner Raghu (a.k.a Raghavendra Bhat).
PIN for later reference
This article may contain affiliate links. For full information, please see our affiliate disclaimer here.
About Chiguru Farm, farm stay near Bangalore
Chiguru, meaning new leaves in Kannada, is the name of an organic and sustainable farm that is spread across 15 acres. Opened in 2014, the farm is owned by Raghu, an ex-software professional who had the passion to start an organic farm.
The main courtyard, kitchen, rooms and dining hall are all built using eco friendly materials and methods and they occupy 3 acres of the total land. I absolutely loved the huge Tulsi (Basil) katte (pot) at the entrance in the courtyard. It is a perfect farm stay near Bangalore and to spend a day or a weekend amidst nature, learning and interacting with farm animals.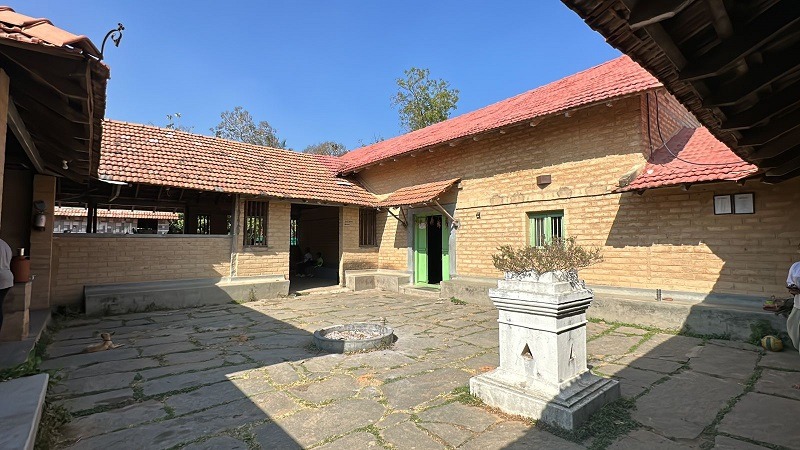 Stay options at Chiguru Farm
Chiguru farm has a few rooms and stay options, as Raghu wants to maintain the farm as raw as possible and not treat it like a resort or a luxurious hotel. Packages include the stay, food and activities.
Disclaimers:
The prices mentioned in the post are valid only at the time of publication. Ensure to check the booking websites for up to date information and prices.
Opinions and views expressed solely mine and are unbiased. If the post is a collaboration, then they are specifically mentioned.
Ensure to check the relevant websites for up to date information on COVID protocols.
For any adventurous activities, please note that there is a risk that can be dangerous. Ensure to read the terms and conditions with individual agencies recommended and do them at your own risk.
For visas, it is best to see the embassy website for any changing rules.
There are four stay options at the farm:
Two spacious rooms in the main building where each room can accommodate a family of 4 adults and 2 children. The rooms are fitted with attached toilets. Packages start from Rupees 3600 per adult and Rupees 2900 per child older than 5 years.
Container room that can accommodate 3 people. And this is fitted with an attached toilet. Packages start from Rupees 3700 per adult and Rupees 3100 per child older than 5 years.
Tent like room which is next to Container room. And this can accommodate additional 2 people and is perfect for adults from the same group. Packages start from Rupees 3300 per adult and Rupees 2900 per child older than 5 years.
Tents or Camping option provides space for at least 10 tents, with each tent accommodating 2 to 3 people. The common toilets are by the main building. Packages start from Rupees 3300 per adult and Rupees 2800 per child older than 5 years.

This space is also used for star gazing and workshops for astro-photography.
How to get to Chiguru Farm?
Located in Kanakpura district, Chiguru Farm is around 70 kilometres from Bangalore. The route is towards Mysore and then takes a deviation at Bidadi. By road, the journey takes around 2 hours.
Food at Chiguru Farm
At Chiguru Farm, you will get to taste authentic village food that is a mix of both Uttara Karnataka and Bangalore cuisines. When we visited, we were served delicious Obattu, Jolada rotti (Indian bread made of Millet), Palya (Vegetable dish) and chutneys. And the best thing was that they were served on a eco friendly plates that were made of branches and leaves from the farm.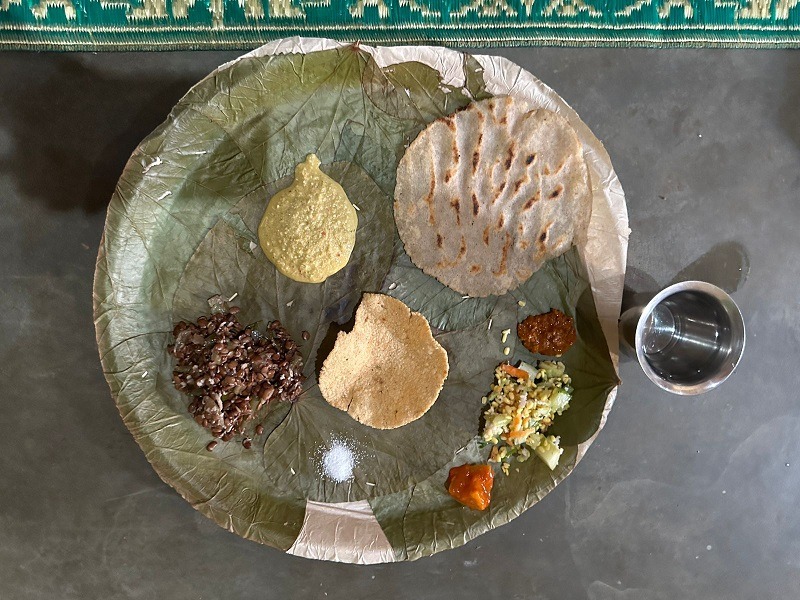 Also read: Chukkimane in Javanagahalli village in Mandya district
Activities in and around Chiguru Farm
Highlight: Stars, satellites and planets gazing
One of the unique selling proposition of the farm is the star gazing and astro-photography workshops that are conducted by Vijay Kapoor, founder of Bangalore Astronomy Club.
Even though there was no full fledged workshop when we visited the farm, the star gazing event was absolutely amazing and brilliant. Vijay had set up two of his telescopes (Meade LX200 ACF -14″ f/10 OTA and Explore Scientific ED127CF f/7.5 AS Triplet APO OTA) in the middle of the camping area where we had an opportunity to see many beautiful stars and planets, including the Sun spots, Venus, M45, Moon, Sirius, Onion Nebula, Betelgeuse, among others.
While Vijay was setting up the telescopes and others were taking turns viewing the stars, my friend and I had a great time shooting the stars and experimenting the various settings on the camera.
Try your hand at pottery and make your own pot
Another lovely activity to try is to make your own pot that can be taken back as a souvenir. Even though the art of pottery seems easy, I realised that it takes immense patience and focus to make a small pot.
Take a farm tour and taste fresh vegetables and fruits
The farm has various sections where as a guest can take a guided tour from the man himself Raghu. There is also a food forest where there are trees that grow veggies and fruits, that are available to be eaten by birds, animals and guests as well. We plucked fresh figs from the tree and tasted the organic fruit.
These trees and plants are all grown using natural farming where the natural methods are used as pesticides and manure. The natural farming is one type of organic farming and is traditional farming using chemical free method.
Play with dogs, cats and other farm animals
The farm is home to many animals, including a calf and a pup. You can interact with these wonderful animals and each one of them are friendly. Be careful of Champ (the dog) and the puppy, both of these love Jackfruits and will blackmail you into giving some to them.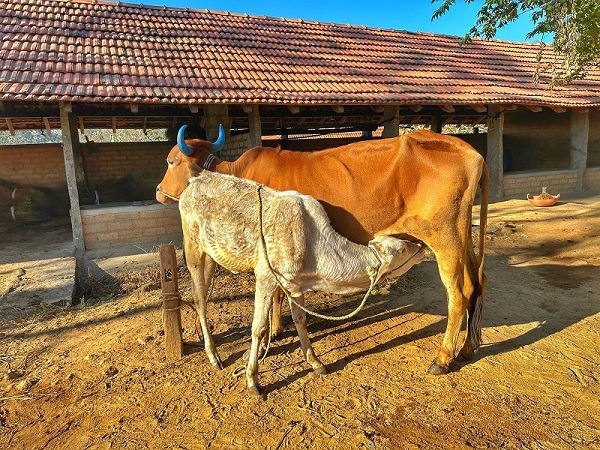 Go bird watching and monkey spotting
As there are many trees and plants, the farm attracts many species of birds. During my visit, I spotted plenty of Indian rollers, and bee eaters. Raghu also informed us that there are many monkeys in the farm.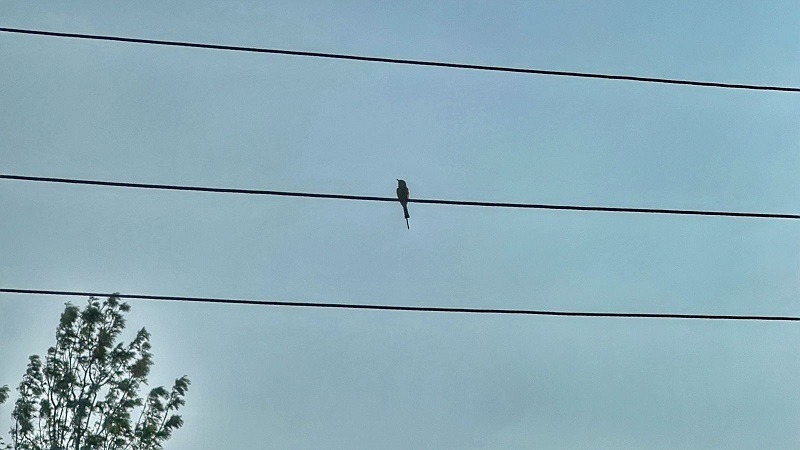 Take your memory lane back to your childhood and local village games
The common area near the courtyard has board and local games, that remind you of your childhood. I was surely taken back to mine when I saw the Alugulimane game, a popular South Indian native game.
See the 150 year old Banyan tree
One of the prominent features of the property is the 150 years old Banyan tree. Located closer to the entrance of the main building is this Banyan tree. It is a perfect place to hang out in the afternoon and chill under the shade of this massive tree.
Raghu told us an interesting story of how Banyan tree got its name. He mentioned that the name was initially given by the Europeans who observed Baniyas (Indian traders) sitting under the tree frequently and hence the name Baniyas tree, which then became Banyan tree.
Visit the near by ancient Shiva temple
Situated just next to the farm is the ancient temple dedicated to Sree Omkareshwara Swamy, the avatar of Lord Shiva. It is believed that the temple is more than 1000 years old and the complex has stone inscriptions. The temple is a short walk from the farm and is open in the mornings till 9:30 to 10 AM.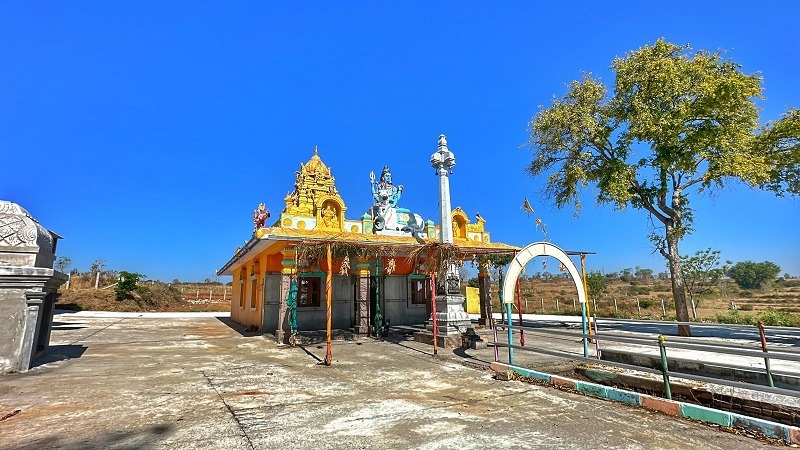 Package at Chiguru Farm
Weekend itinerary
The weekend itinerary starts at 1 PM on a Saturday and ends at 10 AM on a Sunday with one night stay at the farm.
Day 1
Lunch: You will be served appetizing local Kannada lunch that are prepared using the farm grown vegetables and lentils.
Indoor games and activities: After lunch, get involved in pottery and Solar astronomy sessions.
Pitch tents: In the late afternoon, pitch your own tents before heading to view the sunset.
Sunset: Visit the sunset point to witness the spectacular sunset.
Astronomy session: Take astronomy lessons and view the stars and planets.
Dinner: Again enjoy a beautiful dinner.
Star gazing and night sky sessions: After dinner, learn and understand the objects of night sky. View planets, nebulas, star clusters and other objects using the telescopes.
Day 2
Early morning star gazing and sunrise: Start your day with some more star gazing and viewing of Milky Way. And then see the lovely sunrise.
Farm tour: After morning tea/ coffee, take a guided tour of the farm and learn about the fruits and vegetables grown at the farm.
Pack tents: Before breakfast, un-pitch and pack up the tents.
Breakfast: Enjoy the variety of local breakfast items.
Bid Goodbye: Depart from the farm with lots of memories.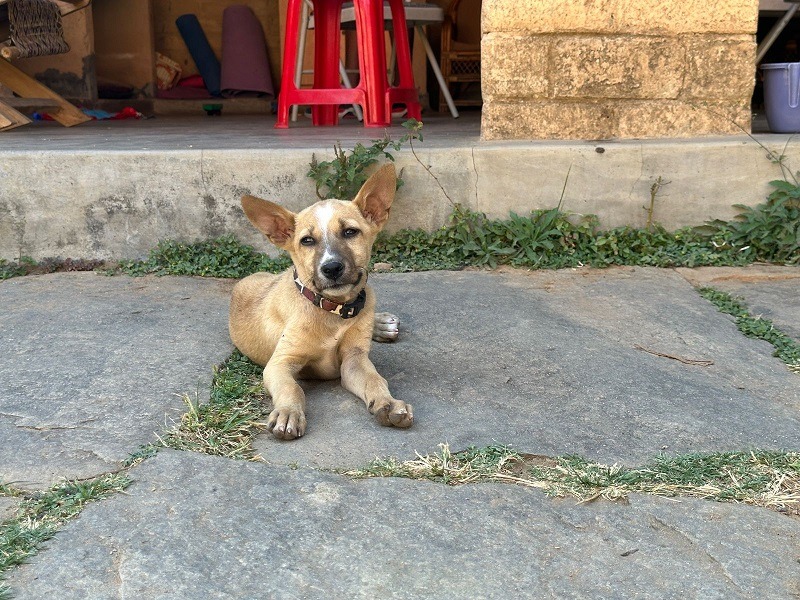 Frequently asked questions (FAQ)
Q: How far is Chiguru farm from Bangalore?
Chiguru Farm is around 70 kilometres from Bangalore and is situated in Kanakpura district. It takes a little over 2 hours by road.
Q: What kind of accommodation options are available at Chiguru farm?
There are four stay options:
Two rooms with attached toilets.
Container room with attached toilet.
Tent like room.
Camping options.
Q: How do I book my stay at Chiguru farm?
The stay has to be booked in advance and Raghu does not encourage walk-ins. You can book either message on their Facebook page or by calling on Raghu's mobile number +91 98452 58575.
Q: How much does it cost to stay at Chiguru farm?
Below are the rates of the stay options:
Note: Do contact Raghu for updated information on prices and availability.
| | | |
| --- | --- | --- |
| Stay type | Price per adult | Price per child (> 5 years) |
| Spacious room | Rupees 3600 | Rupees 2900 |
| Container room | Rupees 3700 | Rupees 3100 |
| Tent like room | Rupees 3300 | Rupees 2900 |
| Tent/Camping | Rupees 3300 | Rupees 2800 |
Price of the packages
Q: What are the activities that I can do at Chiguru farm?
You can indulge in many activities at the farm:
Interact with farm animals.
Make your own pot.
Play indoor and childhood games.
Star gaze and look at billions of stars.
Learn about astro-photography.
And many more.
Q: What is the food that is served at Chiguru farm?
At Chiguru Farm, you are served authentic village food made by the local villagers itself. The food is delicious and tasty. Only vegetarian food is served at the farm.
Q: What are the things that I can buy at Chiguru farm?
You can buy the locally produced products such as cold pressed coconut oil, papads (crackers), flour, and many more. These are reasonably priced.
Q: Do they allow pets at Chiguru farm?
Yes, pets are allowed at Chiguru Farm. You can surely take your fur babies to have a weekend out at the farm.
Q: Are unmarried couples allowed at Chiguru farm?
Yes, unmarried couples are allowed at Chiguru farm.
Q: How to book the star gazing events?
You can either contact Vijay Kapoor on Bangalore Astronomy Club or Raghu directly.
Safety for solo female travelers
Absolutely yes! Chiguru Farm is very safe for solo female travelers. Raghu and the staff at the farm are very friendly and caring. But be careful while you are venturing and walking around the farm as there are many snakes and wildlife.
Closing Notes
I had an amazing time at Chiguru Farm and the weekend was perfectly spent. If you are looking for a relaxing holiday out of the bustling city of Bangalore, then Chiguru Farm is the answer.
Note: This post is written in collaboration with Chiguru Farm. But the views and opinions expressed are honest and unbiased.
How can you support me?
You know how much I love coffee, so you can buy me coffee – Buy me Coffee!
Or you can purchase from one of the below travel resources without any extra charge to you.

Travel Resources
Click to book your flight on Skyscanner.com
Click to book your accommodation on Stay22
Click to book a comprehensive travel insurance on Safety Wing
Click to book your tours and travels on Viator or GetYourGuide
If you liked this article and if it was helpful in your planning or traveling, do share, tweet, or pin this post.

Follow me on Instagram | Facebook | YouTube | Twitter | LinkedIn
Do you have a question? Or want any suggestions, and tips for travels, hikes and scuba dives? Use the Subscription box below to sign-up and get updates by email.
PIN for later reference