I visited this land as part of the Kakadu National Park day trip from Darwin. The tour included a boat trip which was organised along the East Alligator River, there was a stop to step into the Arnhem Land. Unfortunately, I did not get a chance to explore the entire land and see the places as listed in the Northern Territory website. But I do have this on my list of things to do and I would love to go back to experience the culture of the aboriginal people.
PIN for later reference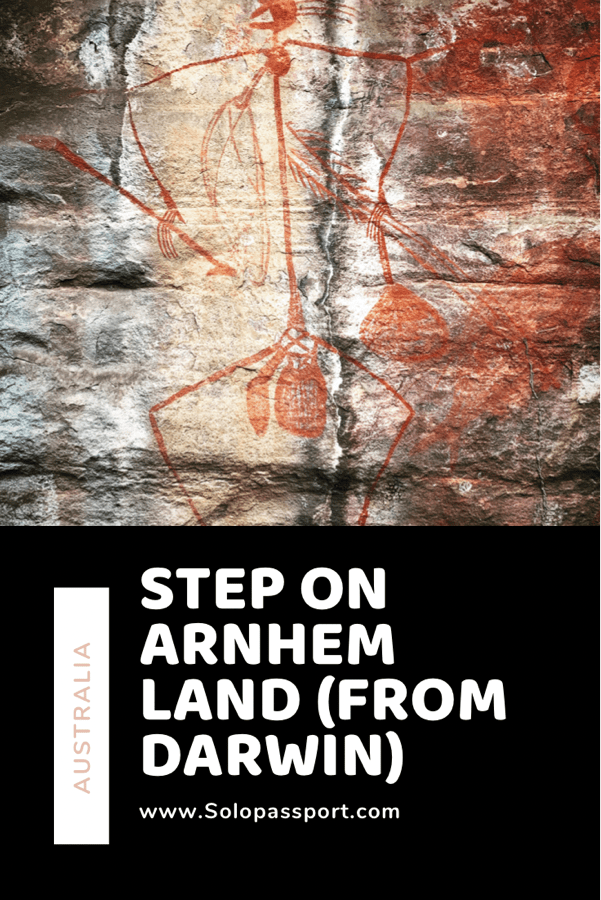 Please note: This post may contain affiliate links which means I may earn a commission if you make a purchase by clicking a link on this post. This will be at no additional cost to you. Affiliate links help me keep this website up and running. Thank you for your support.
Where is Arnhem Land?
Arnhem Land is an untamed and untouched wild area in the northeast corner of Northern Territory of Australia. Nhulunbuy is the service hub of Arnhem Land and is the sixth largest township in Northern Territory. The township was created on the Gove Peninsula in the late 1960s. Other centres include Yirrkala, Gunbalanya, Ramingining and Maningrida.
Most places in Arnhem Land do not have mobile coverage. However, I believe there is Telstra network near Maningrida.
Known for its gorges, rivers and pristine waterfalls, it is a home to the Yolngu people. It is also the home for the famous musical instrument the didgeridoo. The didgeridoo is a wind instrument, played with continuous vibrating lips to make a sound using a technique called circular breathing.
The Arnhem Land was named after the Dutch ship Arnhem in the year 1623, almost 400 years ago. The total population on the land is approximately 16,000 people out of which 12,000 are the Yolngu people.
Tour details
Tour name: Kakadu Full-Day Tour from Darwin Including Ubirr, Guluyambi, and Arnhem Land.
Provider: Offroad Dreaming.
Cost: AUD 260.00 per person.
Note: There is a fee to enter the national park, which is usually taken care by the tour agency.
East Alligator River – Gateway to Arnhem Land
The East Alligator River is the gateway to Arnhem Land. One needs to take a boat ride from Australia mainland (Kakadu National Park) to Arnhem Land. The land is one of the last untouched wilderness area in Australia. To visit Arnhem Land, one needs special permits. The permits have to be applied through Northern Land Council or Dhimurru Aboriginal Corporation.
Note: One can also drive to Arnhem Land via Katherine Gorge.
The Venture North tour agency runs multiple-day tours to Arnhem Land. Someday I wish to go back to experience this beautiful culture and see the traditional aboriginal people on their land.
Note: The East Alligator River is home to the most deadliest marine life. The river and the banks of Arnhem Land are infested by salt water crocodiles and the river has Bull sharks and the water pythons. So this is a river which you definitely do not want to mess with.
Northern Territory government has an initiative called Be Crocwise. This is to educate people about the dangers and risks of being in a salt-water crocodile infested areas.
Who lives in Arnhem Land?
Yolngu people live in Arnhem Land and are the traditional owners of the land. They are the indigenous Australian people. According to Wikipedia, in Yolnu languages, 'Yolngu' mean 'people'. It is said that these people have taken care of the land for more than 40,000 years.
Arnhem Land is owned by the aboriginal people under the Commonwealth laws.
The Arnhem Land is considered as sacred as the land has been passed down the generations. The culture and the traditions are part of the aboriginals and this land is the square destination only for the aboriginals.
An insight into Kunwinkgu tribe culture
Mandedaidai Namatnyilk was our guide, on the boat ride that we took on the East Alligator River. He was from Kunwinkgu tribe. Very knowledgeable and he told us stories about his culture and his land.
One of the most amazing and interesting things he shared was about their ritual when someone from their tribe passes away. He said that in their tribe (as they cannot burn the body in Australia), they first lay the person on a platform covered with a bark of a tree and leave the body to decay by itself for 3 years. After 3 years or so, the tribe members collect the passed away person's bones and keep it with them for the next 6 months. During that 6 months, members of other tribes come and bless that person who has passed on. The bones are then coloured red and are buried inside the caves or the trunk of the trees for the person to rest. The whole process to rest someone who has passed on takes about 4 to 5 years.
I found this extraordinarily amazing and emotional. In an era where everyone moves on so fast, this culture still believes in grieving and resting someone that takes 4 to 5 years. That's like Wow!
Safety for solo female travelers
I would suggest visiting this land with a reputed tour agency. With so many risks of crocodiles and the permits involved, the best and easiest way would be by being a part of a tour. So a definite No from my end if you are traveling alone.
In case you decide to travel alone, then ensure to let your family or friends know of where you are going and provide them with a rough itinerary.
Closing notes
I am sure that there is no other land like the Arnhem Land. This is a one of the kind experience that everyone must have when visiting Norther Territory. The Arnhem Land was surely beautiful even though mine was a very short visit. I would love to go back someday and spend more days on the land.
Darwin has plenty of things to do as well, so in case you are looking for a weekend to spend in Darwin, refer my post 2 days in Darwin.
Gallery
PIN for later reference
Also read: