Top 10 things to do in Australia
I get asked this question a lot, "What are my favourite and top 10 things to do in Australia?". The question is asked by some of the fellow travelers who wish to plan their travels or by others just out of curiosity. Whatever the reason be, the question is the same and everyone wants to know. Honestly, I feel Australia is much more than the Great Barrier Reef and the Great Ocean Road. Most tourists and travelers know Australia only for those two iconic places. Don't get me wrong, they are definitely beautiful and are a must-visit. However, I do feel that Australia has so much more to offer and hence I have compiled a list of top 10 things to do in Australia. I have done each one of the ones listed and I have thoroughly enjoyed them.
PIN for later reference
Please note: This post may contain affiliate links which means I may earn a commission if you make a purchase by clicking a link on this post. This will be at no additional cost to you. Affiliate links help me keep this website up and running. Thank you for your support.
Top 10 things to do in Australia
Number 1: Heart Reef
Top on my list and my most favourite is viewing the Heart Reef from a sea plane. Australia is home to a natural reef which is in the shape of a heart. The reef can be seen only by air, which is either to take a seaplane or a helicopter.
This is part of the Great Barrier Reef and I recommend visiting this place for sure.
Number 2: Mount Kosciuszko
Australia's highest mountain is the Mount Kosciuszko Standing tall at 2228 metres, scaling this mountain is on the second of my list. I have climbed this mountain twice and I have loved the landscapes that it provides.
City & State: Thredbo, New South Wales (NSW).
Read my detailed post: Mount Kosciuszko – A dream come true.
Approximate cost for the tour: The costs involved here are only the traveling and accommodation costs.
If you want to visit Kosciuszko national park in winter season, then read trip to the Snowy mountains.
Number 3: Cage Diving with Great Whites
I think the coolest thing I have done so far is cage diving with Great White Sharks. This is by far the most adventurous thing I have ever done. Being a huge fan of the Great White Sharks, this was an activity that was always in my bucket list.
City & State: Port Lincoln, South Australia (SA).
Read my detailed post: I love Bruce.
Approximate cost: AUD 495 (approx. USD 371) (only for the cage dive).
Tour operator: Calypso Star Charters.
Number 4: Cage of Death
One more feather in my cap is the Cage of Death. The Cage of Death is the cage diving with a salt water crocodile. If you really want to come face to face with the biggest and meanest predator then this activity is surely for you.
City & Territory: Darwin, Northern Territory (NT).
Read my detailed post: Cage of Death.
Approximate cost: AUD 165 (approx. USD 132) (only for the cage dive).
Tour operator: Crocosaurus Cove.
Number 5: Great Barrier Reef
And the obvious one to visit Australia is the Great Barrier Reef. I definitely recommend scuba diving in the Great Barrier Reef especially in Port Douglas as it is really beautiful and very less crowded.
Number 6: Six Foot Track
I am so proud of completing this hike which is the Six Foot Track in the Blue Mountains. It is a 3 days hike and gives a great experience of hiking and camping within the mountains.
If you are camping in your caravan, the visit Caravan Camping website for best camping equipment solutions.
Number 7: Milky Way
One more absolutely stunning thing to do in Australia is watching or camping under the Milky Way. I recommend and suggest everyone go see a million stars and the best thing about Australia is that the places to see the Milky Way are so close to the cities.
Number 8: Abseiling
For an adventurous soul, abseiling is the answer. I loved abseiling in the Blue Mountains, it was exciting and the adrenaline rush while getting down a 40 metres cliff was absolutely amazing.
Place & State: The Blue Mountains, New South Wales (NSW).
Read my detailed post: Abseiling!
Approximate cost: AUD 160 (approx. USD 128) (excluding transportation).
Tour operator: Eagle Rock Adventures.
One tip to get cheaper ticket for abseiling is to keep checking Groupon. They have deals that come out sometimes.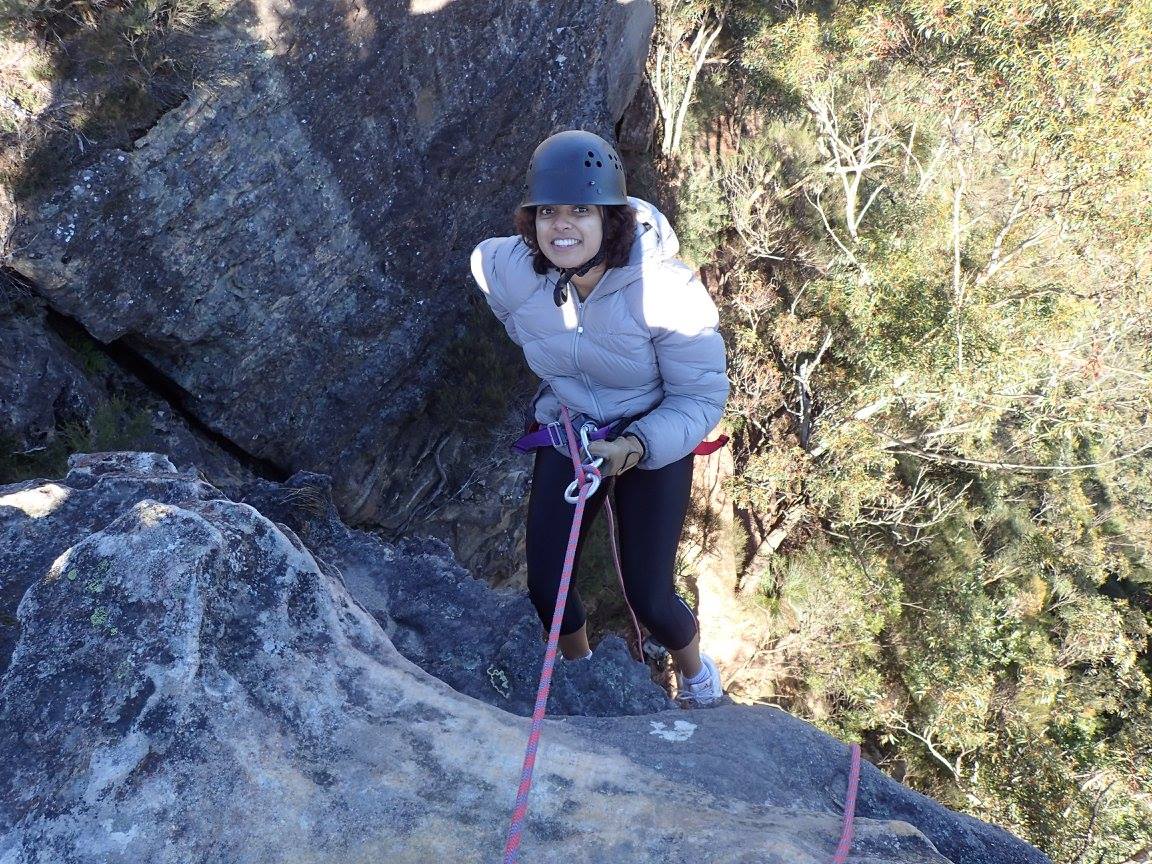 Number 9: Uluru
Knowing and discovering the aboriginal culture at Uluru must definitely be on the list. I am awed by the cultural significance that this place has.
Number 10: Sky Diving
Diving from a plane at 14,000 feet is pretty awesome. Last on my list is Sky diving. And sky diving on Great Ocean Road is icing on the cake.
Place & State: Great Ocean Road, Victoria.
Approximate cost: AUD 329 (approx. USD 263).
Tour operator: Skydive Great Ocean Road.
Is Australia safe for solo female travelers?
Yes, Australia is very safe for solo female travelers. I have lived in this amazing country for around 9 years and I have not had many issues here. I have traveled all around solo and I have had a great time. However, I would suggest be cautious especially at nights and trust your instinct.
Are you intimidated by solo travels or do you have lot of questions regarding solo travels? Then read my frequently asked questions about solo travel.
Closing notes
There is plenty of other cool stuff that one can do in Australia. My list can go on for many more things, but since this post is supposed to have the top 10 of my favourite things to do, I will stop here :).
How can you support me?
You know how much I love coffee, so you can buy me coffee – Buy me Coffee!
Or you can purchase from one of the below travel resources without any extra charge to you.

Travel Resources
Click to book your flight on Skyscanner.com
Click to book your accommodation on Stay22
Click to book a comprehensive travel insurance on Safety Wing
Click to book your tours and travels on Viator or GetYourGuide
If you liked this article and if it was helpful in your planning or traveling, do share, tweet, or pin this post.

Follow me on Instagram | Facebook | YouTube | Twitter | LinkedIn
Do you have a question? Or want any suggestions, and tips for travels, hikes and scuba dives? Use the Subscription box below to sign-up and get updates by email.
PIN for later reference