Off the Beaten Path: Hiking to the Base of Belmore Falls (2023)
As part of a meetup group, I decided to do a photography event. The event was to go around to various places in the south coast of New South Wales (NSW) and click some amazing pictures of the landscapes. During this event, we went on a hike to the bottom of the Belmore falls. In this post, you will find the information on the hike to the bottom of Belmore falls.
This article may contain affiliate links. For full information, please see our affiliate disclaimer here.
Where is Belmore falls?
Located in the Southern Highlands region of New South Wales (NSW), Belmore falls is within the Morton National Park. Known for its rainforests and wildlife, the national park also has some stunning waterfalls, including the Belmore falls.
At a height of approximately 100 metres, the Belmore falls is one of the taller waterfalls in the region. The closest town near Belmore falls is Robertson.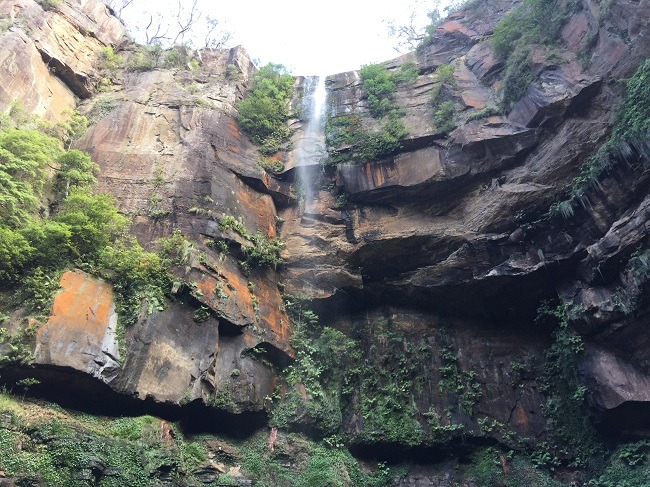 How to get to Hindmarsh lookout?
By Road
Starting point of the hike is at Hindmarsh lookout and that is accessible only by car. The distance between Sydney Central Business District (CBD) and Hindmarsh lookout is about 150 kilometres and it takes just about 2 hours to drive from Sydney.
Don't want to drive? Then here are 6 Day Trips that you can do from Sydney by Train.
There are toll roads.
There are plenty of parking spots available.
If you do not have a car, then note that in Australia renting out a self-driven car is very easy. There are rental agencies throughout the country, at airports and in the cities. All you need is a valid full driver's licence (in English), and a credit card. Ensure to take a comprehensive insurance with zero excess fee for a hassle-free drive.
By Public Transport
Trains – The nearest train station is Unanderra. There are frequent trains are available between Sydney Central train station and Unanderra.
Buses – The nearest bus stop is Mittagong. There are buses are available between Sydney Central and Mittagong.
Both Unanderra and Mittagong are about 30 minutes car ride away from Belmore Falls. As I mentioned earlier, Hindmarsh lookout (starting point) accessible only by car.
More information on public transport can be found at NSW Transport website.
Hike to the bottom of Belmore Falls
The track is a fenced off trail, which means that to start the unmarked trail, we had to jump off the fence. The descend to the falls is through the fallen trees and the slippery rocks.
Note that few of the sections of the hike are confusing and its easy to go off the trail. The hike provides a spectacular view of the Kangaroo valley and starts off at the Hindmarsh lookout.
A very good camping spot in Kangaroo Valley is the Cedarvale camping ground.
Logistics of the hike
Starting and finishing point: Hindmarsh lookout.
Distance: 5 kilometers return.
Grade: Hard (unmarked path).
Time taken: Approx. 2 hours.
There are plenty of free parking car spaces available.
The better hiking track is the Belmore Falls walking track that has a well-maintained walking trail.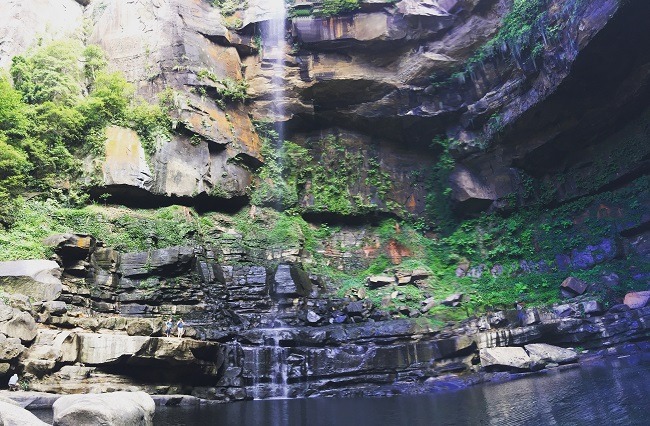 Safety for Solo Female Hikers
As this is an unmarked path and in a remote place, I would not suggest doing this hike alone. It is not safe for solo female hikers. Also, as Hiking and Trekking 101, it is always advisable to go with a hiking buddy just for any unforeseen situations.
Closing Notes
The waterfalls is definitely worth visiting. Even though the hike to the bottom of the waterfalls is a bit hard, it was totally worth it. I would suggest visiting this waterfalls and also extend the trip to visit the Fitzroy waterfalls.
How can you support me?
You know how much I love coffee, so you can buy me coffee – Buy me Coffee!
Or you can purchase from one of the below travel resources without any extra charge to you.

Travel Resources
Click to book your flight on Skyscanner.com
Click to book your accommodation on Stay22
Click to book a comprehensive travel insurance on Safety Wing
Click to book your tours and travels on Viator or GetYourGuide
If you liked this article and if it was helpful in your planning or traveling, do share, tweet, or pin this post.

Follow me on Instagram | Facebook | YouTube | Twitter | LinkedIn
Do you have a question? Or want any suggestions, and tips for travels, hikes and scuba dives? Use the Subscription box below to sign-up and get updates by email.