Hidden Gem in New South Wales: Cedarvale Camping Ground in Kangaroo Valley (2023)
Imagine camping and staying in between the mountains and greenery. And when you get up in the morning, the first thing that you see are the wallabies that are gazing around your tents. Now, this is the exact experience that you get in Cedarvale Camping Ground in New South Wales (NSW).
One fine day, I stumbled upon Cedarvale camping trip while skimming through the meetup events. This event was organised by 'Sydney & Beyond Weekend Trips, Getaways & Adventures' group. I immediately registered myself for that camping event. And after shopping for my camping gear and arranging for a lift from Sydney to Cedarvale, I was all set for camping, my first solo camping. I was super excited.
This article may contain affiliate links. For full information, please see our affiliate disclaimer here.
Where is Cedarvale Health Retreat / Camping Ground?
Cedarvale health retreat is a hidden gem within the Kangaroo Valley in New South Wales (NSW) state of Australia. The health retreat also has a camping ground with basic amenities such as toilets and drinking water. The campsite has abundant wildlife and spectacular views of the valley. These camping grounds are great to look at night skies, especially the Milky Way.
How to get to Cedarvale Camping Ground?
By Road – The camp site is a car camping site, which means you can drive into the site. The best way to reach Cedarvale Health Retreat is by driving. And the distance is about 150 kilometres (2 hours drive) from Sydney Central Business District (CBD).
If you do not have a car, then you can rent a self-driven car easily in Australia. There are many rental providers such as Jucy Rentals that rent out cars and they are available in cities, towns, airports and other places. All you need is a valid full driver's licence and a credit card.
By Public Transport – You will first need to reach Kangaroo Valley from Sydney or any other major cities. There are trains from Sydney or Wollongong to Kangaroo Valley. From Kangaroo Valley town centre, you can take a taxi to Cedarvale Camping Ground.
For fun big things to see along the road trip, read 11 big things to see in NSW.
Best Time to Visit Cedarvale Camping Ground
The best time to visit Kangaroo Valley is either during spring (September to November) or during autumn (March to May) seasons as the weather is pleasant and beautiful.
Booking of camp site at Cedarvale Camping Ground
Even though I went to the camping ground through meetup group, you can definitely plan to go to Cedarvale Camping Ground by yourself. You can book the site online on National Parks NSW website where you can select the camp ground and make a secured payment.
Things to do around Cedarvale Camping Ground
The best thing that you can do at Cedarvale Camping Ground is to chill and enjoy the spectacular views of the mountains. But if you want to explore and enjoy the outdoors, the camping ground does not disappoint as there are many things you can do:
You can go hiking around the camping ground. There are many walking trails that lead to different parts and the river. We went on one of these walking trails that took us to a creek and then we spent our afternoon there.
The camping ground has many wildlife. From wallabies to echidnas, there are many animals that you can spot.
At night, go on a glow worm trail. This camping site is famous for its glow worm trail.
You can also spend your night looking up at billions of stars and Milky Way.
In the nearby town, you can go for kayaking.
Also, the nearby town has plenty of quaint cafes that you can explore and enjoy.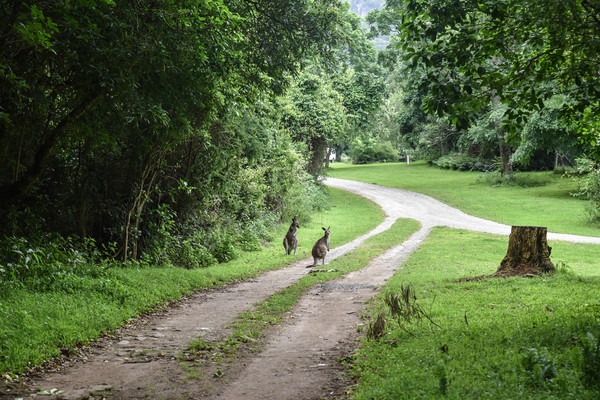 My experience of Cedarvale Camping Trip
The weather was perfect and the drive to Cedarvale was even better with the views of the valleys along the way. We reached the camp site, after the 2 hours of drive from Sydney and the loud Arabic music (Yes, the guy Abadi who gave me the lift was very fond of Arabic music).
Oh my God! The camp site was stupendous. It was surrounded by the lush beautiful mountains, which in turn were covered by clouds. If you are camping in your caravan, the visit Caravan Camping for best camping equipment solutions.
I picked up the best place for pitching my tent, making sure that my tent door opened to the best view of the mountains. It was my first experience of pitching a tent, all by myself (Yaay!).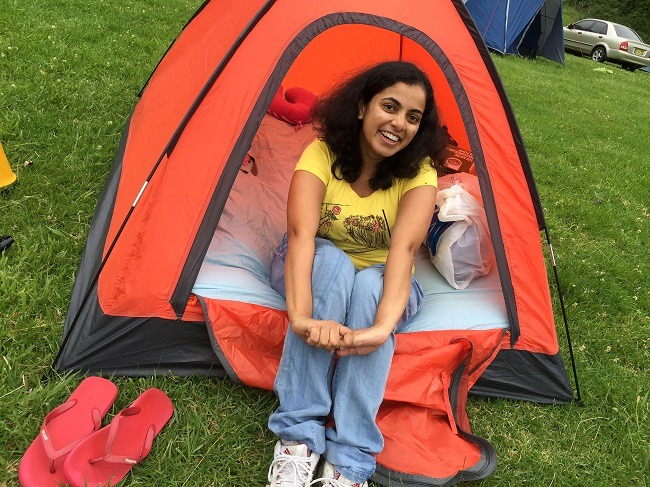 Once we had settled and had done with our lunch, we decided to explore the walking trail. We followed the kangaroos and walked down to a creek. It was a steep path. We clicked some pictures and sat along the creek for some time.
Are you close to Sydney and want to experience camping in Sydney itself? Then you can do that at Cockatoo Island which is one of the islands on Sydney Harbour.
On the way back to the camp site, we saw an echidna. I find echidna extremely cute. When they feel danger, they just hide their face under their shell and start digging the mud beneath to create a burrow. Simple logic, I don't see danger, the danger does not see me.
While the group went for another walk, I decided to have a nap in my very own comfortable tent. I slept like a baby, very sound sleep, trust me! When I got up, there was a camp fire that was set up and the group was chit chatting around the camp fire.
Soon after dinner, it was time for us to see the highlight of the trip. We headed again on a walking trail to see the "glow worms". The glow worms were prodigious. For some people, the glow worms looked like stars and for me, they looked like diamonds studded on the bushes and trees. Oh my! They were just out of this world.
The next day, I was woken up the sounds of the laughing Kookaburras. I slowly opened my tent's window and I saw some wallabies around with the heavenly view of the mountains. 'What else does a person need?' I thought and smiled to myself.
If you are looking for another camping site like Cedarvale, then you must visit Freemans Camping Ground in NSW.
After spending our morning there, it was time for us to head to the kayak center. Unfortunately, I could not kayak as I did not know how to swim (I believe it is mandatory that the person knows swimming for kayaking).
In the mean time, whilst everyone were kayaking, Sunny, a member from the group, and I headed to the neighboring town and explored the cafés there. And we saw an echidna again and some colorful butterflies.
Closing Notes
Yet again, another memorable trip. Made it even more special because it was my first solo camping trip. Have you camped in the outdoors before? Let me know by writing to me on Solopassport@gmail.com.
How can you support me?
You know how much I love coffee, so you can buy me coffee – Buy me Coffee!
Or you can purchase from one of the below travel resources without any extra charge to you.

Travel Resources
Click to book your flight on Skyscanner.com
Click to book your accommodation on Stay22
Click to book a comprehensive travel insurance on Safety Wing
Click to book your tours and travels on Viator or GetYourGuide
If you liked this article and if it was helpful in your planning or traveling, do share, tweet, or pin this post.

Follow me on Instagram | Facebook | YouTube | Twitter | LinkedIn
Do you have a question? Or want any suggestions, and tips for travels, hikes and scuba dives? Use the Subscription box below to sign-up and get updates by email.