Chitradurga holds a very special place among the people in Karnataka. It is associated with a brave housewife who fought the enemy soldiers in the fort. All of us heard these stories while growing up and fell in love with the place without visiting it. Likewise, Chitradurga has been on my bucket list for a very long time and I always wanted to see the place that holds such historical significance.
PIN for later reference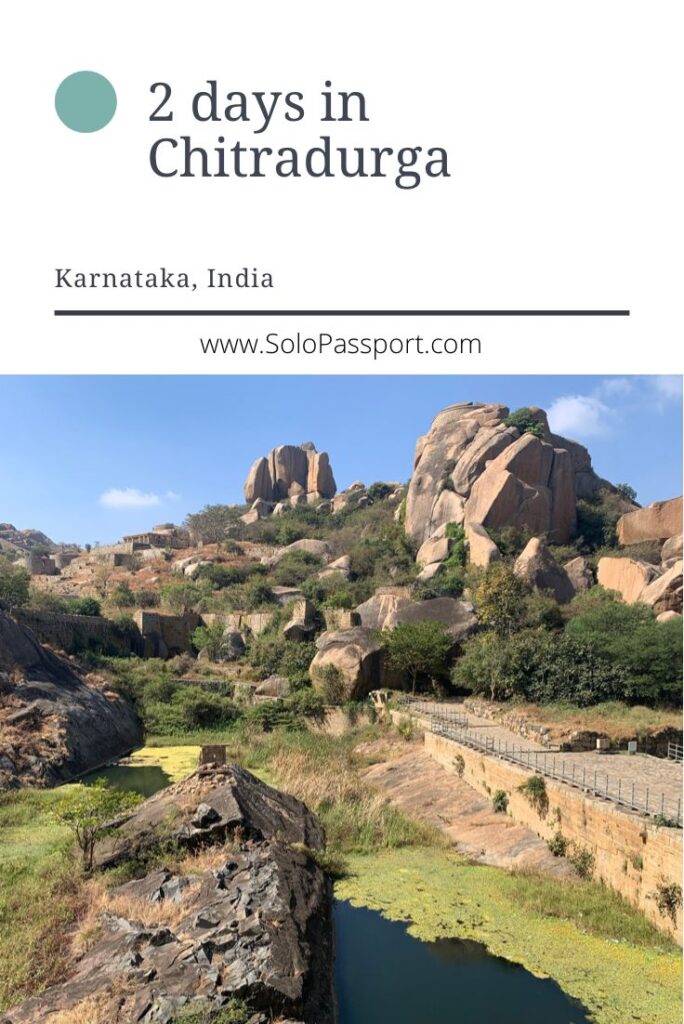 This article may contain affiliate links, meaning if you decide to make a purchase via my links, I may earn a commission at no additional cost to you. For full information, please see our affiliate disclaimer here.
Disclaimers:
The prices mentioned in the post are valid only at the time of publication. Ensure to check the booking websites for up to date information and prices.
Opinions and views expressed solely mine and are unbiased. If the post is a collaboration, then they are specifically mentioned.
Ensure to check the relevant websites for up to date information on COVID protocols.
For any adventurous activities, please note that there is a risk that can be dangerous. Ensure to read the terms and conditions with individual agencies recommended and do them at your own risk.
For visas, it is best to see the embassy website for any changing rules.
About Chitradurga
Chitradurga is a city in the Chitradurga district of Karnataka state in India. The city is famous for its fort and is located on the valley of River Vedavati. During the rule of Tipu Sultan, Chitradurga was known as Farkhabad. The historical town has been through many rulers such as the Chalukyas, the Hoysalas, the Nayakas and the Vijayanagara emporors.
The best time to visit Chitradurga is between August and February as the weather is cool and pleasant. The months between March and May are very hot and dry, and the months of June and July are rainy.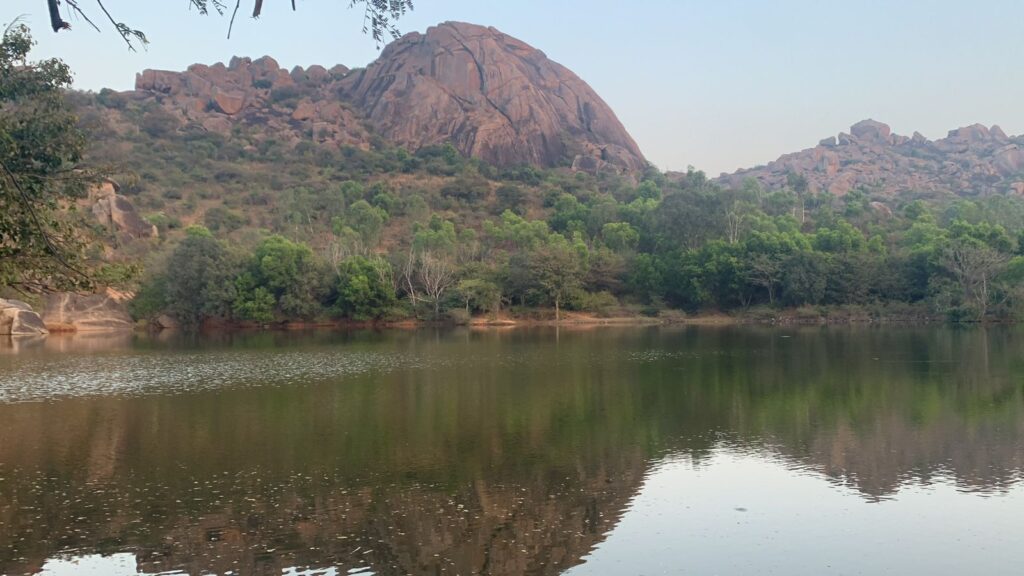 Things to do in Chitradurga
Chitradurga does not have too many things to do and one needs just around 2 to 3 days to cover all the places around.
One can hire a guide for an extra cost.
Be prepared for hot weather and keep yourself hydrated at all times.
Chitradurga Fort
The number one thing to see in Chitradurga is the Chitradurga fort. It is one of Karnataka's important and iconic landmarks. Located between the valley formed by the Vedavati River, the fort was built between 11th and 13th centuries by various rulers of the region. It straddles on many hills and a peak that overlooks the valley and villages in Chitradurga district.
The fort is open between 6 AM and 5 PM everyday.
There is an entrance fee of INR 20 per person.
Chandravalli archaeological site
A lesser known historical site is the Chandravalli archaeological site. Located around 3 kilometres from Chitradurga, Chandravalli has a beautiful lake and a cave. The cave was used by the saints from Belgaum to meditate.
The site is open between 9 AM and 5 PM everyday.
There is no entrance fee to visit the cave and the lake.
Ancient temples
Chitradurga has many ancient temples that are thousands of years old. The structure and the architecture of these temples are absolutely breath taking. They have intricate details.
One such ancient temple is the Sri Uchangi Devi temple on the Fort road. It is believed to have been constructed during the Nayaka period and is constructed on the Vijayanagara style of architecture.
Jogimatti
Jogimatti is a hill station and a forest reserve that is about 10 kilometres from Chitradurga city. It is the highest point in the Chitradurga district with an elevation of 3803 feet.
The visitors are allowed to go only between the months of May and December as it is cool and pleasant during those months.
Adu Malleshwara zoo
Adu Malleshwara zoo is adjacent to Jogimatti and is a zoo with birds and animals. They have huge enclosures but I did feel sad for the animals and birds as the weather of Chitradurga is very hot and dry.
The zoo is open between 6 AM and 6 PM everyday.
There is an entrance fee of INR 40 per person.
Stay at Chitradurga
Hotel Mayura Durga
Hotel Mayura Durga by KSTDC is a very convenient stay, right opposite to the Chitradurga fort. The rooms are spacious and clean. And the staff are very friendly and nice. Even though the hotel is not one of the best I have stayed in, but still is a good and comfortable stay when in Chitradurga.
How to get to Chitradurga?
Driving
Chitradurga fort is around 200 kilometres from Bangalore city and the journey by road takes about 3 hours 30 minutes. The route is towards Nelmangala and has toll roads.
Public transportation
Buses – There are frequent buses that run between Bangalore and Chitradurga and the journey by bus is just 4 hours. Karnataka State Road Transport Corporation (KSRTC) buses are best as there are less chances of them getting cancelled. The cost for a non-AC bus is around INR 450 per person.

If you are a solo female traveler traveling by bus, then ensure to select the single lady option so you can get a seat next to another single lady.
You can also try searching for buses on Redbus website.

Trains – Chitradurga has a train station. The Karatagi Express runs from Yeshwanthpur station in Bangalore to Chitradurga. Up to date information can be found on IRCTC website.
Safety for solo female travelers
I have a mixed feeling about Chitradurga being safe for solo female travelers. The locals are not used to having solo female travelers or even a group of female travelers. And because of this, I encountered all kinds of people – people who took advantage of females and others who were very caring towards females. The man who pretended to be a guide at Chandravalli did create nonsense by unnecessarily holding my hands and touching my shoulders over and over again. But I also met an auto driver and other guide who was very nice and caring towards me.
I would say that if you are traveling alone, then ensure to travel during the day and do not be caught at an isolated place. Be alert at all times and know your surroundings. If anyone creates a problem, make a noise and involve either the cops or the locals.
Are you new to solo traveling? Or do you have a lot of questions on solo traveling? Then read my frequently asked questions guide for solo traveling.
Closing Notes
Chitradurga is undoubtedly beautiful. It is such an underhyped place that has so much of history and stories. I highly suggest having Chitradurga on your list when visiting Karnataka. It is a place to be if you love rocks, desert or history.
Have you been to Chitradurga? Let me know in the comments below.
How can you support me?
You know how much I love coffee, so you can buy me coffee – Buy me Coffee!

Or you can purchase from one of the below travel resources without any extra charge to you:
Travel Resources
Book your flight on Skyscanner.com
Reserve your accommodation on Stay22
Buy a comprehensive travel insurance on SafetyWing and WorldNomads
Book your tours and travels or purchase tickets on Viator or GetYourGuide
If you liked this article and if it was helpful in your planning or traveling, do share, tweet, or pin this post.

Follow me on Instagram | Facebook | YouTube | Twitter | LinkedIn
Do you have a question? Or want any suggestions, and tips for travels, hikes and scuba dives? Use the Subscription box below to sign-up and get updates by email.
PIN for later reference