Grafton, Emerald Beach and Solitary island coastal walk
Do you know of those places that you come across accidentally? And then you are surprised and amazed by its beauty? Emerald beach and Solitary island are those two places that I came across when I traveled to Grafton for work. Even though both these places are around the Coffs Harbour area, I stayed in Grafton for my stay and traveled to these places when I had the time.
PIN for later reference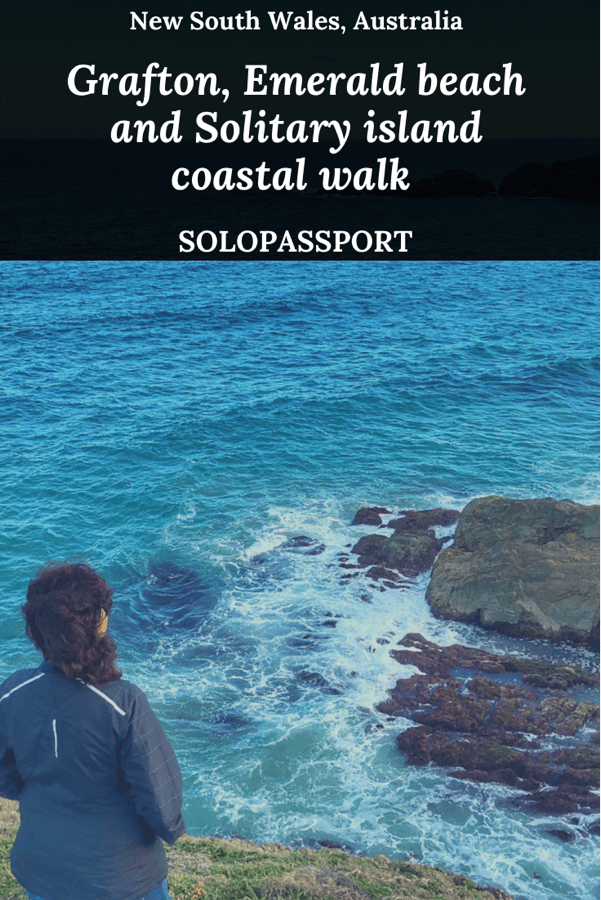 About Grafton
Known for its pretty streets during the Jacaranda season, Grafton is a city located in the northern most part of New South Wales (NSW) state in Australia. There are more than 2000 Jacaranda trees in Grafton so during the season the entire city turns purple. The Jacaranda season is between the months of mid October to early November.
If you are in Sydney, there are a number of places where you can see Jacarandas too, read Best places to find Jacarandas in Sydney.
How to get to Grafton?
The quickest way to reach Grafton is by taking a flight. Grafton has a small airport and the flights are operated by the regional provider Rex Airlines. Note the flight tickets are expensive.
Grafton is closer to Brisbane than Sydney. From Brisbane, the distance to Grafton is around 315 kilometres and is 3 hours 40 minutes drive. But from Sydney, it is 620 kilometres and takes 6 hours 40 minutes drive. I had driven to Grafton from Sydney. The drive is easy and relaxed. However, I do suggest taking a break at a place so you can divide the drive into two parts. There are plenty of stop over points, to get some ideas refer the section, Weekend trips from Sydney.
The other way to reach Grafton is by taking a regional train. There is a train of 10 hours from Sydney that operate daily. For up to date information on timings, cost and route, refer the Transport for NSW website.
Stay at Grafton
I stayed at an Airbnb listed property. The property is a 2 bedroom apartment with fabulous views of the ocean from the living and the bedroom. The cost was about AUD 215 per night. The property has many bird visitors including magpies, lorikeets, crown doves and seagulls.
Food at Grafton
One amazing restaurant I would like to recommend is a Mexican place called La Hacienda 101. I had the best chicken tacos and quesadillas.
Other than this Mexican place, there is also a Pizza and Pasta place.
Things to do at Grafton
Even though Grafton does not have too many things to do, it does have that nice vibe where one can have a relaxed weekend holiday.
As I mentioned before, the streets of Grafton are absolutely amazing for viewing the Jacarandas during the Jacaranda season. The photographers rush to the city during the season.
Visiting the Christ church cathedral and regional gallery.
There are plenty of cafes and restaurants that have locals enjoy their morning coffees and breakfast. Definitely try these cafes and if possible talk to the locals.
Meet the locals which are the cute wallabies. There are many of them that laze around near the beaches. Remember to not attempt to go feed them!
About Emerald beach
Emerald beach is about 20 kilometres north of Coffs Harbour. The Emerald beach is very pretty and secluded. It is definitely worth a visit.
Coffs Harbour is a city on the north coast of New South Wales. The coastal city is about 530 kilometres from Sydney and just 70 kilometres from Grafton. Read 5 things to do in Coffs Harbour to find out other things to do in the coastal city.
How to get to Emerald beach?
There are regional flights between Sydney and Coffs Harbour. Note the regional flights are usually expensive so the best way to get to Coffs Harbour is to drive.
The only option between Coffs Harbour and Emerald beach is by car. And the distance is around 28 kilometres.
About Solitary Island coastal walk
A very easy but a picturesque walk is the Solitary Island Coastal Walk. The walk is definitely on the top to-do list while being in Coffs Harbour or visiting the Emerald beach. It offers beautiful views of the ocean and plenty of wallabies to walk in between.
How to get to Hills beach from Emerald beach?
The Hills beach is the starting point of the Solitary Island coastal walk. The Hills beach from Emerald beach is around 19 kilometres and is only a 30 minutes drive.
Logistics
Starting point: Hills beach.
Distance: Depends. The walk goes up to 60 kilometres and it depends on how long one wants to walk. I did only 2.5 kilometres as I was running low on time.
Grade: Easy.
Time taken: Depends again but I took only approximately 1 hour (with lots of photography breaks) as I had to return to Sydney after the walk.
Cost: Free.
Closing Notes
All these places make an amazing weekend travels. I had never heard of Emerald beach and so was glad to have found the beach. Also, I would love to go back to Solitary Island coastal walk and do a longer walk if possible. The Solitary Island is also one of the most famous places to scuba dive in Australia.
Please note: This post may contain affiliate links which means I may earn a commission if you make a purchase by clicking a link on this post. This will be at no additional cost to you. Affiliate links help me keep this website up and running. Thank you for your support.
PIN for later reference