A complete guide to Malleshwaram
Fellow travel buffs, welcome to Namma Bengaluru! In this post, we shall explore Malleshwaram, part of Old Bangalore. So, fasten your seat belts! Let me give you a virtual guide to Malleshwaram.
Are you visiting Bangalore (officially called Bengaluru) for the first time? Read the travel guide to Bangalore.
PIN for later reference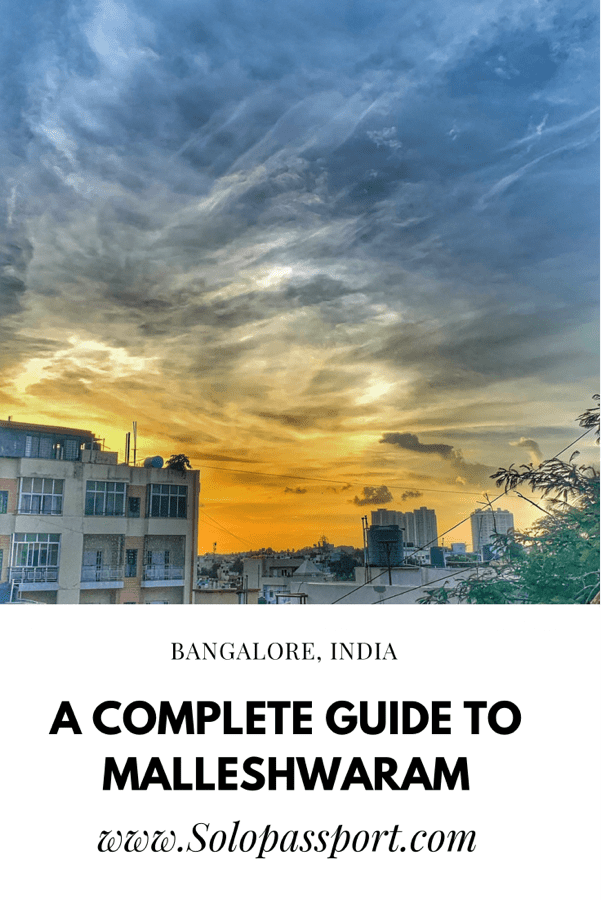 This article may contain affiliate links. For full information, please see our affiliate disclaimer here.
About Malleshwaram
Malleshwaram, in Bangalore, is an area named after the famous Hindu Temple called Kaadu Malleshwara Swamy. The Kaadu Malleshwara temple was built in the early 17th century by King Shivaji and has stood strong for centuries. Malleshwaram is situated in the north-western part of Bangalore and is surrounded by many other interesting areas in Bangalore.
That's about how the area was named after, but what is so special about it? As we started our virtual tour off by talking about temples, let's start the journey from there.
Are you short on time? Read top 5 things to do in Malleshwaram.
Guide to Malleshwaram
Places of worship
Malleshwaram is very rich in cultural diversity. There's a place for worship for everyone. There's Gangamma Devi Temple, Kadu Malleshwara Temple, Nandhi Teertha temple, and Sai Baba temple to name a few. Alongside is the Christ the King Church, and Mosques. The best part of this area is the harmony. The area has many cultures but everyone gets along so well.
Places of education
There are many well-known educational institutions. Trust me, many brilliant minds in Bangalore and across the country have studied in this area. To name a few of the educational institutes are:
Kendriya Vidyalaya, a Central Government-run school that always challenges the rest of the country in academic performance.
Next to Kendriya Vidyalaya is the Ammanni College for Girls, Specialised for Science and Commerce education for Post schooling till Metrics.
About a mile down the road, we see Himanshu Public School and nearby is the Malleshwaram Educational Society a.k.a MES College, and Malleshwaram Ladies Association (MLA) college. 90% of native Bangaloreans (people of Bangalore are called Bangaloreans) would be logging in to get an admission here. A well-known college that has produced brilliant academicians and professionals for the country.
Parks and playgrounds
All work no play makes Jack a dumb boy! A Famous proverb from the 17th Century does hold good here. Malleshwaram is known for its playgrounds. A vast landscape dedicated to recreation and physical activities. Namely, the Malleshwaram playground is known for organizing floodlight cricket tournaments.
If you wish to spend time with family or friends, then take a trip to Sankey Tank. A large lake with walking tracks, boating, and a kid's playground. A walk around the lake is so soothing to the heart and soul as it is surrounded by eucalyptus trees. Famous for morning and evening walks and fun time with family for boating in the afternoon.
Did you know that Malleshwaram also has amazing street art around the area? Read Malleshwaram gets a street art makeover.
Restaurants and cafes
With so much study and play, if you're hungry we've got you covered. Malleshwaram is known for its eateries.
Read Bangalore's food guide for more details on the food to try in Bangalore.
We cannot start without mentioning Veena Stores in Margosa Road and Raghavendra Stores near Malleshwaram Railway station. These eateries are known for their breakfast menus and whatever they serve is the best. Veena Stores in Sampige road is known for their Idli-Chutney, a staple food made from steam-cooked rice and lentils served with chutney gram and coconut paste. Also, they serve Semiya bath / Shavige Bath. It's a stir fry rice vermicelli / thin rice noodle with green peas, green chili, and turmeric. These lip-smacking dishes are made in limited quantities and are usually sold out.
A similar fast-food joint is the Raghavendra Stores next to Malleshwaram Railway station. The spicy and crispy treat served here is the Vada, a spicy donut made of lentils served with Chutney. Upma/ Khara bath is a local delicacy made of Semolina. This delicacy carries a spicy punch when served with chutney.
When it comes to food! We cannot miss another famous outlet, Sri Sagar (formerly known as Central Tiffin Room-CTR). Irresistible and mouth-watering dosas are the specialty. Dosas are pancakes made of rice and lentils but how we draw on the hotplates matters the most. CTR is known for the Butter Masala Dosa and Goli Bajji, a deep-fried mixture of all-purpose flour and black pepper.
Another dine-in restaurant in the area is the Halli Mane, especially known for their Akki Rotti (A flatbread made of Rice Flour), and it was opened in 1947.
For all those non-vegetarian foodies, Karavali Lunch home serves amazing south Canara delicacies.
Shopping
Now that we're done with food, it's time to spend on shopping. Malleshwaram caters to kinds of budgets, cheap to luxury. We have shops on the streets and at the same time, we have an air-conditioned mall too. Let's start simple, 8th Cross Malleshwaram has a plethora of options from shops to streetside vendors selling clothes, footwear, home decor, and other utility items. You name it, you'll get it here.
To cater to special occasions like weddings and parties, we have specialty stores like Nalli Silks, Kalyan Silks, Janardhana Silks, selling sarees (authentic Indian attire) for women and Manyavar, Park Avenue, Tailor men, and Reid & Tailor for men.
Indians also love gold jewellery, and we don't shy away from shopping for gold. There are gold jeweller stores like GRT Jewels, Kalyan, Lalitha Jeweller, and Sri. Krishniah Chetty and Sons. These jewellers are known for their designer jewelleries. There are heaps of jewellery stores around, that cater to smaller budgets too like Swagath and Navratna jewellers.
Malleshwaram flower market never disappoints us. We get a range of flowers here, in the form of carnations or garlands. This market also has shops that sell fresh fruits and veggies. As you would have already noticed, Malleshwaram caters to the needs of the budgeted to lavish shoppers.
Coffee
Alas! We're tired of walking and shopping. If you want to take a break and have a coffee, there's Cafe Coffee Day for your Iced coffee, cappuccino, latte, or mocha. Or if you prefer the traditional South Indian style filter coffee, then we have Hatti Coffee on Margosa road. Right across is the CTR in Malleshwaram and on the 10th cross, we also have Adayar Anand Bhavan serving filter coffee, ice-cold almond drinks, and tasty ice creams.
Malleshwaram's iconic landmark is the Mantri Square or Mantri Mall. The mall has many stores and integrated apartment complexes. This is one of the best places to cool yourself. Enjoy your time in arcade gaming or spend the time with family and friends in a cinema watching the movies. Mantri square has multiplex cinemas, hosting several movies and shows at the same time. The place is good for shopping or just taking a stroll enjoying window shopping. Major electrical and electronic brands have their showrooms in this shopping centre.
Transport to and within Malleshwaram
Travel and transport to Malleshwaram are convenient. Drivable one-way roads to Metro lines, there are different modes of transport.
The metro stops at Mantri Square, which is inside the Mantri Square shopping centre.
The most convenient mode of transport is an auto-rickshaw (tuk-tuk) to take you around the area.
If you want to drive to Malleshwaram, there are limited 2-wheeler and 4-wheeler parking spaces available, in and around shopping lanes. The best way would be to street park a little further away from the shopping lanes and then to walk down.
Conclusion
Whatever you're up to, studying, shopping, hanging out with friends for a game, or spending time with family, Malleshwaram has got you covered. In the end, do not miss the lip-smacking delicacies we discussed and have a wonderful filter coffee to call it a day. Hope you enjoy your time in Malleshwaram.
About the author
Ashwin Vijayendra is a software engineer by profession and a chef (at Kavi Ruchi) by passion. As he is a foodie, he talks a lot about food and likes to try and cook different delicacies. He also loves long drives and always waits for an opportunity to get out of urban madness.
Note: Most of the images used are by Raksha Nagaraj. And for other images, the credit has been given to the owners. Any duplication or reproduction of the images are prohibited. In case of using the images and content, prior written approval must be taken from the owners.
How can you support me?
You know how much I love coffee, so you can buy me coffee – Buy me Coffee!
Or you can purchase from one of the below travel resources without any extra charge to you.

Travel Resources
Click to book your flight on Skyscanner.com
Click to book your accommodation on Stay22
Click to book a comprehensive travel insurance on Safety Wing
Click to book your tours and travels on Viator or GetYourGuide
If you liked this article and if it was helpful in your planning or traveling, do share, tweet, or pin this post.

Follow me on Instagram | Facebook | YouTube | Twitter | LinkedIn
Do you have a question? Or want any suggestions, and tips for travels, hikes and scuba dives? Use the Subscription box below to sign-up and get updates by email.
PIN for later reference