Malleshwaram gets a street art makeover
How fascinating! Malleshwaram gets a street art makeover
"Street art is nothing else but an urban poetry that catches someone's eye. Being a street artist is impossible because the city itself is the artist. Street art is a collective thing, participative and interactive".
When Raksha from Solopassport came up with the idea of writing articles about Malleshwaram, I was all super excited and I decided to write about the latest addition in Malleshwaram, the street art in the bylanes. Thank you Raksha for this opportunity to write about something which is very close to my heart.
Though any form of artwork catches my attention, it is the street art which fascinates me the most. In my eyes, they add life to public walls, random empty spaces and the corners of the main crossings. These days a street art fever is raging through urban India and street artists from various parts of the country and all over the world are collaborating with non-profit organization to showcase their creative work.
PIN for later reference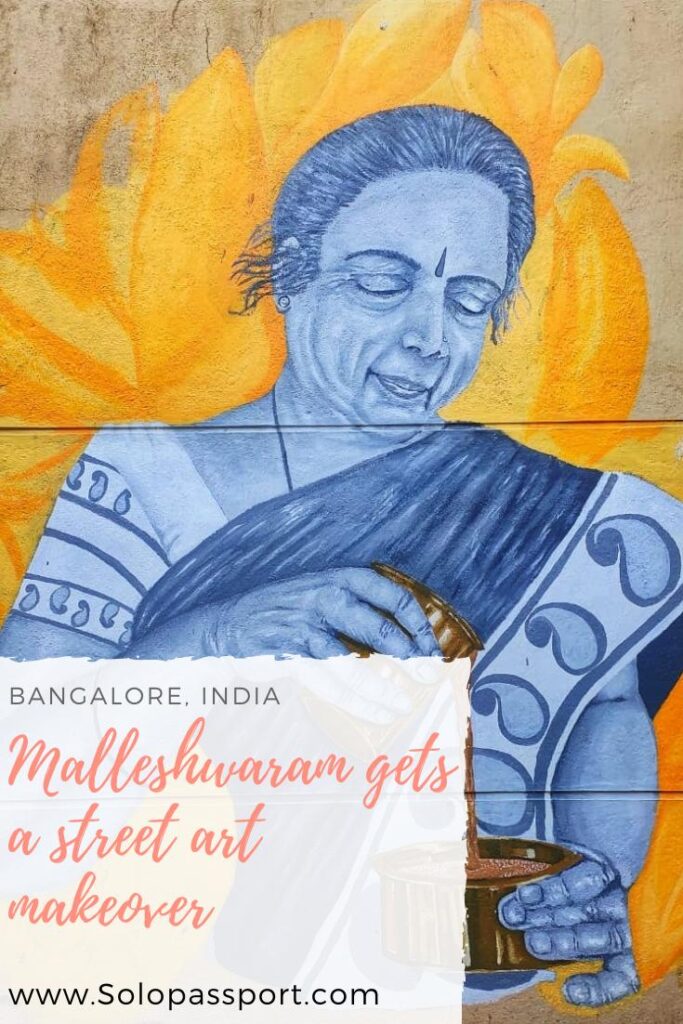 This article may contain affiliate links. For full information, please see our affiliate disclaimer here.
About Malleshwaram
Malleshwaram is an emotion. If you have lived in the central part of Bengaluru, you can relate to it.
If you take a walk down the street, you can hear the temple bells from the nearby temples, the chanting of the shlokas or the prayers, the aroma of the freshly ground coffee powder from the coffee works, and the mouth watering and lip-smacking dosa from CTR. It's a heaven for all people right from young to old. Recently a group of artists has made the streets of Malleshwaram even prettier and lively. Malleshwaram now is not only famous for its temples and many legendary restaurants, but also famous for its street art. An added feather to its multi-diverse hat.
Also, read 5 things to do in Malleshwaram.
A group of artists from Bengaluru collaboratively painted the walls and brought the by-lanes to life. This older planned neighbourhood of Malleshwaram has about 8 to 10 feet wide lanes that cut across the neighbourhood in horizontal and vertical lines. These lanes, also known as conservancies, were planned and built after the great plague of 1800s and were mainly used for the manual scavenging work. Later the lanes became a space for parking vehicles and eventually fell into complete disuse.
About Malleshwaram Hogana
Geechagalu, an association with group of artists, has brought a century old Malleshwaram to full bloom with 12 murals for a project called 'Malleshwaram Hogona', that translates in Kannada language to 'Let's go to Malleshwaram'.
When I first read about it in various media articles, I was delighted and wanted to explore this art trail instantly. Note I took a walk amidst the COVID third wave scare and I explored the colourful street art with all the required COVID protocols.
I just took google maps navigation, which is also available on the Geechagalu website, which guided me to the murals.
Malleshwaram gets a street art makeover
Bengaluru Prayana hosts meetups to take guests through the Malleshwaram street art trail and tell the stories behind each of these murals.
Malleshwaram street art trail
Greetings from Malleshwaram
The Malleshwaram street art trail first starts with the mural Greetings from Malleshwaram. A typographic mural, by Saksham Verma, depicting the area's cultural, gastronomical, social, and architectural features. This mural is painted at the BMTC Bus stand.
Svagata
The mural named Svagata, by artist Girija Hariharan (Welcome in Kannada), represents the locals of Malleshwaram how it's blended with rich traditional past. It is a traditional welcome with two young girls greeting with rose water (kumbha) used in all traditional ceremonies with marigold flowers strung across. There is beauty in all this sidewalls.
Once upon a time there were Sampige trees all around
The third mural, which is captioned, Once upon a time there were Sampige trees all around, by Chandana BV. Sampige is also known as Champaka flower and this mural is an attempt to capture nostalgia and create a sensory visual experience. The main road of Malleshwaram is named after Sampige. Once upon a time, the roads were filled with the fragrant Sampige flowers but now the trees have disappeared.
Malleshwaram Sparrows
Malleshwaram Sparrows, by Spandana Vella, depicts the disappearing sparrows. Sparrows connect us to childhood memories and it's really very sad to see their numbers dwindling due to urbanization.
Kaapi Kodithiya
Kaapi Kodithiya, by Enoch Dheeraj Ebenezer. Filter coffee is the pride of Malleshwaram and one of the favorite beverages of people in Bangalore. This beverage is one connecting link for conversations in Bangalore. This is also one of my favorite murals that really captures the emotion of coffee. The artist has brought this mural to life with an old ajji (ajji means grandmother in Kannada) pouring filter coffee to cup.
Bangalore is famous for many other authentic food dishes. Read Bangalore's food guide.
Pourakarmika
Pourakarmika, by Parameshwar Waran. Pourakarmika's are the workforces who are responsible for the cleanliness of the city. This very powerful, and a realistic huge mural that is a tribute to the Pourakarmikas of Malleshwaram. The artist has painted the portrait of a pourakarmika who works in this conservancy lane.
Within her stride
Within her stride, by Anpu Varkey, the mural painted on one of the walls of the Seva Sadan in Malleshwaram is simply awesome. This represents women walking to do her daily chores.
Gejjeya Nada
Located on the Veena Doreswamy Iyengar Street, Gejjeya Nada, by Shree Vyas, is a tribute to the rich Indian classical music and showcases how deeply Malleshwaram is associated to music. Malleshwaram has plenty of music and art schools and its home to many music legends.
Malleshwaram in a glimpse
Malleshwaram in a Glimpse, by Meghana Yeri and Dhanush Kiran. Talking about the culturally rich Malleshwaram is a pride. This mural brings all the important elements to life.
Malleshwaram has been planned like a chessboard. Roads running from North to South are Main Roads and perpendicular to these are crossroads. In addition, a Boundary Road runs beside the Railway line to mark the boundary to this 'extension'. Any Malleshwaram landmark or address will consist of a Cross-and a Main. The two major crossroads are the 8th cross and the 18th Cross. Between these crossroads run two Main roads. The wonderfully named Sampige and Margosa Roads derive their names from the flowery Sampige and Margosa trees that once lined these roads.
Post-It
Post-It! by Abhijeet Rao, is an art piece painted behind the Malleshwaram post office building. The art represents an insightful message to its present readers. Pause, read, reflect and post one back to its future!
Sakkare Kaddi
Sakkare Kaddi, by Shivu Mahesh. Just beside the Post-it mural lies the Sakkare Kaddi means sugar candy. Only a kid of the '80s and '90s can relate to this type of candy made in various types of shapes and sizes. One could find the candy vendors on the streets during the temple fairs. Gone are the days of sugar candies, the next generations will definitely miss these childhood memories.
Putting the Mull in Malleshwaram
Putting the Mull in Malleshwaram, by Amitabh Kumar. A small hidden conservancy lane has become the inspiration for site-specific artwork. The artist has followed the light and shadow play on both the sides of the wall. This is the last piece of art from the art project.
Statistics of Malleshwaram street art trail
It takes about an hour and a half to explore this art trail on foot. I was completely lost and soaked in this amazing visual treat. I was shocked (in a good way) to see and explore the other side of Malleshwaram the bylanes (conservancies) even though I have lived many years in this pretty suburb. Before this art project, these spaces were neglected, faded and used for parking or throwing garbage. The completely disused lanes have now come to life with these artworks. This shows how art can completely transform a place.
Total art trail distance: 1.7 kilometres.
Grade: Easy.
Closing Notes | Malleshwaram gets a street art makeover
Explore your neighborhood on foot where Malleshwaram gets a street art makeover. Come and explore 'Let's go to Malleshwaram' (Malleshwaram Hogona) to soak in the feeling of Malleshwaram and appreciate art. You can also take a virtual tour of the Malleshwaram street art trail on the Geechugalu website.
Bengaluru Prayana: Did you know that Bengaluru Prayana team organises a guided walk in Bengaluru to explore and meet the locals? Contact them on bengaluruprayana@gmail.com now!
About the author | Malleshwaram gets a street art makeover
Divya is based out of the beautiful city of Bengaluru. She is a working engineering professional, avid reader, bird watcher, blogger on Thru D Lens, snail mailer, explorer, photographer, gardener, and wearer of many hats with pride. Always curious about learning new forms of art and appreciate art in any form.
She believes in capturing moments as they happen. Her photography style is nature, architecture, and wildlife. She also loves capturing wildlife in natural habitat and monuments of architectural importance.
Note: All the pictures used in this post belong to the author. Reproduction and distribution of the presentation without written permission from the author is prohibited.
Travel Resources
Click here to book your flight on Skyscanner.com
Click here to book your accommodation on Stay22
Click here to book a comprehensive travel insurance on Safety Wing
Click here to book your tours and travels on Viator or GetYourGuide
If you liked this article, do comment, tweet, or share this post.
Follow me on Instagram | Facebook | YouTube | Twitter
Do you have a question? Or want any suggestions, and tips for travels, hikes and scuba dives? Use the Subscription box below to sign-up and get updates by email.
PIN for later reference