Have you ever hiked on an active volcano? It is very adventurous and thrilling to hike on one. And Mount Batur sunrise trek in Bali provides exactly that adrenaline rush required. Hiking on an active volcano had always been on my list.
Unfortunately, during my first travel to Bali, I could not do this activity as I was traveling with friends who did not want to hike. So, during my second visit to this amazing island, I made sure this was on my itinerary. I hiked to the Mount Batur peak to see the sunrise.
If you are into adventurous sports, then definitely try scuba diving at Nusa Penida or wreck diving at Tulamben.
PIN for later reference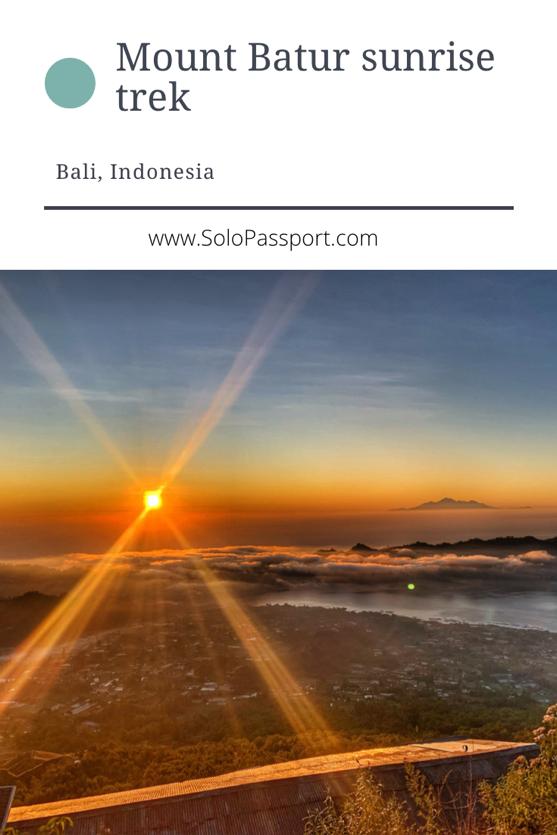 This article may contain affiliate links. For full information, please see our affiliate disclaimer here.
Disclaimers:
The prices mentioned in the post are valid only at the time of publication. Ensure to check the booking websites for up to date information and prices.
Opinions and views expressed solely mine and are unbiased. If the post is a collaboration, then they are specifically mentioned.
Ensure to check the relevant websites for up to date information on COVID protocols.
For any adventurous activities, please note that there is a risk that can be dangerous. Ensure to read the terms and conditions with individual agencies recommended and do them at your own risk.
For visas, it is best to see the embassy website for any changing rules.
By the way did you know that Bali is much more than just the rice fields and temples? There are so many beautiful unseen spots where you can enjoy a quiet serene time. If you are looking for a perfect 10 days itinerary in Bali and information on some of the hidden gems, then read Unseen Bali in 10 days.
About Mount Batur
At an altitude of 1717 metres, Mount Batur is one of the two active volcanoes on the island of Bali in Indonesia. Also known as Gunung Batur, the last eruption happened in 2000 and it has erupted around 26 times between 1821 and 2000.
About Mount Batur Sunrise trek
Mount Batur is best trekked during the night so the hikers can reach the summit just before sunrise. There are many starting points for the trek to Mount Batur and the starting point which I started was from a village called Songan A. The village is around 3.5 kilometres from the base of Mount Batur and it is through some beautiful fields and village homes.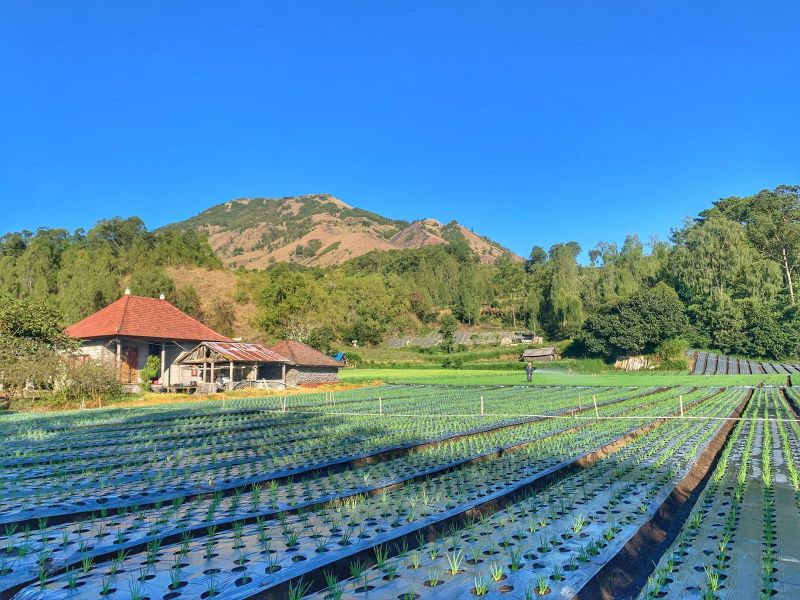 The trek is best done with a guide and it is believed that the locals do not appreciate if the hikers do not hire local guides. The locals create a bit of problem if the hikers do not wish to take guides even though the trail is pretty straight forward and do not require a guide as such.
Logistics of Mount Batur Sunrise trek
Starting and finishing points: Songan A.
Total distance: 9 kilometres return.
Grade: Moderate as the trail is steep.
Total time taken: 4 hours return.
At an elevation of 1046 metres, Songan A is a village near Mount Batur in Bali. And from Ubud, Songan A is around 42 kilometres and the journey by road, it takes about 1 hour 20 minutes.
Trekking agency
I booked the Mount Batur sunrise trek activity via Viator. The tour agency I went with on the trek was with Abadi Bali transport. And I must appreciate the way the entire trip was planned and executed. The pick up was on time and the driver was very friendly. And the guide I got for the trail was very friendly as well. She was a local from the area and knew the trail well.
Contact details
Operator name: Abadi Bali Transport via Viator.
Phone number: +6287860570999.
Important information
You need to be ready by 2:30 AM so you can reach the peak in time for sunrise. The sunrise usually happens around 6 AM.
The volcano is active and there are two places at the peak where you can see the smoke coming out of the mountain.
No matter how hot it is in Bali, ensure to take a jacket as it is chilly at sunrise on the peak.
Take sufficient water with you. Note there are no water filling facilities on the trail.
There are motor bikes available that can take you to the peak. The cost for the motor bike ride depends on the group who are offering and it may cost you around IDR 20.000 to 50.000 per person for one way.
There is only one toilet facility at the middle of the trail and they charge you about IDR 50.000. Most of them use the bushes for toilet.
Some trekking agencies do not offer coffee or tea along with breakfast at the peak. So ensure to check if your ticket includes coffee or tea.
The breakfast includes banana sandwiches, a banana or any other fruit, two boiled eggs and an energy bar.
Be prepared for a huge crowd. There were close to 200 to 300 people on the trail and peak.
Frequently asked questions (FAQ) for Mount Batur Sunrise trek
How long is the hike to Mount Batur peak?
The hike to the summit is around 4.5 kilometres.
How hard is the hike to the peak of Mount Batur?
The trail is steep the entire time and hence requires a good fitness level if you are hiking from Songan A village. Note there are other starting points to the summit and some of them are very short trails (like 2 kilometres).
How much time does it take to hike up Mount Batur?
It takes around 2 hours to hike up to the summit.
Does it always have the best views of the sunrise?
When I visited the peak, I received amazing and uninterrupted views of the sunrise. But it is not always the case.
What months are the best months to hike Mount Batur?
The best months to hike Mount Batur is between April and September as it is the dry season.
Can you do the Mount Batur sunrise trek without a guide?
The trail is easy and well marked but locals do not appreciate if you do not hire a guide to hike this trail. Also, as the hike is in the dark, it may be difficult to find the trail.
Is Mount Batur trail steep?
Yes, the trail is steep throughout.
Is Mount Batur safe?
It is safe to hike on Mount Batur as the last eruption happened only in 2000. The Indonesian government keeps a close watch on the activity of the volcano and if there are any chances of eruption, the government does not allow trekking.
How high is Mount Batur?
Mount Batur is at an altitude of 1717 metres.
Is Mount Batur an active volcano?
Yes, Mount Batur is one of the two active volcanoes in Bali. The other active volcano is Mount Agung.
What is required for the Mount Batur sunrise trek?
Carry a daypack with water, headlight and trail snacks. Also, carry some cash so you can buy a hot drink at the peak.
Safety for solo female trekkers
The trek is absolutely safe for solo female trekkers. But as I said, you will need to hire a local guide so you do not upset the localities. The guide understands the trail well and will take care of you throughout the trail. There will be lot of trekkers along the way and at the peak.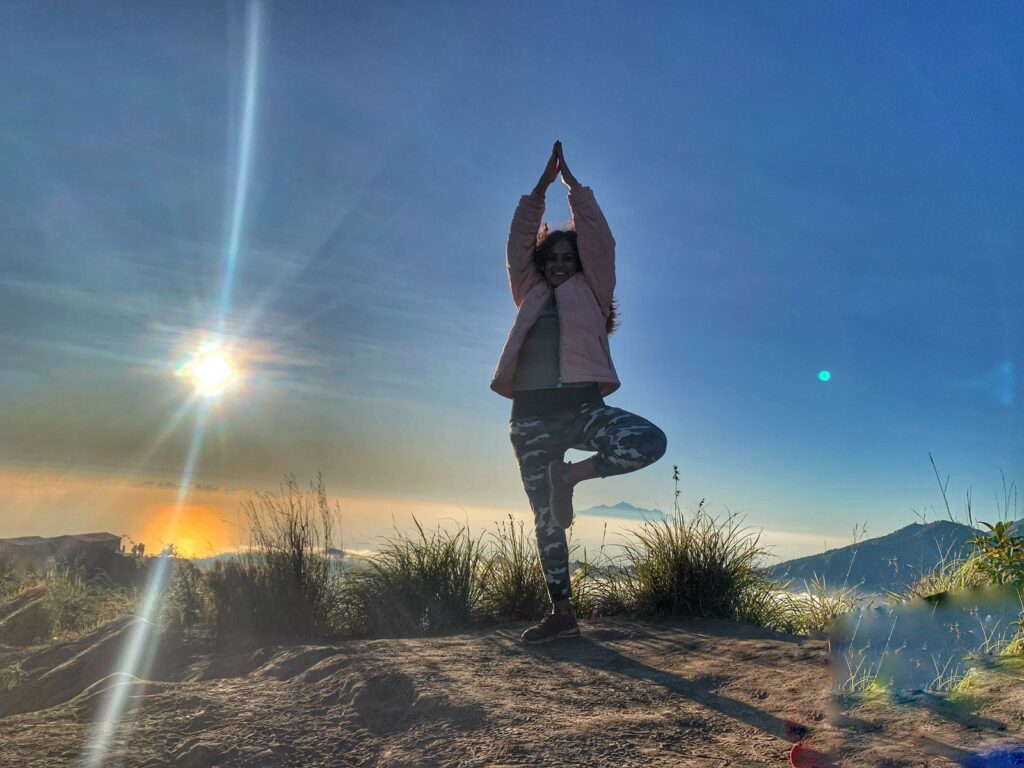 Closing Notes
Mount Batur sunrise trek is one of the best treks I have done in recent times. I absolutely loved the views of the sunrise, Lake Batur and Mount Agung. The trail, even though steep, was totally worth the effort and cost. I highly recommend trekking Mount Batur when you are in Bali.
How can you support me?
You know how much I love coffee, so you can buy me coffee – Buy me Coffee!
Or you can purchase from one of the below travel resources without any extra charge to you.

Travel Resources
Click to book your flight on Skyscanner.com
Click to book your accommodation on Stay22
Click to book a comprehensive travel insurance on Safety Wing
Click to book your tours and travels on Viator or GetYourGuide
If you liked this article and if it was helpful in your planning or traveling, do share, tweet, or pin this post.

Follow me on Instagram | Facebook | YouTube | Twitter | LinkedIn
Do you have a question? Or want any suggestions, and tips for travels, hikes and scuba dives? Use the Subscription box below to sign-up and get updates by email.
PIN for later reference