6 reasons why you need to scuba dive in Pondicherry
Did you know that you can scuba dive on the east coast of India? There are plenty of dive sites that are waiting to be explored and dived at in Bay of Bengal. And some of these amazing dive sites are easily accessible by boat from Pondicherry, a city in the territory of Puducherry in the southern part of India.
I have been to Pondicherry multiple times, especially for scuba diving and every time I have dived I have discovered new things. This post is to convince you to scuba dive in Pondicherry and hence here are the 6 reasons why you need to scuba dive in Pondicherry.
PIN for later reference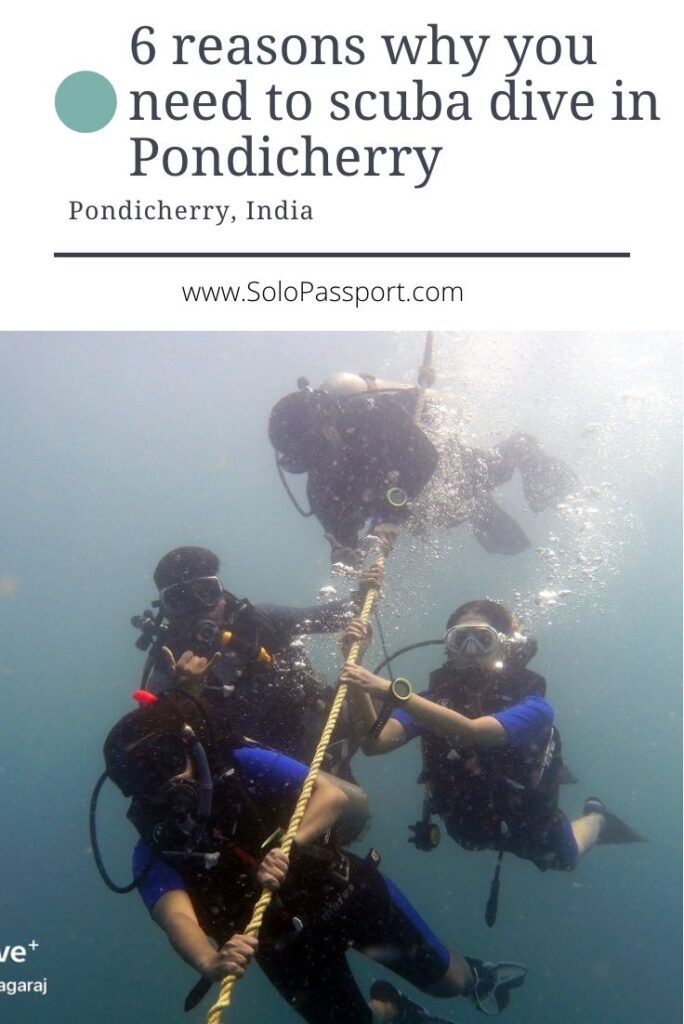 This article may contain affiliate links, meaning if you decide to make a purchase via my links, I may earn a commission at no additional cost to you. For full information, please see our affiliate disclaimer here.
Disclaimers:
The prices mentioned in the post are valid only at the time of publication. Ensure to check the booking websites for up to date information and prices.
Opinions and views expressed solely mine and are unbiased. If the post is a collaboration, then they are specifically mentioned.
Ensure to check the relevant websites for up to date information on COVID protocols.
For any adventurous activities, please note that there is a risk that can be dangerous. Ensure to read the terms and conditions with individual agencies recommended and do them at your own risk.
For visas, it is best to see the embassy website for any changing rules.
Scuba diving in Pondicherry
Scuba diving in Pondicherry is a must thing to do when you are visiting this beautiful coastal city. It is one of the popular activities to do in Pondicherry so to see what our ocean holds. There are many dive sites that are very pretty and have stunning marine life to be seen. The dive sites are usually in the Bay of Bengal ocean even though Pondicherry also has many quarries where divers can dive and experience a different terrain and landscape.
The best thing about diving in Pondicherry is that scuba diving can be done throughout the year. But if you want clear and very good visibility, the best season is between January and April.
6 reasons why you need to scuba dive in Pondicherry
Reason 1 – Variety of dive sites catering for all levels of divers
Pondicherry has a variety of dive sites that range between shallow to deep dives that cater to beginners and experienced divers. The ocean itself has a lot of dive sites that are stunning and have contrasting landscapes. During my dives at The Pirates, Temple reef and Navin's reef, I experienced various topographies of the sea and sites, and undoubtedly it was surely a great experience, especially at Temple reef and Navin's reef.
Apart from the dive sites in the ocean, Pondicherry also has quarries where divers can dive and explore if they are in for a relaxed and easy dive.
Reason 2 – Boat dives and you get to see pretty views of sunrise
One of the best things about Pondicherry is that there is no shore diving. All are boat dives and the dive centres start early in the morning to finish off diving by noon. This way you can experience gorgeous sunrises and a relaxed boat rides to the dive sites.
Do not forget to take sea sickness tablet if you suffer from sea sickness.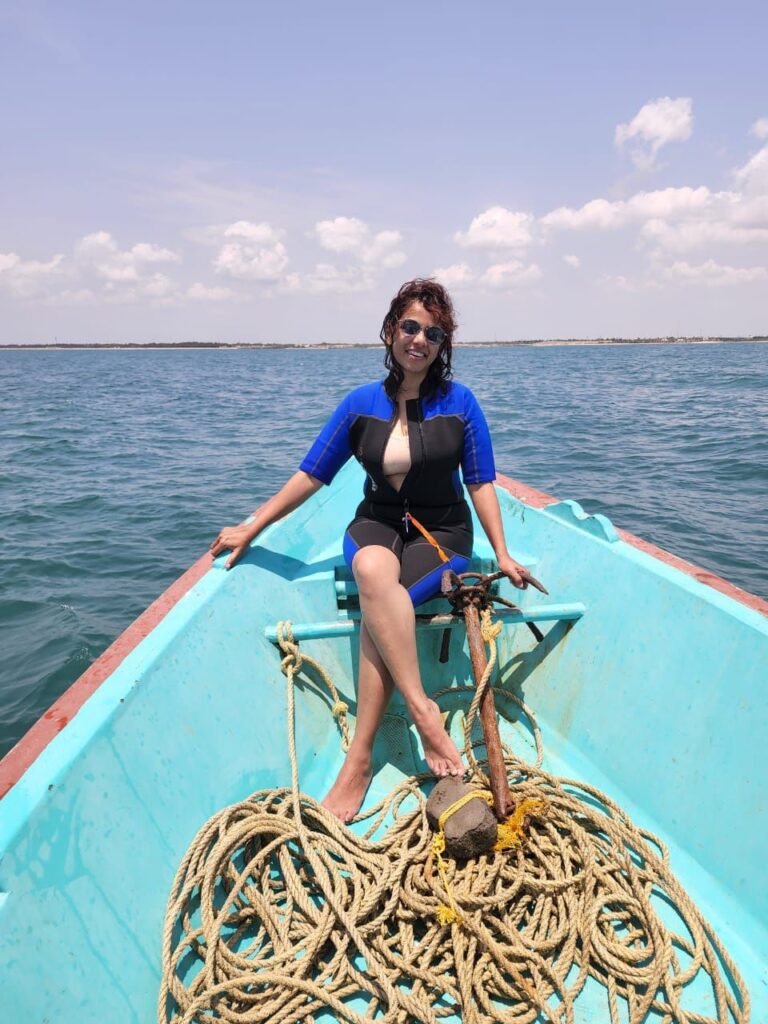 Reason 3 – Abundant marine life
I cannot stress enough as to how spectacular the marine life is at the dive sites. There are fishes of all colours and sizes. Some of the fishes that you can surely expect to see during your dives are groupers, batfishes, lion fishes, porcupine pufferfishes, scorpion fishes, eels and banner fishes. I loved seeing these fishes in large numbers and it was incredible.
Note: The visibility of the dive site depends on the ocean conditions and hence sometimes the visibility can really be bad and they cannot be predicted.
Reason 4 – Photographer's paradise
The dive sites have a lot of macro marine life. There are so many things that can be photographed and they come in all lovely colours. If you love underwater photography, then the dive sites in Pondicherry are surely for you.
Ensure to carry an underwater case for your camera.
Reason 5 – You get to learn about artificial reefs and how overfishing impacts the marine life
Unfortunately, Pondicherry has seen a lot of overfishing in the past few years and this has impacted how the marine life used to be. Because of the initiatives taken from the dive centres, artificial reefs were created to attract the marine life back.
Artificial reef is a man made reef or underwater structure created at the bottom of the ocean to attract marine life. At Pondicherry, there are many of these structures created with fresh palm leaves attached to them so that there is thriving marine life. Honestly, I had never heard of the concept artificial reef till I dived at Pondicherry and I realised how much the dive centres put in effort to conserve our lovely ocean and its habitants to co-exist among us.
Reason 6 – Diving community in Pondicherry is cool and you get to meet them
All the divers I have met in India, especially Pondicherry, are really cool and nice. I have had a great time meeting them and talking about the ocean, fishes or just about the weather. They are fun and really wonderful to hang out with.
Dive Centre to dive in Pondicherry
At Pondicherry, I have dived with multiple dive centres and the three dives that I did this time was with Urban Nomad Adventure. Located in Mahatma Gandhi (MG) Road area of Pondicherry, Urban Nomad is a PADI affiliated dive centre that runs variety of dive courses. Ranging from Discover Scuba Diving (DSD) to certification courses like PADI Open Water, Advanced Open Water and Rescue diving, they offer services for all the levels of divers.
Reasons why I loved diving with Urban Nomad Adventure
I absolutely loved diving with Urban Nomad Adventure. The interaction end to end and the booking of the dives were very easy. Some of the reasons why I loved them are:
The dive centre set up is absolutely amazing. It is very well thought through and each of the things arranged at their centre perfectly fits.
They have conservation and informational messages written all over their dive centre. What this means is that they really care for the ocean and the living beings inside the ocean. This perfectly aligns with what I believe in.
The equipment given to the divers is very well maintained. For the three dives that I dived with them, I never for once had an issue with the equipment. Everything was perfect.
Communication with the dive staff was very easy and well organised. Each time we wrote to them with a query or an email, it was answered in time and almost immediately. We mostly interacted with Kriti at the office and she was lovely.
The diving instructor and the dive masters were brilliant. They were friendly, funny and passionate about the ocean and marine life.
I felt very safe while diving with them. Not once I had an awkward or insecure feeling. They made us feel very comfortable throughout the time.
Contact details
Scuba diving for solo female divers
Being a solo female traveler and diver, I am always on the lookout for safe places and experiences. Having dived in Pondicherry multiple times, I can vouch that it is one of the safest places for solo female divers. Even though you are solo, you do end up going with a dive centre as the dive sites are accessible only by boat which are owned by dive centres. And the dive staff are very friendly and make you feel safe.
Closing Notes
Pondicherry is one of my favourite places to dive on the east coast of India. I love going back to that lovely city over and over again, just to explore and dive at new sites. I highly recommend scuba diving at Pondicherry as I am sure you will fall in love with the ocean.
Have you dived on the east coast of India? Which was your favourite dive site? Let me know in the comments below.
Note: This post is written in collaboration with Urban Nomad Adventure dive centre. But the views and the opinions expressed are honest and unbiased.
How can you support me?
You know how much I love coffee, so you can buy me coffee – Buy me Coffee!

Or you can purchase from one of the below travel resources without any extra charge to you:
Travel Resources
Book your flight on Skyscanner.com or Trip.com
Reserve your accommodation on Stay22
Buy comprehensive travel insurance on SafetyWing and WorldNomads
Book your tours and travels or purchase tickets on Viator or GetYourGuide
For a universal SIM card, use DrimSim
If you liked this article and if it was helpful in your planning or traveling, do share, tweet, or pin this post.

Follow me on Instagram | Facebook | YouTube | Twitter | LinkedIn
Do you have a question? Or want any suggestions, and tips for travels, hikes and scuba dives? Use the Subscription box below to sign-up and get updates by email.
PIN for later reference