Scuba diving in Pondicherry (East Coast, India)
India has around 8000 kilometres (5000 miles) of coastal line. It is surrounded by the Arabian Sea on the West, the Indian Ocean on the South, and Bay of Bengal on the East. India also has some spectacular islands (Andamans and Nicobar Islands and Lakshadweep Islands) off the coast. The oceans surrounding the coastal line and islands offer breathtaking diving sites with natural and artificial reefs and, ship and plane wrecks.
Pondicherry is definitely a great place to scuba dive. The diving sites are off the coast from mainland India on the South Eastern side, in the Bay of Bengal. With its abundant marine life, it makes one of the finest diving places in India. And the best thing about scuba diving in Pondicherry is that scuba diving can be done throughout the year.
PIN for later reference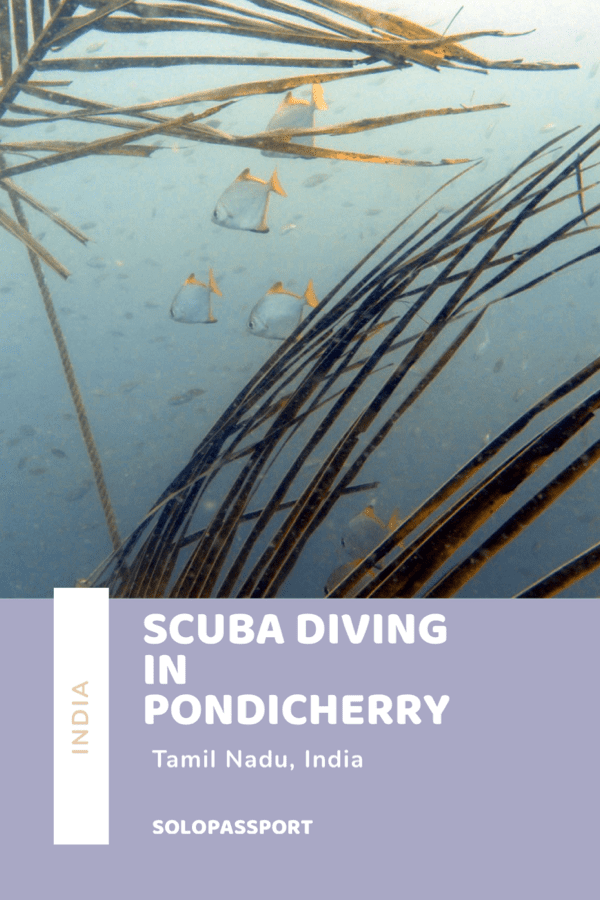 This article may contain affiliate links, meaning if you decide to make a purchase via my links, I may earn a commission at no additional cost to you. For full information, please see our affiliate disclaimer here.
Scuba diving in Pondicherry
Pondicherry has more than 20 explored dive sites for the best diving experience. The dive sites have natural coral reefs to the artificial reef to the wrecks. The depths of the sites range from 18 metres to 30 metres. On an average day, the visibility is around 5 to 7 metres, but on good days, the visibility can go up to 12 metres.
Also read | 6 reasons why I need to scuba dive in Pondicherry.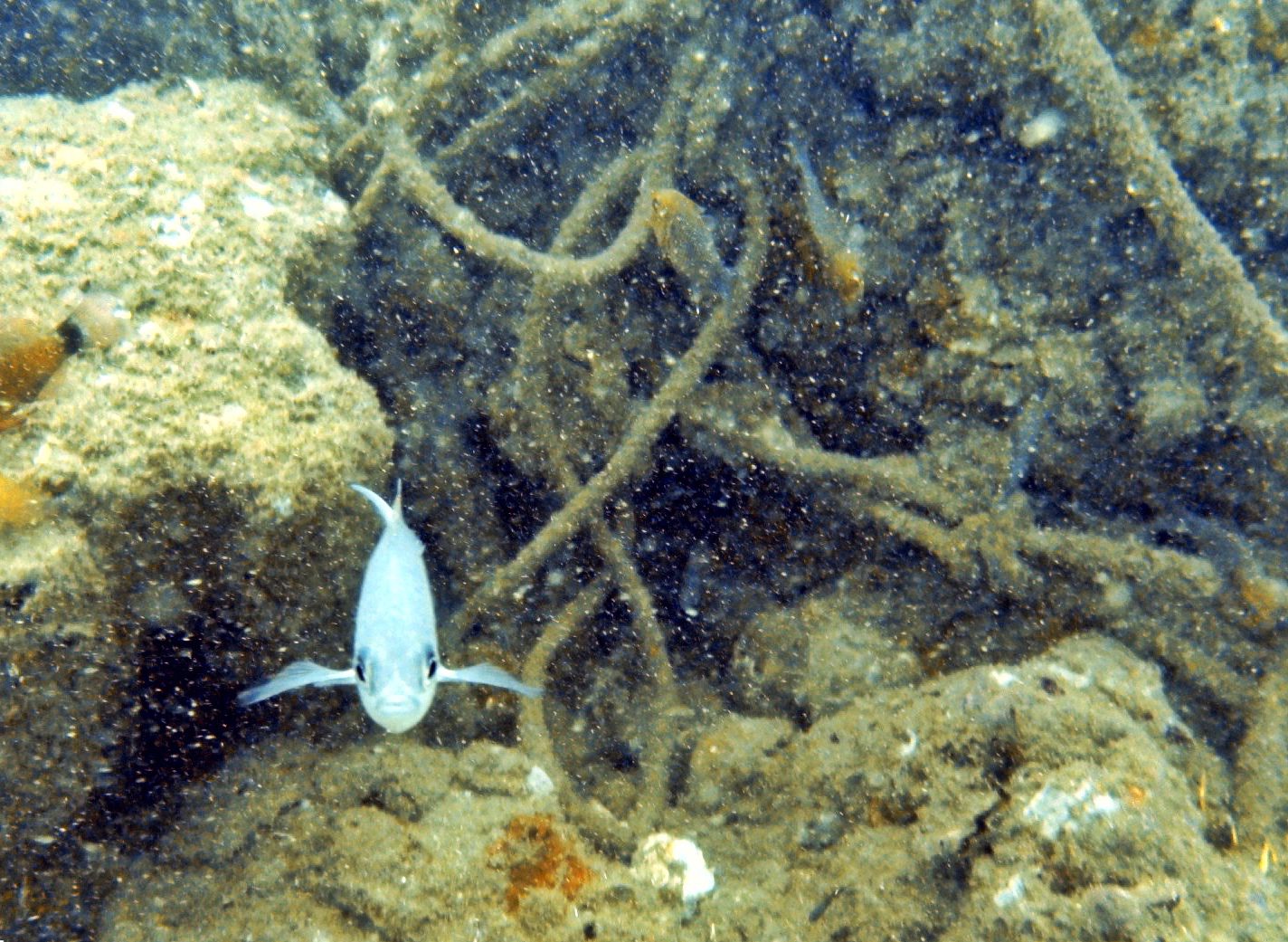 Pondicherry dive sites are perfect for scuba divers who are just getting into the sport and for certified divers who have many dives on their sleeves. The best time to dive in Pondicherry is between the months of November and February.
Diving sites
Pondicherry has many dive sites that are explored and where artificial reefs are created. The dive sites range between 12 metres to 40 metres and are perfect for divers who are beginners to experienced. The most famous diving site in Pondicherry is Aravind's Wall that has also been recognised by Professional Association of Diving Instructors (PADI). However, Pondicherry does have other diving sites worth mentioning, especially for beginners.
Also read | 5 best dive sites to scuba dive in Pondicherry.
Note:
All the dives in Pondicherry are boat dives. Some are 20 minutes from the shore where as others are about 1.5 to 2 hours from the shore. Ensure to take a sea sickness tablet if you suffer from sea sickness.
Ensure to wear a half wet suit if not full. I suggest wearing a full wet suit as I got stung by something during one of my dives.
The dive sites have strong to moderate currents.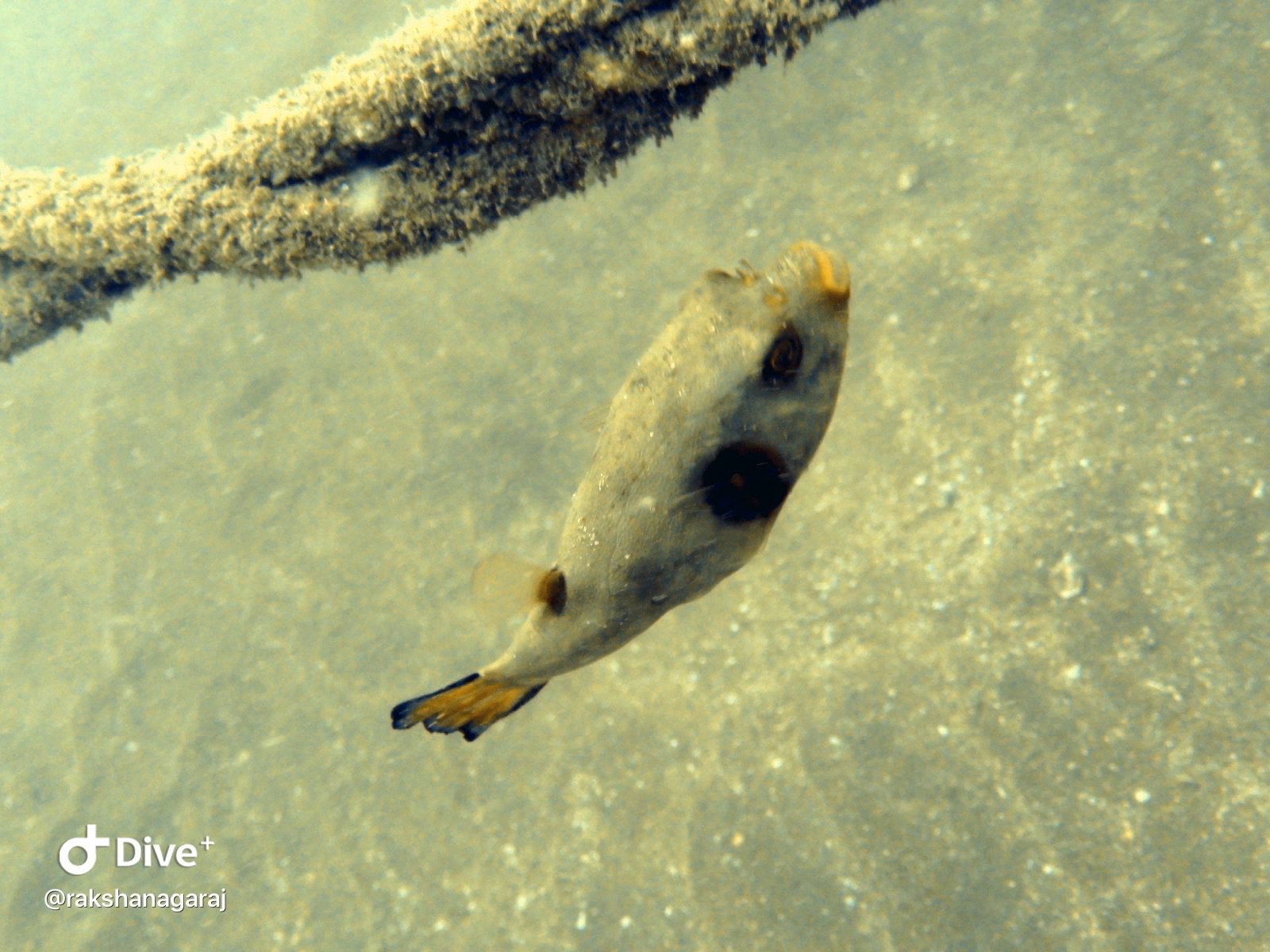 Temple Reef
A unique and utterly amazing dive site is the Temple Reef. Also called as the Four corners, the Temple reef is an artificial reef, constructed from fully recycled materials. The artificial reef was started by Temple Adventures themselves and hence the name Temple Reef. It was started with an intention to replenish the dying reef and marine life which was diminishing as a result of overfishing. Recycled materials used in creating the artificial reef include concrete blocks, iron bars, trees, bottles, and palm leaves.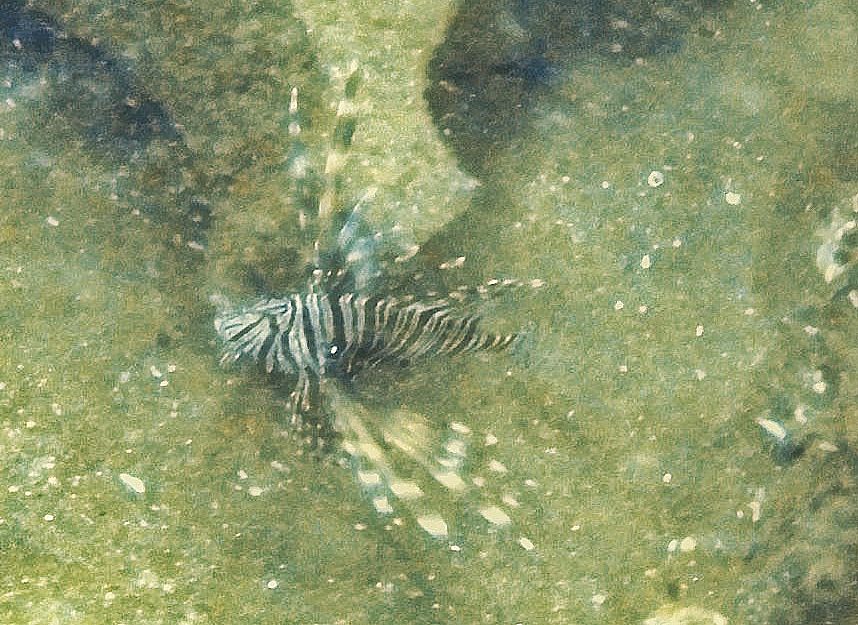 The site is still being maintained and monitored by the Temple Adventures. The divers at the centre carry fresh palm leaves every couple of weeks and tie them to the artificial reef underwater to attract more fishes. Such is their passion and dedication.
Dive site details and statistics
Temple Reef dive site is around 30 minutes (5 kilometres) from the coast. The maximum depth of the Temple reef site is 18 metres and is a boat dive. As the dive site goes to a maximum of 18 metres, the dive site is popular among the Discover Scuba Diving (DSD) and Open water scuba divers.
The dive site has four corners tied with ropes diagonally and are named as:
Temple 1, which is the original reef.
Temple 2.
Parking Lot – This is super cool as there is a truck, a car and many bikes that are submerged underwater. This is definitely a great spot for pictures.
Beer Garden – There are concrete boulders with beer bottles stuck. It is thrilling to watch fishes peep out of these empty beer bottles.
When there is clear visibility, the dive site is a delight when viewed from 5 metres.
Because of the palm leaves and the activity within the artificial reef, the marine life is astonishingly huge and amazing. There are many groupers who have made it home and they take shelters between the palm leaves. Apart from the groupers, there are many other fishes such as the lion fishes, scorpion fishes, and the banner fishes.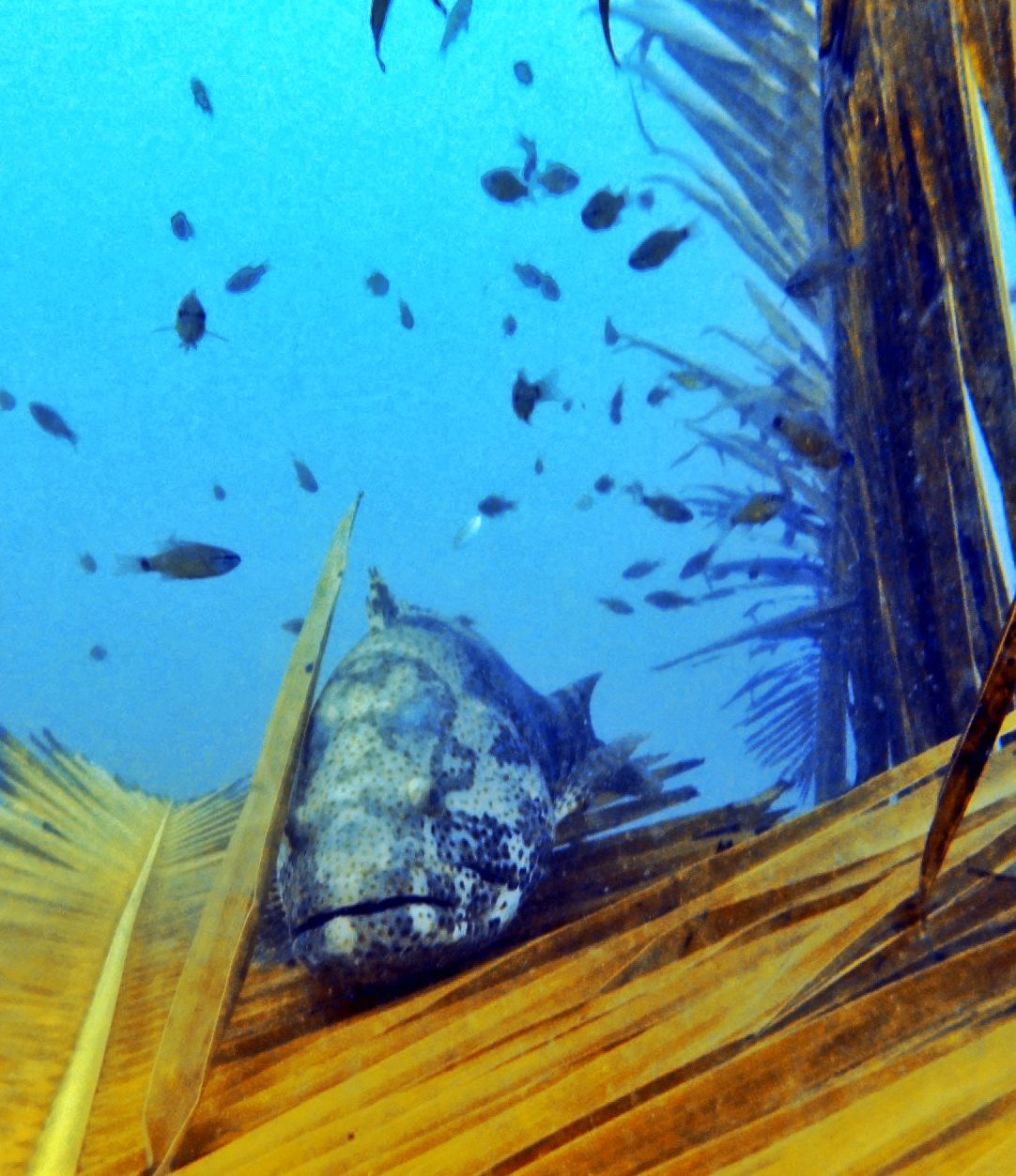 Abandoned Quarry
A perfect place to train the Open water students and to practice underwater skills is an abandoned quarry in Pondicherry. The place is ideal for new divers as it is isolated and the temperature of the water is perfect. The site allows plenty of time for divers to pick up the skills in and out of water.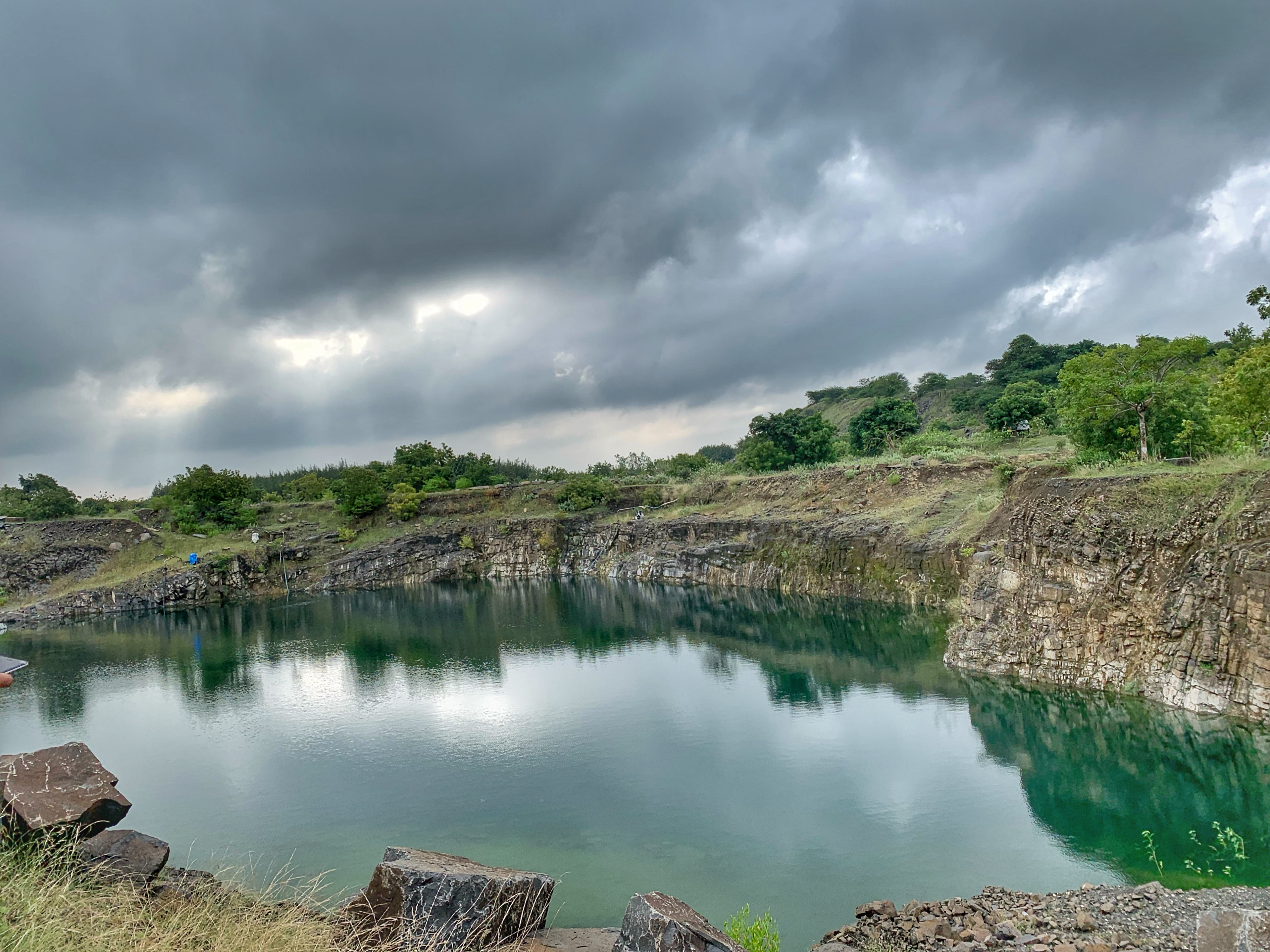 Diving at a quarry was a very different experience for me than what I was used to. Unfortunately, when I dived in the quarry the visibility was not that great and I hardly saw anything. I do hope to dive at the same or another quarry to understand and realise how amazing and varied diving at a quarry is.
Dive site details and statistics
The drive to the abandoned quarry is around 1 to 1.5 hours from the dive centre and the last 500 metres of the ride is an adventure by itself. The maximum depth of the quarry is 14 metres and is a shore dive. Map of the quarry was described to us by our instructor and it was shallow on the outer ring and then became deeper in the middle.
Even though the quarry does not have many varieties of marine life, but there are still lots of small fishes and sea snakes. As I mentioned earlier, the visibility underwater was very bad and because of which I did not see anything apart from a few rusted structures. But I did see a snake.
Marine Life in Pondicherry
Natural and artificial reefs at the dive sites in Pondicherry attract rich marine life. The dive sites have groupers that are huge in size, lion fishes, sea snakes, scorpion fishes, puffer fishes, barracudas, banner fishes, and many other species of Asian aquatic life. If one is lucky, then they also spot the whale sharks and manta rays during the whale shark season which is between March and April.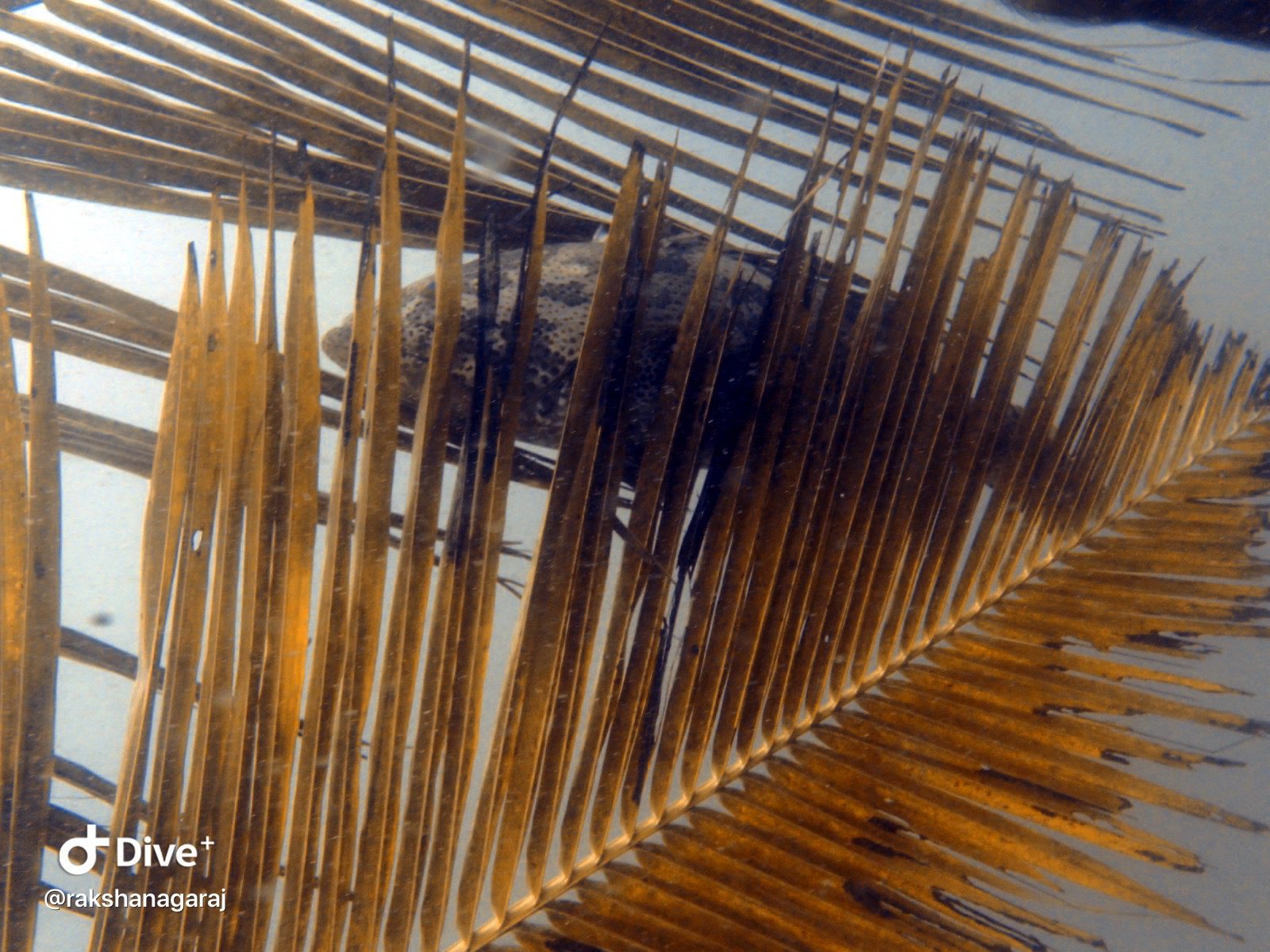 Best Dive Centre
While researching for best dive centres in Pondicherry, the top suggestion given by a few of my fellow divers who had dived in Pondicherry and Google reviews was Temple Adventures.
Temple Adventures was started about 10 years ago and has established itself as one of the best centres along the East coast of India, in Pondicherry and Chennai. They are a premium PADI 5 star IDC dive centre in India.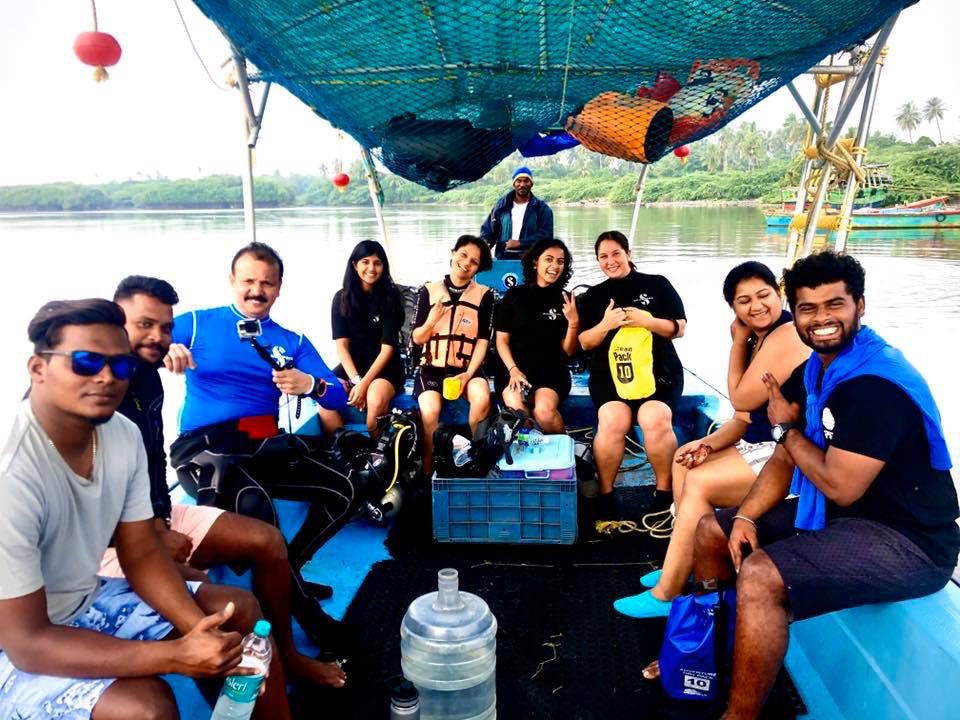 The scuba packages, including DSDs and the dive courses, are designed to fit in for all types and levels of divers. The cost of the packages includes training, equipment, transportation, and instructor fees. They have knowledgeable dive masters and instructors who are very professional and friendly. The dive centre is located in the city centre of Pondicherry and is very easily accessible.
They also have a dive shop that sell all the scuba equipment gear.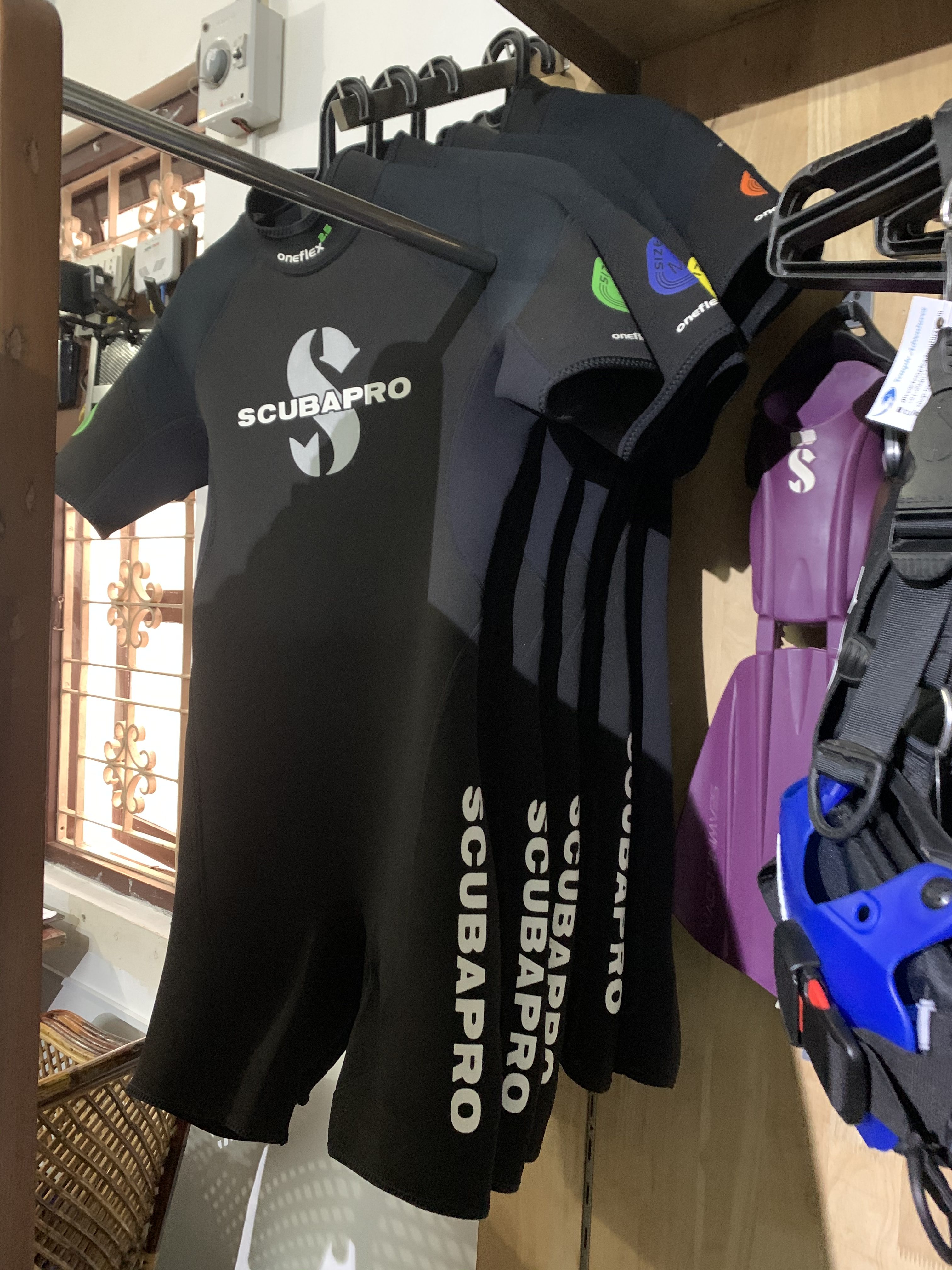 Contact details
My review about the dive centre
Being a solo female traveler and diver, I always look for dive centres that are safe for female divers. The three days I spent diving with Temple Adventures, not once did I repent for choosing them. The staff is absolutely brilliant and professional. Every person in the centre was extremely friendly and cared for their divers.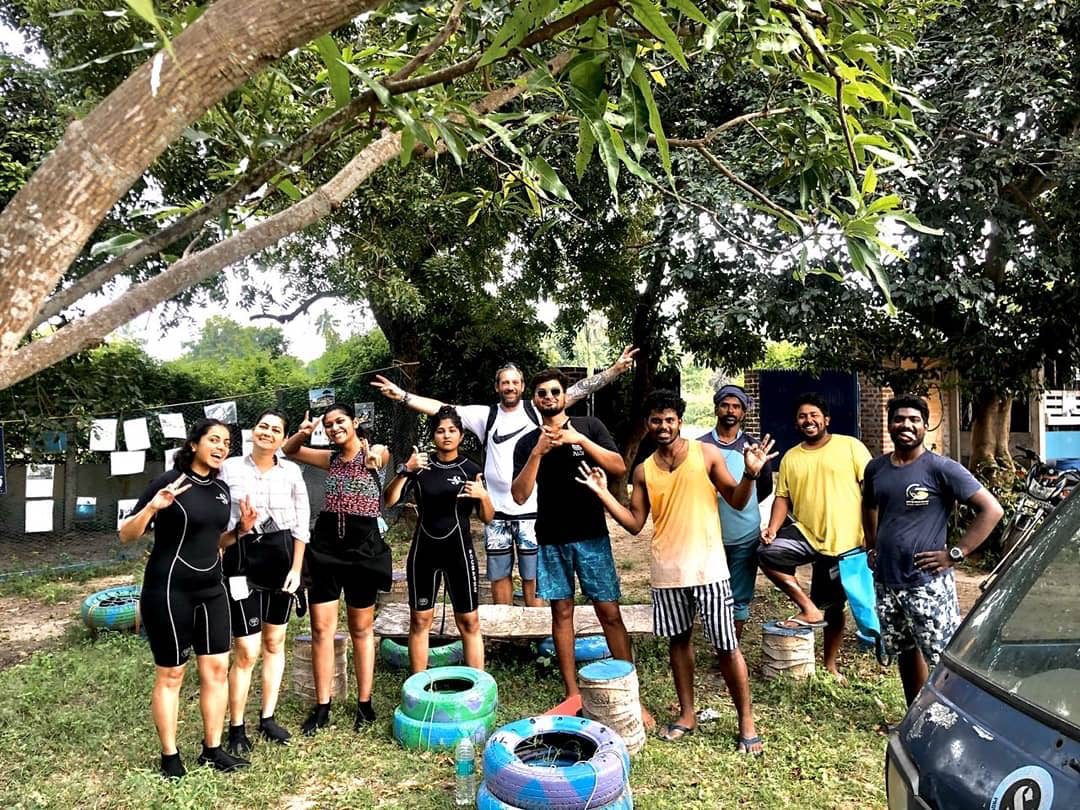 What makes them best is their passion for ocean and diving. My diving instructors, Gareth and Das, were awesome and I had great fun learning and completing my Advanced Open Water course with them. I definitely give the dive centre a thumbs up and totally recommend them for your next dive.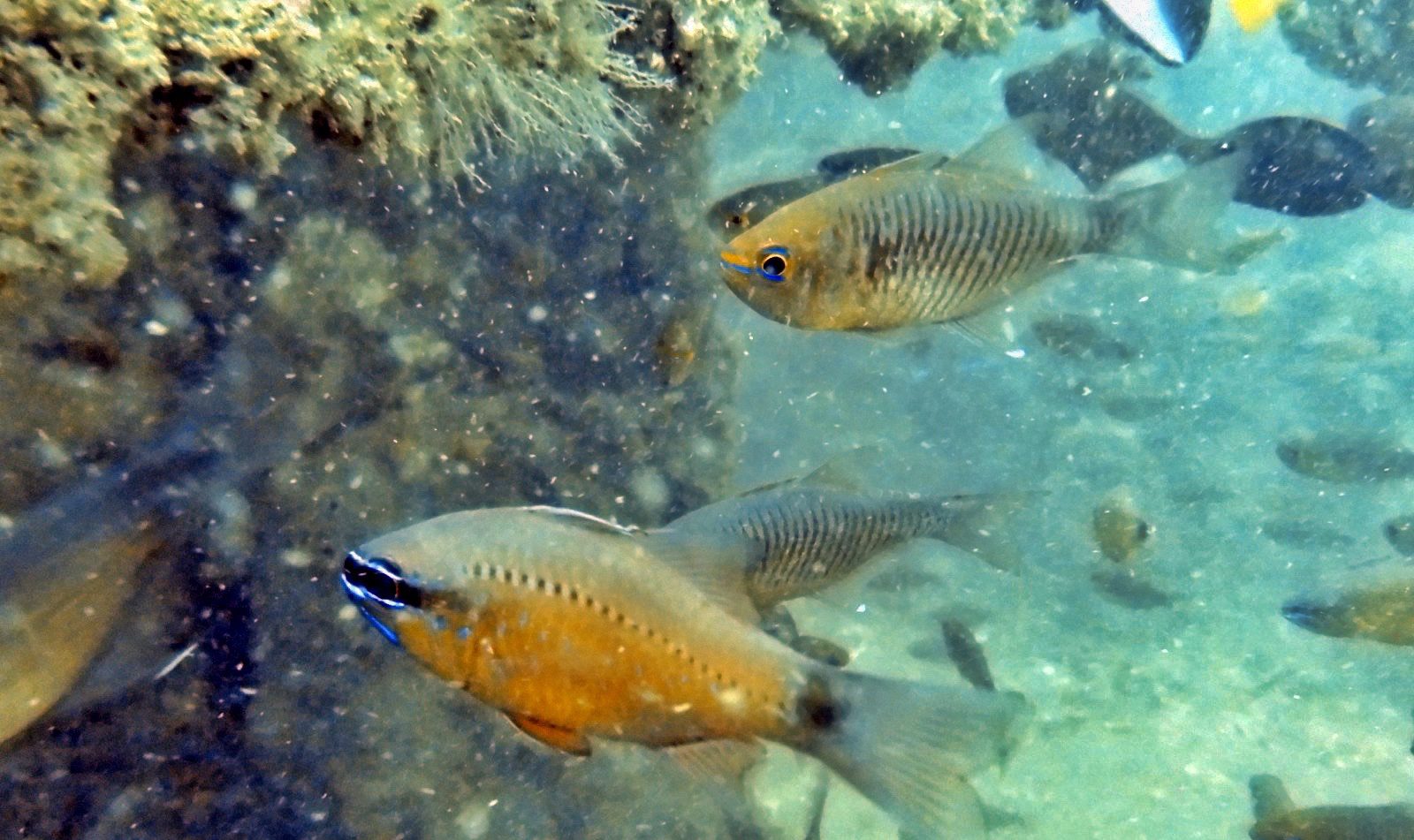 Frequently asked questions (FAQ)
Q: Is swimming necessary for scuba diving?
A: Short answer is:
No, if you are going for Discover Scuba diving (DSD) which is for beginners, non-certified divers or for people who are trying the scuba diving for the first time.
Yes, if you want to get certified.
Q: What is Discover Scuba Diving (DSD)?
A: Discover scuba diving is not a certified course, it is to understand if you really like diving or not. I always suggest that people first do the discover and then if you like diving, then go for certification. I had done 15 discover dives before finally deciding on my Open water certification.
Q: Is Pondicherry good for scuba diving?
A: Yes, Pondicherry has good scuba diving sites that are explored and perfect to see abundant marine life.
Q: How much does scuba diving cost in Pondicherry?
A: The cost of scuba diving varies depending on the package you choose. The DSD is for non-certified divers and it costs around INR 5000 to 6500 + GST per person. And an extra dive cost about INR 3500 + GST.
Q: What dishes do you see while scuba diving in Pondicherry?
A: There is a lot of variety of fishes at the dive sites. You can expect groupers (huge ones), puffer fishes, scorpion fishes, lion fishes, snappers, silver monies, and many more.
If you have more questions regarding scuba diving in Pondicherry, do not hesitate to write to me on Solopassport@gmail.com.
Closing Notes
Scuba diving in Pondicherry is perfect in every way, the weather is good, the marine life is awesome and the dive sites and the centre are even better. So, I definitely recommend diving in Pondicherry for sure and it surely has become one of my favorite diving sites along the east coast of India. Have you dived in Pondicherry? Let me know in the comments below.
This post is written in collaboration with Temple Adventures. However, all the opinions and views expressed in this post are solely mine and unbiased.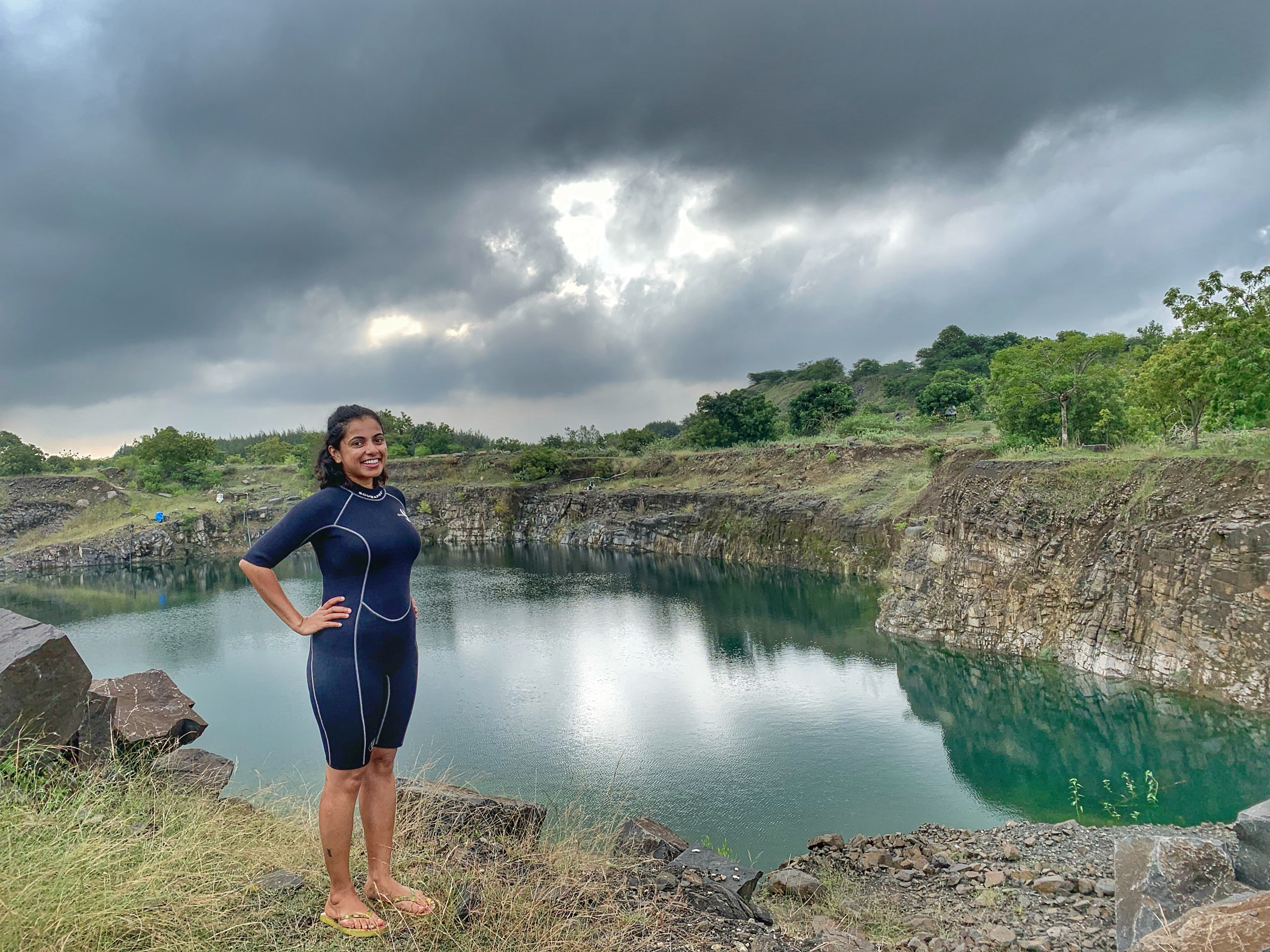 How can you support me?
You know how much I love coffee, so you can buy me coffee – Buy me Coffee!

Or you can purchase from one of the below travel resources without any extra charge to you:
Travel Resources
Book your flight on Skyscanner.com or Trip.com
Reserve your accommodation on Stay22
Buy comprehensive travel insurance on SafetyWing and WorldNomads
Book your tours and travels or purchase tickets on Viator or GetYourGuide
For a universal SIM card, use DrimSim
If you liked this article and if it was helpful in your planning or traveling, do share, tweet, or pin this post.

Follow me on Instagram | Facebook | YouTube | Twitter | LinkedIn
Do you have a question? Or want any suggestions, and tips for travels, hikes and scuba dives? Use the Subscription box below to sign-up and get updates by email.
Also read:
PIN for later reference