Road trip from Adelaide to Coober Pedy
Did you know Australia has an underground town? The churches, houses and the bars are underground and is one of the most unique places in the world? The road trip from Adelaide to Coober Pedy makes a perfect adventure and is worth doing.
The first travel I planned as part of my 6 months long travel was to a place called Coober Pedy in the South Australia state of Australia. My friends and I did this road trip from Adelaide to Coober Pedy. We flew in to Adelaide from Sydney.
Also Read | Top 10 Things to do in Australia
PIN for later reference
This article may contain affiliate links. For full information, please see our affiliate disclaimer here.
About Coober Pedy
Popularly known as Opal capital of the World, Coober Pedy is known for the opal mining industry, and is one of the unique and must visit places in South Australia. Situated basically in the middle of nowhere in the outback, Coober Pedy is Australia's underground town where 80% of the people live underground. The underground homes are referred to as "Dugouts". It is ranked as World's strangest town.
Did you know that Coober Pedy was featured in the video game series called Forza?
How to get to Coober Pedy?
There are four ways to get to the town:
By Air – There are frequent flights run by Regional Express between Adelaide and Coober Pedy. The most economic way is to fly to Adelaide and then drive to the town.
If you are in Adelaide, then do check out some really cool murals and street art in the city, read street art in Adelaide.
By Road – It is about 840 kilometres i.e. 9 hours' drive (one-way) from Adelaide. And this is a must as the drive from Adelaide to Coober Pedy is an adventure in itself with spectacular stopovers and landscapes. You can rent cars either from Rental Cars or Jucy Rentals for your drive. Make sure to buy full insurance with zero excess while renting out the car in Australia.
Things to know for your road trip from Adelaide to Coober Pedy
Before you start on your road trip from Adelaide to Coober Pedy, there are a few things you need to know and remember:
Beware of the cows, kangaroos, emus, sheep, lizards and other wildlife that may come on roads suddenly. You will be surprised by how amazing wildlife is in the Outback.
Take lots of water and snacks. The temperature is hot and you will need to hydrate yourselves so make sure to take lots of drinking water.
Beware of overtaking road trains.
Glendambo is the last town to have fuel before proceeding from Adelaide to Coober Pedy. The distance between the two towns is 253 kilometres. Note: Coober Pedy does have fuel stations.
Adelaide to Coober Pedy | Road Trip Itinerary
Two of my friends and I decided to do a road trip from Adelaide. We all could drive and have Australian full driver's licences so the distance for driving was not an issue. Also, the roads to Coober Pedy are in excellent condition, they are marked and proper cemented roads.
The itinerary that we followed is:
Day 1 – Sydney to Adelaide
The day was just to fly into Adelaide from Sydney.
Took a flight from Sydney to Adelaide. The one-way ticket on Qantas cost around AUD 136.06 + 6000 Qantas points.
Stayed at Adelaide Central YHA for the night. As a budgeted traveler, I always look for affordable accommodations and I have always found Youth Hostels Association (YHA) to be the best among all the other hostels in Australia. The hostel is clean and the staff are very friendly and always ready to help.
Total distance to drive: None.
Day 2 – Adelaide to Coober Pedy via Port Augusta
Drove to Coober Pedy via Port Augusta.
Stayed at Coober Pedy for the night.
Total distance to drive: Adelaide to Coober Pedy - 846 kilometres (9 hours).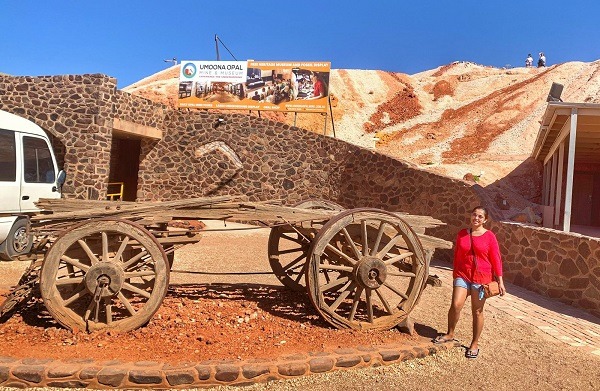 Day 3 – Coober Pedy Sight Seeing, Coober Pedy to Quorn
Sightseeing at Coober Pedy. Refer below in the things to do section to see what all things can be done in Coober Pedy. I recommend staying in Coober Pedy for few more nights. The town is beautiful and you can explore the town and the surroundings.
Started our drive back towards Adelaide.
Stayed at Quorn for the night.
Total distance to drive: Coober Pedy to Quorn – 580 kilometres (6 hours).
Day 4 – Quorn Sight Seeing, Quorn to Adelaide
Sightseeing at Quorn. Quorn is surely a beautiful town and there are plenty of things to do (see below section).
Total distance to drive: Quorn to Adelaide airport via 

Wallaroo

 

– 350 kilometres (4.5 hours).
Day 5 – Adelaide to Sydney
Flew from Adelaide to Sydney. The flight costed me AUD 129.06 per person on Jetstar.
If you plan to stay in Adelaide for a few more days, then do visit Kangaroo Island.
Total distance to drive: None.
Things to do
I have divided things to do based on the places I visited.
Coober Pedy
Tom's Working Opal Mine tour – This is a great tour to get a sneak peek into the Opal mining. They have different guided tours, costing from AUD 15 to AUD 28.
Stay underground in one of the beautiful hotels. There are plenty of them and we stayed at Radeka Downunder Underground Motel.
Painted desert – Located around 80 kilometres from the town of Coober Pedy, you must visit the Painted Desert which is supposed to have been created around 80 million years ago.
Longest fence of 5600 kilometres – Even though we wanted to see this, but we could not because of time constraints.
Kanku-Breakaways Conservation Park – Spreading across 1500 hectares, Kanku-Breakaways Conservation Park is home to abundant flora and fauna.
Visit underground churches – As I mentioned earlier, the churches are also underground and you can visit them.
Umoona Opal Mine and Museum – One of the popular touristy things to do in Coober Pedy is to take a guided tour at Umoona Opal Mine and Museum. These guided tours run every day at three times (10 AM, 2 PM and 4 PM).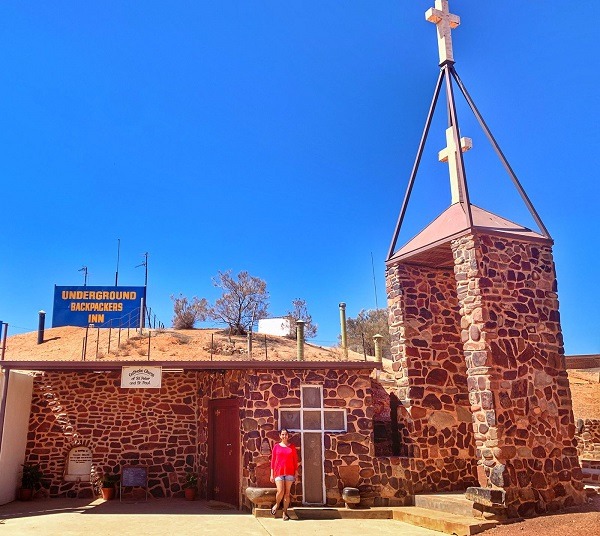 Port Augusta
Located at the border of Eyre Highway and Augusta highway, Port Augusta is a small city known for its art galleries and parks.
Wadlata Outback Centre exhibits the history of Flinders Ranges and Outback.
Matthew Flinders Red Cliff Lookout is a viewpoint to see the estuary and bridge. It is a great photo point.
RSL Military museum showcases the artefacts and history of military.
Quorn
Pichi Richi Railway station – This was really interesting as we saw a train with Steam engine board and start its journey.
Quorn Silo Light Show – Its a trend to go see Silos in Australia and you can see one of them in Quorn.
Where to stay?
We stayed at three different places for three nights, one of them being an underground accommodation.
Adelaide
Name: Adelaide Central YHA.
Cost: AUD 27 in a 6 Female Dorm.
Address: 135 Waymouth Street , Adelaide, SA, 5000.
You can also consider InterContinental Adelaide, Nightcap at Hendon Hotel or Comfort Hotel Adelaide.
Coober Pedy
Cost: AUD 120 for 3 people (AUD 40 per person).
Address: 1 Oliver Street, Coober Pedy, SA, 5723, Australia.
You can also consider Green Opal, City Centre Apartments or Ali's Underground Home.
Quorn
Name: Transcontinental Hotel booked through AirBnB.
Cost: AUD 82 for 3 people (AUD 27.34 per person).
Address: 15 Railway Terrace, Quorn SA 5433, Australia.
You can also consider Flinders Range Motel or Birdsong Gardens.
Car Rentals
Renting a car or a campervan is very easy in Australia. The airports and the cities have car rental agencies such as Rental Cars or Jucy Rentals from where you can pick up and drop the cars. You need to have a valid international driver's licence (in English). The hire charges are calculated based on the 24 hours from the pick-up time.
Note: While hiring a car from a rental company, always look for complete or full insurance with minimum excess. We usually go for full insurance with zero excess.
Because of my friend, we got a corporate offer from Thrifty car rentals, so the car hire expenses turned out to be very cheap. The total cost including the ultimate protection was AUD 277.50 for 3 people. However, this cost did not include the fuel charges, which costed us additional AUD 248.79.
Note: Thrifty car was comfortable and clean. Even though we did not hire from Hertz, I have always loved hiring cars from Hertz. The cars are well maintained and clean.
Total cost for road trip from Adelaide to Coober Pedy and back
Note: The expenses calculated here are for each person. It was a little cheaper because we were three of us and we divided the expenses among the three of us.
Below are my expenses for this entire road trip:
Flights:

Sydney to Adelaide = AUD 136.06.
Adelaide to Sydney = AUD 129.06.

Car + Fuel:

Car = AUD 92.5.
Fuel = AUD 82.93
Car Park = AUD 10.

Accommodation:

YHA Adelaide = AUD 27.
YHA Adelaide (stayed here for two nights) = AUD 27.
Backpackers Inn (CP) = AUD 40.
Hotel Transcontinental (Quorn) = AUD 27.4.

Food = AUD 116.2.
Museum tour = AUD 10.
Souvenirs = AUD 70.
Total cost = AUD 768.15 per person
Safety for solo female travelers
Overall, Australia is very safe for all kinds of travelers. It is one of the backpacking destinations in the World with amazing facilities and good hostels. So, I would definitely say that it is absolutely safe for solo female travelers as well. However, like any other place, please do take precautions and trust your instinct, especially at nights.
Are you new to solo traveling and have a lot of questions? Read frequently asked questions about solo traveling.
Memorable experiences from Coober Pedy
Look at that Moon!
'Oh my God!', 'What is that?', 'Is that really the moon?', 'Is it real?', 'You got to be kidding me!' were some of the thoughts my friends and I had when we saw a half-round shaped 'something' at the end of the horizon. And yes, we did quickly realise it was the spectacular moon. A big round red moon!
The sight was absolutely breathtaking, the moon was huge and red and spectacular. The pictures do no justice to the sight we saw. We parked our car on the side of the highway and took so many pictures to our heart's content. This is one such beautiful moment that we will never forget in our lives. And we are glad that we experienced this amazing memorable moment.
Spotting a wedge tailed eagle
It is during an unfortunate situation that I spotted a wedge tailed eagle . There were so many road kills on my recent road trip, between Adelaide and Coober Pedy. Many wallabies and wildlife killed on the highways. There were dead carcasses on either sides of the roads and these served as a great food source for the wedge tailed eagles. The wedge tailed eagles fed on those dead wallabies, while the crows patiently waited at a considerable distance.
It was my first time. I had never seen a wedge tailed eagle before. They are such big birds (one of the many Australian native birds) and they ruled those roads. But I need to confess, I expected more hair/fur on their heads. Well, they were pretty much bald – which was surprising to me.
Are you one of those who love adventures? Then Cage Diving with the Great White Sharks is for you.
Closing Notes
Adelaide to Coober Pedy was surely one of my most memorable road trips in Australia. The place and the outback is something that I love and I really enjoyed visiting the place. It is unique and one of its kind and hence I highly recommend visiting Coober Pedy.
How can you support me?
You know how much I love coffee, so you can buy me coffee – Buy me Coffee!
Or you can purchase from one of the below travel resources without any extra charge to you.

Travel Resources
Click to book your flight on Skyscanner.com
Click to book your accommodation on Stay22
Click to book a comprehensive travel insurance on Safety Wing
Click to book your tours and travels on Viator or GetYourGuide
If you liked this article and if it was helpful in your planning or traveling, do share, tweet, or pin this post.

Follow me on Instagram | Facebook | YouTube | Twitter | LinkedIn
Do you have a question? Or want any suggestions, and tips for travels, hikes and scuba dives? Use the Subscription box below to sign-up and get updates by email.
Also read
PIN for later reference