Travel Guide | Tropical North ? (Queensland)
The first thing that comes to my mind when I think of Queensland is the Great Barrier Reef. The northern part of Queensland is not only famous for the spectacular blue oceans and Great Barrier Reef, but also for the lush rainforest and definitely one of the oldest rainforests in the World – The Daintree Rainforest. Tropical North is the northern part of Queensland, stretches the area of Mackay (north) to Cape York. A place where The reef meets the rainforest.
It was my friend's birthday, a day before the ANZAC day. We decided to take two extra days off work to get a 5 days long holiday. His Wishlist for this year was diving in the Great Barrier Reef. We visited Cairns, Kuranda, and Port Douglas as part of this trip.
PIN for later reference
This article may contain affiliate links. For full information, please see our affiliate disclaimer here.
Flights (Getting there)
Frequent flights run between Sydney and Cairns.
Tigerair and Jetstar are the budgeted airlines.
Accommodation
There are various options for stay in Cairns and Port Douglas.
We stayed at Ramada Resorts for 3 nights, which was a beautiful property. I had hired a studio apartment and I must say I was impressed with the place. The staff is friendly and the resort has plenty of things to do including a pool and a spa.
For 1 night in Cairns, we chose a budgeted option of staying at Cairns YHA.
Travel around
We hired a car to travel around. I always prefer hiring the car from Hertz as the cars are very well maintained and clean.
It is advisable to take full cover with excess AUD 0 and roadside assistance when hiring a car.
Fuel
The car must be returned on the last day with a complete tank.
Note: Ensure you ask the car hire agency what type of fuel must be filled.
Things to do in Tropical North
Kuranda
Our first stop was at Kuranda village.
Kuranda is a village near Cairns around 25 kilometres from Cairns. It is famous for its Skyrail cableway offering the views of the rain forests and the ocean. There are plenty of things to do at Kuranda. However, due to the lack of time, we visited only two places:
Bird Sanctuary: It is the largest collection of Australian birds.

Cost for an adult: AUD 19.
Timings: 9 AM to 4 PM (every day except Christmas and Anzac Days).
P.S. Be aware of the birds as they are inquisitive about the things that you carry or wear.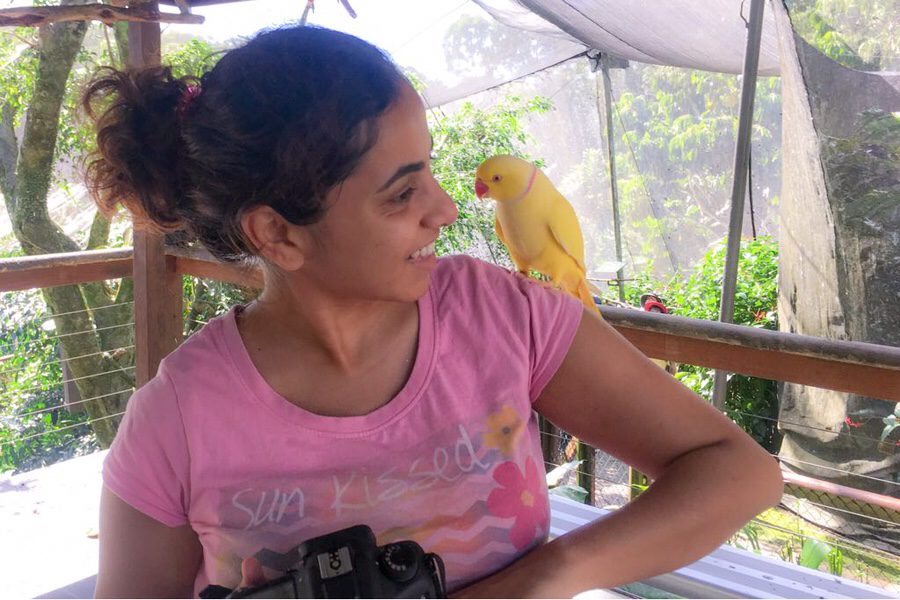 Butterfly Sanctuary – Established in 1987, this sanctuary has an amazing collection of Australian butterflies.

Cost for an adult: AUD 20.
Timings: 9:45 AM to 4 PM (every day except Christmas and Anzac Days).

Skyrail: Viewing the lush rainforest is something that one can only experience and not miss it. A Gondola ride is a must-do. It is a 7.5 kilometres cableway over the canopy.

Cost for an adult from Kuranda (return): AUD 85.
Timings: 8:45 AM to 2:45 PM (every day except Christmas and Pre-maintenance).
Port Douglas
Our second stop was Port Douglas and I am in love with this place. It is simply breathtaking.
Port Douglas is a town, 68 kilometres (1 hour drive) from Cairns. It is know for its beaches and the famous Great Barrier Reef.
Mossman Gorge: About 22 kilometres from Port Douglas is Mossman Gorge and it surely is a must-do when in Port Douglas. We did the 'Ngadiku Dreamtime Walk'. The walk provides exclusive access to Kuku Yalanji Country and is a guided walk of 1.5 hours (4.7 kilometres), lead by one of the indigenous guides.
Note: There are many more easy walks in the Mossman Gorge and one can see the wonders of Daintree forest here.
Scuba diving and snorkeling at Great Barrier Reef: Not heading to the GBR is a sin when you are at Cairns or Port Douglas. We had opted for two dives and one snorkel. We went with 'Calypso' tour operator and I must say they were just awesome. They took care of each one of us and the staff was very approachable. And woohoo, we saw Nemo and his family and pipefishes.
Note: I would recommend diving at Port Douglas rather than Cairns, as it is less crowded and more pristine.
Cairns
Cairns is a city in Queensland is a gateway to the Great Barrier Reef. It is famous for its Tjapukai Aboriginal Culture and has a lot of stories about aboriginal people. For more information on Cairns travel, refer my other post – Guide to GBR – Gateway Cairns!
Fitzroy Island day tour: Fitzroy Island is around 30 kilometres (45 minutes boat ride) off the coast of Cairns. A day tour to Fitzroy from Cairns is sufficient to explore this island. Fitzroy is undoubtedly a paradise. On the island, we did the summit walk of 7 kilometres return and also snorkeled.
Expenses (Travel in Tropical North)
Tigerair flight from Sydney to Cairns – AUD 175 (USD 133)
Jetstar flight from Cairns to Sydney – AUD 140 (USD 106)
Ramada Resort (Studio apartment) – AUD 340 for 3 nights (USD 258)
Cairns YHA – AUD 94 for 1 night (USD 71)
Hertz Car hire – AUD 371 for 4 days including super cover and roadside assistance (USD 281)
Fuel cost – AUD 32.63 for ~250 kilometres (USD 25)
Bird Sanctuary entry fee – AUD 16 (USD 12)
Butterfly Sanctuary entry fee – AUD 19.5 (USD 15)
Mossman Ngadiku Dreamtime Walk – AUD 75 (USD 57)
Scuba diving and snorkelling – AUD 348 (USD 264)
Reef tax – AUD 6.5 (USD 5)
Photos and videos of our dives – AUD 75 (USD 57)
Fitzroy Island day tour – AUD 109 (USD 83)
Skyrail – AUD 79 (USD 60)
Food – extra expenses and it depends on the traveller.
Miscellaneous – AUD 15 (USD 11)
A total expenses of AUD 1895.63 (USD 1438) per person.
Note: Ensure to check the up-to-date expenses on individual websites.
Safety for solo female travelers
Tropical North is absolutely safe for solo female travelers. I have traveled in the area many a times and I have not had any issues. However, like any other place, be cautious especially at nights.
Closing Notes
If you are visiting Australia, then I would definitely recommend visiting the Tropical North of Queensland. The places are very beautiful and most of them are untouched. It is a great place to learn about indigenous culture, see the rain forests, and experience the Great Barrier Reef.
How can you support me?
You know how much I love coffee, so you can buy me coffee – Buy me Coffee!
Or you can purchase from one of the below travel resources without any extra charge to you.

Travel Resources
Click to book your flight on Skyscanner.com
Click to book your accommodation on Stay22
Click to book a comprehensive travel insurance on Safety Wing
Click to book your tours and travels on Viator or GetYourGuide
If you liked this article and if it was helpful in your planning or traveling, do share, tweet, or pin this post.

Follow me on Instagram | Facebook | YouTube | Twitter | LinkedIn
Do you have a question? Or want any suggestions, and tips for travels, hikes and scuba dives? Use the Subscription box below to sign-up and get updates by email.
PIN for later reference