Your Guide to Whale watching in Sydney in 2023
As a yearly routine in Sydney, I go for a whale watching tour every single year during the whale watching season. I have always loved the whales and I like to go up close (well, as much as I can) to go see them in their natural habitat. The whale watching can be done by boat or from the mainland in Sydney during the whale migratory season.
Did you know that there are around 45 species of whales? The most common type of whales that can be seen in Australia are the Humpback whales.
PIN for later reference
This article may contain affiliate links. For full information, please see our affiliate disclaimer here.
When is the Whale migration season in Sydney?
Whale migration happens between the months of May and November in Australia. In the first part of the season, the humpback whales including the pregnant whales are seen heading from the south (Antarctica) to the north (Queensland).
And in the second part of the season, the whales along with their calves head back from the north (Queensland) to the south (Antarctica) again. They do this every single year to escape from the harsh cold waters.
These whales migrate to warmer waters in Queensland where the pregnant whales give birth to their calves. The types of whales we generally see near Sydney are the Humpback whales.
Even though the whales migrate between the months of May and November, the best time to view them is during June and July as there are higher chances of spotting them.
Did you know that a whale can migrate up to 5000 kilometres? And they do this every single year.
Where can you spot whales In Sydney?
Are you in Sydney during the winter season? Then read my post things to do in Sydney winters to find all the cool things you can do in this beautiful city.
Whale watching tour
The best and assured way to spot whales is by taking a whale watching tour. The tour operators go up close near the whales where you can spot one or two of them in that one trip. I have always seen whales every time I have gone on a whale watching tour. However, there is no guarantee that you can definitely see the whales all the time as we are watching the whales in the wild in their natural habitat and it is a hit and miss.
The whale watching tour costs money and the bookings have to be made in advance. These tours generally last for about 2.5 to 3 hours and they operate twice in a day, once in the morning and the other in the afternoon. It does not matter at what time there are more chances as the whales can be seen throughout the day. But I like to go in the morning so I can finish the tour at lunchtime.
In Sydney, these tours depart from either Circular Quay or Darling Harbour. You can easily take public transport to get to both these places, in time for the whale watching tours.
Did you know that the tour operators have to abide by the law and need to maintain a distance of 100 yards from the whales? The whales can come closer and generally that happens as the whales are extremely curious.
Place to see whales from the mainland
Sydney has plenty of places where whales can be seen from the mainland. I always suggest going on a coastal walk where you have better chances to seeing these whales. Watching these gentle giants from the mainland is absolutely free and can be done whenever you want.
Some of the walks that I can recommend are:
One walk that I can vouch for and a place where I personally saw the whales from the mainland is in the Bouddi National Park. I was sitting on the cliff by the ocean for around 30 minutes and I saw at least 8 whales.
How do I book and how much does the whale watching tour cost?
The whale watching tours in Sydney have many variances. They come with lunch, morning tea or just the whale watching tour. There are also some of the meetups that conduct whale watching photography tours.
Over the years, I have figured out that there are always deals on Viator or GetYourGuide websites for whale watching. I have bought these tours many times and I have been with many tour operators. Every one of these tour operators are great. Since Australia has strict rules for wildlife, these tour operators have to abide to them and this is perfect because the whales are then treated with respect.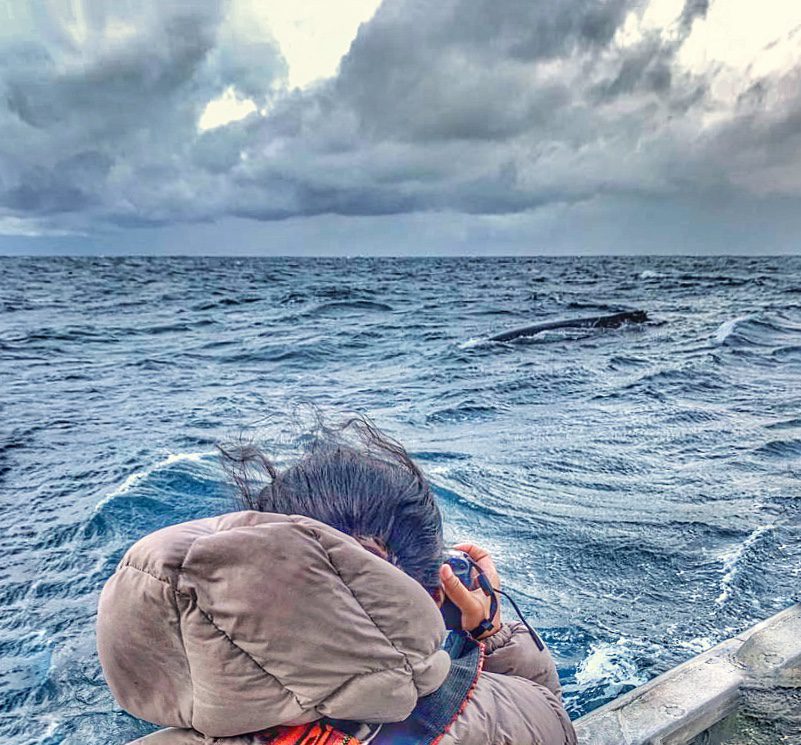 The whale watching tours start from AUD 69 per person, and as I mentioned these prices differ based on what add-ons or the type of boat you go on.
Swimming with whales
Did you know that there are a few spots along the East Coast of Australia where one can swim with the humpback whales? Jervis Bay is the closest place near Sydney where one can swim with the whales. These swimming tours are run by the operator Dive Jervis Bay and the cost of one trip is AUD 180 per adult.
The other place on the east coast where you can swim with the humpback whales is at Mooloolaba in Queensland. Organised by Sunreef Mooloolaba, these swimming with whale tours start from AUD 229 per adult.
How to spot the humpback whales?
The number one rule is to look out for a blow on the surface. Whales blow out air/ water that creates a fountain (type) in the air. And if you see that blow on the surface, then definitely there is a whale close by.
Important tips for your whale watching tour
Ensure you take a seasickness tablet before getting onto the boat. The ocean is generally very rough and rogue, and the boat is very rocky. The last tour that I went on, the height of each wave was close to 2 metres and it was 2.5 hours of a roller coaster ride. Most of them on the boat fall sick.
And one more tip when you feel seasick, the best place to be is in the open where there is fresh air.
Buy the vouchers from Viator or GetYourGuide rather than the actual whale watching tour websites to get discounts.
Book your whale watching tour in advance.
Ensure to call and confirm the tour a day before the actual booking day as sometimes because of the weather the whale watching tours do get cancelled.
Check the departing point from the operator. As I mentioned before, some boats leave from Circular Quay and others from Darling Harbour.
If watching the whales from the mainland, ensure to carry a binocular for better visibility.
Wear warm clothes as it gets very chilly in the ocean.
My whale watching stories
Year 2019
In 2019, the whale watching tour was very special for me. I have never cried emotionally before even though I have seen some spectacular things in life. But this time when I saw the two whales swimming so closely near the boat, I cried. I cried with joy and was so emotional. This is definitely a first for me as I have never cried watching wildlife before. The whole experience was thrilling and beautiful and I will always remember this in my life.
Year 2018
And they are back!
Yes, they are back! Yet again! My most favourite part of winter – the Humpback Whales <3. Starting from mid-May till mid-October is the official whale season. And I couldn't have resisted staying home or delaying my trip to watch my favourite mammals. This is the first trip with the many more to come this year.
I took the tour with Harbour Cat Sydney this time. The cost of the tour was around AUD 39 (discounted price) which was for 3 hours, in an open small party boat. The tour also included the afternoon tea. Our guide/instructor Colin was amazing. We headed towards the ocean straight after boarding. We saw a beautiful magnificent humpback. Colin mentioned the whale was a she and she was pregnant.
Yes, this time around the pregnant whales travel up north towards the Great Barrier Reef to give babies in the warmer regions. Once given birth, they travel down the south with their calves. I personally love watching the calves. They are curious and they breach more often than the mothers.
Anyway the pregnant whale we saw during our tour, did breach. But she breached only once and unfortunately, my camera was not fast enough to capture the breach. Then Colin headed further more into the ocean where we saw two more whales. They surfaced, blew some air, and went back down. It was spectacular. I love them.
Year 2017
I had posted a picture on Instagram a while ago about my whale watching experience:
"I don't care what anyone thinks of me.

Except whales…

I want whales to like me."
And I really meant it. I definitely want the whales to like me because I like them that much. And this is the reason why I go for whale watching every single year at least once without a miss (even though this year it was almost a broken ritual – but my friend Vijay ensured I didn't and I am thankful!).
Year 2016
I went on the tours twice this year as part of my yearly visit. The tours were with two different tour companies. I loved the Thunder Jet boat tour. The jet boat is a small boat and the tour company ensures that the passengers see some whales during the tour. And for me, this was the first time I had come up close to these gentle giants.
Year 2015
Dramatic Juvenile!
It was whale season again! Every year, hump back whales migrate from Southern part of Australia to Northern part between April and August. This is known as Northern migration. And every year I do not miss a chance of going on a tour and watching them.
I have taken many whale watching tours from the past three years. I find Captain Cook Cruises to be the best of all. They ensure everyone on board have the best experience. And the booking process is quite easy as well.
My first whale watching tour this season was on 13 June 2015. And I think that was by far one of the best experiences I have had.
After about an hour or hour and a half piloting into the ocean, we had spotted a young juvenile (about 2 years old – well, that's what our captain said) who put up quite a show. He had breached continuously for 1 hour to 1.5 hours (Can you believe that!)
Some pictures that I had captured of the drama:
One special incident that I will remember for long and which is very close to my heart:
As I have seen many whales, this one time was very special. It was a very close interaction with the whale. This juvenile was breaching for an hour of so. All of us on the tour were standing at the left edge of the deck, watching him breach, and clicking so many pictures (Shutter sounds all around – Click, click and click).
Suddenly, the young whale decided to go inside the water, swimming towards our boat. He swam from the left to the right side, just below our boat. While he swam under our boat, all of us who were watching him, followed him and ran to the right edge of the deck, to see him come up, emerging out of the water from the right side. So basically he went down the boat from the left, and came up on the right. All this without actually touching our boat. It was an absolute spectacle.
He was huge and beautiful and the boat had not come any closer to his size (Trust me ?).
Oh my God! I had never seen anything like that before. I must have been blessed and very lucky that day to have witnessed this magnificent and grand show.
I really wish I had taken a video of this whole incident. But I was too overwhelmed to even take a good picture.
When we were returning back to the Wharf, Captain Cook Cruises had announced a challenge – "Whoever had clicked the good pictures of the whale breaching would receive a free ticket for a whale watching tour."
And guess what? I received a free ticket.
"Willie" got his name after "Willy"
Whale Watching Tour – It was our Willie's birthday on 9 August 2015. He would have turned 6 years.
We decided to celebrate his birthday by going on a whale watching tour. Why? Because Willie was named after the whale 'Willy' in the movie 'Free Willy'. Some pictures from our whale watching tour:
Closing notes
As I am a wildlife lover, I strongly recommend going on a whale watching tour to see these beautiful gentle giants. Go out there and Happy Whale Watching!
If you have seen whales, then I would love to hear. Please drop a comment or write to me on Raksha.Nagaraj@Solopassport.com or Solopassport@gmail.com.
How can you support me?
You know how much I love coffee, so you can buy me coffee – Buy me Coffee!
Or you can purchase from one of the below travel resources without any extra charge to you.

Travel Resources
Click to book your flight on Skyscanner.com
Click to book your accommodation on Stay22
Click to book a comprehensive travel insurance on Safety Wing
Click to book your tours and travels on Viator or GetYourGuide
If you liked this article and if it was helpful in your planning or traveling, do share, tweet, or pin this post.

Follow me on Instagram | Facebook | YouTube | Twitter | LinkedIn
Do you have a question? Or want any suggestions, and tips for travels, hikes and scuba dives? Use the Subscription box below to sign-up and get updates by email.
PIN for later reference