Even though it is such a beautiful coastal suburb in Queensland, it is so underrated. The beaches and the spectacular sunsets are sufficient to convince you to visit Mooloolaba. Let me be honest and I will confess that I had never heard of Mooloolaba before. Swimming with whales has always been on my Australian bucket list and that is how Mooloolaba happened. One of the places where the swim with whales on the east coast happens is at Mooloolaba.
PIN for later reference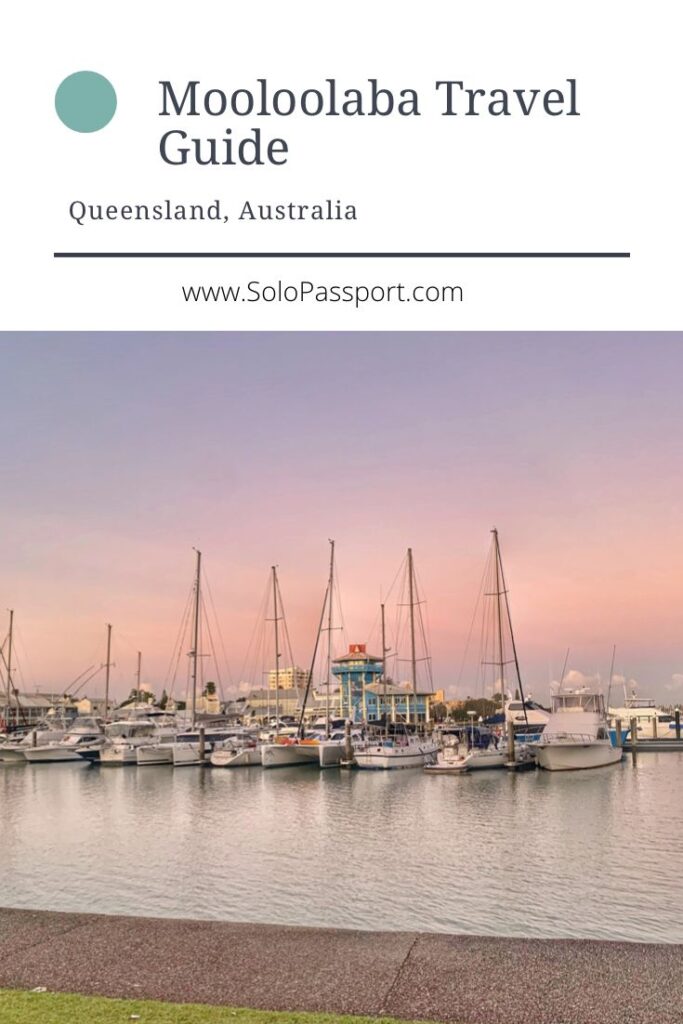 This article may contain affiliate links. For full information, please see our affiliate disclaimer here.
Disclaimers:
The prices mentioned in the post are valid only at the time of publication. Ensure to check the booking websites for up to date information and prices.
Opinions and views expressed solely mine and are unbiased. If the post is a collaboration, then they are specifically mentioned.
Ensure to check the relevant websites for up to date information on COVID protocols.
For any adventurous activities, please note that there is a risk that can be dangerous. Ensure to read the terms and conditions with individual agencies recommended and do them at your own risk.
For visas, it is best to see the embassy website for any changing rules.
About Mooloolaba
Located in the Sunshine Coast region, Mooloolaba is a coastal suburb of Maroochydore. Mooloolaba is famous for its safest and cleanest beach, Mooloolaba beach. It was also voted as the sixth best beach in Australia by Tripadvisor. The name Mooloolaba is derived from the aboriginal word mulu which means snapper fish. According to 2016 census, Mooloolaba has a population of just 7700 people.
The best time to visit Mooloolaba is during the summer season, which are between the months of December and February. You need just around 2 to 3 days to explore Mooloolaba. If you have a few more days, then extend your holiday to include Noosa Heads. Noosa Heads is another coastal town, just 50 kilometres from Mooloolaba, with breathtaking beaches.
How to get to Mooloolaba?
Airport – The airport at Sunshine Coast is the closest airport to Mooloolaba. Mooloolaba is just around 20 kilometres from the airport and the taxi ride costs about AUD 40 one way. Jetstar is the affordable airline that operates from Sunshine Coast.
Driving – Mooloolaba is only about 100 kilometres from Brisbane. And the drive takes one hour 15 minutes.
Train (public transportation) – Landsborough station is the closest train station to Mooloolaba. The station is around 30 minutes from Mooloolaba. And there are frequent trains between Bowen Hills (Brisbane) and Landsborough station. For up to date information on trains, timings and routes, check Translink.
Stay at Mooloolaba
Mooloolaba has hotels and motels ranging between budgeted backpackers to luxurious travelers. The suburb has Airbnbs and Serviced apartments too. Mantra on Mooloolaba beach is an amazing stay with uninterrupted views of the ocean. There are other lovely hotels too like Coco and Oceans.
Central Motel
Central Motel was a very cute motel, perfect for solo travelers. The rooms are accessible by code which are all handled digitally where the admin sends you an email with the code. The room given to me was cosy and comfortable and I had a pleasant stay. It is conveniently located too, with just a few hundred metres from the wharf.
Things to do at Mooloolaba
Visit Mooloolaba beach
According to Tripadvisor, Mooloolaba is the sixth best beach in Australia. The pristine beach with spectacular blue waters is surely one of the most amazing beaches. Definitely tick off visiting this pretty beach when you are in Mooloolaba.
Watch sunset at the Wharf
The sunset by the wharf is mesmerising and delightful. I highly recommend walking by the wharf during the sunset as the sky becomes dramatic and pink. And its magical.
Dine at local restaurants
Mooloolaba has plenty of restaurants and cafes. The Esplanade by the wharf is a great place to have delicious food. There are restaurants catering to all cuisines and budget. I tried a few restaurants like Lotus Thai and The Surf Club, and the food served at both the places were so fresh and tasty.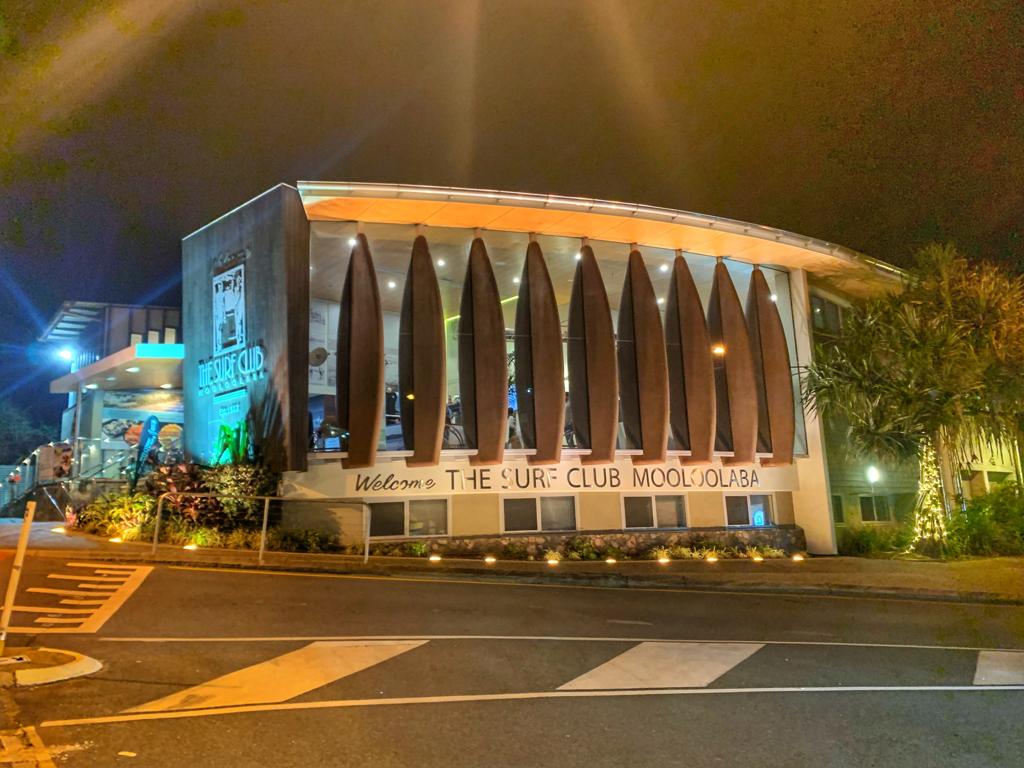 Swim with the whales
Swimming with the whales was the main reason why I visited Mooloolaba. It has been my dream ever since I have seen the humpback whales from the surface. The entire snorkeling trip is for about 4 hours and the boat goes to the place that is called the Whale highway and wait for the whales. Once the whales are spotted, the snorkelers get ready and jump into the water waiting for the whales to show up.
Company: Sunreef Mooloolaba is the first dive centre to run tours to swim with humpback whales in Australia.
Cost: AUD 229.
As the whales are in the wild, whether the whales want to interact with humans completely depend on the whales. Unfortunately, I did not see any whales underwater even though we saw a few of them from the surface.
Have a gelato
The Wharf and the Esplanade has many ice cream shops. So, grab a gelato and go watch the sunset by the Wharf. It is mesmerising and absolutely beautiful.
Go whale watching
Between the months of May and October, Australian east coast has the whale migration season, which means there are cruises and ferries that take you out for whale watching. The whale watching ride usually is about 3 to 4 hours and during the season, the visitors will surely see at least one of the whales.
The whale watching cruise usually cost between AUD 40 to AUD 100.
Note: Whales are in the wild and the cruise companies cannot control whether the whales can be seen or not.
If you are in Sydney, then read Whale Watching in Sydney for a detailed guide.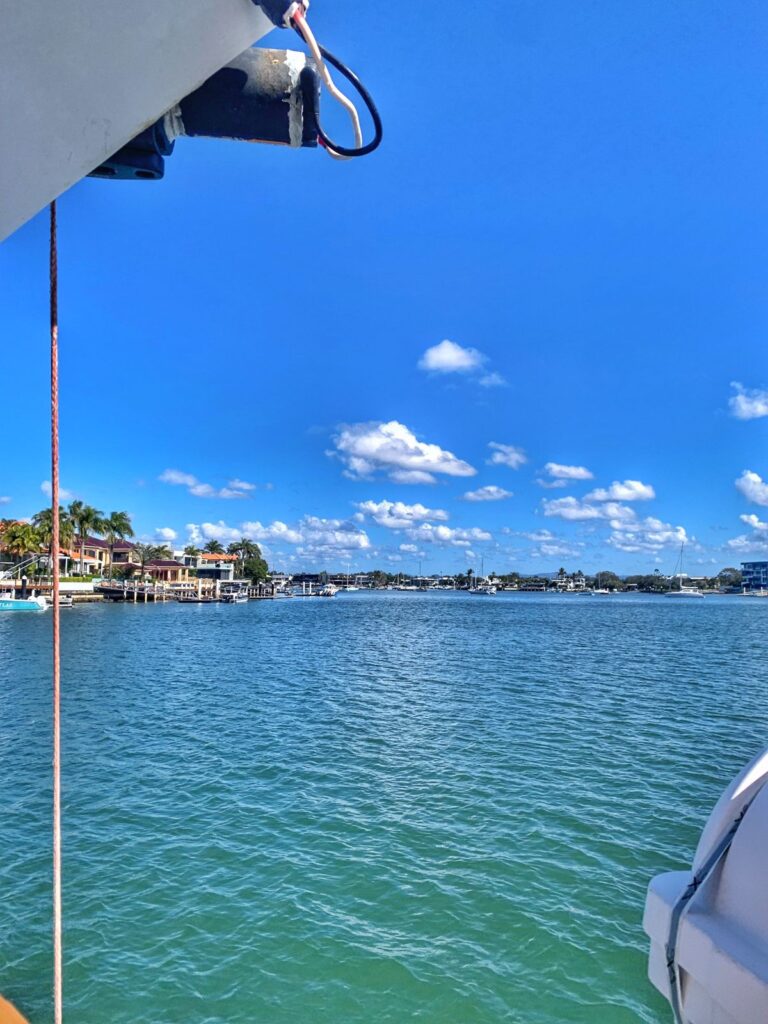 Scuba dive at HMAS Brisbane
One of the most famous ship wrecks around Australia is ex-HMAS Brisbane and you can go diving at this wreck from Mooloolaba. HMAS Brisbane is the second ship of Hobart class air warfare destroyers used by Royal Australian Navy. It is named after the city Brisbane. The maximum depth for the wreck is around 28 metres and is perfect for certified divers above Advanced open water. But even the Open water certified divers can dive too and stay above 18 metres.
Dive centre: Sunreef.
Cost: AUD 175.
Aquaduck boat ride
Aquaduck is a one hour bus and boat ride where the bus becomes a boat once on water. It is such a fun ride and one of the unique ones. I loved taking this ride when I was in Gold Coast and I was pleasantly surprised to see it in Mooloolaba as well.
Safety for solo female travelers
Mooloolaba is very safe for solo female travelers. I walked around all day and night alone and I had no issues whatsoever. I had a great time as people are really friendly and nice. However, like any other place in the world, be careful and know your surroundings, especially at night.
Closing Notes
I loved Mooloolaba. It is a sleepy suburb with such a laid back life. The beach, wharf, people and the food, everything about Mooloolaba was amazing. I had a great weekend and I do hope to get back here again soon.
How can you support me?
You know how much I love coffee, so you can buy me coffee – Buy me Coffee!
Or you can purchase from one of the below travel resources without any extra charge to you.

Travel Resources
Click to book your flight on Skyscanner.com
Click to book your accommodation on Stay22
Click to book a comprehensive travel insurance on Safety Wing
Click to book your tours and travels on Viator or GetYourGuide
If you liked this article and if it was helpful in your planning or traveling, do share, tweet, or pin this post.

Follow me on Instagram | Facebook | YouTube | Twitter | LinkedIn
Do you have a question? Or want any suggestions, and tips for travels, hikes and scuba dives? Use the Subscription box below to sign-up and get updates by email.
PIN for later reference