Manly to Mona Vale walk via Long Reef (Sydney)
We, Sydneysiders, love our coastline and Sydney is definitely blessed with some spectacular coastal walks. Be it Bondi to Coogee, or Manly to Spit, every walk is very pretty and picturesque. Yet another long and beautiful walk along the coast is the walk between Manly and Mona Vale via Long Reef. This coastal walk surely provides appealing beaches and lovely views on the way. It also goes through some headlands as well for the bush lovers. In spite of being easy, the walk is definitely challenging because of the distance that it covers.
PIN for later reference
Please note: This post may contain affiliate links which means I may earn a commission if you make a purchase by clicking a link on this post. This will be at no additional cost to you. Affiliate links help me keep this website up and running. Thank you for your support.
Introduction
A very scenic coastal walk is the walk from Manly beach to Mona Vale beach via Long Reef beach. The walk passes through some of the amazing beaches in Sydney.
Manly Beach – The walk starts at Manly beach. Manly beach is famous for holding the World's first surfing contest in the year 1964. Apart from the breathtaking views of Pacific Ocean, the beach curves itself to a submerged reef that creates the waves that are spectacular for surfing.
Freshwater Beach – Located in Freshwater suburb, Freshwater beach is a short walk from Manly beach on the northern side. It is a beach that is famous among the families and surfers.
Curl Curl Beach – Also, famous among the surfers, Curl Curl beach is 1.2 kilometres long. The name 'Curl Curl' comes from an aboriginal word that means 'lagoon'
Dee Why Beach – A beautiful lively sandy beach is the Dee Why beach. The beach runs for 1.2 kilometres overlooking the Tasman Sea.
Collaroy Beach – Next to Narrabeen beach is the Collaroy beach, that is 3.6 kilometres long. Since it has great swimming conditions, the Collaroy beach is excellent for beginner surfers.
Mona Vale Beach – The Mona Vale beach is separated by a rock platform forming two beaches. The beach is 1 kilometre long and is an awesome spot for walking.
Trivia: In 1840, the name for Dee Why beach was recorded as Deewhy (a single word).
Long Reef beach – The walk also passes through the Long Reef beach. Long Reef beach is a perfect white sand beach. It is a protected aquatic reserve and a golf course. The view from the headland is a great place for viewing the whales during the whale watching season (May to October every year).

The Long Reef headland loop is around 3.5 kilometres and one can add this to the walk as well.
For more details on where to see the whales in Sydney, refer Whale watching in Sydney.
How to get there?
For this particular walk, I suggest taking the public transport as this is not a loop and it is the most easy way to get to Manly beach and from Mona Vale beach.
Public transport
Starting point: Manly wharf. The Manly beach is around 500 metres from Manly wharf which is the closest ferry point.

Regular trains run between Central and Circular Quay.
And there are ferries between Circular Quay and Manly Wharf. Manly Wharf is the starting point of the walk.

Finishing point: Mona Vale beach.

There are also frequent buses between Mona Vale and Manly Wharf.

More details and up-to-date information can be found on the New South Wales (NSW) Transport website.
Driving
Since the walk is not a loop and is a one way, the starting point is the Manly beach and the finishing point is the Mona Vale beach. The best way is to park the car at Manly beach and then once the walk finishes at Mona Vale beach is to take a bus to Manly wharf.
Manly wharf is around 16 kilometres from Sydney Central Business District (CBD). And Manly wharf is 500 metres from Manly beach.
There are many of car parking places at Manly beach. However, Manly beach is extremely crowded over the weekends.
Mona Vale is also 16 kilometres from Sydney CBD.
Details of the walk
The walk is definitely one of the easiest long walks in Sydney with admiring views. The walk passes along the coastline with some headlands.
Logistics of Manly to Mona Vale Walk
Distance: 16 to 23 kilometres depending on the route.
Time: 6 to 7 hours.
Starting point: Manly beach.
Finishing point: Mona Vale beach.
Grade: Easy to Moderate. Moderate only because of the long distance.
Path: Manly beach -> Freshwater beach -> Curl Curl beach -> Dee Why beach -> Collary beach -> Mona Vale beach.
Safety for Solo female travelers
Sydney is relatively very safe for solo female travelers. It is one of the safest cities I have been in. I have never faced any issues or concerns whatsoever. However, like any other city in the World, it is better to know the surroundings and be cautious, especially at nights.
Closing notes
This Sydney walk may not be the best and iconic walk in Sydney, but is definitely a beautiful and charming one. With endless views of the ocean, this could be a great walk to spend a weekend. I recommend this walk for sure. Also, watch out for some whales during the whale watching season!
Gallery
PIN for later reference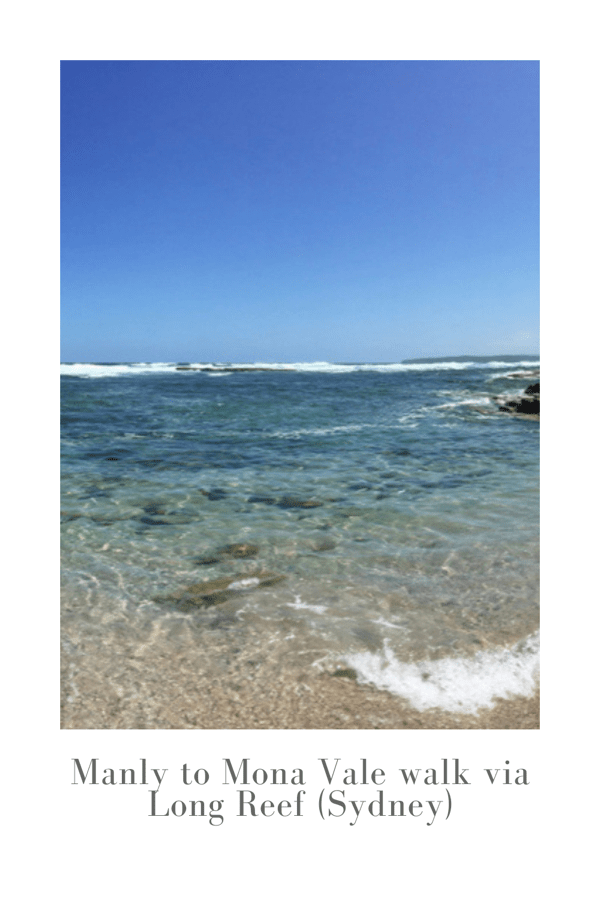 Also read