1000 Steps at Kokoda Track Memorial (2023)
During my initial days in Melbourne, I was venturing out to find new things and places. And I had accidentally found the 1000 Steps at Kokoda Track Memorial. I was not at all fit at that time and I was lazy to even walk a few distance. In spite of my laziness, I had pushed myself and had decided to do the hike. This was also a teaching for me to step up and become more fit so I could enjoy the outdoors that Australia has to offer.
Do you want to hike or trek and are not sure how and where to start? Then read my Beginner's guide to hiking and trekking for more details.
PIN for later reference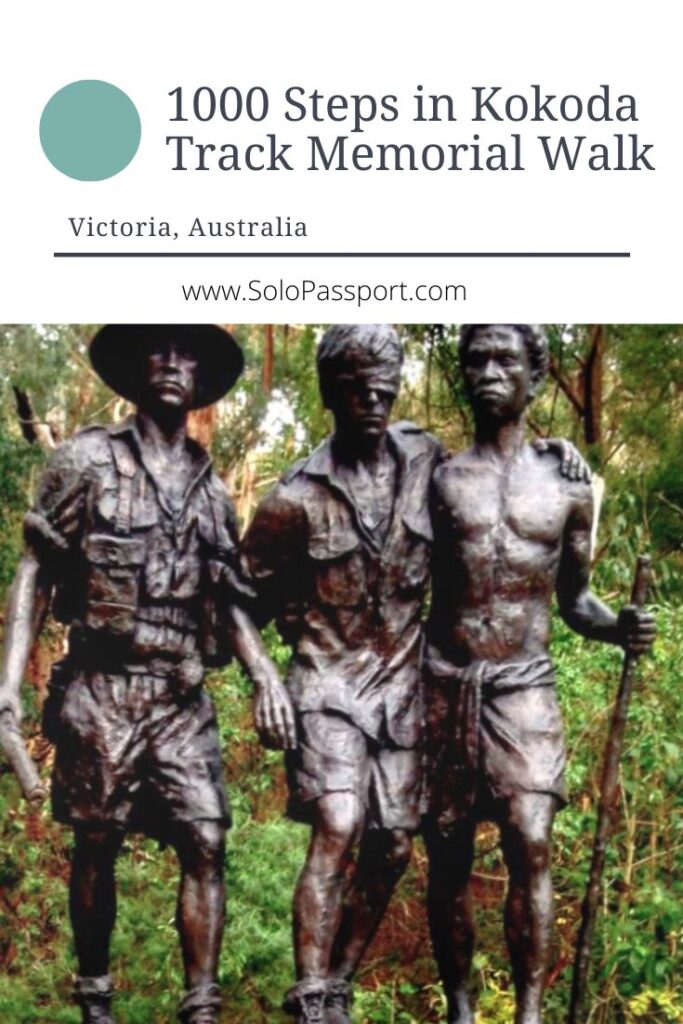 Where is Kokoda Track Memorial?
The Kokoda Track Memorial, located in the Dandenong region of Victoria state, is a living memorial and a site to honour all the people who fought for Australia during the World War II. The main focus is on the sacrifices that were made along the Kokoda track in Papua New Guinea battles. The Kokoda Track Memorial is open between 9 AM and 5 PM.
Victoria is home to many beautiful tracks and hikes. You can do hike between wild flowers, Upper Yarra Goldfields circuit walk, hike to Mount Bishop Summit, and Hanging Rock in Macedon Ranges.
The actual Kokoda Track Trail in Papua New Guinea is around 96 kilometres takes 9 to 12 days to trek. It is a challenging track and is best to do it with a guide. I have not done this trail yet but have it on my bucket list.
Are you in Melbourne for the first time and are looking for things to do? Read my post 9 things to do in Melbourne for more details.
How to get to Kokoda Track Memorial?
Driving
The distance between Melbourne and Kokoda Track Memorial is just 40 kilometres and takes only 50 minutes to reach.
The route has toll roads.
The Kokoda Track Memorial carpark has 2 hours free car parking.
Public Transportation
Melbourne Central Business District (CBD) and Kokoda Track Memorial are very well connected by trains and trams. The easiest way is to take a 50 minutes train to Upper Ferntree Gully station, which is around 1.4 kilometres from the Kokoda Track Memorial. The other way is to take two trams to reach the Ferny Creek Avenue, that is about 750 metres from the entrance.
1000 Steps in Kokoda Track Memorial
Created in 1900s, the 1000 steps is a steep walk in the Kokoda Track Memorial. It is to get a glimpse of exhaustion the soldiers felt following the Kokoda trail.
There are placards along the way that depict the lives of the people who fought and died.
Starting and finishing point: Ferntree Gully Rangers Office.
Total distance: 5 kilometres.
Time taken: 2 hours.
Grade: Moderate to Hard as the stairs are steep.
The track is for fit people and is not advised for people who have medical conditions that can cause physical restraints.
There is no entrance fee to do the hike.
Even though it is called 1000 steps, I believe that there are only 770 steps.
Safety for solo female travelers
The Dandenong range is absolutely safe for solo female travelers. But it is always advisable that one has a hiking buddy to be prepared for unforeseen and uncalled situations. As it is in the wild, it is better to be careful of the wild animals and the paths. And like any other place in the world, be cautious and know your surroundings, especially at nights.
Closing Notes
The 1000 steps is one of those hikes where hikers meet the history and fitness. It is a great place to learn and understand the sacrifices of the soldiers wand the people involved in the World War II.
How can you support me?
You know how much I love coffee, so you can buy me coffee – Buy me Coffee!
Or you can purchase from one of the below travel resources without any extra charge to you.

Travel Resources
Click to book your flight on Skyscanner.com
Click to book your accommodation on Stay22
Click to book a comprehensive travel insurance on Safety Wing
Click to book your tours and travels on Viator or GetYourGuide
If you liked this article and if it was helpful in your planning or traveling, do share, tweet, or pin this post.

Follow me on Instagram | Facebook | YouTube | Twitter | LinkedIn
Do you have a question? Or want any suggestions, and tips for travels, hikes and scuba dives? Use the Subscription box below to sign-up and get updates by email.
PIN for later reference