8 places to see in Jodhpur
Have you heard of a blue city? Where the streets are decorated in blue buildings that also speak of lots of stories and mysteries? One such city is Jodhpur, that is also called the blue city. This city of Jodhpur is one of the must visit cities in Rajasthan. From my childhood, I had always wanted to see the blue and pink cities. And when I decided to head to Jaisalmer, I stopped over at Jodhpur to explore the city for a couple of days.
PIN for later reference
This article may contain affiliate links. For full information, please see our affiliate disclaimer here.
About Jodhpur
Historically the capital of the Kingdom of Marwar, Jodhpur is the second largest city in the Thar desert of Rajasthan state. Popular for its blue buildings, palaces and forts, Jodhpur was featured as one of the 52 places to visit in 2020 by the New York Times. Founded in 1459 by a Rajput chief of the Rathore clan, Jodhpur has amazing landmarks and old temples.
The best time to visit Jodhpur is between October and March as the weather is pleasant and not too hot. This also means that these months are peak season. The hottest month is May, so do not plan your travels around that month. To explore Jodhpur, you need around 2 to 3 days.
How to get to Jodhpur?
Airport – Jodhpur has an airport of its own. Airlines like Indigo and Air India operate from Jodhpur airport. The airport is around 10 kilometres from the city and the cost of a taxi ride is around INR 600 one way.
Public transport – Jodhpur is well connected by buses and trains. There are frequent buses and trains from all cities and towns.
Accommodation at Jodhpur
Pratap Niwas Haveli
Pratap Niwas Haveli is a 3-star property located around 17 kilometres from Jodhpur city. The property offers a heritage stay and the hotel is designed as a palace with beautiful arches and doors.
The rooms are spacious and the property is well maintained. The hotel has an inhouse restaurant and the food was decent and the staff were friendly. But I wouldn't say that this is the best property I have stayed in.
The main drawback of the property is the location, which is a bit far from the city and is only perfect if you have your own vehicle or are with a family who just wants to relax at the resort. Also, be prepared for paying a little extra if you take vehicles from the travel desk itself. It's best to ask around and find taxi drivers from the city or online.
The best and my most favourite part of staying at this property were these amazing views I got from the terrace, especially during sunsets.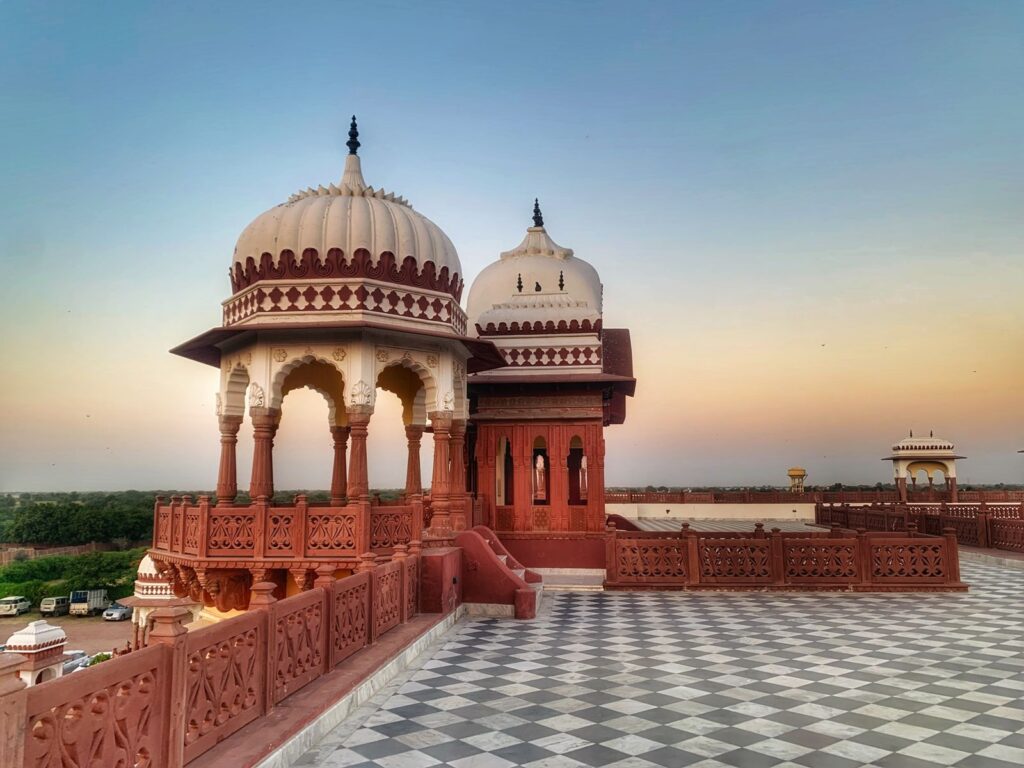 8 places to see in Jodhpur
Disclaimers:
The prices mentioned in the post are valid only at the time of publication. Ensure to check the booking websites for up to date information and prices.
Opinions and views expressed solely mine and are unbiased. If the post is a collaboration, then they are specifically mentioned.
Ensure to check the relevant websites for up to date information on COVID protocols.
For any adventurous activities, please note that there is a risk that can be dangerous. Ensure to read the terms and conditions with individual agencies recommended and do them at your own risk.
For visas, it is best to see the embassy website for any changing rules.
Mehrangarh Fort
Covering an area of 1200 acres, Mehrangarh Fort is one of the must see places in Jodhpur. Situated on a hill top, the fort was constructed in 1459 by a Rajput ruler and founder of Jodhpur, Rao Jodha. The fort has mesmerising views of the blue city and is known for its detailed architecture.
The fort has an entrance fee of INR 200 per person. If you need a guide, then you can hire a local government affiliated guide for additional charges.
The fort is open between 9 AM and 5 PM every day.
There are many things to do at the fort:

Visit the museum.
Pay your respect at the Mata temple.
Listen to folk music.
Zip line at the fort.
Did you know that a scene from the Dark Knight Rises was shot at Mehrangarh fort, exactly where the above picture is taken?
Clock tower
Built by Maharaja Sardar Singh, the Ghanta Ghar or the Clock tower is one of the major landmarks in Jodhpur. It is right adjacent to the Sardar market.
The Clock tower is open everyday throughout the day.
Sardar Market
One of the oldest street markets in Jodhpur city is the Sardar market which was also built by Maharaja Sardar Singh. It is believed that the market has over 7000 shops, selling all kinds of things.
The market is open every day.
Did you know that one of the most famous Indian paintings, Rajput painting, is found in Jodhpur?
Turji ka Jhalra
Built in the 1740s, Toorji Ka Jhalra or the stepwell was submerged under water for decades. The stepwell has had its recent restoration that uncovered over 200 hundred feet of hand carved treasure.
There is no entrance fee to visit this stepwell and is open to public throughout the day.
The stepwell can be visited any time during the day.
Even though this is not one of the most maintained stepwells, it is still worth visiting.
Be prepared for many locals at the spot as I think this is one of the locals hanging out places in the city.
There is a local folklore about how the stepwell was constructed. It is believed that the stepwell was made by ghosts. The story says that once a man called Thakur Jai Singh with his horses wanted to quench his thirst so he stopped by a lake. A ghost appeared in front of him and asked him to not touch the water and also satiate his thirst.
When Jai Singh did what the ghost said, the ghost offered Jai Singh a boon and to which Jai Singh requested a beautiful palace and a stepwell be constructed. The ghost agreed to it with a condition of Jai Singh not revealing this truth about the ghost to anyone. But Jai Singh spoke the truth to his wife during the construction and this led the ghost to abandon the construction. To date, it is believed that the stepwell is haunted.
One of the best stepwells I have seen till date is the Rani ki Vav in Gujarat. It is an architectural marvel and is unique as it is the only stepwell that is built by a queen.
Jaswant Thada
Built in 1899 by Maharaja Jaswant Singh II in memory of his father, the Jaswant Thada is a beautiful cenotaph. The building is an architectural marvel constructed in white marble with intricate carvings and detailing.
There is an entrance fee of INR 20 per person.
Jaswant Thada is open every day between 9 AM and 5 PM.
Umaid Bhawan Palace
Managed by Taj hotels and owned by Gaj Singh, Umaid Bhawan Palace is a 5-star heritage palace hotel, a residential place for royal family and a museum. Built between 1928 and 1943 by Raja Umaid Singh, Umaid Bhawan Palace spreads across 26 acres and is famous for being the last royal palace built in India before Independence.
There is an entrance fee of INR 30 per person.
The museum is open every day between 9 AM and 5 PM.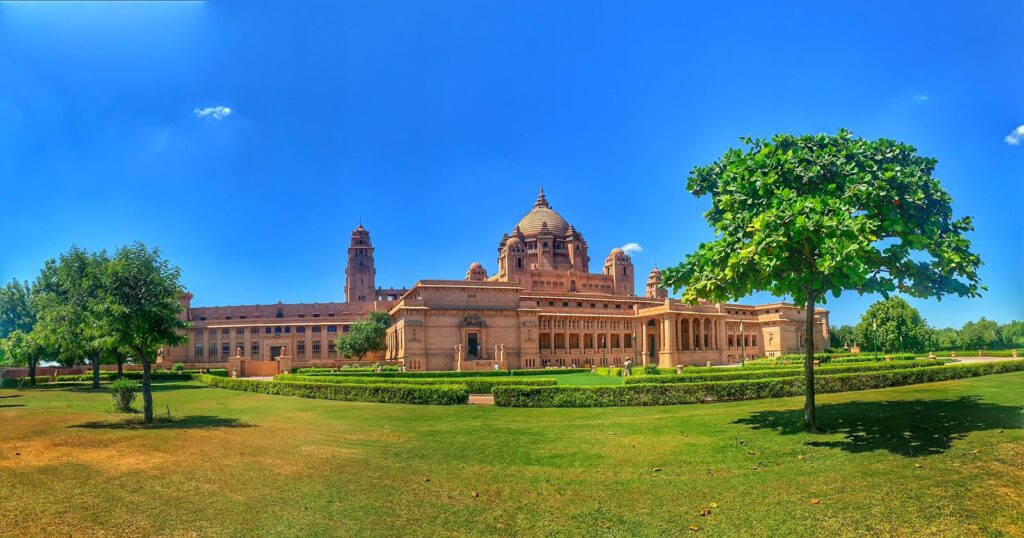 Even though Umaid Bhawan Palace is one of the must visit places in Jodhpur, I think this can be missed if you do not have time. The palace does not have a lot of history like other palaces in India.
Blue city (Brahmagiri)
Jodhpur is known as the Blue city and hence there are streets where one can still find the blue buildings. Brahmagiri area, right behind the Mehrangarh fort, is a perfect place to see these blue buildings. There are many theories why the buildings are blue. One of them is because of the copper sulphate, that turns blue under certain weather conditions. The other being that people coloured their homes blue so it can keep them cool during the summer season.
One interesting story about these blue streets are that it is believed that they are the descendants of Ravan from the mythological story of Ramayana. There are more than 100 Brahmin families belonging to the Godhra gotra. During Dussehra festival, when Ravan is burnt, the families mourn his death and offer special prayers for him.
Mandore Garden
Mandore Garden is a home to cenotaphs of many rulers, including Maharaja Ajit Singh, of Jodhpur. The complex has temples, memorials and gardens and is an interesting place to walk around.
There is no entrance fee to get inside the garden.
The garden is open every day between 9 AM and 10 PM.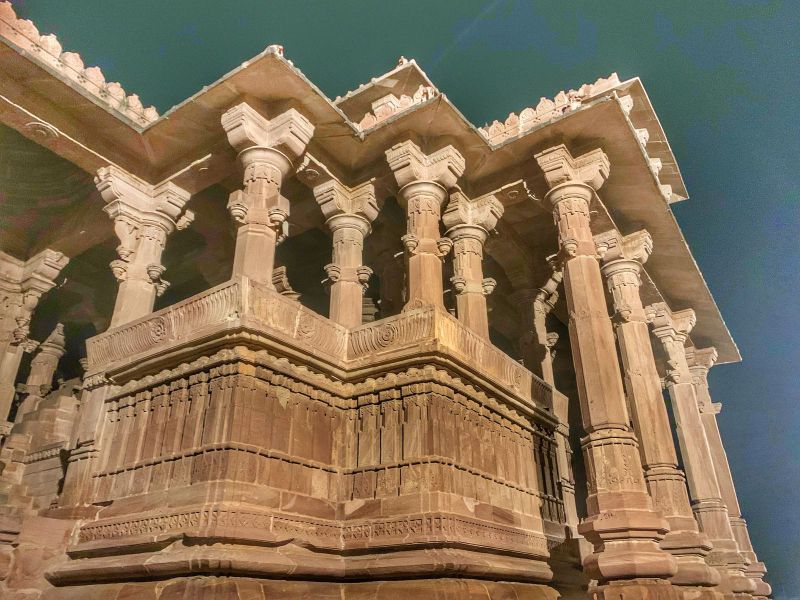 Places to eat
Stepwell café
Located right next to Toorji ka Jhalra, the Stepwell café is surely one of the best cafes in Jodhpur. It provides lovely views of the stepwell while offering great and delicious food and drinks.
Gypsy
The Gypsy restaurant is one of the best places to try the Dal Baati Churma. Even though it is not a fancy restaurant, the food is authentic and delicious.
Safety for solo female travelers
I traveled to Jodhpur with a friend but I must say that not for once did I feel unsafe in the city. The city is definitely busy but most of the people mind their own businesses and will not rouble you for anything. However, like any other city in the world, be cautious and know your surroundings at all times.
Closing Notes
Even though not one of my favourite cities in the world, I cannot deny the fact that Jodhpur does have a lot of character and essence. Spending 2 days at jodhpur is worth, especially if you decide to walk around the old part of the city.
How can you support me?
You know how much I love coffee, so you can buy me coffee – Buy me Coffee!
Or you can purchase from one of the below travel resources without any extra charge to you.

Travel Resources
Click to book your flight on Skyscanner.com
Click to book your accommodation on Stay22
Click to book a comprehensive travel insurance on Safety Wing
Click to book your tours and travels on Viator or GetYourGuide
If you liked this article and if it was helpful in your planning or traveling, do share, tweet, or pin this post.

Follow me on Instagram | Facebook | YouTube | Twitter | LinkedIn
Do you have a question? Or want any suggestions, and tips for travels, hikes and scuba dives? Use the Subscription box below to sign-up and get updates by email.
PIN for later reference