15 things to see in Lalbagh, one of the oldest parks in Bengaluru
Bengaluru or Bangalore, known as the Garden city, has many gardens and parks. But the two oldest and the most popular public parks are Lalbagh botanical garden and Cubbon park. Both of these are like the crown jewels of Bengaluru city.
As part of my venture Bengaluru Prayana (prayana means journey in Kannada), my friend and I have been exploring various parts of the city and as part of one of the walking trails, we decided to explore Lalbagh and its beautiful history.
PIN for later reference
This article may contain affiliate links. For full information, please see our affiliate disclaimer here.
About Lalbagh
Spread across 240 acres of land, Lalbagh botanical garden has more than 1000 species of plants and trees. First started by Hyder Ali and then completed by his son Tipu Sultan, Lalbagh has a history of more than 200 years. It is believed that both Hyder Ali and Tipu Sultan were very fond of plants and trees, and that they would trade with traders from various parts of the world for exotic plants in exchange of spices. And this is the reason why Lalbagh has many trees and plants belonging to different parts of the world. After Tipu Sultan's reign, Lalbagh came under the British empire. The park also served as a social and recreational space.
The word Bagh means garden and the word Lal means red and both words together meant red garden, probably because of its original floral composition. However, there is also a theory that Lal meant beloved.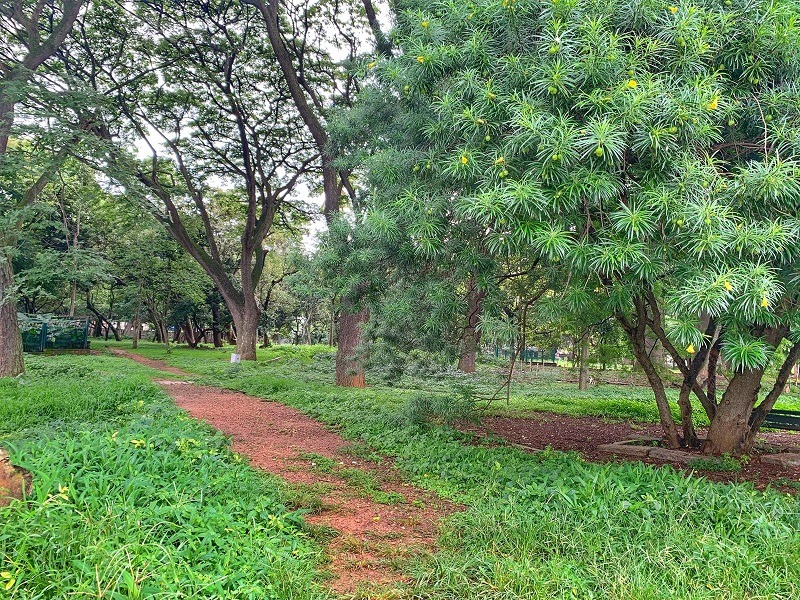 How to get to Lalbagh?
Lalbagh has four entrances:
Main or the north gate,
East gate,
West gate and
South (small) gate.
The car parking is at the east gate and the metro station is close to the west gate.
Metro – The most convenient and economical way to get to Lalbagh is by taking a metro. The metro station is just about 100 to 200 metres from the West gate.
Car parking – The car parking is at the east gate and it is a paid parking space ranging between INR 30 to INR 50.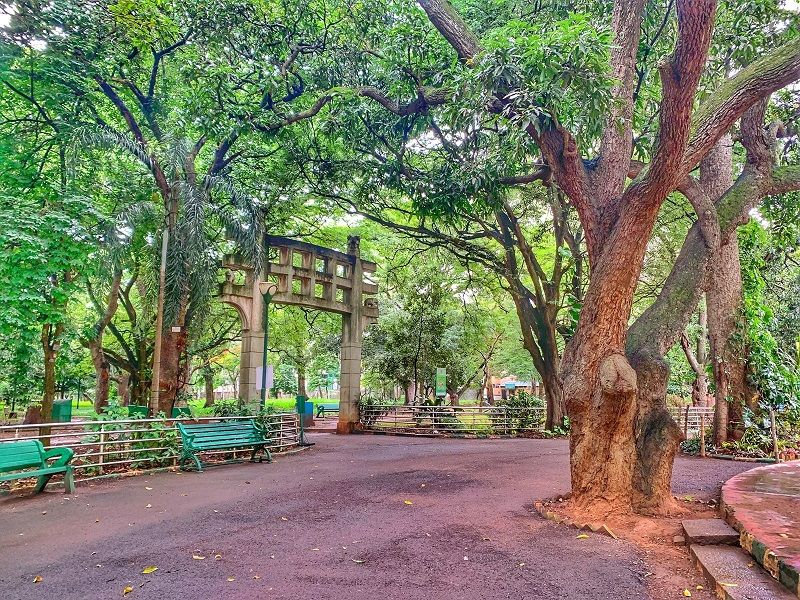 Entrance ticket and timings
The visitors need to purchase an entry ticket to get into Lalbagh. There is an entrance fee of INR 30 per person. The tickets can be purchased at the ticket counters at each of the entrances.
Lalbagh is open between 6 AM and 7 PM but beware that the gardens and the walking tracks are very crowded in the mornings and evenings.
Important visitor information
No digital cameras are allowed inside the park. Mobile phones and mobile photography are allowed.
Outside food is not allowed. But there are many food/ fruit vendors where you can purchase fruits or snacks.
No sports equipment are allowed.
There are a lot of snakes so be careful where you step. Stick to the walking paths.
DO NOT litter. The park has a lot of dustbins so please throw your garbage only in the dustbins.
There are pay and use toilet facilities inside the park.
Wear comfortable shoes as the park is huge and requires a lot of walking.
If you are lazy to walk around, then there are eco (electric) carts where visitors can take a ride by paying an extra INR 100 per person at the ticket counter.
There are drinking water tanks where you can refill your water bottles.
Things to see and do at Lalbagh
Guardroom
The guardroom is located just next to the west gate of Lalbagh. Constructed in 1940, the room is in the shape of a lantern with glass windows and is made up of granite. The room was mainly for the watchman who could sit in the room and keep a watch on the ongoers.
West gate
The West gate is one of the gates of Lalbagh and has a beautiful entrance into the park. Just as you enter the west gate, there is a stone entrance on the right that is really beautiful and provides a peek into the old architecture.
Lalbagh lake
Spread across 40 acres with a maximum depth of 3.5 metres, the Lalbagh lake is a true beauty which is known for its flora and fauna. The lake has two islands and is home to many native and migratory birds. Most common birds seen are the cormorants, herons, kingfishers, egrets, pelicans, and Brahmini kites.
Band stand
Constructed between 1858 and 1864, the Band stand in Lalbagh was envisioned by William New, a former British superintendent. In earlier times, Band stand was used for entertainment by military bands.
Hero stones
Also known as Veeragallu or Masti Kallu in Kannada language, the Hero stones are the memorial stones that date back to at least 500 years. These stones either tell a story of mentioning the death of a hero in a battle or a sacrifice that is said to be depicted.
Dovecote
Built in 1890s, the Dovecote is a pigeon and doves home. It is a circular home with a height of 15 feet and has holes around the wall in the top. The purpose of this room was to give freedom and shelter to the pigeons and doves.
Fossil tree
Supposed to be around 20 million years old, the fossil tree is a collection from the National fossil park in Tamil Nadu. The fossilised tree displayed at Lalbagh is only the trunk of the tree.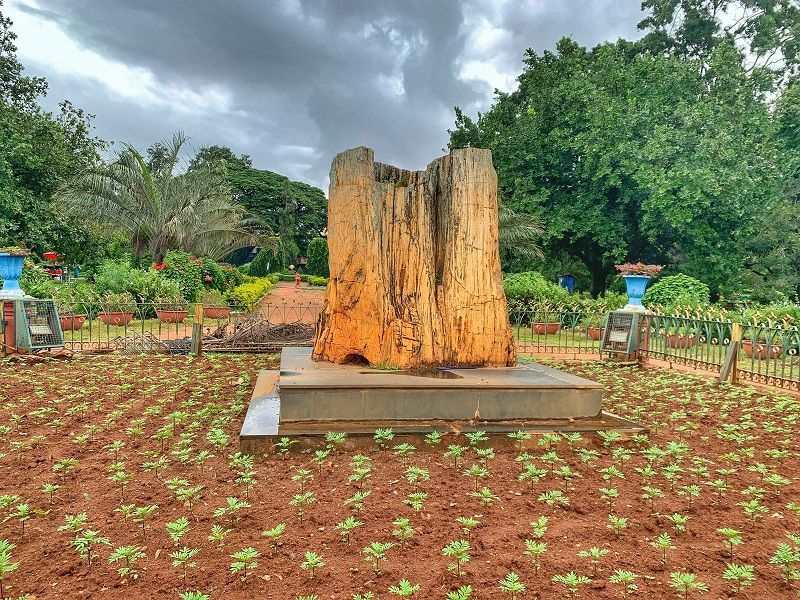 Art installations
There are many art installations around Lalbagh that are made from dead trees. The trees used to make these artworks are at least 200 to 250 years old and the most common tree used is of the mango trees. I do wish they had displayed the name of the artist, artwork and the idea behind each of these art at the installations.
Glass house
Built in 1889, the Glass house is behind the Band stand and was built to commemorate the visit of Albert Victor, the grandson of Queen Victoria and former Prince of Wales. The main purpose of the Glass house was to facilitate the plants to acclimatise to the new environment and weather conditions. This is also the main place where the annual Lalbagh flower show is held.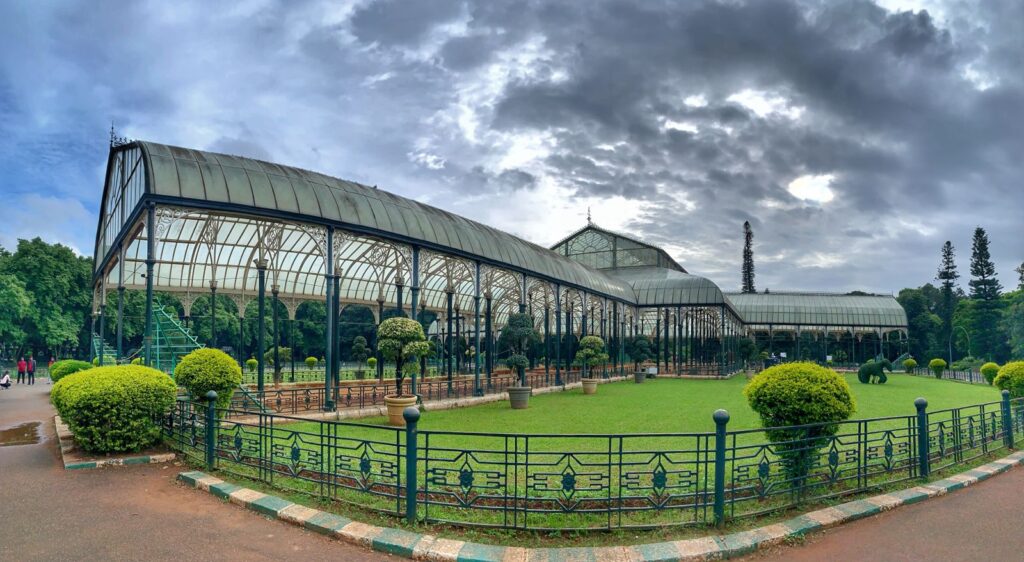 White cotton silk tree
The White cotton silk tree is a massive and gigantic tree that is at least 200 years old. The soft wooden deciduous tree is around 25 to 30 metres in height. White cotton sticks obtained from the fruits can be used in making pillows or beds. As the wood of the tree is light, it is usually used to make the packing cases.
Floral clock
Set up in 1983, the floral clock is a big clock at the centre of a bed of flowers guarded by the seven dwarfs from the fairy tale Snow white and the seven dwarfs. It was donated by Hindustan Machine Tools (HMT).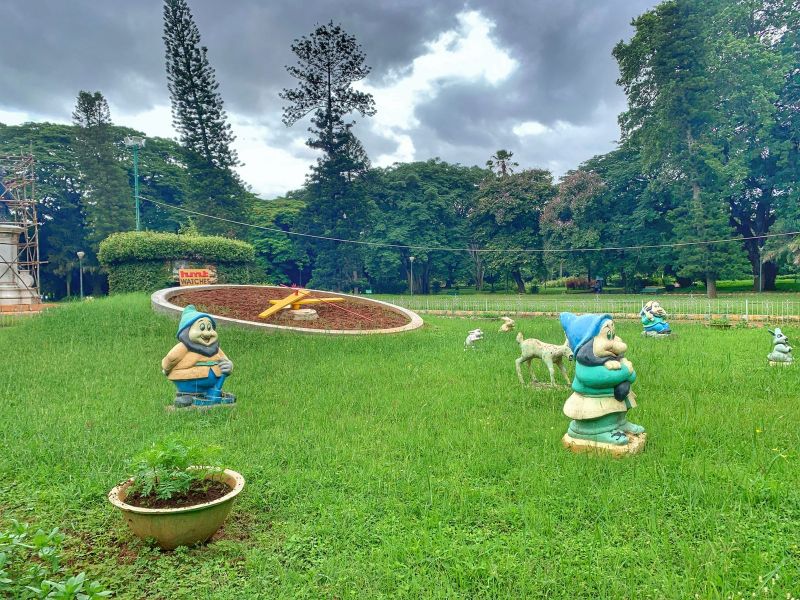 Chamarajendra Wodeyar statue
Lalbagh is home to one of the most beautiful statues of Mysore's 23rd King, Chamarajendra Wodeyar X. He ruled between 1868 and 1894.
African Boabab tree
The African Boabab tree was originated in the African continent and is said to live more than 2000 years. The trunk of the tree is swollen bottle shaped and can hold rain water up to 1250 litres.
Peninsula Gneiss
Also known as Lalbagh rock, Lalbagh hill and rock mass, the Peninsula Gneiss dates back to 2.5 to 3.4 billion years. In 1975, the hill was declared as a National Geological monument by Geological survey of India.
Kempegowda watch tower
Dating back to 18th century, the Kempegowda watch tower was built by the founder of Bangalore, Kempegowda. There are four towers around Bangalore and they were supposed to mark the boundaries of the city.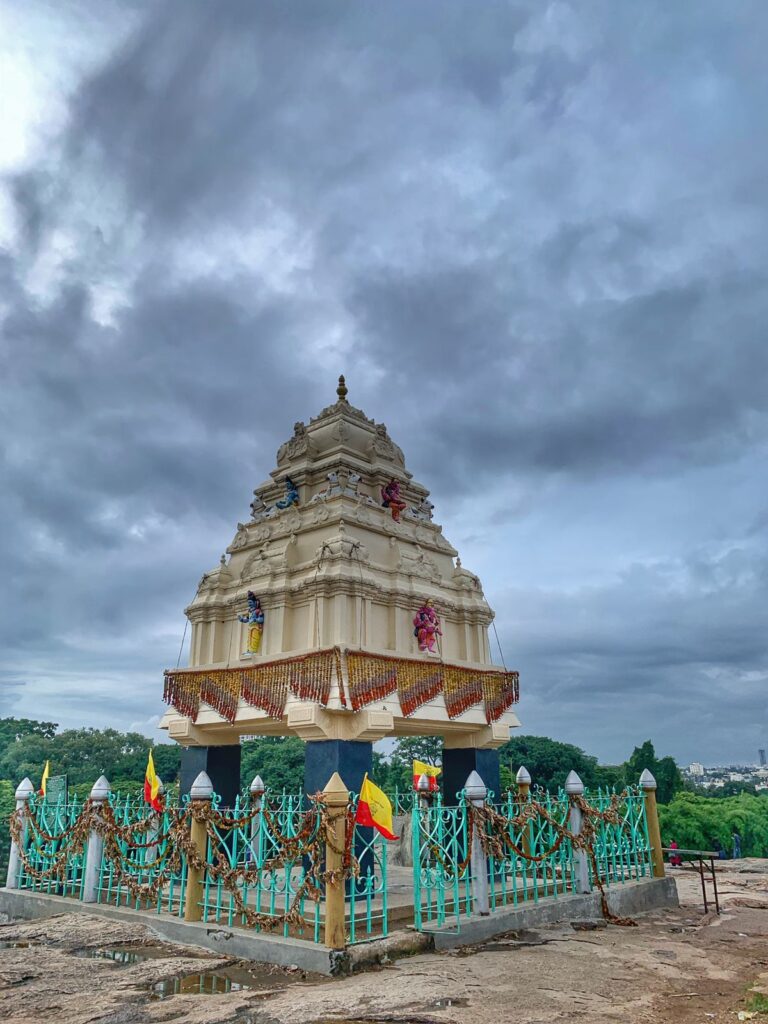 Safety for solo female travelers
Lalbagh is absolutely safe for solo female travelers as it is monitored at all times and there are guards spread around the park. But be careful where you step as the park is known to be home for many snakes. Also, be cautious, especially after sunset as it does get a bit dark.
Closing Notes
Lalbagh is surely one of the most beautiful places in Bangalore and it is worth visiting and spending a day just exploring and going back in time. The park is also walkers and joggers paradise with so many walking tracks and green patches throughout.
How can you support me?
You know how much I love coffee, so you can buy me coffee – Buy me Coffee!
Or you can purchase from one of the below travel resources without any extra charge to you.

Travel Resources
Click to book your flight on Skyscanner.com
Click to book your accommodation on Stay22
Click to book a comprehensive travel insurance on Safety Wing
Click to book your tours and travels on Viator or GetYourGuide
If you liked this article and if it was helpful in your planning or traveling, do share, tweet, or pin this post.

Follow me on Instagram | Facebook | YouTube | Twitter | LinkedIn
Do you have a question? Or want any suggestions, and tips for travels, hikes and scuba dives? Use the Subscription box below to sign-up and get updates by email.
PIN for later reference